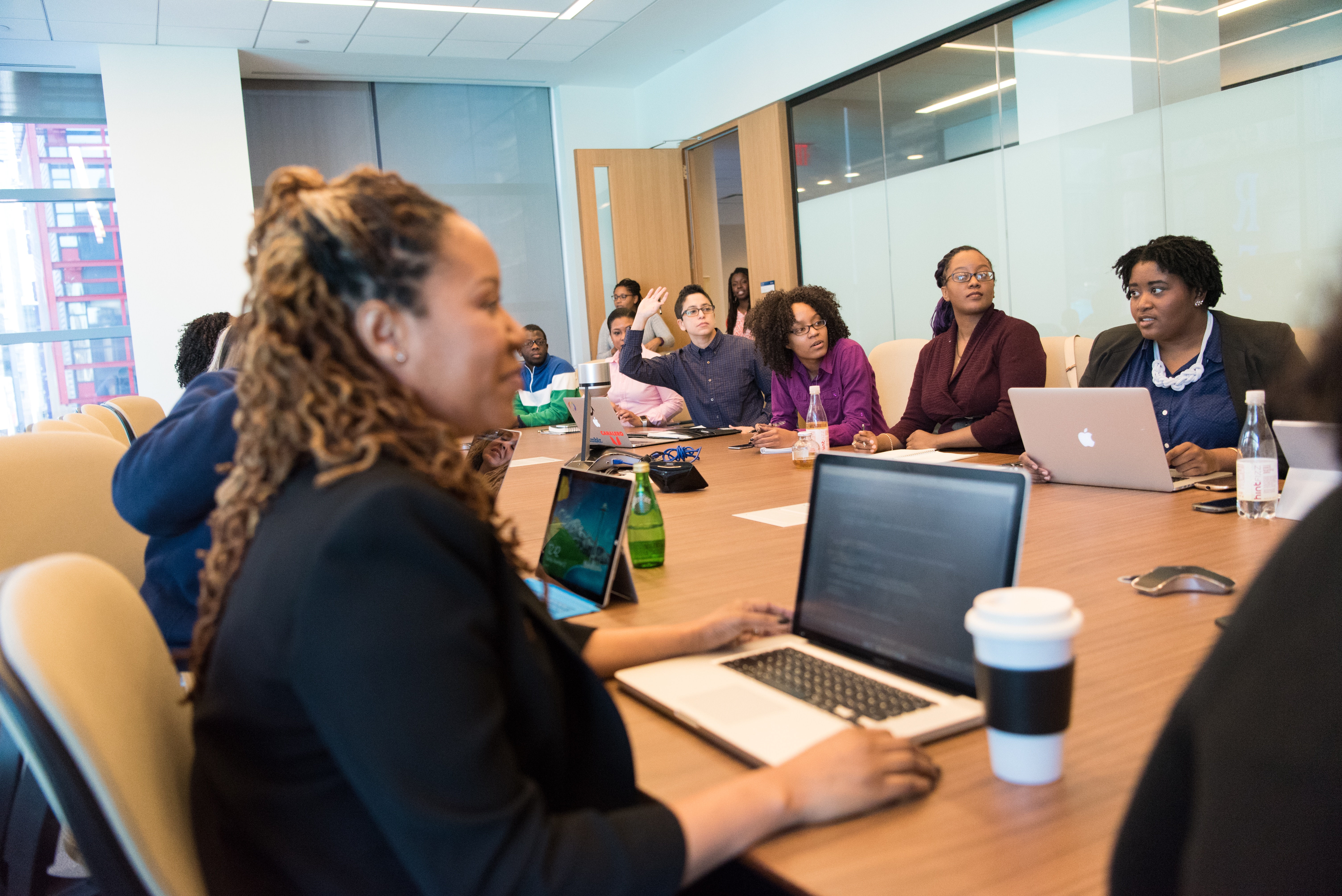 Office Assistant sounds like a fairly straight-forward job. Don't assistants just answer phones, get coffee, and do filing?
Not exactly. Maybe this job used to be simpler—before the internet, complex office software, and growing demands on business administrators. But today, office assistants are an integral part of every successful company and organization.
Filing and phones are part of the job description, but there's a lot more to it. It's safe to say that without office assistants, most executives and managers would be completely lost!
So why is this role so important, and what does an office assistant really do? Let's break down the top 10 most common responsibilities.
These are the skills you need to succeed at work, and the foundation for quality office assistant training. Consider your strengths and interests, and find out if office administration is the right career for you.
1. Answering phones, emails, and online inquiries
Office assistants are often the first point of contact within a business or organization. That means they respond to all incoming inquiries, including:
Phone calls

General emails

Website comments and questions

Social media inquiries from official company accounts
Twenty years ago, dealing with incoming questions was a much simpler affair. Now it's a multi-channel challenge.
Office assistants must respond to inquiries coming in from several different sources. Throughout the day, you may be juggling numerous phone lines, managing a few different email accounts, and handling various online requests for information.
2. Handling reception
Some office assistants get hired as full-time receptionists. Others may only fill in at reception some of the time, in between other administrative tasks.
No matter your situation, working the front desk always involves these main responsibilities:
Greeting clients and visitors

Issuing visitor badges/passes

Directing people to the appropriate office or meeting room

Answering phones and emails

Receiving and distributing deliveries
Handling reception requires excellent communication skills. You must be friendly and welcoming, professional and polite.
When the phones are busy, urgent emails are coming in, and visitors arrive at the office—all at the same time—you must know how to juggle tasks and stay calm under pressure.
3. Organizing and updating files
No matter what type of organization you work for, organizing and updating files will be part of your role as an office assistant.
You will be expected to:
Set up new client files

Ensure existing files are kept up-to-date

Ensure confidential information is properly safeguarded

Develop or maintain an effective filing system (where files are logically organized and easy to find)
A lot of companies struggle to create efficient, well-organized filing systems. Part of your job description as an administrator may be to implement better solutions.
A good office assistant program teaches students about information management—including how to store files and records for easy retrieval in both print and digital form.
4. Scheduling appointments and events
Appointment scheduling is usually done using some sort of office software or online tool. You'll learn fundamentals like Microsoft Outlook in office assistant training.
However, there are many scheduling tools out there, and each company has its own preference. You'll need to adapt to whatever system your employer is using.
What kinds of events will you be arranging?
Client meetings

Team meetings

Employee interviews

Conferences

Travel arrangements (flights, hotels, etc.)

Employee birthdays, celebrations, and corporate events
5. Setting up for meetings
Whether it's a team meeting or a client presentation, part of your job is to make sure the room is ready. Office assistants are usually responsible for the following tasks:
Confirming the meeting with each participant ahead of time

Ordering and setting out any snacks and drinks in the meeting area

Printing and distributing any required documents

Setting up for PowerPoint or other media presentations

Taking detailed minutes at the meeting

Tidying up after the meeting
6. Entering data
The type of data you work with will depend on your employer and the scope of your responsibilities. However, most office assistants perform standard data entry tasks like:
Filling in forms

Entering numeric data into Excel files

Updating client or employee files

Transcription (converting a recorded audio file into a text document)

Updating the company database
Data entry may also include editing or verifying the information you're adding to a document or system. Accuracy is crucial, along with good keyboarding skills.
7. Ordering supplies
In a small organization, office assistants are often responsible for inventory. They keep track of supplies and place orders with vendors when needed. Most companies use an inventory management tool to make the process easier. This is another situation where having decent technology skills is important for office assistants.
8. Providing customer service
Many office assistants are client-facing. This means they interact directly with clients, prospects, and industry partners. It goes without saying that excellent customer service skills are a core requirement for this job.
The responsibilities include:
Responding to inquires in a timely manner

Dealing with criticism and complaints with grace

Maintaining a friendly and professional attitude at all times

Going the extra mile to resolve problems and provide solutions
9. Preparing documents and reports
This may include anything from simple data entry, to creating documents from scratch. Office assistants spend a lot of time processing and communicating information, much of it in digital form. Common examples include:
Writing inter-office memos

Editing and formatting reports

Editing and preparing presentations

Formatting and collating documents

Writing emails and letters

Printing and distributing documents
You need to be totally comfortable using standard office software, such as Microsoft Word, PowerPoint, and Excel.
It's also important to be familiar with office equipment, like printers, scanners, and projectors. A quality office assistant program will deliver hands-on training using the latest technology.
Look for a college that provides an internship, so you can gain confidence using common office tools and software. This is especially important if you're new to business administration and need work experience for your resume.
10. Processing incoming and outgoing mail
And last, but certainly not least, office assistants are usually responsible for processing incoming and outgoing mail. This includes regular correspondence and any special deliveries.
If you're working reception, you'll need to distribute the mail when it arrives at the office. You'll also need to sign for any packages, and make sure they get to the right person.
If an important document or parcel needs to get mailed out, you will make the arrangements and track progress to the destination.
You are the communications hub of the office. Much of the routine correspondence and deliveries will go through you. You need to make sure they get to the right place, at the right time!
Do You Have the Right Strengths?
By now it's clear that office assistants do a lot more than get coffee and answer the phone. This role requires a very specific skillset, which includes the following strengths:
Excellent verbal and written communication

Up-to-date technology skills (office software and equipment)

Good keyboarding skills

Organization and the ability to meet deadlines

Grace under pressure

Multitasking

Teamwork

Friendly attitude, good interpersonal skills

Accuracy and fine attention to detail

Independent problem-solving

Professional self-presentation

Reliable

Superior customer service
Learn more about Office Assistant Training and Careers
Want to begin a career in office administration, or upgrade your existing skills to advance in your career? Your next step is to find up-to-date training that teaches the skills today's employers want most.
The fundamentals include:
Microsoft Office applications

Current office procedures and information management systems

Keyboarding and transcription

Creating and formatting standard business documents, reports, and presentations

Appointment scheduling software

Business writing and communications

Reception duties and procedures
Click below to browse the Office Assistant Program at Herzing College Winnipeg. See a detailed course list, career information, and chat live with an Admissions Advisor.
*This program is available on campus AND online.
You are welcome to book a campus tour or personal advising appointment, to discuss your goals and confirm this training is right for you. We're here to help!