Photo: Personal Support Worker students pose for a class picture at Herzing College Ottawa (2019)
Updated June, 2021
What's inspiring you to become a personal support worker (PSW)? In our experience working with PSW students, there's usually a couple of key reasons people gravitate toward this career.
One is the high demand for PSWs in Ontario and throughout many parts of Canada. If you're looking for a stable health care career, this is an excellent choice.
Our aging population is expected to continue creating jobs for PSWs well into the future.
Another top motivator is the one-to-one time personal support workers get to spend with clients. If you're looking for more than "just a job" and want to make a real connection with people, PSW is the obvious choice.
But, like all careers, becoming a personal support worker comes with certain challenges. What should you know before you invest in training, and start down this path?
Take a look at the most common pros and cons of working as a personal support worker, and see if this role is right for you.

Pro: Making a real difference in people's lives
This is the number one reason to become a personal support worker, and the biggest benefit of choosing this career. This work really makes a huge difference in people's lives.
PSWs do what nurses, doctors, and even family can't always do: they spend a lot of meaningful time with patients.
Personal support workers help their clients with daily tasks they can no longer perform independently—such as bathing, grooming, grocery shopping, cleaning, medication reminders, cooking, and getting to and from appointments.
PSWs also provide companionship and emotional support. This is a key part of the role, and why they often form close relationships with patients and families.
As a personal support worker, you hold the life of another human being in your hands. The family is trusting you with their loved one's health and wellbeing. This responsibility comes with a great sense of satisfaction and fulfillment.
Most PSWs say they get a lot of gratitude from family and clients, who truly appreciate the work they do. They love brightening their clients' days, and seeing them smile and feel cared for. This is what becoming a personal support worker is all about.
Related: 5 Ways Personal Support Worker is the Most Meaningful Job in Healthcare
Con: Dealing with loss and challenging patients
There are definitely emotional challenges that come with caring for elderly, disabled, or chronically ill patients. You might find yourself caring for someone with a cognitive or mental health issue—or a patient who is upset, lonely, and uncooperative.
There are times when you'll have to deal with angry outbursts, or a patient who has trouble communicating and following instructions. And there will be times when you have to face the death of a client you've become close to.
The work PSWs do is very personal. They often form close bonds with the people they care for. Of course, this is what makes the profession so great! But, it can also bring grief and suffering to PSWs, when patients die.
Learning to face death is a key part of this career. You will discover that personal support worker training includes classes on caring for a dying patient, supporting families in grief, and working with clients who have cognitive and mental health conditions.
You will be prepared to face these challenges—but that doesn't mean it will be easy.
Related: 5 Steps for Personal Support Workers Dealing with Difficult Patients
Pro: Personal Support Worker training takes just 8 months
If you're looking for a new career and want to work in health care, Personal Support Worker training is an excellent option. You won't find many shorter programs out there.
At Herzing, for example, it takes just 8 months to complete your PSW diploma, including an 11-week internship. The program includes all the theory and hands-on training needed to qualify for positions at long-term care facilities, or with home-care companies.
Examples of companies who've hired Herzing PSW grads in Ottawa include:
Ottawa Carleton Rehabilitation and Health Care
Pearly Rideau Retirement Home
Related: Ultimate Personal Support Worker Skills List: What PSWs Need to Succeed
Con: Shift work and varying pay rates
These are two well-known challenges for personal support workers. It's not true of all companies, but some nursing homes and home-care organizations don't offer regular and consistent work hours to PSWs.
Some PSWs complain about shift work, last-minute calls, or irregular hours, which can make life more difficult. Another sore spot is the issue of pay. Again, some companies pay quite well—$25-29 per hour.
But you'll also see job postings offering wages of about $16 per hour. There's a lot of variation when it comes to salary. It's a point of contention among Ontario PSWs, who feel they deserve more consistently higher wages.
And while personal support workers love what they do, and aren't "in it for the money", they are definitely pushing for better pay—which they certainly deserve!
Pros: Strong demand for Personal support workers in Ontario
Despite issues of pay, many people are attracted to personal support worker careers, because there are SO many job available. Our aging population, staff shortages at nursing homes, and strong demand for home care, are opening up a lot of opportunities for PSWs.
The latest Government of Canada Job Bank report shows strong employment growth for personal support workers, in every region of Ontario.
In fact, this occupation gets 3 stars for demand—the Job Bank's highest possible rating. And demand is expected to hold steady for at least the next 10 years.
Job Outlook for Personal Support Workers in Ontario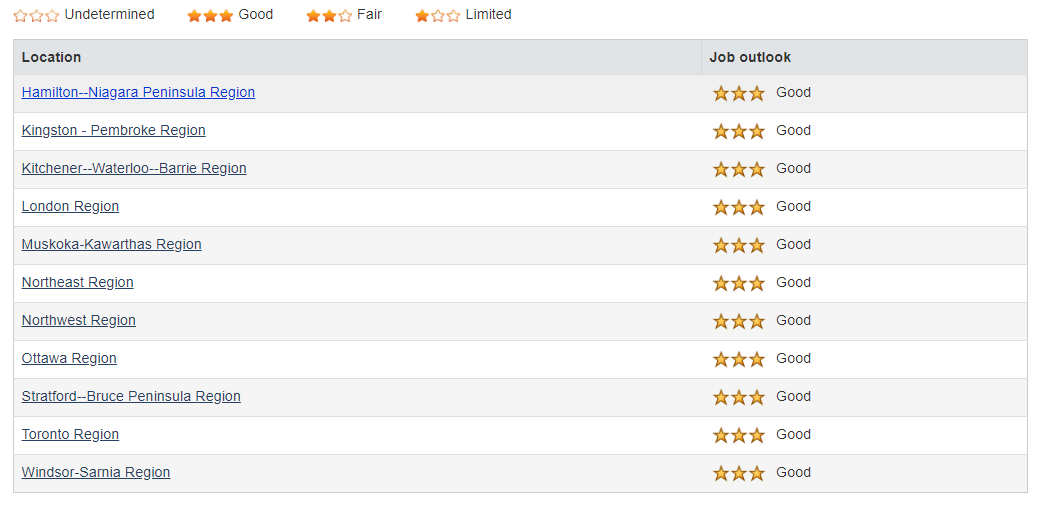 Source: Government of Canada Job Bank Occupation Outlook Report
Con: Staff shortages can cause heavy workloads
The reason there are so many jobs for PSWs is because Ontario is experiencing a serious shortage of workers in this field . This shortage is making life harder for some personal support workers, who are looking after too many clients per shift.
So, imagine you're working at a nursing home, and instead of being responsible for 8-10 patients each shift, you're asked to look after 15-20. It's a heavy workload, which causes stress for some PSWs.
Not every nursing home or long-term care facility has this problem, but it is quite common for PSWs to feel extra busy at work.
Hopefully, this issue will improve as more people graduate from personal support worker programs, and we have more professionals prepared to step in and help.
Pro: Flexible work options
Do you need flexibility in your work hours? Becoming a personal support worker can offer real benefits in this area. This is especially true if you're working in home care—travelling to clients' homes to help them with daily tasks, and check on their overall health and wellbeing.
There's a lot of freedom and independence, going from home to home, and many companies offer flexible scheduling, so you can work around family and other commitments. You'll also find that long-term care facilities have different shifts you can choose from, depending on your needs.
This is great for people who have children at home, or simply want to avoid a rigid 9-5 work situation.
Learn more about becoming a personal support worker
Do the pros outweigh the cons for you? Do you feel that becoming a personal support worker is your true calling?
Your next step is to learn more about training by speaking with an Admissions Advisor. An Advisor will help you understand:
application requirements for PSW training (are you eligible for this program?)
tuition and financial aid options
how to book a campus tour
how to schedule a class visit
any other questions you have about PSW training and careers
We welcome you to explore Herzing's Personal Support Worker program.
Our program is accredited by the National Association of Career Colleges (NACC), and based on the Ontario Personal Support Worker Training Standard, released in January 2016.
Our students are fully prepared for successful careers as PSWs. In 2019, 98% of our personal support worker graduates found employment in a related field (statistic based on most recent available data).
Chat live with an Admissions Advisor right now to learn more about applying to this program. Or click below to explore the training in greater detail. We're here to help!