Want a career in healthcare that involves working directly with patients, but doesn't require a university degree?
Looking to work in a professional setting, where you can use your excellent organization and people skills?
Medical office administration could be a good fit.
This role combines office management with front-line patient care. You can work at a hospital, private clinic, or nursing home as an important member of the health care team.
But what exactly does this position involve? What will it take to start your career?
Follow these 5 simple steps to learn more about the field. Find out out if becoming a medical office assistant is right for you and how to get started.
1. learn what a Medical Office Assistant really does
A lot of people start training for a career without a clear understanding of what they'll actually be doing on-the-job.
They have a general sense of what the role involves—but in many cases, students are missing key information about daily tasks, required skills, and common challenges they will face at work.
Your first step? Make sure you have an accurate description of what a medical office assistant (MOA) does, including daily tasks and important skills.
Your responsibilities will vary a bit, depending on where you work. An MOA performs different tasks at a hospital versus doctor's office, or dental practice versus nursing home.
However, there are primary duties you can expect to perform in most health office environments. These include:
greeting incoming patients
answering phones and responding to emails
handling new patient intake
filling out patient charts and requisition forms
scheduling appointments using health office software
updating and organizing confidential files and records
assisting with minor medical procedures
ordering clinic supplies when needed (inventory management)
setting up for staff meetings, taking minutes, etc.
processing insurance claims, OHIP billing
Clinics are usually quite busy and fast-paced. It takes quick thinking, excellent organization, and really strong "people skills" to do this job well.
If you look at job postings for medical office assistants, you will see the following skills highlighted every time:
problem-solving

friendliness and a positive attitude

multi-tasking

able to work in a fast-paced setting

strong knowledge of health office software
Bottom line: You'll need to be efficient and move quickly, while maintaining a warm and welcoming atmosphere at the health office. MOAs are the "face" of the clinic. No matter how busy your day gets, you'll need to treat each patient with care and respect.
2. Research demand for Medical office assistant where you live
Before you move forward with training, it's important to research the employment outlook for medical office administrators in your city.
For example, if there's very little demand for MOAs where you live, you can expect tough competition when applying for work—and it might take longer to find your first position after graduation.
Knowing who is hiring the most MOAs (hospitals, clinics, long-term care facilities?) will help you set realistic goals for your first job after school.
Start by checking out the Government of Canada Job Bank. They post employment reports for thousands of occupations, all across the country. Here's a look at the most recent report for Medical Office Administrators in the Toronto region.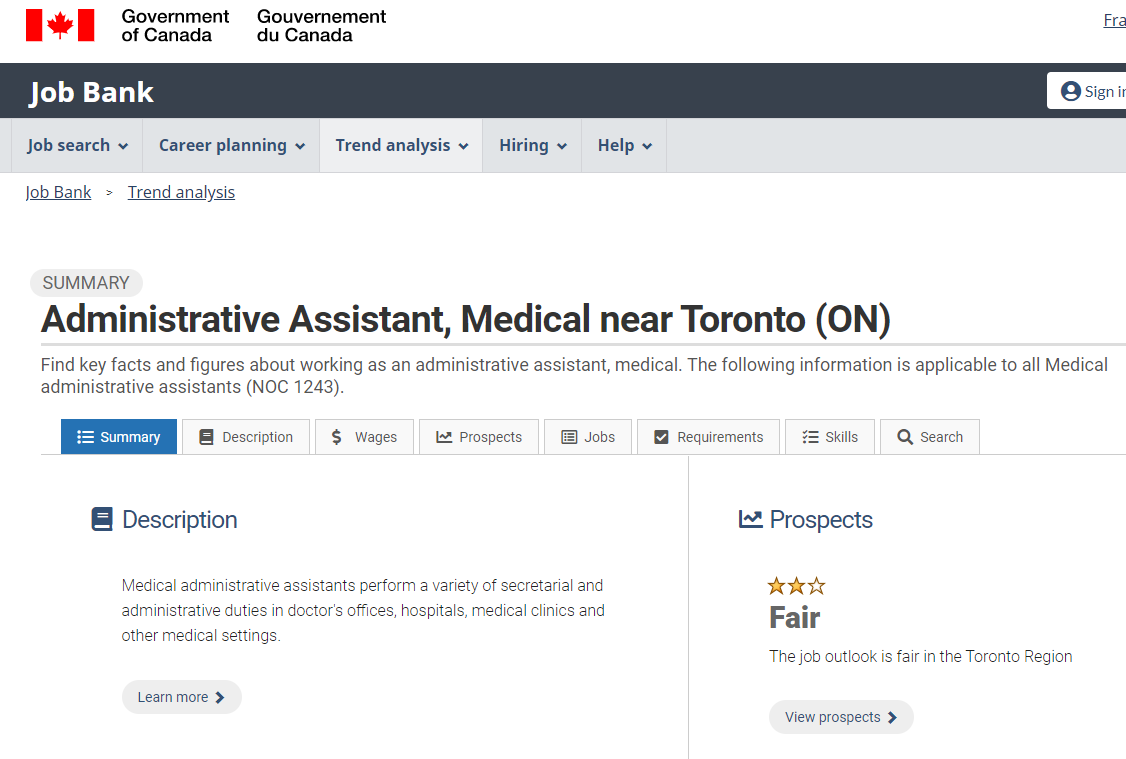 The report says the job outlook for medical office administrators is "fair" in the Toronto region.
This means there is stable demand, but not a surplus of available jobs. Candidates with quality medical office administration training will have a better chance of getting hired.
Overall, the employment outlook is positive. The Job Bank predicts that retirements will create jobs in this field, and government investment in health care will also generate job opportunities.
"The growth in the population, demand for health services, and recent investments in the economic region's health facilities, should create job opportunities for this occupation."
We also recommend looking at local job websites, like Indeed, Workopolis, Simply Hired, and Glassdoor.
Do a search for "medical office administrator" or "medical office assistant" and see how many job postings there are in your city.
Compare positions and look at the training and skills employers want. This is great way to find out who is hiring, and what credentials you'll need to land your first job.
3. Learn about Medical Office Assistant training
You know what the job involves, and you've seen the latest career outlook report. Now it's time to research medical office administration training, and figure out what's involved in earning your diploma.
Several colleges in the GTA offer medical office administrator programs. A quality MOA program will teach you the clinical, clerical, and communication skills you need to land a good job after graduation.
You can expect to complete your training in 12 months or less. At Herzing College, we offer an accelerated 10-month Medical Office Administration program.
It's a full-time diploma and includes a 5-week internship at a local clinic.
Courses include the following topics:
human anatomy and physiology
Microsoft Office (Word, Excel, Access, PowerPoint, etc.)
health office software (such as ABEL MED)
medical office procedures
how to prepare clinical documents (patient charts and histories, requisition forms to order tests, etc.)
The internship gives you real work experience in a health office. You will gain confidence, learn new skills, and connect with a possible employer. Many of our MOA graduates get hired straight out of their internship.
4. Find a healthcare college that fits your needs
Now you know what to expect in MOA training. At this point, it's time to narrow down your options and find a college that fits your needs.
Are you looking for part-time medical office training? Would you prefer a school that offers evening classes? Do you need a college you can reach easily by public transit?
Make a list of your priorities and consider other important factors, such as:
college reputation, student reviews
guaranteed practicum/work placement (not every school offers this)
graduate employment rates (what percentage of program graduates actually get hired?)
5. Speak to an Admissions Advisor
Before you enroll in a Medical Office Administration program, you'll need to speak with an admissions advisor. The Advisor will book your admissions test and help you with the application process.
This is also your chance to ask more detailed questions about the MOA training and college in general. You can discuss your goals, talk about class scheduling options, and make sure the program is right for you.
You can even tour the campus, check out the facilities, and ask about financial aid. The admissions advisor might even be able to arrange a class visit—so you can drop in on a medical office class and see the instructor in action.
want to learn more?
Get started by exploring Herzing's Medical Office Administration program.
Click below to see program details and chat live with an advisor. Get your MOA career started today!