Medical office assistant (MOA) is a unique role that combines administrative/office skills with patient care.
MOAs are the link between patients and doctors and nurses. They ensure the health office runs smoothly, while helping people get the medical attention they need, when they need it.
At Herzing, we've been teaching medical office administration students for many years. In our experience, the people best suited to this career are naturally well-organized, patient and reliable, and have a strong desire to help others.
Think you have what it takes?
Explore our 7 best reasons to become a medical office assistant, and learn more about how to get started.
1.
S
teady demand for medical office assistants
for the next 10 years
in Canada
Every student wants reassurance that they will find employment in their field after investing in training. Medical office students are no exception. Although it's not the only factor to consider, it is important to research demand when choosing a career path.
The latest report from the Government of Canada Job Bank (April 2020) shows steady demand for MOAs in every region of Ontario.
In fact, the Job Bank predicts moderate job growth and a "balance of job seekers and employers" for this profession for the next 10 years, throughout the whole of Canada.
This is positive news for anyone currently pursuing medical office training, or thinking about entering the field.
Job Outlook for Medical Office Assistants in Ontario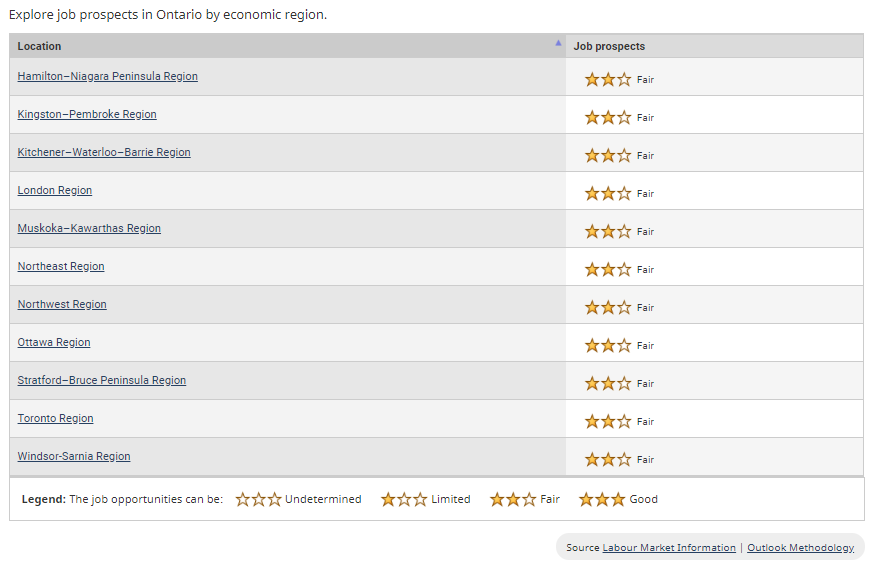 Source: Government of Canada Job Bank (jobbank.gc.ca)
Students will still need to compete for good jobs; no college can guarantee you employment.
However, with consistent demand for MOAs, talented graduates will have an easier time finding work after completing their training.
2. Medical Office Assistants Make a Real Difference
Medical office assistants do a lot more than book appointments and organize patient files. They are the first line of contact at a hospital or clinic.
MOAs are the ones who greet patients as they arrive. They speak to anxious parents and care-givers who call in with questions. They help determine who needs urgent care, and assist nurses with minor medical procedures.
Medical office assistants are the "face" of the clinic. They help make doctor visits less stressful and connect people with the appropriate health care provider.
"Navigating the healthcare system is complicated for most people. Medical office assistants work with patients to make the experience less stressful. They help patients get the right care, at the right time.

Plus, they assist the entire medical team by ensuring the clinic runs smoothly. It's an important role, where you can really make a difference."
-Ayo Adetoro, Instructor, Medical Office Administrator Program, Herzing College
3. Medical Office Administration Training is Very Quick
If you're looking for quick training and fast entry into the workforce, medical office is a great option. You can complete a quality Medical Office Administration program in well under 12 months.
At Herzing, our MOA program runs for 9 months, including a 6-week internship at a hospital or clinic.
A good program includes both theory and hands-on training, so students are fully prepared to work in a real health care office immediately after graduation.
You can expect to learn the following skills:
☑️ How to use medical office software
☑️ How to schedule patient appointments
☑️ How to do medical transcription
☑️ How to prepare patient charts, histories, records and reports
☑️ How to use standard Microsoft Office applications
☑️ Medical terminology used by nurses and doctors
☑️ Human anatomy and physiology
☑️ Certificates in Vital Signs Clinic, First Aid and CPR
Medical Office Administration training is an excellent option for both mature students and new high school graduates. We have students of all ages and backgrounds in this program.
If you are reliable, a good multi-tasker, and serious about helping patients, you can do very well in medical office training. Click below for a quick overview of the program and courses.
4. Become a respected
member of a health care team
Skilled medical office assistants are highly valued by the doctors and nurses they work with. Clinics cannot run smoothly without compassionate, well-organized MOAs.
If you're looking for a health care career where you play an important role in a team, this is a great option. You can take pride in your job and know that you're making a key contribution to the health care system.
5. Many employment options
Which area of health care are you interested in? See yourself working at a hospital or dental clinic? Prefer to join a chiropractic or physiotherapy practice?
If you become a medical office assistant, you will have job options in many different health care settings. Successful graduates are qualified to work at:
☑️ Hospitals
☑️ Family clinics
☑️ Dental offices
☑️ Walk-in clinics
☑️ Chiropractor offices
☑️ Physiotherapy clinics
☑️ Extended care centres
☑️ Insurance provider companies
6. Flexible work schedules
Prefer to work weekends and keep some of your weekdays free? Have young children and want a job with a consistent 9-5 schedule?
Because medical office assistants have a wide variety of employment options, they have some choices regarding work hours.
For example, hospitals often have shifts that run around the clock. While family clinics typically open from 9-5.
Many clinic jobs have options for day, evening, and weekend hours.
You can find the schedule that works best for your needs.
7.
This work is challenging and personally rewarding
No two days are the same for medical office assistants. There is always a new challenge to meet, new skill to learn, and new patient to help.
You will not get bored in this role! MOAs stay busy assisting doctors and nurses, coordinating appointments, updating records, and greeting new patients.
A clinic is a community. Over time, you will get to know the regular patients and their families and enjoy building those relationships.
Toronto MOA, Paulo Cortez, says interacting with patients is his favourite part of the job.
"On a daily basis, my responsibilities include scheduling patients, answering phone calls, updating the electronic medical records, organizing files, and providing for all the needs of patients when they arrive at the clinic. But my favourite part is building rapport with the patients. I really enjoy getting to meet new people."
considering this career?
If you'd like to become a medical office assistant and need information about training, our Admissions team can help.
An Advisor can guide you through the program and answer your questions.
Our goal is to provide guidance and support.
If you think Medical Office training is right for you, or want to discuss other possible health care careers, we'd be happy to talk with you.
Click below to explore Herzing's Medical Office Administration program and chat live with an Admissions Advisor. We're here to help!