Updated May 2023
If you're considering becoming an animator, the biggest challenge you'll face is choosing the right 3D animation training.
Each animation college has its own approach to curriculum and teaching style. The program you choose will have a direct impact on your success in breaking into the industry, so it's worth doing some research to figure out what each school has to offer.
Curious about Herzing's 3D animation program? Here's your quick guide to training, including what to expect in class, and exactly how this program prepares you for a successful animation career. Hear from grads of the program, see examples of class projects, and find out what it's really like to study 3D animation at Herzing. Let's get started.
What's the Length & Structure of the 3D Animation Program?
Herzing's 3D diploma program is 17 months long. This is an accelerated, intensive program where students are in class 25 hours per week.
The training includes more than a dozen different 3D animation courses, each focusing on a different technical skill. Students start off learning about the entire 3D production process, Later on, they have a choice of four specializations:
Modelling:

Produce characters, environments, props, buildings, and other objects according to specs provided by the art director

Animation:

Focusing on making things move

Visual effects

: Simulate effects using particles and forces, such as fire, water, explosions, and tornadoes

Compositing

: Combine the various elements to create a complete scene
There are many hands-on projects along the way, so you can develop material for your professional demo reel. In fact, by the end of the program, you will have two demo reels: an individual one made as part of your specialty and one done as part of a group project where students from the different specialties work together, just like in the real world.
Here's an example of a group animation project in which six students constructed and built Herzing City.
What Specific Animation Skills Will You Learn?
This program prepares students for careers in several parts of the animation industry: video games, TV and movie production, web design, and advertising/marketing. So you can expect to cover a lot of ground.
The main focus is on ensuring students get comfortable using the latest animation software--the tools today's animation professionals use most:
Autodesk Maya

Autodesk Mudbox

Adobe Photoshop

Adobe Premiere

Adobe After Effects

You will apply and practise every one of these tools while learning a wide range of animation techniques. Herzing students dive deep into:
Storyboarding

Character animation

Modelling characters and scenes

Texturing

Special effects

Lighting

Digital sculpting

Traditional drawing

Video game design (team project)

Architectural and environmental modelling

Demo reel production
The focus is always on learning by doing. The classes feel like a real studio environment where you'll be collaborating with other artists, and producing real animations, all the way through the program.
Real-world Animation Experience
One of the most important aspects of Herzing's 3D animation training is the internship. If you've never worked in the industry before, an internship is crucial for getting your foot in the door. It helps you gain experience for your resume and demo reel—and gives you access to a real animation studio.
Every student in Herzing's program completes an eight-week internship doing animation at a real company or studio. Many even get hired there after graduating from the program.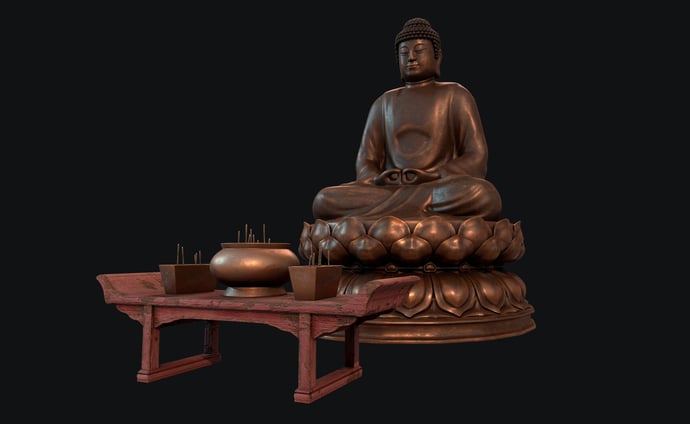 Example of 3D environment modelling done by Herzing student Shitian Qiu
Welcoming, fun learning environment
Herzing's animation program attracts people of all ages, from all walks of life. This is a diverse learning environment where everyone feels welcome. It's not about competition, stress, or stepping on other students to get ahead.
In many ways, the classes simulate a real studio, where artists collaborate and share ideas.
Still have questions?
If you're interested in learning more about the 3D animation program or have questions about the career, your best bet is to meet directly with admissions.
Request a personal advising appointment to learn about tuition and financial aid and talk about your career goals. An advisor can walk you through the process and help you plan your next move.
Most importantly, you will find out if 3D animation is right for you—and if Herzing is a good fit. Either way, we're happy to offer advice and support.
Click below to browse the 3D animation program for yourself. See a detailed course list, chat live with an admissions advisor, and find links to learn more. We're here to help!