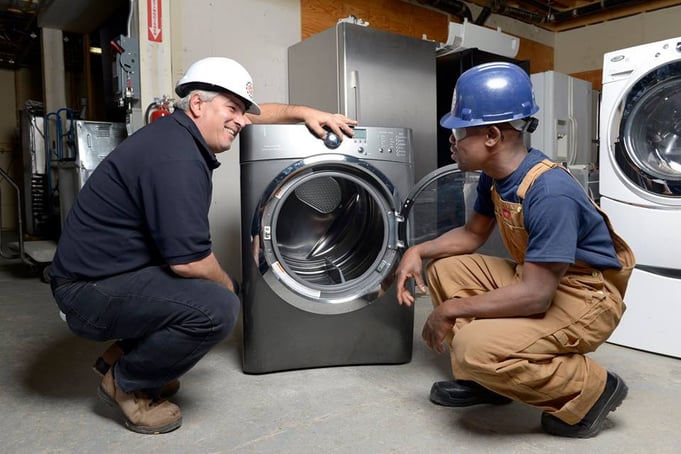 Considering appliance technician training, but aren't sure which pre-apprenticeship program offers the best value for your time and tuition?
Although they take a bit longer to complete, combined trades training programs are an ideal solution for many students. Combined training melds together aspects of two related programs, helping students extend and deepen their skills and knowledge. A combined appliance and domestic repair program is an excellent example of this popular approach.
This post offers prospective students a breakdown of what is taught in this combined program, plus recently published data on the job outlook for appliance repair technicians in Ontario.
Combined Appliance Training Develops More Competitive Skillset
Students who combine domestic repair and appliance technician training diversify their skills in two relevant, marketable areas. In 720 hours of coursework, they learn the theory and hands-on skills typically delivered separately in the Appliance Service Technician (480 hours) and Domestic Appliance Technician (240 hours) programs. This means students learn how to repair and service electric washers, dryers, refrigerators, ovens, etc.— as well as install, inspect, alter, and purge natural gas or propane appliances.
The combined program covers a wide range of course material, including:
Safety laws and procedures (such as the Occupational Health and Safety Act, using Mapp & acetylene torches, Confined Spaces Hazard Awareness training, and environmental refrigerant laws)
servicing and repairing major appliances
electrical and plumbing aspects of servicing appliances
soldering and brazing
interpreting electrical schematics and charts
using hand and power tools
how to diagnose faults using testing devices
heating and ventilation of electrical systems and multi-fuel heating systems
installing and servicing gas, propane, oil fired burners, furnaces, boilers and hot water heaters
piping and appliance venting practices
preparation to take the Technical Standards and Safety Authority (TSSA) exam—a requirement for anyone who plans to work on commercial or residential gas-fired appliances
Prepared to work with both electrical and gas-fired appliances, graduates of this combined program enter an apprenticeship with a well-rounded, competitive skillset.
Steady Demand for Appliance Repair Technicians in Ontario
On December 23, 2016, the Government of Canada Job Bank released its analysis of employment trends across the country, for hundreds of occupations.
Research published for trades in Ontario show a steady demand for appliance repair technicians across the province, which is expected to continue for the next several years.
The majority of appliance technicians in Ontario work in the repair and maintenance sector (42%), while the rest work with retail stories, in construction, and in the wholesale trade.
A whopping 27% of tradespeople working in appliance repair are over the age of 55. Their impending retirement is one of the factors driving up demand for new technicians in this field.
Job Bank data indicates that demand for certification and post-secondary training is also rising for appliance technicians—currently, 69% of workers in this occupation hold an apprenticeship or trades certificate, or have completed a college level training program.
Most appliance servicers and repairers (72%) work all year round, while only 28% work part of the year—fewer than the average, which sits at 34% part-timers for all other occupations.
What are the top skills listed by appliance technician employers, in addition to relevant training and certification? Excellent written and oral communication, teamwork, superior customer service/client-oriented attitude, and ability to work independently.
Are you interested in learning more about a combined appliance repair program? Looking for a trustworthy pre-apprenticeship school in the Toronto or Cambridge area?
Take a look at the Pre-apprenticeship Training (PAT) Institute. PAT offers a selection of combined programs, and is recognized for quality and excellence by industry leaders.
Visit PAT's Combined Appliance and Domestic Repair program page for a complete list of appliance technician courses, career options, and to chat live with a knowledgeable advisor. We'll help you get started!