Appliance technician students learning how to disassemble and repair microwaves at Herzing College Toronto
Updated November 2022
If you ask the average person to name some skilled trades, there's a good chance appliance repair won't make the list. It just doesn't come to mind most of the time.
Which is a shame, because this is a fast-growing field with a ton of opportunities across Ontario.
Appliances like fridges, ovens, freezers, washers, dryers, and microwaves are becoming increasingly sophisticated and complex. And there aren't enough people with the technical expertise to service and repair them.
The truth is that the demand for appliance technicians has been rising steadily for years. And it's expected to continue growing for the foreseeable future.
Keep reading to find out what's driving this trend—and how you can take advantage of it.
THE DEMAND FOR APPLIANCE TECHNICIANS IN ONTARIO
All across the province, the need for skilled appliance technicians just keeps growing.
Data from the Ontario government shows that the number of online job postings for appliance servicers and repairers has been increasing for several years.
In fact, postings grew by close to 30 per cent between 2017 and 2020. And they more than quadrupled between 2020 and 2021!
The future career outlook is just as promising. The provincial government estimates that jobs for appliance techs will continue to grow at an above-average rate through 2025.
And the technicians who fill those roles will need to keep up with the latest tools and technologies.
Ryan Monaghan of Whirlpool Canada told us that there's a serious shortage of people with the skillset to work on today's tech-intensive appliances.
"The industry is changing with new major appliances becoming more computerized, Wi-Fi-enabled and sophisticated.

Technicians need to be more tech-savvy than ever, and have new skills and expertise to capitalize on the growing demand for appliance technicians across Canada."
HOW MUCH DO APPLIANCE TECHNICIANS IN ONTARIO MAKE?
You can make a healthy income in the appliance repair field.
In Ontario, appliance technicians earn a median salary of about $44,000, based on data from the Government of Canada Job Bank. The top techs in the province make over $62,000.
Your earning potential can depend on whether you work on salary at a company or run your own business.
HOW LONG DOES IT TAKE TO BECOME AN APPLIANCE TECHNICIAN IN ONTARIO?
Good news: appliance repair is one of the quickest trades you can train for.
You don't need to complete an apprenticeship or become certified. You can gain the skills you need through a 24-week appliance repair course.
That means you can go from a total beginner to a fully qualified tech in only six months.
WHAT WILL YOU LEARN IN APPLIANCE REPAIR TRAINING?
Appliance technician training gives you hands-on practice with installing, troubleshooting, and servicing all kinds of major home appliances.
Specifically, a good program will teach you how to:
☑️ Use a variety of hand and power tools, including MAPP and acetylene torches
☑️ Take appliances apart and put them back together
☑️ Read and understand electrical schematics
☑️ Look up the parts needed for a repair
☑️ Properly handle refrigerants
☑️ Follow safety protocols
☑️ Provide excellent customer service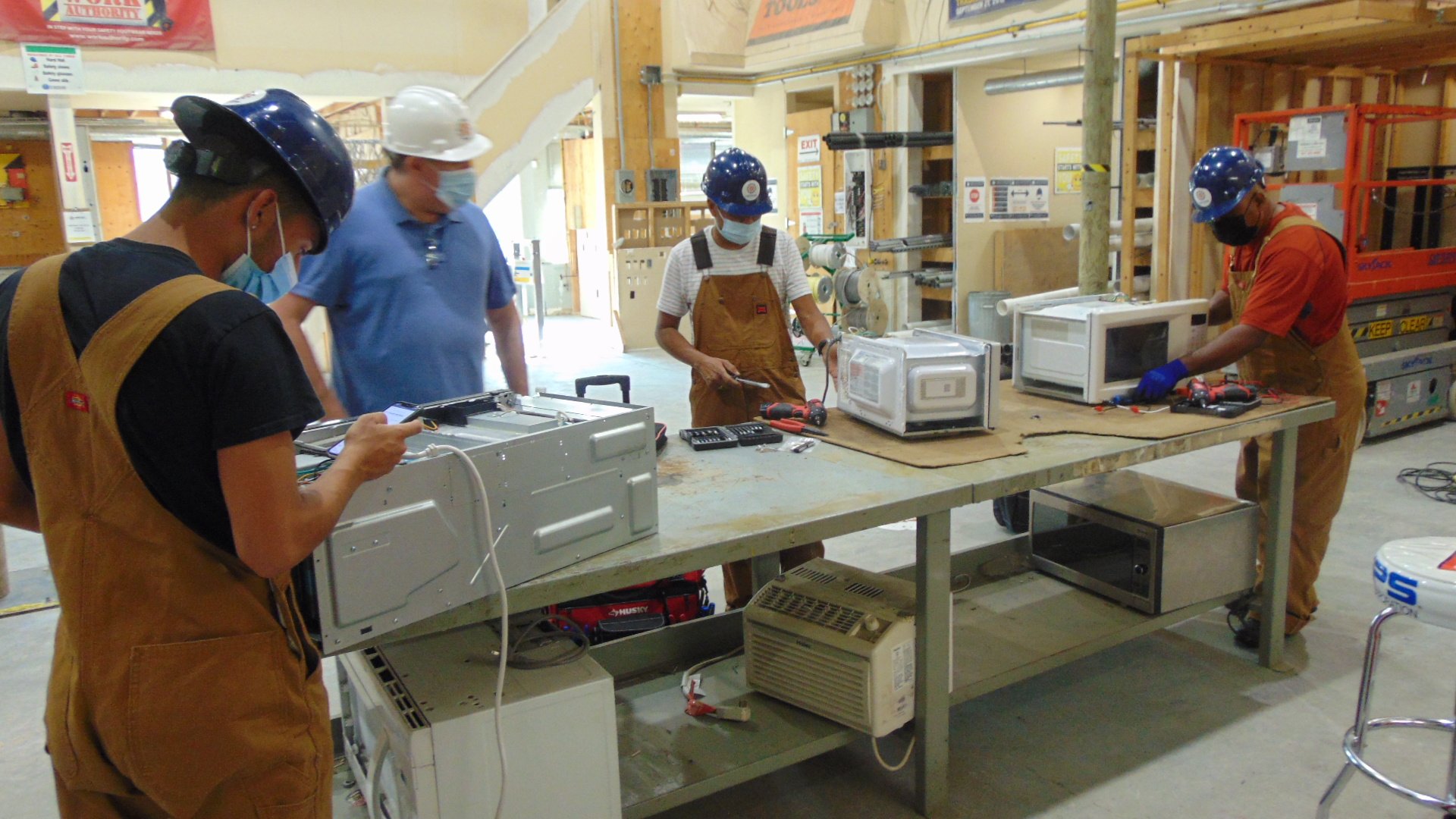 Appliance technician students in the training workshop at Herzing College Toronto
Whirlpool Partners with Trades Schools to Train more appliance techs
Whirlpool Canada has begun partnering with leading trade schools across Ontario to produce more qualified appliance technicians. They provide schools with the latest appliances and diagnostic tools so students can build the right skills to service today's "smart" appliances. Then Whirlpool hires the best and brightest straight out of the training programs.
Isaac Thomas was one of those lucky grads. He took the appliance program at Herzing College and landed a job with Whirlpool right after.
"For me, the best part of the Appliance Service Technician program was getting to troubleshoot all the different types of appliances. I also really enjoyed dissecting the units, and learning how all the major appliances we use every day actually work.

Upon graduating, I was given the opportunity to speak with Whirlpool and submit my resume. The position wasn't guaranteed. I had to go through an interview process, but in the end, I got the job."
INTERESTED IN BECOMING AN APPLIANCE TECHNICIAN?
Want to take advantage of the rising demand for appliance technicians in Ontario? Your first step is to find a quality training program.
Have a look at the Appliance Service Technician program at Herzing College. The program is just 24 weeks long and includes valuable safety certifications like WHMIS and lockout and tag safety.
Our students get hands-on training with industry-current equipment supplied by Whirlpool Canada. They also have an opportunity to get hired at Whirlpool right after graduation.
Need more info? An admissions advisor can walk you through the program and help you decide if appliance repair is the right trade for you.
Click below to get complete program details and chat live with an advisor. We're here to help!