You're smart to be looking into how to become an appliance repair technician. This is an in-demand trade that lets you tinker with exciting new technologies and work on the cutting edge. Plus, fixing the appliances that people rely on each day can bring real job satisfaction and fulfillment.
So what does it take to get started?
Below, we outline the skills, training, and certifications that can help you launch your appliance technician career in Ontario. We also provide the latest data on wages and job outlook, so you can get a true picture of where this trade can take you.
TABLE OF CONTENTS
ESSENTIAL SKILLS FOR APPLIANCE TECHNICIANS
If you want to thrive in this trade, you will need:
Technical Knowledge
It's important to have a good working knowledge of the different types of major appliances: washers, dryers, stoves, microwaves, refrigerators, and so on. You have to understand how all the parts go together so you can identify and fix common problems.
Appliance techs also need to know:
How to move and position units safely
Basic plumbing, electricity, and electronics
Regulations for environmental refrigerants
How to read and interpret schematic charts and diagrams
How to use specialized tools like MAPP and acetylene torches
Keep in mind that appliances are more sophisticated than ever before. Technicians need very sharp diagnostic and electronic skills to service the newer units. You'll need to stay on top of trends and keep developing your knowledge.
Problem-Solving Skills
Problem solving is one of the most important appliance technician skills. People rely on your expertise to figure out what's wrong and get their appliances working again.
Samantha Barrette got hired at Trans Global Service shortly after completing the appliance repair program at Herzing. "The technician needs good problem-solving skills to diagnose properly what is wrong with an appliance," she says.
"It is crucial for when the work is not covered under warranty, or it may cost the customer or the business a lot of money. Therefore, diagnosing it right the first time is ideal."
Herzing graduate Christine Cunningham, who went on to work for Whirlpool, agrees that problem solving is key to success.
"Every service tech needs to be good at creative problem solving—looking at problems from different angles, testing out different solutions, and finding the root cause of the issue," she told us.
Customer Service Abilities
Although you tend to work independently on the job, it's critical to have good people skills when you're out on service calls and visiting clients' homes. Service should be done quickly and competently, tools handled with care, and the worksite left as clean as when you arrived.
"On every call I do, customer service comes into play," says Samantha. "Sometimes things go wrong, such as the wrong part is delivered, the part is faulty, or the part is damaged. In situations like these, you need the ability to calm down a frustrated customer, professionally and politely."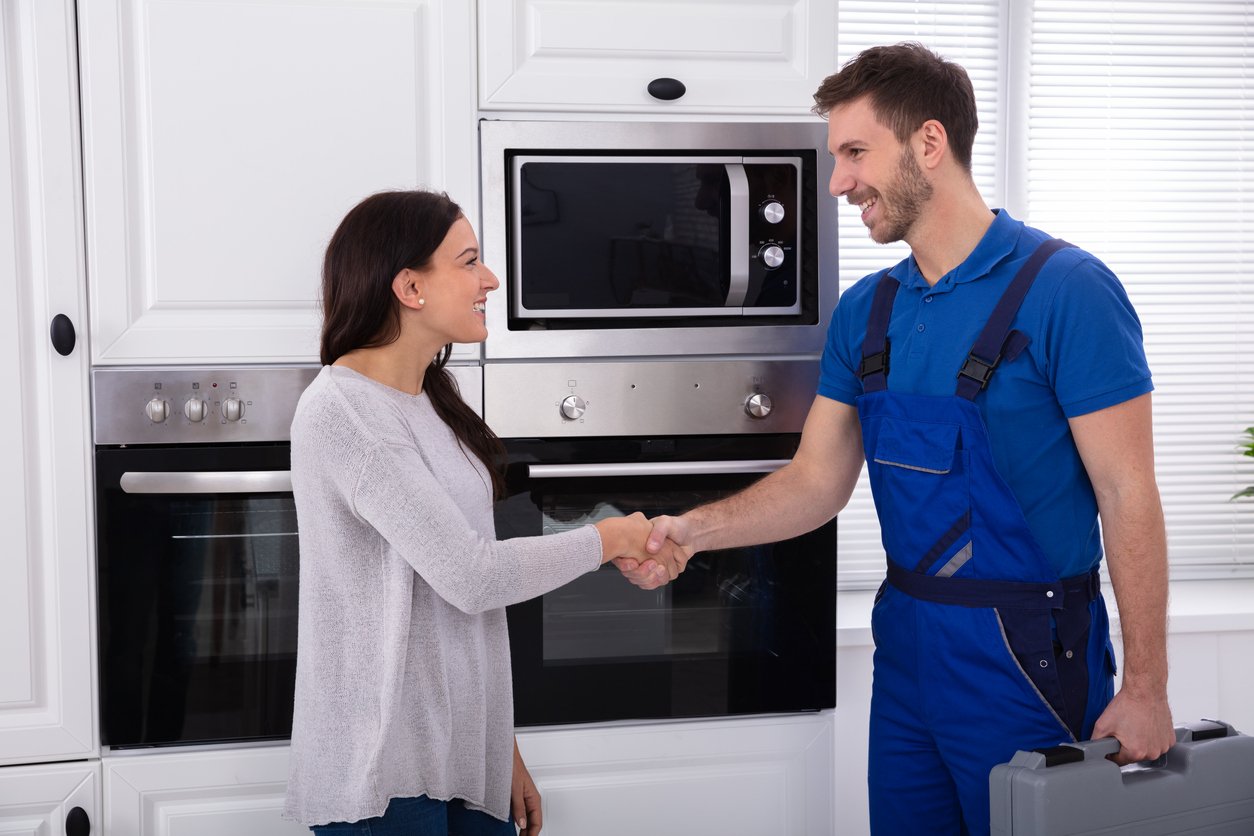 Maintaining good customer relations is key for appliance techs
EDUCATION AND TRAINING
To become an appliance technician, you have three possible educational paths.
High School Diploma or Equivalent
Many job postings for appliance technicians call for no more than a high school education. However, they usually stress that applicants should have basic mechanical and electrical knowledge along with some technical aptitude. And of course, hands-on experience counts for a lot.
If you have all that and you're willing to learn on the job, you may not need to pursue formal training. (Unless you want to work on gas-fired units, in which case you'll need to get certified.) But with appliances continually becoming more computerized and sophisticated, you may want to develop your skills through a structured program.
Vocational Training Programs
Appliance repair training is available from colleges, trade schools, and technical institutes. Courses include both theory during classroom instruction and hands-on practice in a workshop. They tend to be short—Herzing's appliance service technician program is just 24 weeks long.
During the program, you can expect to learn:
Requirements and practices for safe workplaces
Service and installation methods, including soldering and brazing
How to read schematic diagrams and look up replacement parts
Proper techniques for using hand and power tools
Troubleshooting and diagnostic procedures
Common issues with major appliances and how to resolve them
By the time you graduate, you'll be fully ready to launch your appliance technician career.
Apprenticeship
Apprenticeships take time, but they do allow you to earn while you learn. In Ontario, an appliance service technician apprenticeship takes about three years and involves:
5,280 hours of on-the-job training, for which you are paid
720 hours of classroom lessons at a trade school
Keep in mind that you don't have to complete an apprenticeship and earn your Certificate of Qualification (C of Q) to work as an appliance technician in Ontario. But you can choose to do so, and you may decide that it's worth it.
Appliance service technician is a Red Seal trade, so if you pass the exam you will receive a Red Seal endorsement on your C of Q. That means your credentials will be recognized all over the country—including in Alberta, where certification is mandatory.
APPLIANCE TECHNICIAN CERTIFICATION AND LICENSING
In Ontario, appliance servicers do not need any licences or certifications to install and service electric appliances.
But if you want to do gas appliance repair, you'll need gas technician certification from the Technical Standards and Safety Authority (TSSA). Beginners start at the G3 level, which allows you to work under the supervision of a certified gas fitter. The next level up is G2, which allows you to work independently.
It can also be useful to get your Ozone Depletion Prevention (ODP) certificate, which allows you to handle refrigerants. You will need your ODP if you want to become a refrigeration mechanic.
JOB PROSPECTS AND MARKET DEMAND
Appliance technicians have been in huge demand across Ontario for the past few years, and that trend is expected to continue.
According to provincial government data, online job postings for appliance servicers grew by 14 per cent between 2020 and 2021—and then more than quadrupled between 2021 and 2022! What's more, the government forecasts an above-average outlook for appliance technician job prospects, with up to 600 openings expected between 2023 and 2027.
Skilled techs can find work with:
Appliance sales companies
Appliance wholesalers
Large apartment owners
Restaurants
Hospitals
Grocery stores
Independent appliance servicing companies
WAGES AND EARNINGS
So the demand for this trade is enormous. But how's the pay?
The latest data from the Government of Canada Job Bank shows that appliance servicers in Ontario make a median salary of about $44,000, while the highest-paid techs make more than $62,000.
And your earning potential could be even greater if you operate your own business, which almost 40 per cent of appliance techs in Ontario do, according to the Job Bank.
GET THE TRAINING YOU NEED TO BECOME AN APPLIANCE TECHNICIAN
At Herzing College (Toronto and Cambridge), we offer three different appliance technician programs:
Your first step is to speak with admissions to figure out which appliance program makes the most sense for you. An advisor will walk you through courses, career options, financial aid, and how to apply.
Chat live with an advisor right now. Or click below to explore the programs and get more information. We're here to help!