Updated January 2023
Some of the most in-demand jobs in Canada right now are in the construction industry.
Careers in the skilled trades offer tremendous opportunities across the country, with great freedom of mobility and job security. These are the jobs least likely to be sent offshore or be lost to automation. They offer high pay, great benefits, and often the flexibility to set your own hours or be your own boss.
Ontario's construction industry is projected to grow over the coming years, driven by numerous new infrastructure and utilities projects as well as big demand in the residential building and renovation market.
And don't forget, many skilled tradespeople are continuing to retire. Over 56,000 trades positions will need to be filled in Ontario alone between 2022 and 2027 to make up for those who are exiting the industry.
If you're thinking about construction trades training, take a look at five of the most in-demand careers out there right now.

1. Construction & Maintenance Electrician
An electrician's skills are essential for every construction project, whether in commercial, industrial, or residential areas.
Working as a construction and maintenance electrician involves installing, repairing, and upgrading electrical wiring, fixtures, and controls for residential and commercial buildings.
Electricians can find work pretty much anywhere. Demand is so strong, it's pushing salaries higher and higher. Job Bank data shows that construction and maintenance electricians in the Toronto area earn a median wage of $30.77 per hour. At the higher end, they're making $47.50 per hour.
To become an electrician, you must complete an apprenticeship and then write an exam to earn your Certificate of Qualification. For many people, the first step is pre-apprenticeship electrician training. Click below to see how it works.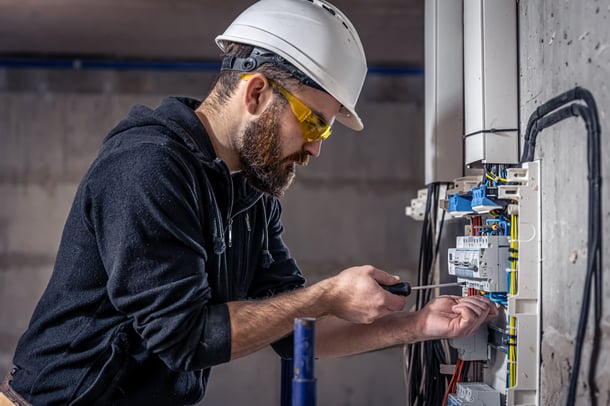 2. HVAC Mechanic/Technician
HVAC (heating, ventilation, and air conditioning) mechanics install, repair, and overhaul all types of systems related to air quality and temperature control. With a renewed focus on air quality brought on by the pandemic plus a boom in energy efficiency upgrades, this is one of the hottest jobs in Canada right now.
Ontario government data shows that job postings for HVAC mechanics more than tripled between 2017 and 2021. And the latest Job Bank report forecasts strong demand for HVAC mechanics throughout Ontario. This trade gets four stars for employment growth--the Job Bank's second-highest rating.
In terms of earnings, the Job Bank says HVAC mechanics in Ontario make a median hourly wage of $28. The highest earners make $48 per hour.
HVAC mechanics and technicians must complete an apprenticeship and earn a Certificate of Qualification to work in the field or start a heating/cooling business. You'll also need a gas technician certification to work with gas and propane-fired heating/cooling equipment.
Click below to learn more about HVAC training and certification.
3. Plumber
Growth in the construction industry is just one reason for the high demand for plumbers in Canada. There are jobs available across all sectors, from industrial to residential. Ontario alone expects to see up to 5,000 openings for plumbers between 2021 and 2025--that represents a growth rate of more than 14 per cent.
Plumbing career paths include:
Working on new construction projects
Doing residential and commercial plumbing maintenance
Doing renovation and retrofit work
Working on municipal water systems
Starting your own plumbing business
Becoming a plumber instructor
Working in plumbing sales
Plumber is another well-paid skilled trade, with a median hourly wage of $30 in Ontario. Experienced plumbers in the province can make $45 per hour, according to the Job Bank.
Like all the other regulated trades in Ontario, you must complete an apprenticeship and pass a certification exam to become a licensed plumber. Click below to explore the first level of training to prepare you for an apprenticeship.

4. Appliance repair technician
Most people don't realize how fast the appliance repair trade is growing. Appliances have become so complex and high-tech, many companies can't find enough skilled technicians to do repairs. The Ontario government notes that job postings for appliance service techs more than quadrupled between 2020 and 2021, and employment in this occupation is expected to continue growing at an above-average rate through 2025.
Qualified appliance repair technicians can start their own business, or get hired at:
Major appliance sales companies
Wholesalers
Large apartment owners
Small independent service companies
Commercial restaurant equipment industry
In Ontario, appliance service techs make a median wage of $21 per hour, based on Job Bank data. Top-end wages are $30 per hour.
You don't need to do an apprenticeship or pass a certification exam to work in this trade. In fact, training takes just 24 weeks. Click below to explore a program and learn more.
5. Construction project Manager
As construction activity continue to increase, more managers are needed to coordinate projects behind the scenes. Up to 15,000 jobs for construction managers are expected to become available in Ontario between 2021 and 2025, according to provincial government estimates.
Construction project managers oversee every aspect of a new build or renovation, including:
Maintaining records and files
Ensuring compliance with occupational health and safety procedures
Coordinating subcontractors
Keeping projects on budget
Processing invoices
Keeping clients updated
Ordering materials
Construction managers are employed by residential, commercial, and industrial construction companies as well as major electrical, mechanical, and trade contractors.
No apprenticeship or certification is required to work as a construction manager. You can complete a training program in as little as 12 months. Click below to explore a program.
Have questions about trades training and careers?
Interested in learning more about skilled trades training and career options? Check out the pre-apprenticeship and construction trades training programs available at Herzing College (Toronto and Cambridge).
An admissions advisor will guide you through available construction training programs and answer any questions you have. They'll assess your needs and goals and help you find the program that's right for you.
Click below to browse a complete list of trade programs, compare options, and chat live with an admissions advisor. We're here to help!