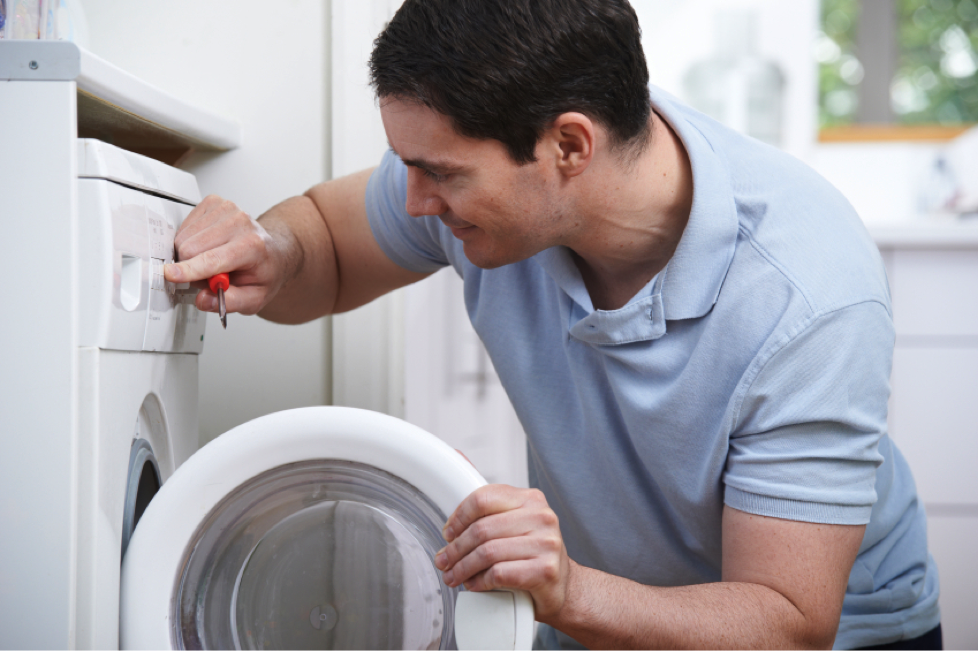 Appliance service technicians install and service home appliances of all types including ranges, washers and dryers, microwaves, vacuums, fridges, and more. These professionals have the ability to connect gas and water lines, and know how to check for leaks once the appliances are installed. If appliances aren't functioning properly, they are capable of quickly spotting the problem. If need be, appliance service techs are also able to dismantle and reassemble appliances in order to diagnose and fix a variety of issues.
Well-functioning appliances are critical in every household, since most people rely heavily on them in order to keep food fresh, make meals and do laundry. Therefore, if you're considering pursuing an appliance technician career, you'll be providing a very valuable service by troubleshooting and fixing major appliances.
Read on to for some essential technician-approved washing machine maintenance tips.
Appliance Technicians Should Check Water-Fill Hoses for Leaks
Eventually, the hoses that come with washing machines weaken and may leak or even burst. When called into a residence, one of the first things that appliance service technicians verify on a washing machine is its hoses. Most manufacturers recommend replacing water-fill hoses every 4 to 5 years and these days, there are very durable replacement options available, such as steel hoses.
Appliance Technicians Must Ensure That Washing Machines Are Level
When washing machines aren't level, they can often vibrate, bang against walls and sometimes even move across the floor. During your appliance technician training, you'll learn that not only will an un-level washer make a lot of noise (especially during a spin cycle), but this type of movement and vibration can also cause damage to the appliance's motor over time.
Simply adjusting the washer's front and rear legs should help keep it level. When making adjustments, it's important to keep the machine as close to the ground as possible—the lower it is, the less likely it is to vibrate.
Appliance Technicians Must Pay Close Attention to a Washer's Lint Trap
Most appliance owners know to clean their dryer's lint trap after every laundry load, but doing the same on a washer isn't as easy. One thing you'll learn during your appliance technician courses is that washing machines typically collect lint during the wash cycle and then send it down the drain during the drain cycle.
A washer's lint trap will be located in different spots, depending on the brand of washing machine. Some are located along the top rim of the washer tub, and others are inside the agitator or at the end of the drainage hose. To prevent clogging, it's important for a washer's lint trap to be taken out and cleaned periodically.
Appliance Technicians Understand the Importance of Protecting the Finish
Washing machines typically have a porcelain or baked enamel finish on their exterior that can be damaged over time by water, liquid soaps and general wear and tear. Once you become an appliance technician, you will learn that it is important not to place sharp objects directly on top of a washing machine, since doing so can scratch the finish. Industry professionals typically instruct their customers to wipe-down their machine occasionally in order to avoid corrosion and keep their washers looking new.
Want to learn more by enrolling in appliance technician courses? Visit PAT for more information or to speak with an advisor.