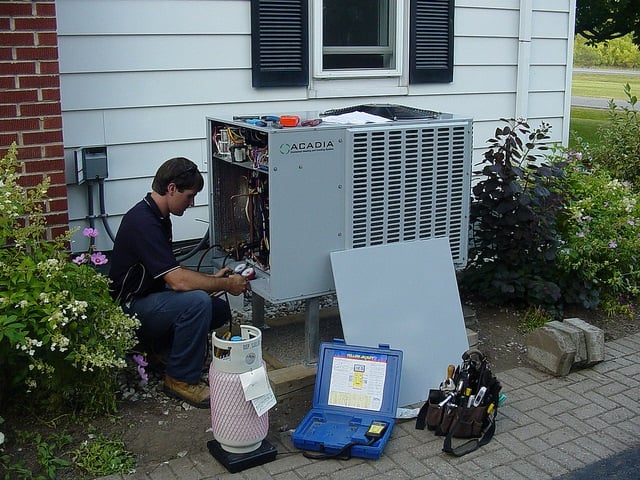 Thinking about getting started with HVAC training this year? Ontario has excellent job growth in HVAC right now, so you're on the right track in terms of career opportunities.
But how much do you know about how training works, or what this job involves? Have you researched and compared HVAC colleges in Ontario?
Your best first step is to get an overview of what to expect in class, and on-the-job. Know your work options after training, and which skills employers want most in new HVAC mechanics.
In this post, we offer a good introduction to HVAC courses and careers, plus next steps to get more information on HVAC training near you. Let's get started!
1. What Exactly is an HVAC Mechanic?
HVAC stands for Heating, Ventilation, and Air Conditioning. Sometimes you'll see an "R" added to the end (HVACR), which stands for Refrigeration.
HVAC mechanics are trained to install, maintain, and service all of the above systems, for both commercial and residential customers.
Here are some of the tasks you'd be doing on a typical day at work:
Installing refrigeration or air conditioning components, such as motors, controls, gauges, valves, circulating pumps, condensers, humidifiers, evaporators and compressors
Measuring and cutting piping, and connecting piping using welding and brazing equipment
Checking for leaks using testing devices
Recharging a system with refrigerant
Repairing and replacing parts for entire refrigeration, air conditioning, ventilation or heat pump systems
Calibrating systems and performing routine maintenance
2. What Skills Will You Learn in HVAC Training?
Quality HVAC training covers a lot of ground. Students learn everything from the fundamentals of common heating and cooling systems, to the latest safety protocols, to employability skills to help them land a good job after graduation.
Your HVAC program will include 360 hours of required theory and hands-on practice, under the guidance of a highly experienced instructor. Courses will include topics such as:
HVAC Systems: The fundamentals of both residential and light commercial heating/cooling systems—including forced air furnace systems and hydronic boiler heating systems.
Electrical Theory & Practice: The basics of the electrical code, electrical meters, series, parallel and series/parallel circuits, etc.
Venting Methods: How a building works as a system, and how to work with sheet metal to install venting.
Piping Methods: How to thread and install black steel and soft copper pipes.
HVAC Safety: The electrical safety requirements of the Occupational Health and Safety Act, environmental refrigerant laws (ODP), WHMIS, Working at Heights, Lock Out & Tag Safety, Confined Spaces Hazard Awareness, Aerial Platform, Traffic Control, and Scaffold Training.
3. Gas 3 Prep Should be Part of Your HVAC Training
The HVAC training you choose should include preparation to write the Gas 3 exam issued by the Technical Standards and Safety Authority (TSSA).
You will need a Gas 3 license to start work as an HVAC professional in Ontario—and most people progress to G2 to open up more, and better paid, HVAC opportunities.
4. Good People Skills are Important for HVAC Mechanics
When students are just starting out in the skilled trades, they often don't realize just how crucial good communication skills are to landing a great job and keeping clients satisfied.
The same holds true for HVAC careers. Because you'll be working in people's homes (or places of business), you'll need to be good at building rapport, being professional yet friendly, and inspiring trust.
You may also find yourself working in HVAC sales, pitching new products and upgrades to clients, where good people skills are a must.
You'll need to work closely with other tradespeople, explain repairs and procedures to clients, and answer every question patiently and clearly.
When hiring new HVAC mechanics, many companies put communication and customer service skills at the very top of their "wish list."
5. HVAC Technology is Rapidly Evolving
Think the world of HVAC hasn't changed much over the years? Think again! This field is rapidly evolving with all kinds of new technology.
There's a huge push for more efficient, eco-friendly heating and cooling solutions, which is driving a lot of new product development.
Plus, advances in "smart" homes and digital HVAC are compelling professionals in the field to learn new installation and servicing techniques.
But it's all good for business. There's rising demand for the latest advancements in heating and cooling...and mechanics who know how to work with these systems.
6. What's the Job Outlook for HVAC Mechanics in Ontario?
HVAC mechanics in Ontario get the highest rating for job outlook awarded by the Government of Canada Job Bank. That's 3/3 stars for projected demand and job opportunities across the province.
Right now, the highest number of HVAC mechanics are employed by heating and air-conditioning contractors within the construction industry. And because building development is strong in Ontario, more of these jobs are expected to open up over the coming years.
There is also huge demand in the commercial sector. HVAC mechanics are wanted at ice-rinks, processing plants, and supermarkets.
Food processing plants, in particular, are expected to become a top employer of HVAC professionals.
This is one of Ontario's biggest manufacturing operations—and of course, requires highly effective cooling systems to meet food safety requirements.
Learn More About HVAC Training Near You
There are a number of HVAC colleges available in Ontario. The Pre-apprenticeship Training (PAT) Institute runs programs in both Toronto and Cambridge, with start dates coming up soon.
If you're looking for more information about HVAC careers, courses, and admission requirements, we can help.
PAT offers free advising services online, and on-campus, including financial aid help. Click on the link to get your questions answered, and plan your next steps.