Sustainable architecture focuses on preserving the environment by using eco-friendly building methods and materials. There's been tremendous growth in this field all over the world. It's much more than a passing trend to "go green."
Sustainable architecture is a powerful movement, dedicated to protecting precious natural resources and promoting a better quality of life for all. This is where we're seeing some of the most technologically advanced and innovative approaches to building design.
Herzing College started offering a Sustainable Architecture training program several years ago. This program offers an alternative to people who want to participate in eco-building design, but don't want to invest years in university to become a licensed architect.
Our program trains students in the principles of sustainable architecture, and the software and technical skills required to draft architectural designs.
Are you considering a career in architectural drafting with a special focus on sustainable design? Canada is a global leader in this field, and an excellent place to start your career.
Here are a few things to know about training and the local job market, before you get started with school.
1. What is a Sustainable Building?
A sustainable building is a structure that shows respect for its ecological environment. That means it satisfies the client's needs, and is functional and safe, while making the least possible impact on the surrounding ecosystem.
Sustainable building designers think about things like:
Energy efficiency

Renewable energy sources

Sustainable building materials (which can be reused or disposed of without causing pollution)

Local building materials

Utilizing natural elements, like shade, sunlight, wind and rainwater

Grey-water recycling

Geothermal heating and cooling

Solar shingles and roof panels

High performance windows

Efficient appliances

Biomass (

combusting plant materials to generate energy, rather than using conventional fossil fuels)
A truly sustainable building incorporates all of these elements, plus other factors that are unique to the surrounding community and landscape.
A building is not "green" simply because it has solar panels. Sustainable architecture is bigger than that. It embodies a long-lasting, holistic commitment to environmentally responsible living.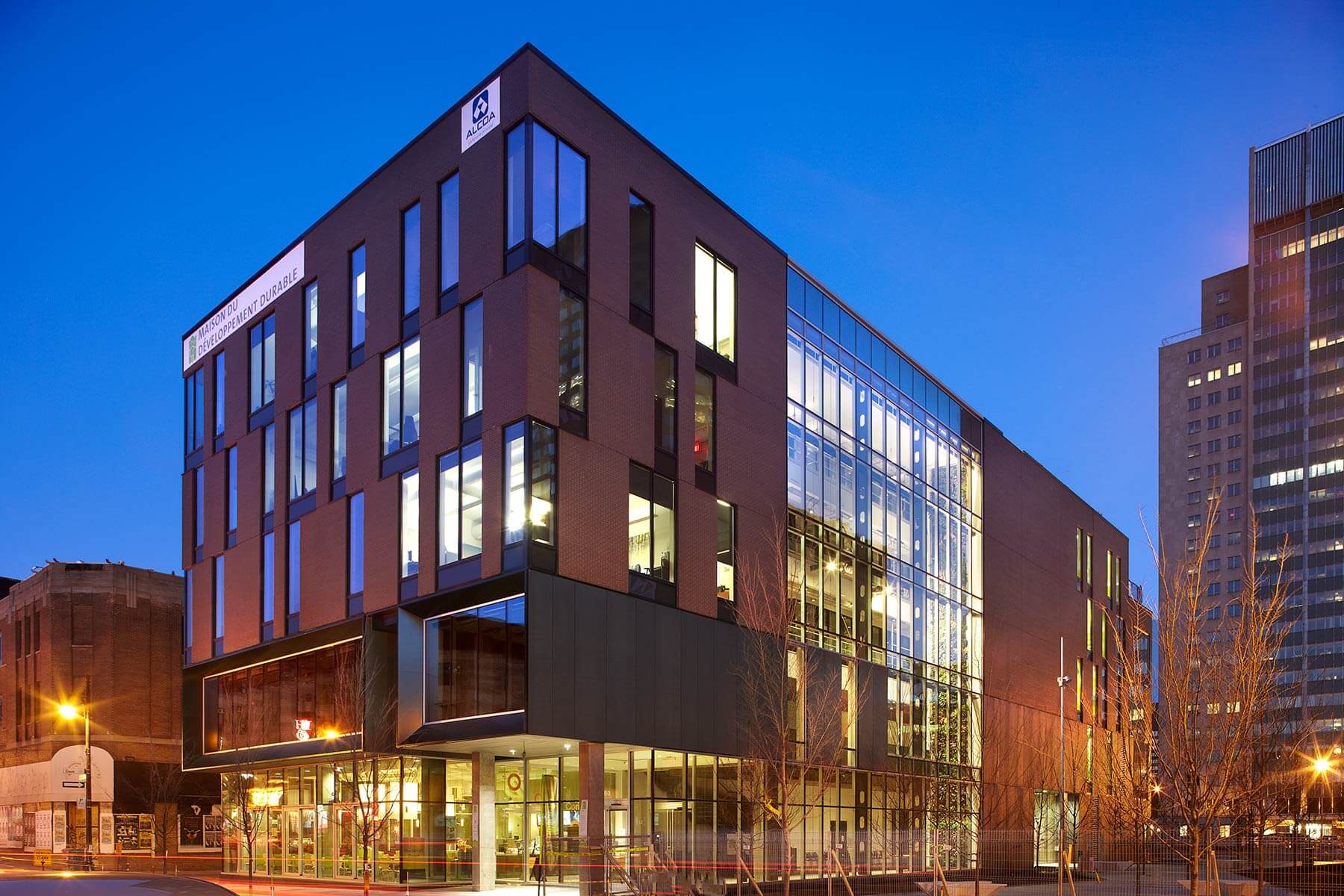 The Centre for Sustainable Development in Montreal, Canada is a leading example of green building
The Centre for Sustainable Development in Montreal, Canada is an excellent example of eco-friendly design. This building has earned the prestigious LEED® Canada NC Platinum certification (the first building in Québec to obtain this level, the highest in the LEED certification system).
The structure features geothermal heating and cooling, rainwater harvesting and a 5-storey living wall.
Learn more about the LEED® Canada rating system here.
2. is Sustainable Architecture popular in Canada?
The practice of sustainable architecture has been rapidly expanding in Canada. Every year, the U.S. Green Building Council (USGBC), the creators of the LEED rating system, ranks the top 10 countries for sustainable architecture outside of the United States.
Canada is a recurring name on that list. In 2019, we took second place behind China. The rankings are based on the number of LEED projects and gross square meters of space used in green building projects.
Top 10 Countries & Regions for LEED Outside of the U.S.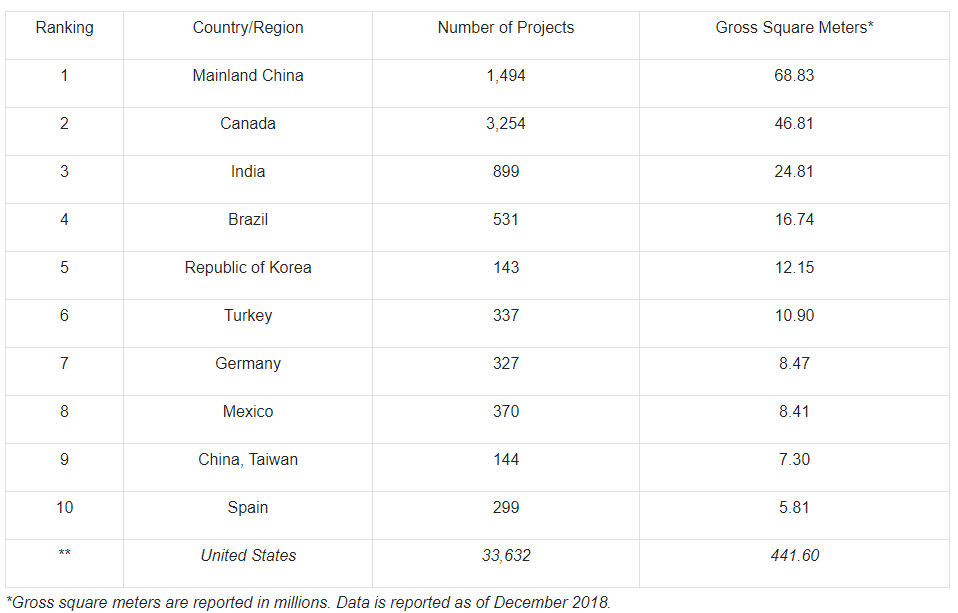 Chart courtesy of usgbc.org
Canada is considered an early adopter and leader in sustainable architecture. In recent years, we've made tremendous leaps in the number of construction projects that qualify for LEED certification, or are classified as "green."
Rising demand for energy efficient, cost effective, environmentally responsible structures is creating new opportunities for firms that specialize in sustainable building.
It's also good news for students in sustainable architecture training, who will see positive employment opportunities after graduation.
3. Job Options for Sustainable architecture grads
If you take a diploma-level Sustainable Architecture program, you will not qualify to pursue an architect license. However, you will be qualified to work at architecture firms and construction companies as an architectural draftsperson/technician.
A draftsperson is responsible for producing the blueprints, drawings, and building plans required for construction. They use AutoCAD to create plans that are up to code and aligned with the architect's concept for the structure.
With experience, an architectural draftsperson or technician can also consult with clients to develop concepts and make recommendations on building design.
These skills can be applied to both traditional and sustainable architecture projects, doubling your opportunities for employment after graduation.
Typical employers include:
Architecture firms

Construction companies

Property development firms

Appraisal firms
Job titles include:
Architectural technician

Architectural

technologist

Drafting technician

Appraiser
Most graduates obtain entry level positions in architectural firms, construction companies, and land surveyor firms.
Many Quebec companies have hired graduates from our program, including McGee & Associates, George Elbaz Architecture, Sygma Group, Barin LLP Architecture & Design, GMI Architects, Urban Immersive, and Martha France Architecture & Design.
4. what will you Learn in Sustainable Architecture Training?
Quality Sustainable Architecture training teaches practical drafting skills, along with the principles and techniques of green building. You can expect a very solid grounding in AutoCAD, with plenty of hands-on projects to get practice designing different types of buildings.
There is also a strong theory component. Students learn building codes and regulations, drafting standards, project management, and applied mathematics for architecture.
At Herzing College Montreal, our Sustainable Architecture program runs for 24 months. Training includes a 13-week internship at an architecture firm or construction company.
Main study topics include:
☑️ Architectural drawing and drafting with AutoCAD (how to produce 2D and 3D drawings, plans, elevations, sections, and models)
☑️ Identifying and applying sustainable building techniques (ecological building materials and production techniques, their environmental impact and how they may be used for different parts of a structure)
☑️ Building codes (The National Code of Canada and Leadership in Energy and Environmental Design - LEED - rating system and standards)
☑️ Designing different types of sustainable buildings (how to create sustainable designs for various kinds of structures: commercial, cultural, industrial, and commercial, including renovations, green upgrades and retrofits)
☑️ Sustainable interiors and landscaping (selecting interior finishes and furnishings, and developing green solutions for building exteriors and landscaping)
☑️ Site analysis and feasibility study (environmental analysis, topography, and site planning)
5. Is sustainable architecture right for you?
Herzing's Sustainable Architecture program attracts students from all backgrounds and age groups. What do they all have in common? Generally speaking, successful architectural design students are creative thinkers, analytical, highly detail-oriented, and passionate about eco-friendly building.
This work takes patience, problem-solving, and you need to be comfortable sitting at a computer for extended periods.
Instructor, Sam Graceffa, says working in architectural design requires a combination of innovative thinking, technical aptitude, and above-average communication skills.
"Most successful students have artistic/creative skills along with good spatial vision. Also, it's very helpful if you can visualize concepts in 3-D.

If you want a career in sustainable architecture, you will also need soft skills like good communication, the ability to truly listen to the client, and fully understand their needs and requirements.

After all, architecture is a client-driven domain. You must have a strong sense of customer service."
Think you're a good fit?
Your next step is to speak with an Admissions Advisor. An Advisor will walk you through the program, discuss your interests and career goals, and guide you through the application process.
They can also answer questions about financial aid, tuition, international applications, and careers.
Click below to get started. Explore Sustainable Architecture training at Herzing College and chat live with an Advisor right now. We're here to help!