First of all, what exactly is a supply chain? And what's involved in "managing" it?
In simple terms, a supply chain is the process of manufacturing, storing, and shipping a product from point A to point B. For example, it's the journey your cell phone goes through, from creation to warehouse to store shelf to your pocket.
And when you think about where all the different components of your cell phone come from, and how far the final product travels to reach your local store, that's a very complex journey. That's where the management part comes into play.
Supply chain management focuses on lowering costs and improving efficiency at every stage of the process—from manufacturing to point of purchase. All sorts of companies need supply chain professionals to help them source raw materials, make deals with suppliers, organize warehousing, coordinate shipping, etc.
To understand this industry better, we interviewed Rick Reid, the Executive Director of the Supply Chain Management Association of Manitoba (SCMA MB).
Rick made 2 points that really stood out during that interview:
1) The supply chain management industry is growing fast in Manitoba. Companies are looking to hire people who can lower their costs and help them compete better.
2) You don't need a university degree to get started in this field. A Supply Chain Management Diploma is enough to land entry-level positions in a variety of supply chain and logistics roles.
In this post, we're looking at 3 of those entry-level roles. These are your supply chain management career options in Manitoba, plus some helpful advice on getting started with training.
Supply Chain Management Career #1: Procurement Officer
A procurement officer is in charge of purchasing the materials and equipment a business needs to fulfil orders for customers. They make sure these supplies are stocked as needed, negotiate contracts with vendors, and keep track of shipments.
For example, if you worked for a clothing manufacturer, you might be responsible for ensuring the factory has all the material needed to fulfill incoming orders. As needed, you would negotiate deals for more material with suppliers, always looking for the best possible price.
Is there a sudden shortage of a particular fabric? A big order comes in at the last minute? It's your job to procure the required materials quickly, and at the lowest possible cost.
Typical responsibilities for procurements officers include:
determine what materials and equipment are needed by a business, and make a plan for obtaining those products
consult with suppliers and obtain price quotes
decide who will be awarded the contract, and negotiate terms and conditions
coordinate delivery schedules and track progress
deal with late shipments, follow up with clients and suppliers
Related: Working in Procurement After Supply Chain Management Training
There is strong demand for procurement officers in Manitoba right now. The Government of Canada Job Bank has awarded this supply chain career 3/3 stars for outlook—its highest possible rating.
The Job Bank is forecasting steady demand in procurement, across Manitoba, over the next 10 years. The best regions of the province for employment in this role are Winnipeg, South Central Manitoba, and North Central Manitoba.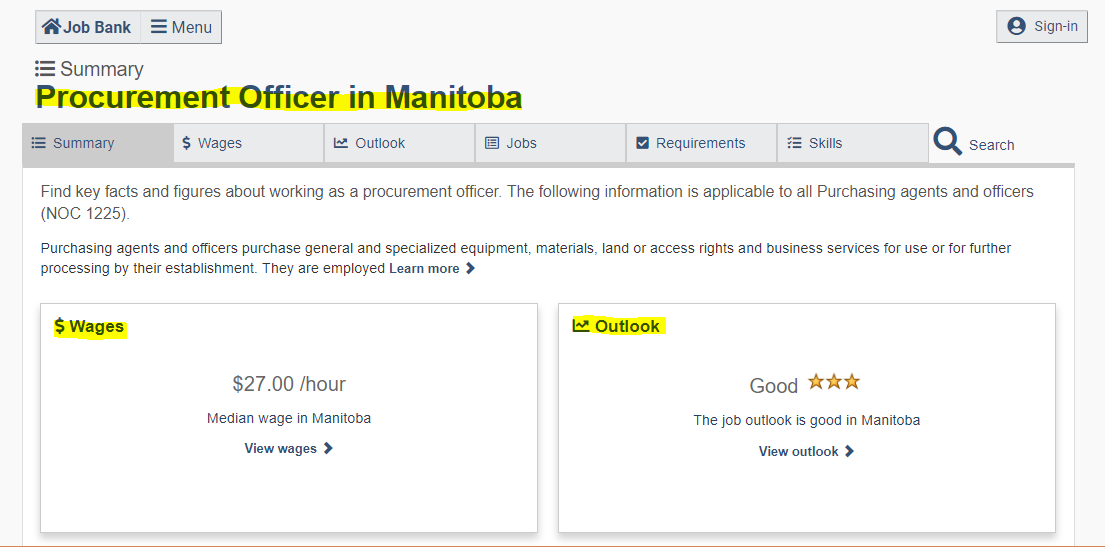 Supply Chain Management Career #2: Material Handler
A material handler works in a warehouse, for a transportation, storage, manufacturing, or processing company. Their job is to load and unload goods, and count, weigh, and organize those products according to the warehouse stocking system.
In this role, you would use equipment, such a forklifts, loaders, and winches, to do the heavy lifting. But in many cases, you would also be responsible for filling orders, tracking inventory, and hunting down missing items.
Typical responsibilities for material handlers include:
pulling, crating, and preparing orders for shipping
receiving, sorting, labelling, and correctly storing items in the warehouse
documenting the number of items shipped and received per day, month, quarter, etc.
ensuring orders are correctly filled and shipped out on time
assisting in taking inventory
ensuring warehouse equipment is in good working order, and organizing repairs when needed
The latest report from the Government of Canada Job Bank shows stable demand for material handlers in Manitoba, with a 2/3 star-rating for growth in this occupation. They are expecting new jobs to come from a combination of industry growth and retirements.
The Winnipeg, Interlake, Southwest, and Southeast regions of the province are rated highest for demand in this supply chain role. Across Canada, the Job Bank predicts a balance between job-seekers and employers for material handlers—a good indication of stable growth in this supply chain career.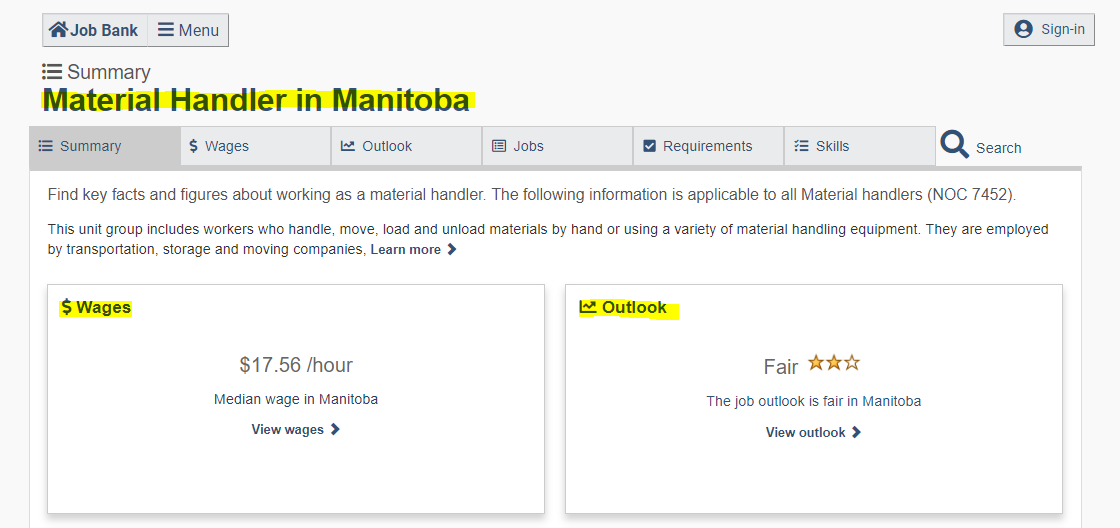 Supply Chain Management Career #3: Purchasing Agent
Purchasing agent is often confused with procurement officer—but these roles have key differences. Purchasing is actually part of the procurement process. If you worked in this position, you would probably report to a senior procurement officer.
A purchasing agent receives and processes requests for materials from various departments within a company. Meanwhile, the procurement officer creates a strategy, selects the vendors, and negotiates the contracts. If you worked in purchasing, you would do the paperwork involved in processing those orders and payment transactions.
Typical tasks for purchasing agents include:
assisting the procurement team by researching possible suppliers
contacting vendors and getting price quotes
preparing purchase orders
processing payments to vendors
Starting your supply chain career in purchasing is an excellent way to learn more about the procurement and supply chain process as a whole.
According to the Job Bank, demand for purchasing agents is strong in Manitoba, and steady across the country. This occupation gets 3 stars for employment outlook, and is especially strong in the Winnipeg, South Central, and North Central regions of the province.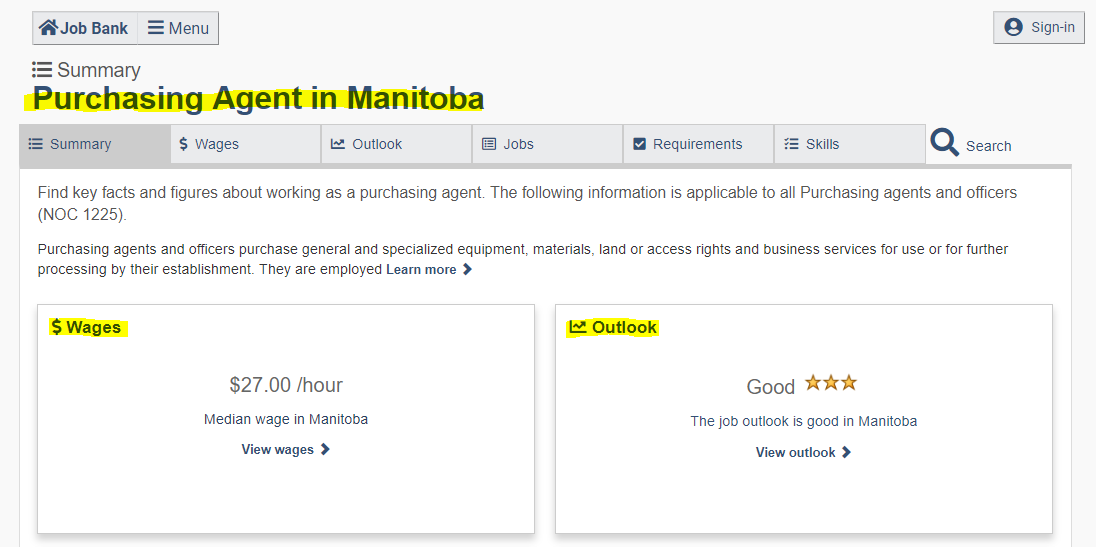 Getting started with supply chain management training
If you're interested in any of these supply chain careers, your next step is to research training programs in Manitoba. There are a range of quick and flexible options to choose from.
For example, at Herzing we offer a 12-month Supply Chain Management Diploma, which students can complete on-campus or online.
This program includes a 6-week internship, and is partnered with the Supply Chain Management Association of Manitoba. This means graduates will achieve the SCMA Diploma in Supply Management.
They can also pursue accreditation through the Supply Chain and Management Professional Designation Program (SCMP)—which is recognized throughout Canada and across the globe.
This training is enough to get started in entry-level supply chain jobs anywhere in Manitoba or Canada. If you'd like to dig deeper, and learn more about courses, or other career options, we strongly recommend talking with an Admissions Advisor.
Chat live with an Admissions Advisor right now. Or click below to explore the program and request information by email. We're here to help!