Choosing a career is very exciting...but it can also be incredibly stressful. There's the cost of training, the investment of time and hard work, and worries about actually finding a job.
This is a high-stakes decision for many people, whether you're fresh out of high school, or looking for a new direction. No one wants to end up in a career they're not suited for—in a field where nobody's hiring.
It's all about finding that perfect balance: an occupation that matches your interests and natural skills, which has healthy employment growth and demand where you live.
Are you facing this dilemma? Wondering if you should become a network technician, but not 100% sure it's the right move? You need more information. And that's exactly what we're delivering in this week's post.
These are 8 things to consider before you take the leap, and start an IT career in networking. By the end of this list, you'll have a much clearer idea of where you're headed, and what steps to take next. Let's get started!
1. What exactly does a network technician do?
This is the most important question to nail down if you're considering becoming a network technician. What exactly will you be doing, day after day, in this role? Does this work truly fit your interests?
Network technician job descriptions vary a bit, depending on the type of company, their unique needs, and the required level of experience.
However, there are some general responsibilities you'll be expected to take on, no matter where you work. These duties include:
installing and maintaining Local Area Networks (LANs) and Wide Area Networks (WANs)
installing and configuring employee work stations (computers, peripherals, network access, etc.)
troubleshooting IT problems
making sure data, software, and hardware are protected from security threats
performing regular software updates
provide training to new users
conducting penetration testing
creating disaster recovery protocols
documenting procedures, hardware/software, troubleshooting steps and solutions
Network technicians are involved in every aspect of network performance. It will be your job to keep the network up and running, well-protected, and as efficient as possible.
2. What skills will you need to become a network technician?
It's clear that technicians play a very important role in any organization that relies on computer networks to function. But what range of skills will you need to truly excel in this role—and stand out as a candidate for top jobs after college?
These are some of the technical abilities and personality traits you'll need to build a successful career in this field:
solid knowledge of computer software, hardware, operating systems, servers, and network setup
strong diagnostic, troubleshooting, and problem-solving skills (work independently to resolve issues)
extremely detail-oriented and methodical (follow steps and procedures, and produce thorough documentation)
very high level of customer service (excellent oral/written communication, patient, helpful, and professional)
highly organized, with the ability to work under pressure (deal with network outages, security threats, multiple troubleshooting requests, deadlines, etc.)
willing to continue learning (complete additional networking certifications to keep up with challenges and new technology)
3. What's involved in network technician training?
So, what will it take to master those technical skills, and gain some experience actually setting up and maintaining computer networks? What are your training options?
There are a few different paths you could take. On the one hand, you have university degrees in computer science and engineering.
A degree may help you qualify for more advanced positions, straight out of school—but it's the longest (and most expensive) route to employment.
On the other hand, you have college-level network technician training. These are diploma programs, which are usually condensed into a short period of time.
You can easily finish a networking diploma in one year (our Ottawa-based Computer Networking Technology program is just 12 months).
But, it's important to note that these faster programs demand full-time attendance—usually around 25-30 hours per week of class time.
If you go this route, you must be ready to devote yourself to training, and work quite hard for those 12 months.
The advantage? Your diploma will cover everything you need to land an entry-level network technician job, right after graduation.
Then, you can work your way up by gaining real-world experience, while you earn a salary. (More on how to choose quality networking training later in the post...)
4. What are your entry-level job options as a network technician?
What will your first job be like as a freshly graduated network technician? You may actually start out as a helpdesk analyst, helping companies provide technical assistance to clients and employees.
You could also land a beginner network support position, working as part of a team, under an experienced network administrator or IT manager.
An entry-level networking job will require basic-to-intermediate knowledge of operating systems, networking theory, data backup systems, Microsoft server, etc.
Your ability to master these skills and systems on-the-job will determine your potential to advance. You'll get a foot in the door—but, it will be up to you to push yourself, learn quickly, and qualify for more senior positions. This is a competitive, fast-moving field.
5. Are network technicians in demand where you live?
Speaking of competition for top jobs...have you researched demand for computer networking specialists in your city or region? This is an important point to consider, before you decide to become a network technician, and invest in training.
Fortunately, the latest job market research is quite positive for network technicians and IT support professionals. The Government of Canada Job Bank predicts a "balanced" labour supply and demand in this field, for the next 10 years.
Ontario in particular has a positive outlook for network technicians, with many cities earning the Job Bank's highest rating for demand: 3/3 stars.

Source: Government of Canada Job Bank
Ottawa, Toronto, Windsor-Sarnia, Kingston-Pembroke, Stratford-Bruce Peninsula, and the Muskoka region all received a 3-star rating for employment outlook (for network technician jobs).
Ontario is the telecommunications, technology, and business center of Canada. If you live in this province, you're in an excellent position to become a network technician or administrator.
6. What salary can you expect?
For many people, salary is a key factor to consider, especially if you're about to invest thousands of dollars in training for a new career. Will it all be worth it?
How much will you make at the beginning of your networking career, and later, once you've gained more experience?
To find out, we looked at the latest Labour Market Report for network technicians in the Ottawa region. We found salaries ranging from $20/hour (entry level) to about $52/hour (for more advanced roles).
The median salary for this occupation sits at about $32/hour—that's approximately $65,000 per year.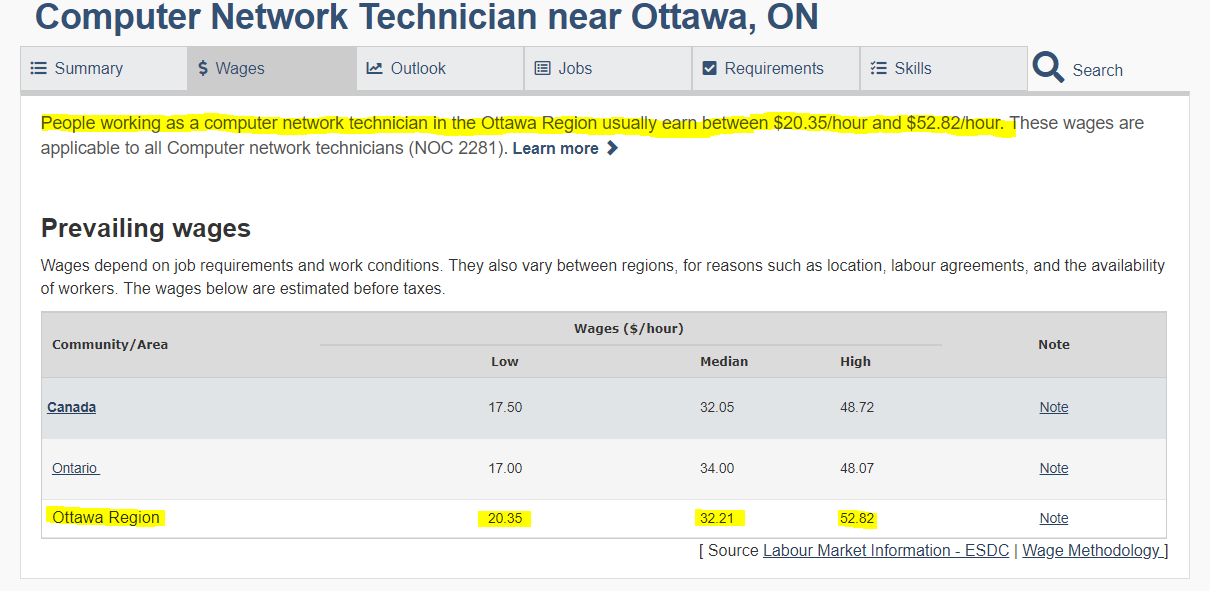 7. What will it take to advance in your career?
Communications, computer, and networking technology is changing all the time. Factors like the Internet of Things (IofT), cloud computing, IT security, and virtualization are dramatically impacting the way networks are setup and managed.
The reality is, in order to advance is this career, you'll need to commit to ongoing training and professional development.
This will include educating yourself on new trends, cyber threats, and network optimization techniques. Plus, you'll need to earn additional certifications to prove you're continuing to master new skills, and can benefit your employer long-term.
Your computer networking courses should include material and preparation for industry-standard exams—like COMPTIA (A+, Net+, and Linux+), and CCNA—but you'll need to pursue more exams as you progress in your career, and tackle bigger challenges.
If you want to become a network technician, you'll need to embrace the idea of continuous learning and life-long skill development.
8. Choosing a quality network technician college
This is perhaps the most important thing to consider if you're truly serious about a career in networking. What college and program should you trust to get you there?
In some ways, your decision will rest on personal factors—like how far you live from campus, the price of tuition, and whether the school offers a class schedule that fits your needs.
However, there are other points to think about when narrowing down which network technician college to choose. These include:
college reputation (how long has the school been in operation; online student reviews; accreditations; industry partnerships)
Industry-standard computer networking curriculum (does the program include the most relevant networking certifications, skills, and knowledge?)
graduate employment rates (what percentage of computer networking grads are working in the field? See an example here)
guaranteed internship (does the training come with a guaranteed work placement?)
helpful admissions advice (can you book a campus tour, trial class, and does the admissions team make it easy to access training information?)
Next Steps: Starting your network technician career
If you've read this far, and are still serious about becoming a network technician, we'd love to hear from you. We strongly recommend talking with an Admissions Advisor to learn more about application requirements, career options, and how to get started with training.
Herzing offers several ways to make sure you're choosing the right program. You can visit the campus, sign up for a trial class, and discuss your goals with an Advisor to ensure this training is a good fit for you.
Chat live with an Advisor right now. Or click below to explore the Computer Networking Technology program and get more information. We're here to help!