Updated April 2023
This is a good time to begin a career in occupational health and safety (OHS). Government estimates indicate that OHS specialists are expected to remain in high demand in many areas of Canada right through 2024. So what's driving growth in this field?
Every year, thousands of Canadians suffer injuries or lose their lives at work. Unsafe work environments are a major problem, not just in construction but across many sectors of our economy.
The Canadian government wants to lower those numbers, as do business owners and the workers themselves. Even a single death at work has terrible consequences. The family suffers, workers lose faith in management, overall productivity slows down, and the entire community feels the loss.
Skilled occupational health and safety specialists play a crucial role in minimizing the risk of accidents in the workplace. They are experts in spotting workplace hazards, delivering safety training, and creating emergency response plans that save lives when disaster strikes.
OHS professionals are also enforcers of government health and safety regulations. They can get a business shut down if management isn't following the law.
There are many different career paths in the field of OHS. There are both generalist and specialist roles, and varying educational requirements.
In this post, we cover six different OHS jobs, including job descriptions, key responsibilities, salaries, and training requirements. Compare your options. Understand the education you need to get started and see if a career in OHS is right for you.
TABLE OF CONTENTS
1.

HEALTH AND SAFETY ADMINISTRATOR
This is a very base-level role that involves providing support to senior safety personnel. A health and safety administrator gathers and organizes documentation and handles a multitude of other tasks to keep the organization running smoothly.
Responsibilities
A health and safety administrator is typically responsible for:
Collecting worker safety tickets and drug and alcohol test results as required

Conducting safety orientations on worksites

Maintaining incident logs

Creating workplace safety notifications and bulletins

Ordering equipment or supplies

Scheduling meetings and preparing minutes
Salary
The median salary for health and safety administrators in Canada is about $48,000, based on data from PayScale.
Training and Skills
A high school diploma is typically the minimum education required, though a diploma in occupational health and safety can make you more attractive to potential employers. In some cases, National Construction Safety Officer (NCSO) certification can be very helpful.
You'll need to be detail-oriented, comfortable with Microsoft Office software, and able to prioritize multiple tasks.
2. HEALTH AND SAFETY OFFICER
There are both entry-level and intermediate health and safety officer positions. This is a typical role for a recent graduate or someone with a few years of related work experience.
A health and safety officer helps carry out inspections, training, and accident investigations. They are part of an organization's OHS team, and in most cases, report to a health and safety supervisor or manager.
This is a key role. You'll get experience in several different aspects of OHS, from enforcing regulations to helping create new policies for production processes.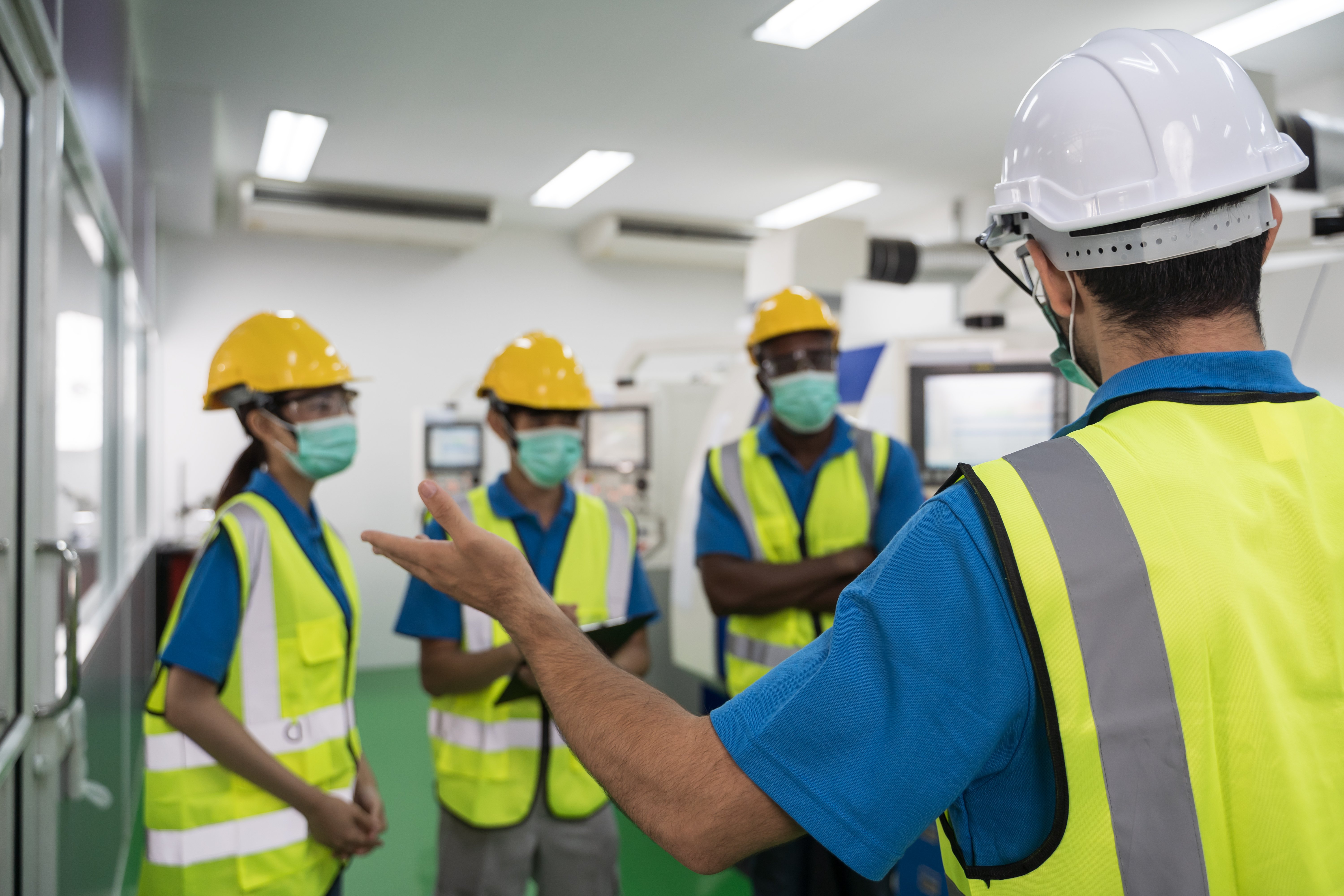 Health and safety officers often provide worker training
Responsibilities
Common responsibilities for health and safety officers include:
Inspecting workplaces for potential hazards

Following up on workers' compensation claims

Delivering safety orientation and training sessions

Investigating workplace accidents or illnesses

Ensuring health and safety regulations are being followed

Helping coordinate return-to-work programs

Documenting OHS procedures
Salary
Health and safety officers earn a median salary of about $78,000, according to the Government of Canada Job Bank.
Training and Skills
You don't necessarily need a bachelor's degree to qualify for health and safety officer jobs. An occupational health and safety diploma is often enough. Earning the Canadian Registered Safety Technician (CRST) certification will also be helpful when competing for jobs.
This generalist role requires a broad range of skills in areas like risk assessment, communication, organization, and problem solving.
3.
HEALTH AND SAFETY TECHNICIAN
Health and safety technicians have a more specialized role than health and safety officers. Technicians focus on measuring and evaluating workplace environments and production processes. Their job is to assess safety conditions and collect and analyze data that can be used to develop OHS policies.
Responsibilities
Some typical tasks in this role include:
Testing and monitoring air quality on worksites

Ensuring all machinery and other equipment is working properly

Fitting workers for respirators

Supervising employee alcohol and drug tests

Conducting hearing tests on workers who are exposed to noise

Investigating workplace safety incidents

Preparing reports and maintaining records
Salary
According to PayScale, occupational health and safety technicians in Canada have a median salary of about $58,000.
Training and Skills
You'll need a solid knowledge of OHS laws and regulations, good communication and organizational skills, and the ability to maintain positive relations with employees.
A diploma program in OHS will cover the basics of environmental health and safety hazards and occupational hygiene. In some provinces, such as B.C. and Manitoba, you'll need specialized licensing or certification to carry out industrial audiometric (i.e. hearing) tests.
4. HEALTH AND SAFETY MANAGER
This is a senior role that often requires at least five years of OHS experience. A health and safety manager oversees safety officers and administrators. They are responsible for developing an organization's OHS strategy—and ensuring everyone follows it.
Responsibilities
Health and safety managers have a wide range of responsibilities, including:
Developing all health and safety plans, policies, and procedures

Conducting regular worksite inspections to ensure compliance with OHS policies

Overseeing (or delivering) health and safety training

Conducting risk assessments

Ensuring accidents are properly investigated and documented

Developing an annual health and safety budget

Reporting on health and safety awareness, issues, and statistics

Recommending solutions to improve OHS procedures
Salary
The Job Bank says occupational health and safety managers earn a median salary of around $106,000.
Training and Skills
Many employers want candidates with bachelor's degrees in safety management. However, some organizations will accept a health and safety certificate or proven track record of related work experience.
Depending on the company, you may also need additional OHS credentials, such as the Canadian Registered Safety Professional (CRSP) certification.
See a complete guide to OHS certifications and designations here.
In addition to OHS-specific skills and experience, leadership abilities are key—you'll need to be able to guide a team effectively.
5. ERGONOMICS SPECIALIST
Ergonomics is a very important aspect of occupational health and safety. An ergonomics specialist examines how people interact with their workstations, i.e. desk, chair, computers, and other machines.
They analyze the impact on musculoskeletal function and consider common issues like repetitive stress injuries to make workstations safer and more efficient. The main goal of an ergonomics specialist is to reduce sprains and strains by optimizing the workstations and tools we use on the job.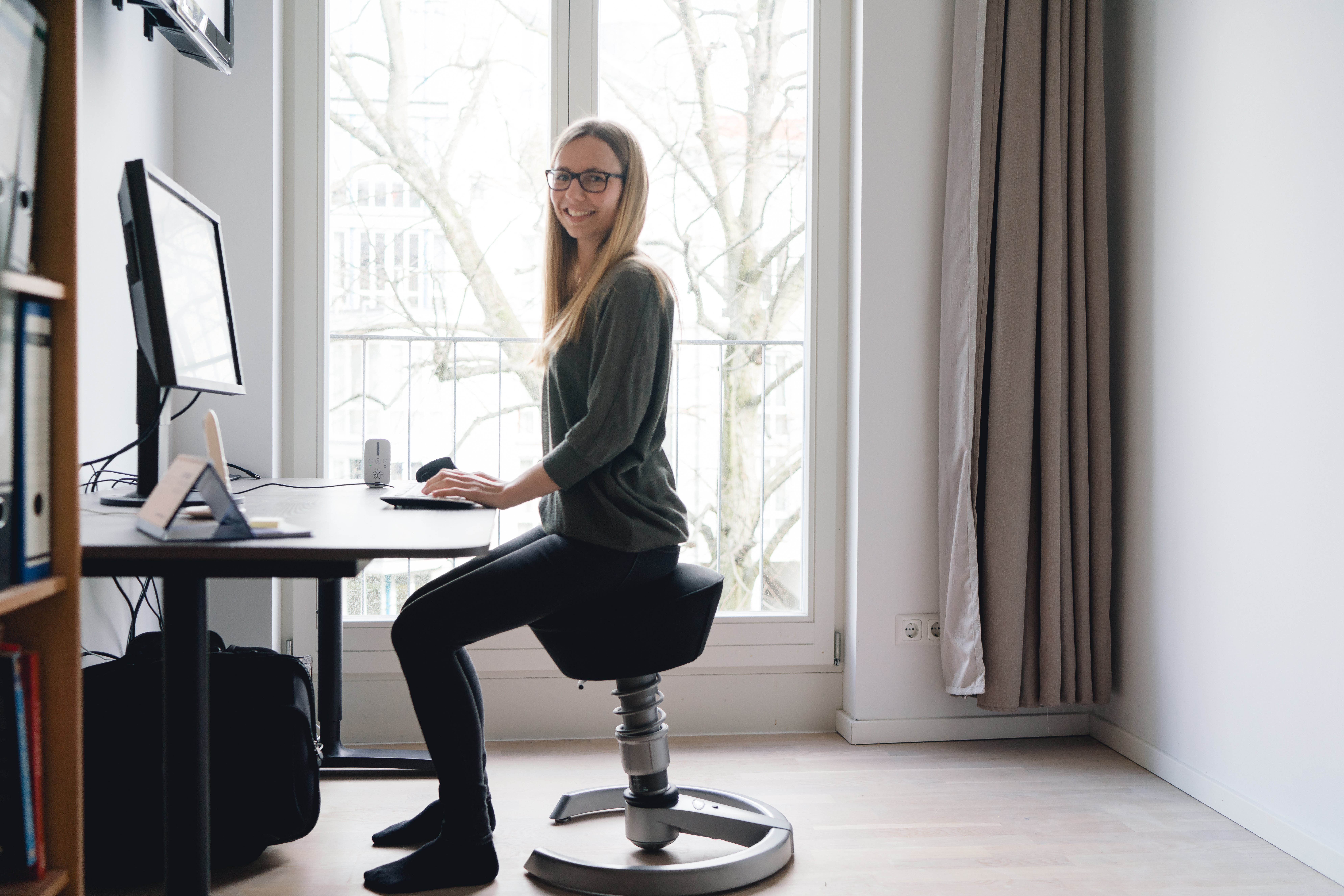 Ergonomics specialists optimize workstations to help keep people healthy
Responsibilities
Typical job duties and responsibilities of this role include:
Conducting individual ergonomics assessments

Analyzing how work environments impact employees

Delivering training sessions on proper procedures and body positioning to prevent injuries

Documenting findings and presenting data to management

Contributing to overall employee wellness initiatives and strategies

Overseeing return-to-work programs
Salary
Job Bank data reveals that the median salary for ergonomics specialists in Canada is approximately $84,000.
Training and Skills
A quality occupational health and safety diploma will include an introduction to ergonomics. However, if you want to specialize in this field, you may need additional credentials.
Some employers want a university degree in occupational therapy or kinesiology. You may also need the CCPE (Canadian Certified Professional Ergonomist) certification to qualify for jobs in this specialized area of OHS.
Excellent communication and interpersonal skills are required for this role. You need to be able to connect with people at all levels of an organization and write clear reports about your findings.
6.
DISABILITY MANAGEMENT COORDINATOR
When safety incidents do occur, workers may be off the job for weeks, months, or even years. A disability management coordinator focuses on benefits and compensation for injured workers and manages the cycle of claims related to occupational incidents. They deal with workers' compensation boards and facilitate employees' return to work.
A disability management coordinator's work often spills over into ergonomics and workplace wellness initiatives.
Responsibilities
As a disability management coordinator, your job duties and related responsibilities could involve:
Logging, tracking, and following up on workers' compensation claims

Providing input for the development of employee health and wellness programs

Updating disability management policies and procedures

Managing return-to-work programs and modified work agreements

Assisting with investigating injuries and documenting incidents
Salary
According to the Job Bank, disability management coordinators make around $75,000 as a median salary.
Training and Skills
Many employers look for a diploma in occupational health and safety. Becoming a member of the Canadian Society of Professionals in Disability Management can boost your job prospects.
Organization, problem solving, and customer service skills are essential for this role.
LEARN MORE ABOUT HEALTH AND SAFETY TRAINING
If you're interested in a health and safety career but don't want to complete a university degree, you can explore training options at the college level. There are several colleges in Canada offering health and safety diploma programs that can be completed in just one to two years.
Note: It's important to choose a program that is approved by the Board of Canadian Registered Safety Professionals (BCRSP). Graduates of approved programs are eligible for the Canadian Registered Safety Technician (CRST) certification, and the Canadian Registered Safety Professional (CRSP) certification. These certifications are recognized across Canada and required for many OHS jobs.
At Herzing, we deliver a 12-month Occupational Health and Safety program in Ottawa as well as online. This program also includes an internship for real work experience.
Herzing's program is approved by the BCRSP. Our students can apply for CRST certification immediately after graduation.
Click below to explore Herzing's OHS training and chat live with an admissions advisor. Ask about tuition, financial aid, start dates, and admission requirements. We're here to help!