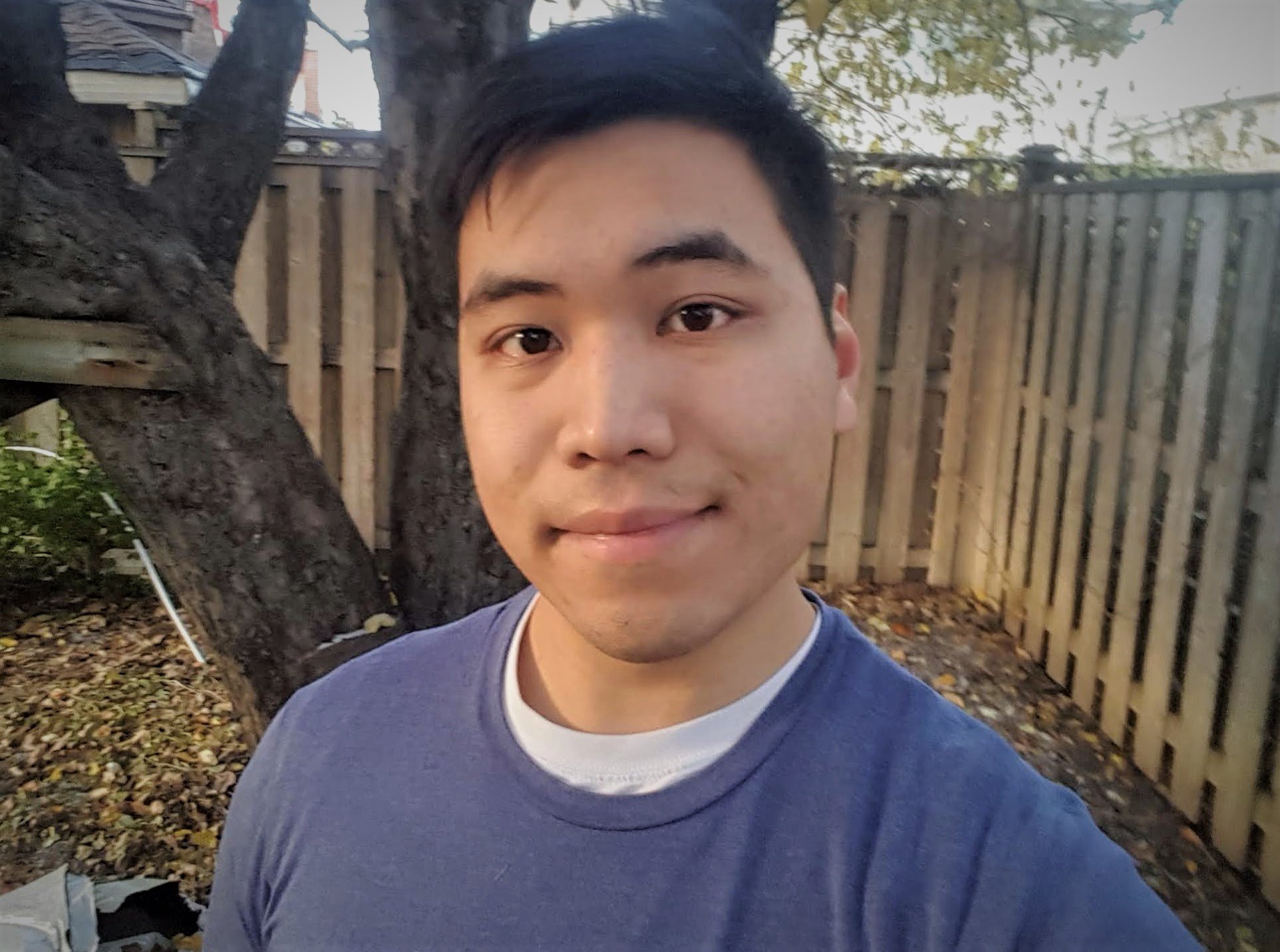 Dorian Pai graduates from Herzing's Architectural Design program in January 2020, and has already been hired as a full-time designer
Dorian Pai enrolled in Herzing's Architectural Design program when he discovered his architecture degree was too theory-based to prepare him for a real work environment.
Dorian needed practical knowledge of the Ontario Building Code and design software to be taken seriously as a job applicant, and break into the architecture field.
Like so many other students, he was looking for fast, affordable training that delivered job-ready skills. Did Herzing measure up?
Dorian is just about to complete his internship and graduate from the program, so we checked in with him to find out.
We talked about his experience in the Architectural Design program and his future career plans...and discovered he's already been offered a full-time design job!
Here are the highlights from our conversation, and Dorian's opinion of Herzing's training.
Q: Dorian, can you tell us about your background? What made you go back to school for more training?
Dorian: I come from an architecture and design background. Before Herzing, I had previously completed an undergraduate degree in Architectural History and Theory with a minor in Geography at Carleton University.
The degree focused more on developing skills in research, writing, and design theory, which unfortunately resulted in a lack of practical skills and experience.
So, I started looking for some additional training where I could gain hands-on experience using CAD software. I also wanted to build a portfolio so I could more easily find work or get into a graduate program.
Q: Why Architectural Design? How did you get interested in this field?
Dorian: I have always been interested in the fields of art, design (from graphics to games), and human geography (how people interact with space).
I also did quite well in the subjects of math and physics while in school. Architecture was one of the few careers that incorporated all of these aspects, which I have developed a great passion for over time.
Q: How did you end up selecting Herzing College? What kind of search process did you go through?
Dorian: During my search for post-undergraduate opportunities, I was advised to look into career colleges as an alternative to more university training.
I was told that career colleges would be cheap and quick to finish, allowing me to quickly jump into the job market after graduation.
Herzing College was of particular interest to me. Herzing is one of the only colleges in Ontario that has an architectural design program that comes with an internship, and can be completed in just one year.
Q: What is your overall opinion of the Architectural Design program? How was the instructor, and the material you studied in class?
Dorian: The Architectural Design program is a good introduction to the field of architecture, and showcases some of the key elements involved in the architectural design process.
The training covers a lot of different subjects, taught by a well-seasoned professor (Jacob Allderdice) who is more than happy to help you learn and develop.
The content is certainly more simple and light compared to what may be encountered elsewhere, taught at a slower pace that is suitable even for beginners.
Q: Can you describe some of your favourite assignments and projects you did for class?
Dorian: Some of the best projects for the class allow you to express your creativity and test your skills with various techniques and software programs.
One of my favourites was a residential case study I did in SketchUp that focuses on exterior landscape, as well as the organization of spaces.
I also did a larger building design in Revit, where I had to produce a set of working drawings that included a lot of details and specifications.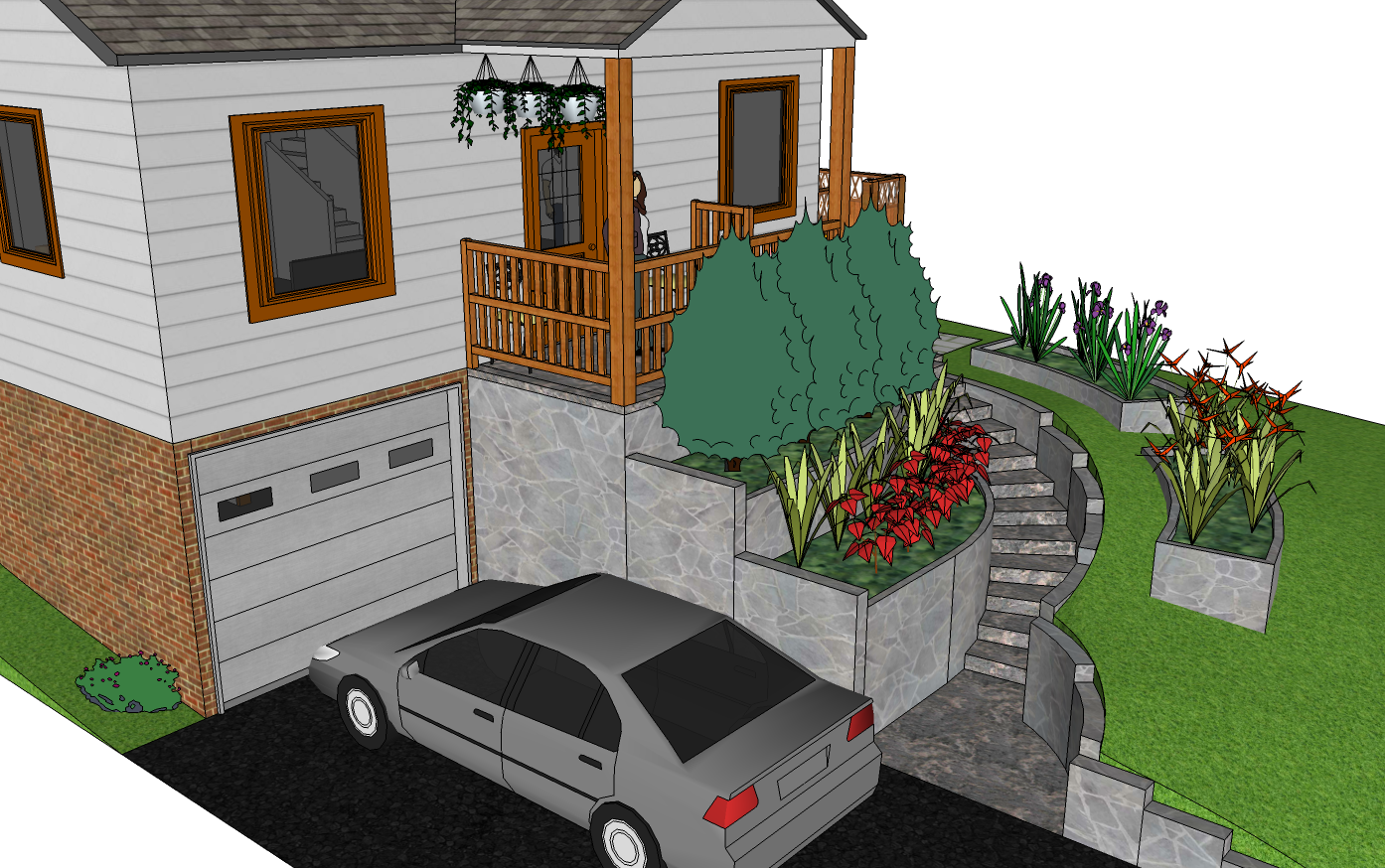 Residential design project by Dorian Pai, completed for Herzing's Architectural Design program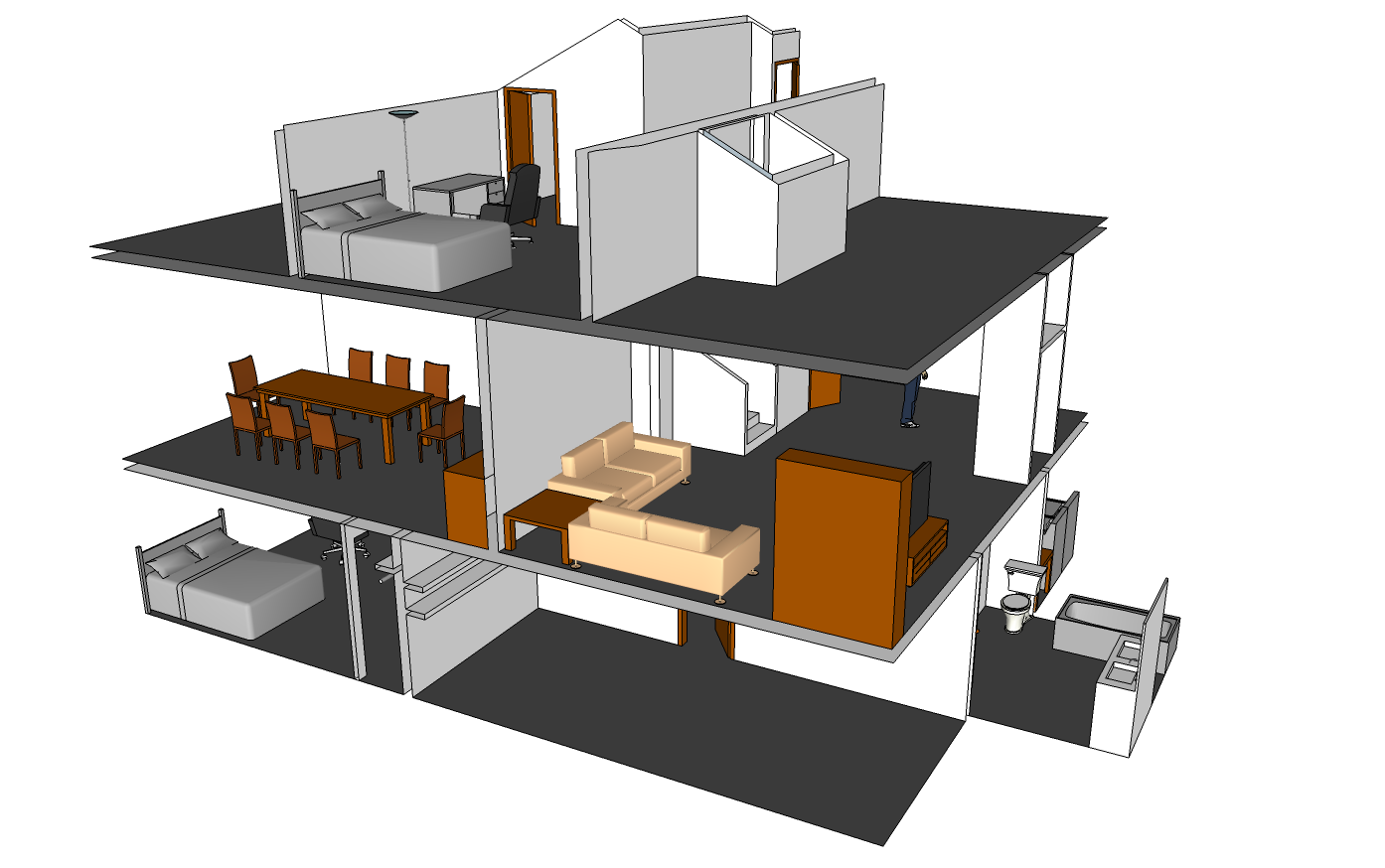 Interior house design by Dorian Pai, completed for Herzing's Architectural Design program
Q: What are the most important and useful new skills you learned in the Architectural Design program?
Dorian: The most important skills that I developed during the program were the ability to utilize the Ontario Building Code, as well as CAD software such as AutoCAD and Revit.
Such skills, as well as expertise and experience in them, are highly desired in the architecture field and almost certainly will remain very important for decades to come.
Q: Was there a certain topic or course you found difficult? What was your biggest challenge during training?
Dorian: The Building Code part of the program was certainly one of the trickiest subjects. I didn't have much experience with this before starting at Herzing.
It took time for me to get comfortable with navigating, understanding, and applying the codes in an effective and timely way.
Q: I heard you already passed the Building Code (BCIN) exam. How was that process for you?
Dorian: Our professor, Jacob Allderdice, was a strong advocate for taking the BCIN exam. He provided me with a plethora of sample questions and tests to practice with.
I spent an additional month after the architectural design program ended to prepare for and write the exam, which was quite difficult even with all the studying.
Still, it was a very valuable skill to have during my job search. Passing the BCIN exam gave me a competitive edge over other candidates, and opened up more interviews and job opportunities.
AutoCAD project completed by Dorian Pai for the Architectural Design program at Herzing (Villa Arketorp - Architects Stahl, Perrson and Almqvist, Sweden)
Q: You're doing your internship now, right? Where are you working and what sort of design projects are you doing?
Dorian: I am currently doing an internship with Lowell Lo Design Inc., an architectural firm in North York. So far, I have had to produce floor and section plans for a real residential project Lowell is working on.
I spend most of my days researching building elements and drawing plans in AutoCAD. The plans are then reviewed and returned to me for further drawing, until a properly completed set of drawings can be turned into the city, and used in the construction process.
Q: What are your career goals after graduation? Is it true that you were already offered a design job?
Dorian: Yes, I have recently been offered a job as a designer, and will start right after I officially graduate from the Architectural Design program this month.
The position will involve producing technical drawings and plans using AutoCAD and the Ontario Building Code to help create new office spaces.
I plan to work for a few years as an architectural designer or technician, before I pursue a Masters and full Architect's license.
Q: Any last words of advice for someone who's considering the Architectural Design program?
Dorian: My advice is to go into this program with clear goals in mind. Know what you want to get out of it.
For example, are you simply looking to figure out if architecture might be right for you? Do you want to get portfolio pieces out of this program? An introduction to CAD software? Or to the Ontario Building Code?
The program is short and light for a reason, so I also recommend putting in the extra time and effort to further develop your skills and build on what you have learned. Throughout the program I was studying, working on extra projects, and putting together my portfolio after class.
For me, the Architectural Design program was an excellent stepping stone in my career. It gave me opportunities to work on practical projects and get real work experience with an internship.
Ultimately, it helped me get into the architecture job market, which was the main goal for me.
Congratulations and thank-you, Dorian, for sharing your experience in the Architectural Design program. We wish you continued success in your new job, and as you work toward becoming a licensed architect!
Learn More About Herzing's Architectural Design program
Herzing College Toronto offers an accelerated 12-month Architectural Design program. Training includes comprehensive preparation for the Ontario Building Code Exam, plus an intensive 8-week (200 hours) internship.
We recently upgraded this training to give our graduates a competitive edge on the architecture job market. This post gives a good break down of the changes we made, and how they benefit our students:
Major Upgrades to Our Architectural Design Program: See What's New
Wondering if you're a good fit for architectural design training?
Your next step is to explore the training and speak with an Admissions Advisor. Click below to get a good overview of the program, courses, career options, and next steps.