Updated December 2022
Perhaps a more accurate title for this blog post would be: "Is Supply Chain Management a Good Career Choice...For You."
Because "good" is obviously a relative term and there's no easy answer.
Some people choose a career based on demand and salary. Others are looking for a challenge or something they really feel passionate about.
In some cases, fast training is the top priority.
It really depends on how you define "good" and what's important to you. So in this post, we're covering all the bases.
We'll break down how the supply chain industry works, training programs, career options, certifications, advancement opportunities, salaries, and required skills.
Is supply chain management the right career for you? These are the six points you should consider when making your decision.

1. What Exactly is Supply Chain Management?
A supply chain is all the steps a product or service goes through before it reaches the consumer. Everything you buy has gone through a supply chain, from food to clothing to electronics.
Typical supply chain steps include:
☑️ Procuring the raw materials or components needed to make the product
☑️ Manufacturing
☑️ Distribution
☑️ Warehousing
☑️ Transportation and delivery
There are many people, systems, channels, and tactics involved in effective supply chain management. It's a network that functions together to move products safely, on time, and on budget.
Have you ever ordered something online and had to wait a really long time for delivery? Chances are, something went wrong with the supply chain.
The company ran out of stock and your item got back-ordered. Or their transportation carrier got backed up with too many orders and couldn't deliver on time.
We don't think much about it, but supply chains are the backbone of our global economy. We are totally reliant on the chain to get what we need when we need it.
This is why companies are always looking for talented supply chain professionals. They need people who can save them money and improve the ways their products are moved from point A to point B.
When you improve the supply chain, you improve profits. That's what every employer is looking for.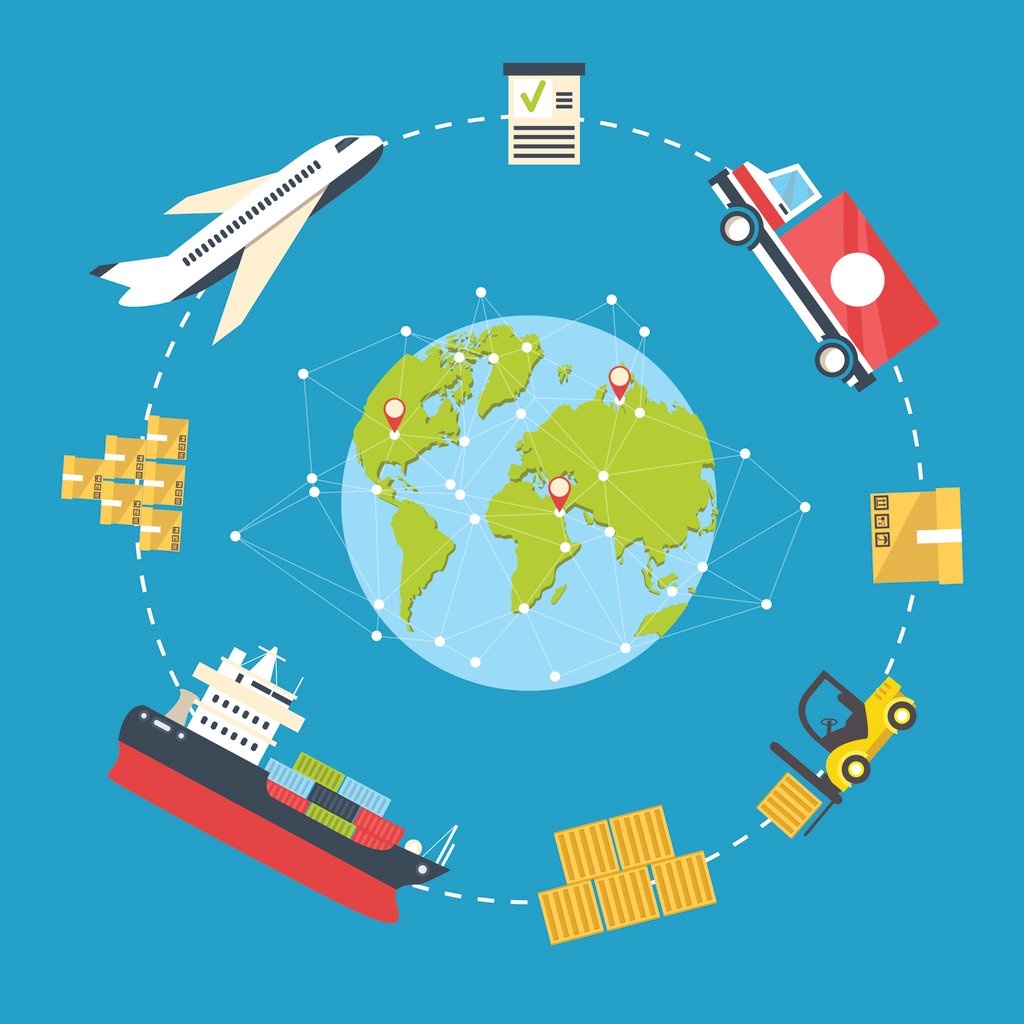 Global supply chain management and logistics
2. Supply chain job options & salaries
There are many links in the supply chain, each with its own array of job opportunities and areas of specialization. This is a vast field. In fact, there is a real shortage of skilled supply chain professionals in Canada right now.

Fresh out of training with little or no experience, you can qualify for entry-level positions, such as:
☑️ Procurement agent
☑️ Purchasing clerk
☑️ Junior buyer
☑️ Materials handler
☑️ Logistics clerk
☑️ Shipping and receiving clerk
In each role, you would be working under a supervisor with experience in that particular area of supply chain management.
Entry-level roles will give you practical skills in one part of the chain while offering an overview of how the supply process works overall.
The median salary for supply chain professionals in Canada who are just starting out is about $55,000, according to the 2021 Canadian Supply Chain Salary Report. The median salary for all supply chain professionals overall is about $80,000.
Once you prove your skills, you can qualify for advancement into more senior positions. William Rapisarda, inventory analyst for Cabela's Canada, told us it took him just two years to earn his first big promotion.
"I started my supply chain career as a buyer for a textile company in Winnipeg. I dealt with international brokers, duties, taxes, customs documents, container sizes and lead times.

Soon, I was negotiating hundreds of thousands of dollars on a continual basis. In just two years, I was promoted to senior buyer. I managed vendors, negotiated contracts, and sourced new products from around the world. My portfolio was in the millions of dollars."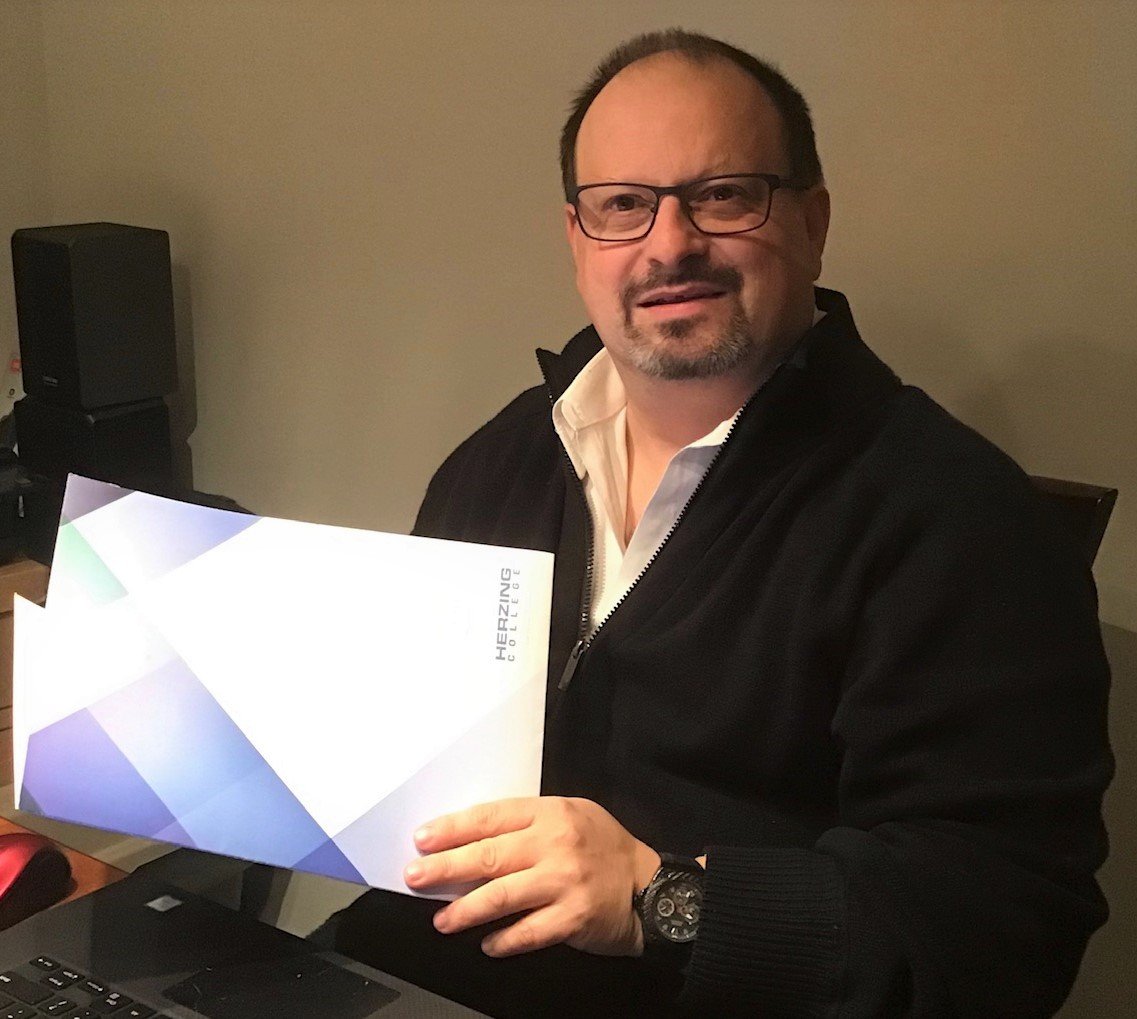 William Rapisarda has over 25 years of experience in supply chain management. He is currently an inventory analyst with Cabela's Canada and a supply chain management instructor at Herzing College.
3. Are there certification opportunities?
In many industries, people earn certifications or designations to prove their skills and experience, and move up the ladder to better jobs and pay.
The same is true in supply chain management. The Supply Chain Management Professional (SCMP) Designation is the most recognized and widely held supply chain management credential in Canada.
How do you qualify for the SCMP Designation? Requirements include:
☑️ Membership with Supply Chain Canada (the country's largest association for supply chain management professionals)
☑️ Canadian Language Benchmark (CLB) proficiency of level 6 or higher
☑️ Supply chain or business-related degree or diploma from a recognized post-secondary institution
☑️ Five years work experience in supply chain management
Rick Reid, executive director of Supply Chain Canada in Manitoba, describes the SCMP as a springboard to leadership opportunities:
"The SCMP designation is ideal for people seeking to transition from tactical roles (buyer, analyst, inventory coordinator, etc.) into more strategic leadership roles (purchasing manager, materials manager, supply chain manager, director, etc.). In other words, getting certified will open doors to higher paying, more challenging roles."
4. What does Supply Chain
Management
Training
involve?
There are many bachelor's and master's degrees in supply chain management, but a degree is not required to start a career in this field. You can break into the industry with a diploma in supply chain management, and after gaining work experience, pursue the SCMP designation to advance your career.
Diploma programs teach the skills students need to qualify for junior roles in procurement, logistics, warehousing, and production.
Quality training will also include an internship, so students can connect with an employer and start building their resumes before graduation.
William Rapisarda teaches the supply chain management program at Herzing College Winnipeg. He says his primary goal is to prepare students to become "real supply chain professionals" who can hit the ground running from day one on the job.
"We learn about each stage in the supply chain process, and how to handle all kinds of challenges and scenarios. My goal is to teach students how to deal with a wide range of contingencies. Essentially, how to stay one step ahead. When you boil it down, this is what it takes to build a successful career in this field."
At the college level, supply chain programs focus on the practical skills you need to get hired.
For example, students learn how to negotiate with suppliers, calculate transportation costs, select carriers, deal with customs documents, and assist with marketing and business planning.
You can complete your supply chain management training in under two years. Some colleges offer accelerated programs that run for just 12 months.
5. What skills will you need to succeed?
Apart from solid training and hard work, what else do you need to build a successful supply chain management career?
We asked procurement specialist Stefano Petrielllo which skills he considers most important.
"I started small, doing simple tasks, and slowly worked my way up learning the ropes directly from experienced professionals in the supply chain business.

I've been successful because I have proven my abilities in several key skill areas: project management, meeting strict deadlines, teamwork, and building a strong network of contacts.

You need to be detail-oriented, a quick problem-solver, good with people, and a strong communicator to thrive in supply chain management."
6. Are you a good fit?
After reviewing the job options, training and certification opportunities, and key skills for supply chain careers, do you think you're a good fit?
If you're ready to move forward, your next step is to speak with an admissions advisor. Advisors work with colleges to help students select and enrol in the right program.
Their role is to provide information on training, career guidance, and assistance with financial aid and scholarship applications.
An admissions advisor can help you confirm whether supply chain management is the right career for you and walk you through the application process.
We strongly recommend meeting with advisors at a few different colleges, so you can compare options and find your best fit.
Explore Supply Chain Management training at Herzing College
Herzing College offers an accelerated 12-month supply chain management diploma. This course is delivered both on campus and online and includes a six-week internship.
Herzing College is an official partner and affiliate of Supply Chain Canada (SCC). Our graduates earn a supply chain diploma from Herzing plus one from the SCC. This ensures their training is recognized and transferable across the country.
Click below to learn more about the program and chat live with an admissions advisor. We're here to help!