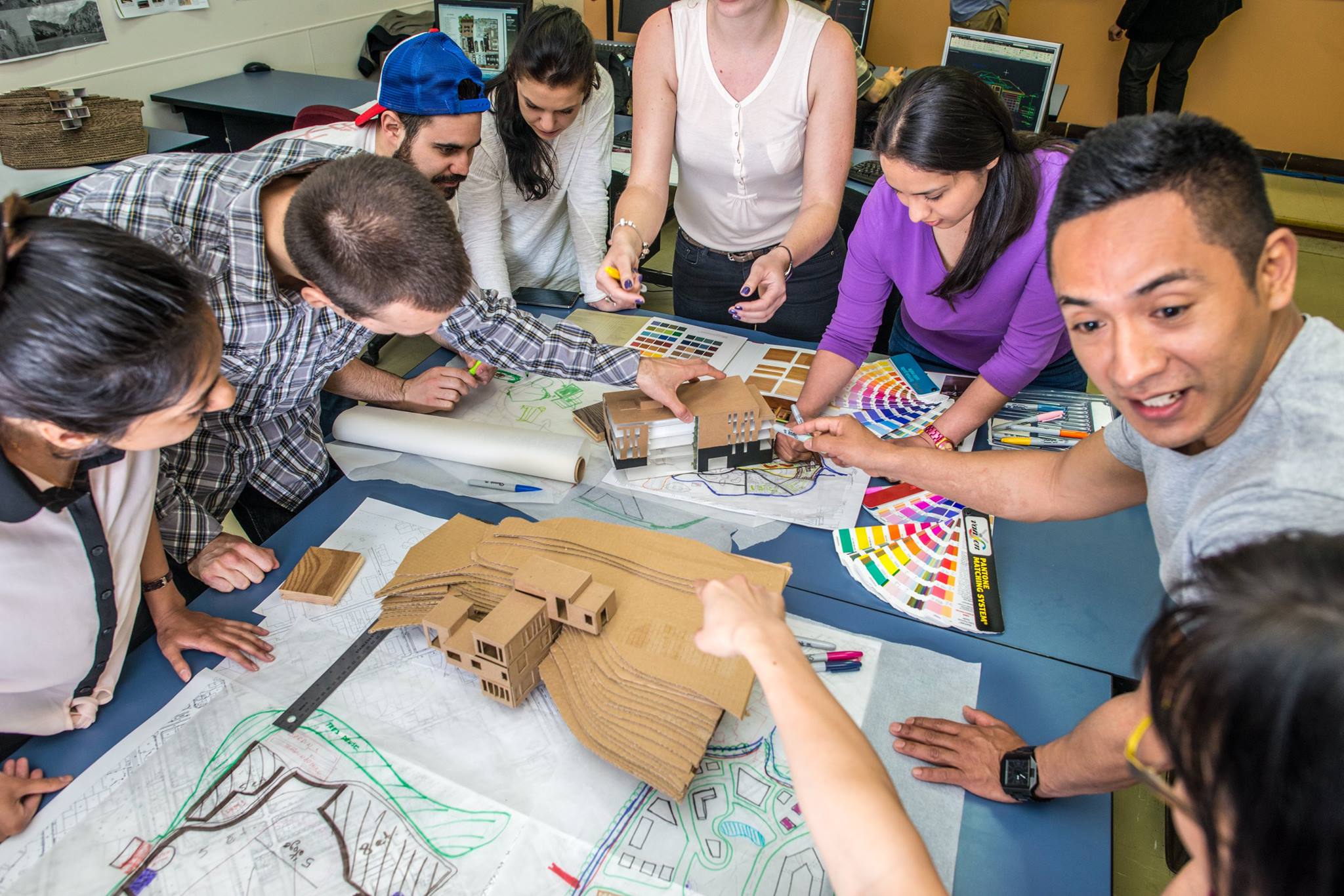 Design students busy working on projects at the Herzing College Montreal campus
You have a natural talent for arranging rooms, choosing furniture, and selecting paint colours. Your Instagram or Pinterest is full of amazing design ideas and inspiration. You're constantly re-organizing your own living space.
It sounds like you'd fit right in at interior design school! But let's take a step back for a minute. There are a few more things to consider before you invest your time and money...
Like, what exactly does an interior design diploma include? What skills will you learn, and what are your job options straight out of college?
Will you really love this program, and keep on loving your career choice, long after graduation? These are really important questions for anyone who's heading back to school.
In this post, we'll get right to the heart of how interior design training works. We'll break down:
where you'll find your first job
the key skills you'll need to succeed
how to take the next step and explore training options
At the end, we'll also include some links to learn more about Herzing's Interior Design Diploma, so you can gather more information and connect with an admissions advisor. Let's get started!
How many months is an interior design diploma?
Here's some good news: You'll definitely be able to find a comprehensive interior design diploma that takes less than 2 years to complete. At Herzing, our program runs for 18 months, full time. That's 20 hours a week, with classes scheduled Monday through Thursday. We also include an 8-week internship.
But, let's say you can't do a full time program. Or you live far from campus, and can't make it to class each day. Several colleges offer online interior design training. You can find flexible alternatives that allow you to complete the program on your own terms.
Herzing has an online version of the interior design program, delivered through our FlexEd learning system. You follow the course completely online, but still have plenty of contact with classmates and the instructor.
Online students have more control over when they hear lectures, finish assignments, and squeeze in study time. So, with this type of training, you have a choice between the traditional on-campus experience, and a flexible online format.
Next, we'll get into the specific skills you'll be learning in class.
Mastering interior design software
Technology skills are a central part of interior design training. Designers use special software to create plans and present them to clients—and for builders to follow. Occasionally, interior designers sketch a concept by hand, but for the most part, the work is done on computer.
So, you can definitely expect to spend a lot of time learning and using design software in class. This includes:
1. Adobe Photoshop for manipulating images, and creating interior design presentations (working with filters, masks, retouching, special effects, and colour management)
2. Industry-standard CAD software to draft professional architectural designs and drawings (to present to clients and builders)
3. 3D application software (such as SketchUp) to create 3 dimensional models of your designs, and virtual "walkthroughs" for clients
Never even heard of these tools? Don't worry. The program will include many hands-on projects, so you can get comfortable with the software, and gain confidence in your abilities. As long as you're willing to try new things, and work hard, you'll do just fine.
Developing your space planning & design skills
Obviously, all the design technology in the world won't help you if you don't know how to plan a space. So your courses will also include the principles of interior design, space planning, and today's most popular design styles.
You'll look at product catalogues, visit suppliers, check out retail stores, and attend interior design exhibitions.
You'll learn how to analyze a space in terms of human needs, client preferences, and visual appeal—and figure out how to make the most of that space. This includes colour theory, lighting, and creating a good atmosphere in the rooms you design.
You will also spend extra time learning about two of the most important rooms in any home: the kitchen and the bathroom. This is to help you understand how plumbing, fixtures, cabinets, and appliances should fit into your design plans.
At this point in the diploma, your technology skills and space-planning skills really come together. You'll know how to create a great concept, and present it to clients.
Related: 5 Hugely Popular Interior Design Styles Every New Student Should Know
Working with furniture, accessories, and finishes
What should you put in your newly designed space to really complete the picture, and make it both practical and comfortable? There are so many options to choose from.
In this part of the interior design program, you'll learn how to select the right furniture, accessories, and finishes for a space—including how to custom-design some of these elements yourself.
Key topics you'll study include:
1. Textiles for wall coverings, window treatments, upholstery, and accessories
2. Materials for flooring, walls, ceilings, cabinetry, and millwork
3. Light fixtures and installations, including devices and controls, energy conservation, and lighting plans for different kinds of spaces
Residential & commercial interior design projects
It's important to know that interior design graduates are prepared to work on both residential and commercial projects. That means you'll be trained to design for houses and condos, as well as restaurants, hotels, retails stores, and even public buildings.
By the end of your training, you will be asked to prepare a complete interior design for both residential and commercial settings. You'll use everything you've learned to produce a beautiful, safe, functional design—and present it using the latest software tools.
The biggest benefit to you? You can use these completed designs to create your professional interior design portfolio. This will be key in landing your first job after graduation.
Your first Interior design job
Before you finish training, you can expect to meet with a career development coach, who will help you prepare your resume and begin your job search. At Herzing, we actually send out students' resumes to Montreal design firms who hire our grads.
Plus, we run mock interviews, make sure you have a good cover letter and resume, and help you learn various job search tools online. in 2018, 100% of available Herzing interior design graduates told us they'd found jobs.
So, what kinds of jobs can you expect to land?
You will likely start out in an entry-level, junior interior design position. You could work with an interior design firm, furniture design company, hospitality design business, kitchen designer, etc. You would be responsible for tasks like:
drafting 2D and 3D design drawings using CAD software
conducting research for design proposals
helping to create client presentations
answering client questions by phone and email
some clerical office tasks
The median salary for interior designers in Quebec is about $20/hour—or about $41,000/year. Just starting out after school, you may make a bit less—around $30,000/year.
At the highest end, Quebec designers are making approximately $70,000/year.
Learn more about jobs here: What Can You Do With an Interior Design Diploma? 5 Career Paths
Is an Interior Design Diploma Right for You?
Here's how to find out for sure. If you've read this far, and are still interested in pursuing this career, we strongly suggest speaking with an admissions advisor.
Advisors are experts in helping students choose the right diploma programs and career paths. They can answer all your questions about:
admission requirements for the interior design program (are you eligible?)
submitting your application
Get help, advice you can trust, and support with your next steps. No matter which schools you're considering, meet with an advisor at each one, until you find the perfect fit.
Your education is such an important investment—it's worth the time to make a smart decision. If you'd like to learn more about Herzing's Interior Design Diploma, we're here to help!
Use the links below to request free info, explore the program, and chat live with an admissions advisor right away. We'll map out a career plan that really works for you.
Get free information by email. An admissions advisor will follow up with you, to answer questions and help with next steps.
Explore the Interior Design Program, see a detailed list of courses, and chat live with an admissions advisor. Get your questions answered, quickly and easily online.