If you're interested in law, good with people, detail-oriented and organized, legal assistant could be an ideal career path.
It's an excellent time to become a legal assistant in Manitoba. Strong employment growth and waves of retirements are creating jobs in this field, in every part of the province.
You don't need a university degree, and college legal assistant programs are relatively quick.
So, how do you get started? What's involved in becoming a legal assistant? And most importantly, how do you know if this career is right for you?
We've been training legal assistants for many, many years at Herzing College Winnipeg. These are 10 of the most common questions we get about training, careers, and what to expect at work.
Read on for answers, expert advice, and exactly how to start your career as a legal assistant.
1. What training do you need to become a Legal Assistant?
You don't need a special license or certification to become a legal assistant in Canada. However, almost all employers require a post-secondary legal assistant certificate or diploma.
To get hired, you need a good grasp of several areas of law, including litigation, real estate, wills, and corporate law. You also need legal research skills, computer skills, and the ability to prepare a wide variety of legal documents.
Your employer will expect you to perform these tasks, accurately and independently, right from day one.
A quality Legal Assistant program combines hands-on training with an internship, so graduates are fully prepared to dive in, and handle a real work environment.
2. How long is a typical Legal Assistant Program?
A typical Legal Assistant program takes about 12 months to complete. However, there are accelerated programs you can complete in under 12 months.
Students balancing work and school may also find part-time programs they can spread out over 2 years. There are quite a few training options available.
At Herzing College, we offer an accelerated Legal Assistant program that runs for 9 months. The program is also available online, and includes a 4-week internship.
Most of the students we meet want to get their training done quickly, so they can enter the workforce faster. We've tailored our program to fit this need.
Click below to take a quick look.
3. Exactly what skills will you learn in training?
Legal assistants work under the supervision of a lawyer, helping with tasks related to office management, document preparation, case research, and preparing for trial.
But exactly which tasks do they do? How much legal knowledge do you need? What kinds of skills will you learn in training?
Every quality legal assistant program follows a similar curriculum. By the time you graduate, you will know:
☑️ How to use Microsoft Word (all features, including formatting and editing documents, charts, graphs, styles and templates, merge techniques, etc.)
☑️ How a typical legal office functions, including administrative procedures and reception duties
☑️ How to process client billing
☑️ How to manage client records
☑️ How to prepare accurate legal documents for several types of law (real estate transactions, wills and estates, corporate and commercial contracts, etc.)
☑️ The fundamentals of several areas of law: Real Estate, Commercial Law, Corporate Law, Litigation, Family Law, Wills and Estates
Legal assistant instructor, Nicole Page, says learning how to prepare legal documents is key. Her students spend most of their time practicing how to draft documents related to the most common areas of law.
"We cover the most important aspects of the most common types of law. This includes Family Law, Corporate Law, Wills and Estates, Litigation, and Real Estate.

Students learn legal terminology, including Latin legal terms, many of which are used for dictation assignments and document preparation.

Most of the legal theory and procedures students learn are related to preparing legal documents. We focus on practical applications of the law - the skills and knowledge they will need to get hired as Legal Assistants."
4. Can you take legal assistant training online?
Some colleges offer a choice of on-campus or online legal assistant training. At Herzing, we actually provide three options. Students can do the program on campus, online, or a blend of both.
With the blended ("hybrid") option, you can attend some classes on campus and do the rest online. It's a good balance for students who want some face-to-face contact with instructors and classmates, but are too busy to come to campus every day.
Online programs are definitely becoming more common. But you'll need to check with each college to confirm whether their legal program is available online.
5. What are your job options after college?
Legal assistants have quite a few different job options after college. Many recent graduates get hired at law firms. The most common practice areas are Wills and Estates, Family Law, and Real Estate.
Legal assistants working in those areas will prepare documents like:
☑️ Petitions for separation and divorce
☑️ Wills
☑️ Transfers of land and mortgages
☑️ Purchase and sale of a house
However, working at a law firm is not your only choice. Legal assistants can find work at a variety of other companies and organizations, including:
☑️ Government agencies
☑️ Corporate legal departments
☑️ Real estate companies
☑️ Land title offices
☑️ Municipal, provincial, and federal courts
Nicole Page says law firms are a common career path for many of her graduates, but some find entry-level positions in other parts of the industry.
"Most legal assistant graduates find their first job at a law firm. Family, Real Estate, and Wills and Estates are some of the most common practice areas. We also have some grads who get hired at a courthouse (either Provincial or Federal) but this is a bit less common. We also have graduates working at MPI."
Nicole pointed out that some graduates may decide to return to college as instructors. She spent several years gaining experience at courthouses and law firms, before returning to Herzing to teach the next generation of legal assistants.
Read the full interview: Meet Nicole: What to Expect from Herzing's Legal Assistant Program
6. Is there demand for legal assistants in Manitoba?
Yes, there is good demand for legal assistants in Manitoba right now. The latest Government of Canada Job Bank report shows a very positive employment outlook for this profession, across the province.
The Job Bank gives Legal Assistant 3 stars for outlook, which is its highest rating.
Job Outlook for Legal Assistants in Manitoba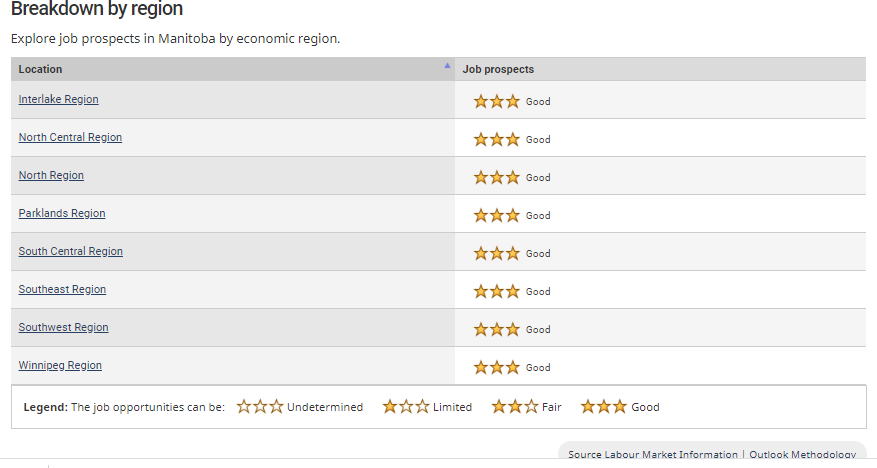 7. How much money do Legal Assistants make?
The average salary for legal assistants in Winnipeg is about $37,000 - $40,000 per year. According to the Job Bank, the "median" wage in this field is around $20 per hour.
Payscale has published similar figures. Their pay range for Winnipeg legal assistant runs from $31,000 - $53,000. As with most careers, your salary will rise as you gain experience in the field.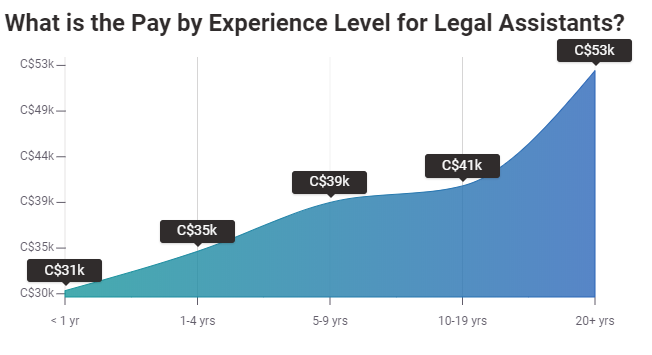 Source: Payscale.com
8. Are you a good fit for this career?
How do you know if legal assistant is the right career for you? This is a important question to ask, before you invest your time and money in training.
First and foremost, you should have a genuine interest in the law. You will spend a lot of time studying law and learning how to prepare legal documents, so interest in the field is key. Otherwise, you may find the work repetitive and boring.
You will also need a few of other natural skills and strengths to be successful as a legal assistant, including:
☑️ The ability to think critically and work independently
☑️ Good problem-solving skills
☑️ Very strong attention to detail (for editing and preparing legal documents)
☑️ Good communication and customer service skills (for dealing with clients)
☑️ Reliable, ethical, trustworthy (you'll be handling confidential client files and trusted with important tasks)
☑️ Excellent organization and time management
☑️ Work well under pressure/deadlines
☑️ Computer savvy (or willing to learn)
☑️ Good typing speed (or willing to learn)
9. How do you find a good Legal assistant program?
In some ways, the legal assistant program you choose will depend on your priorities as a student.
For example, are you looking specifically for an online program? Or a part-time program you can spread over 2 years?
However, in addition to finding the right class schedule, there are other important characteristics to look for when selecting a program.
You need to ensure your investment will pay off with a good job after graduation. The school you choose will have a direct impact on your career success.
As you compare legal assistant programs, look for these clear signs of quality:
☑️ The college is accredited and has a good reputation/positive reviews
☑️ The legal assistant program is taught by a professional with years of experience in the field
☑️ The program comes with an internship
☑️ The college provides extensive career support, to help you land your first job
☑️ The admissions team is helpful, supportive, and does not pressure you to enrol
☑️ The legal assistant program has a good graduate employment rate (the percentage of students who get hired after graduation). Look for at least 85%.
These are all key points to research and ask about when you speak with Admissions. Your Admissions Advisor should be able to answer all your questions, and provide any additional information you need, to make your final decision.
10. What's your next step?
Think legal assistant training is right for you? Your next step is to find a program that fits your needs. Get started by talking with a Herzing Admissions Advisor.
Our Advisors will discuss your interests, learning needs, and career goals to ensure this program is a good fit. They will walk you through on-campus and online training options, and explain tuition costs and financial aid.
Even if you don't choose Herzing, our Advisors can provide valuable information on the career path. Our goal is to give you accurate information and guidance, so you're fully prepared to make an informed decision.
Click below to explore the Legal Assistant program or chat live with an Advisor right now. We're here to help!