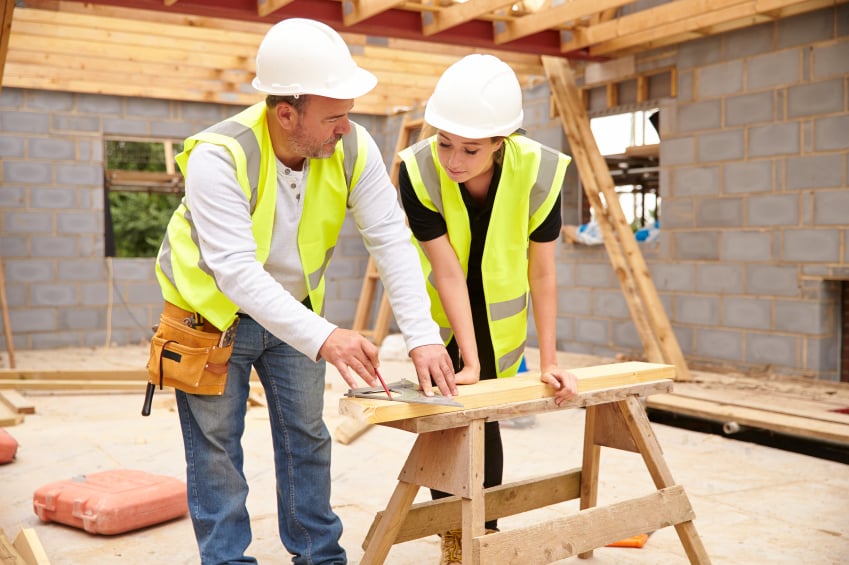 Plenty of people think about becoming a carpenter. Many practice carpentry as a hobby. But only some actually follow through, complete the training, and sustain long, successful careers in this trade.
What's makes them different?
If you're considering becoming a carpenter, what natural qualities should you already possess—and which technical skills will you need to learn?
These are key questions to think about if you're planning on investing in carpentry training.
It takes time, money, and energy to learn any trade, so it makes sense to figure out if you're a good fit, before you jump in.
So let's get down to it. These are 6 skills you will absolutely need to become a successful carpenter, and build a long-lasting career.
Essential Carpenter Skill #1: Solid Math Skills
Carpenters must work within very precise measurements. Your cuts must be calculated to the millimetre. Achieving this level of precision takes solid math skills.
You'll need to use algebra, calculus, geometry and statistics to measure materials, add up volumes, figure out dimensions, and estimate supplies needed for each project.
Numeracy (the ability to work with numbers) is a fundamental skill you'll need to excel in carpentry training, and do well on any job site.
Essential Carpenter Skill #2: Analyzing Technical Drawings
Whether they're working on a brand new build, or helping with a renovation project, carpenters must stick within certain technical specifications.
That means knowing how to read and interpret technical drawings, like building plans, elevations, and blue prints.
If you don't understand these documents, you won't be able to estimate material quantities, calculate measurements, and ensure your work is up to code.
But keep in mind, this isn't a skill you're expected to have from day one. Your carpentry training instructor will drill you on the Ontario Building Code, and teach you how to work with blue prints.
What you will need is a very sharp eye for detail, the ability to analyze information, and a knack for problem-solving. These are natural traits you'll definitely need to become a successful carpenter.
Essential Carpenter Skill #3: Mechanical & Fine Motor Skills
All carpenters need good mechanical skills. We're talking about the knowledge and physical coordination it takes to work with circular saws, power sanders, extension ladders, electronic and laser levels, hammers, nail guns, chisels, and many other carpentry tools.
And if you choose to specialize in finish carpentry, you'll need fine motor skills to do more detailed work—like installing crown molding, stairs, baseboards, custom doors and windows, fireplace surrounds, etc.
You'll get a good introduction to these tools and techniques in carpentry training. But, from day one, all students should have the natural ability to grip and manipulate small objects, see clearly, and maintain a steady hand.
Essential Carpenter Skill #4: Strength & Stamina
In addition to those coordination and fine motor skills, carpenters should be in decent overall physical condition to keep up with the demands of the work.
You'll need to climb up scaffolding, crouch in awkward spaces, and carry heavy loads. When a project runs over time, you'll need the energy to put in those extra hours and stay sharp.
There's no doubt about it: If you want to become a carpenter, you'll need to take care of your health, and maintain strength and stamina.
Essential Carpenter Skill #5: Communication & Customer Service
Like so many trades, carpentry takes teamwork. You'll rarely be working all by yourself on a job site. There will be other tradespeople to coordinate with, like plumbers and electricians.
And of course, you'll need to be able to communicate professionally (spoken and written) with clients and supervisors.
This is especially important if you're doing custom carpentry work, and the client needs to have faith that you fully understand their unique vision and needs.
And in a general sense, being friendly, outgoing, and pleasant to be around will help you build good working relationships—and that's what it's all about, if you want a long and successful career in this trade.
Essential Carpenter Skill #6: Adaptable & Cool Under Pressure
What would you do if the supplies you'd ordered for a carpentry job didn't turn up on time? What if you lose focus, and end up applying varnish before removing sawdust? Or, if you cut a board a little shorter than you should have?
These are all very common issues for carpenters, and happen all the time on the job site. If there's one thing you can depend on, it's that you will make mistakes as a carpenter.
What defines your success in this field, is your ability to recognize and resolve those errors, quickly and calmly. And learn from what went wrong.
Very few carpentry jobs will go perfectly according to plan, especially if you're relying on other tradespeople or suppliers.
If you want to become a carpenter, you'll need to be adaptable, a natural problem-solver, and someone who can cope well under pressure.
So...do you think you've got the right profile to go after a carpentry career? Are you inspired to learn more about getting started with training?
We'd love to hear from you. Your best first step is to explore the Carpentry Training Program offered at the Pre-apprenticeship Training (PAT) Institute—Ontario's leading construction trades school.
Click below to request free program information. And use the chat tool at the bottom of this screen to connect with an advisor. We're here to help!