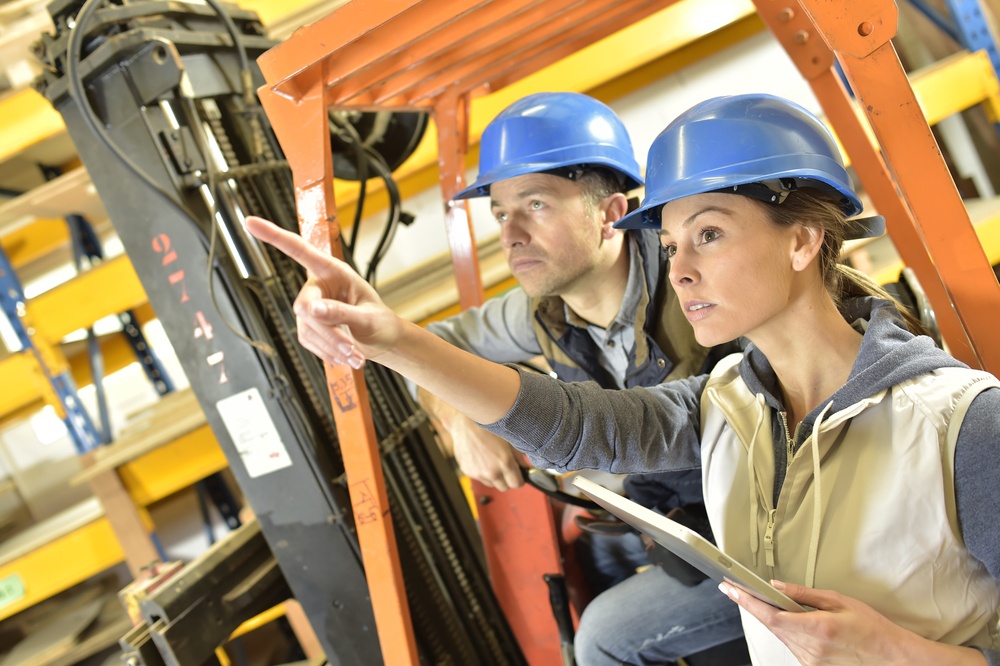 Have you ever quit a job because working conditions were just too terrible to bear?
Maybe you had to stand for too long, or work in a cramped space that was too hot or too cold. Or maybe you hurt yourself on equipment that was poorly maintained, malfunctioning, and basically unsafe to use?
These kinds of issues are most common in manufacturing and construction settings, like factories, warehouses, and building sites. But unhealthy working conditions can be found in all kinds of working environments, from offices to restaurants to schools.
Canada has been cracking down on hazardous and downright inhumane workplaces for decades. In fact, Saskatchewan passed North America's very first Occupational Health Act back in 1971—closely followed by Manitoba's own Workplace Safety and Health Act in 1976.
Timeline of Manitoba Labour Programs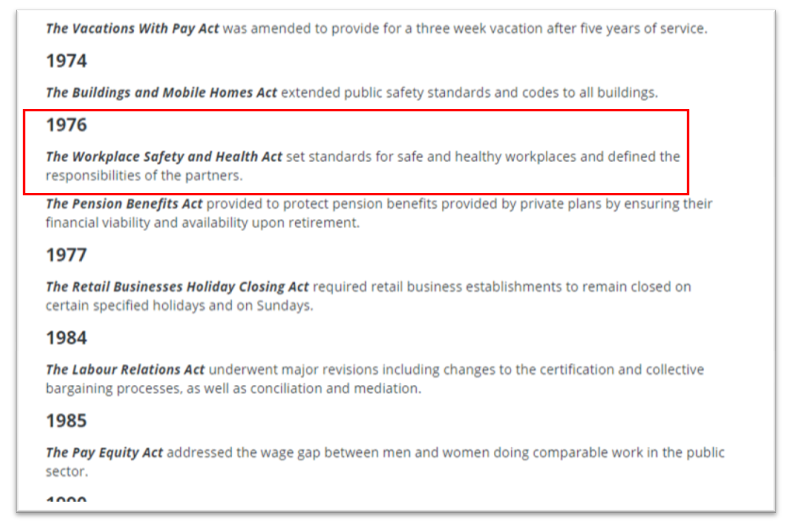 Source: Government of Manitoba

The goal of this kind of legislation is to ensure workplaces are safe for employees by creating rules employers must follow—and strict penalties when these rules are broken.
Who's in charge of inspecting workplaces to make sure everything is "up to code?" Health and safety officers.
And it so happens that right now, Manitoba is experiencing a serious shortage of health and safety officers. Demand is rising for skilled professionals in this field—so should you consider training to jump on these job opportunities?
Is occupational health and safety a career that would fit your interests and feel rewarding? Let's find out.
What exactly does an occupational health & safety officer do?
So fundamentally, a health and safety officer is in charge of inspecting work places, ensuring regulations are being followed, and enforcing the law when rules are broken (kind of like a workplace safety cop).
But it's more complex than it sounds. To do their job right, health and safety officers must follow a system of inspection that includes the following elements and procedures:
Assessment—making sure the workplace is following occupational health and safety regulations (as laid out in the Manitoba Workplace Safety and Health Act)
Improvement—ongoing monitoring of working conditions, conducting risk assessments, and striving to eliminate hazards
Training—making sure all new and existing employees and managers understand safety procedures and policies (and coordinating regular safety meetings to promote compliance)
Investigation—looking into any reports of unsafe conditions, or workplace injuries (spills of hazardous chemicals, outbreaks of diseases or poisonings, accidents, etc.)
Enforcement—taking steps to fine or shut down a workplace that does not comply with occupational health and safety rules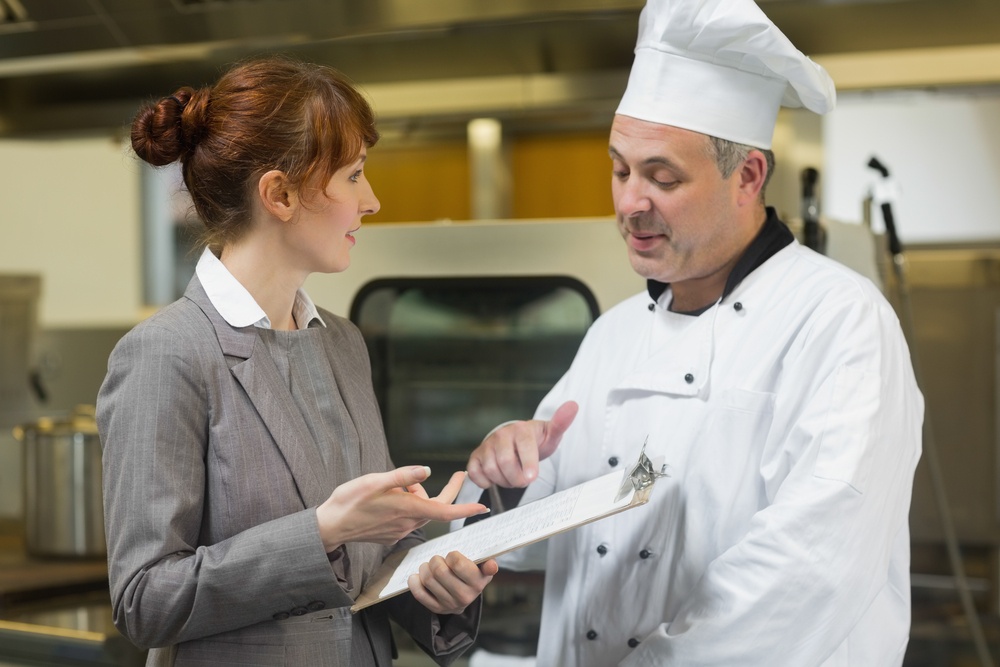 Occupational health and safety officers work with all kinds of companies, organizations, and institutions. They inspect commercial kitchens, schools, hospitals, industrial plants, municipal water treatment facilities, restaurants, hotels, and more.
This profession goes by many different names. You'll see job postings and descriptions that include titles like:
health and safety officer
environmental health officer
health standards inspector
health safety advisor
health safety coordinator
health and safety specialist
Occupational health & safety training programs
Studying full time, you can earn an Occupation Health & Safety Diploma is as little as 8 months.
Your program should also include an internship, so you can gain some professional experience and start connecting with potential employers, before you even graduate.
What exactly will you be learning during those 8 months? Comprehensive occupational health and safety training should include the following:
how to recognize health and safety risks in a variety of work environments
how to conduct an audit (inspecting a workplace for potential risks and identifying compliance issues)
how to deal with (and prevent) environmental hazards (like fires and chemical spills)
emergency procedures (fire control systems, evacuation procedures)
how to setup work areas that offer employees maximum comfort and protection from repetitive stress injuries
health and hygiene in the workplace (including chemical hazards, physical hazards, and air pollution)
dealing with workplace harassment and violence
understanding occupational health and safety laws and regulations in Canada
how to create a comprehensive health and safety plan for a company or organization
Occupational health and safety career outlook & salary for Winnipeg
Based on the latest job market research from the Government of Canada Job Bank, we know that there's rising demand for health and safety officers across Manitoba, and in Winnipeg in particular.
The Job Bank has awarded this occupation 3/3 stars for outlook—the highest possible rating for demand and expected growth.

Source: Government of Canada Job Bank

Stronger focus on employee safety and wellness in the workplace is driving demand in this field. We're also expecting a large number of occupational health and safety professionals to retire in the coming decade, which will leave a large gap in the workforce.
Manitoba needs new, trained health and safety officers to fill that gap. So, if you decide to pursue this career, what kind of salary can you expect to start out with?
The Job Bank reports that on average, health and safety officers in Winnipeg earn about $68,000 per year. Just starting out, you could expect to make around $40-45,000/year.
The highest paid professionals in this field are making upwards of $90,000/year.
The combination of excellent employment demand and competitive salaries makes occupational health and safety a very attractive career path. But is it the right field for you?
Learn More About Your Health & Safety Training Options
If you're seriously considering health and safety training, we strongly recommend talking with an advisor to learn more about application requirements, training, and careers. Use the links below to get started.
Get fast, free information about training, tuition, financial aid, and how to apply. An advisor will reach out to answer any other questions you have, and help you with next steps.
Browse a detailed course list, see an overview of the program, and chat live with an admissions advisor. Get your questions answered, quickly and easily online. We're here to help!