What's the difference between modern and contemporary interior design? How does industrial differ from Scandinavian—and where does "transitional" fit in?
If you're thinking about a career in interior design, you're probably already familiar with some of these styles, even if you don't know their official names or defining characteristics.
But if you're serious about studying design, you'll want to get a handle on these terms before you walk into your first day of class. Yes, you'll be covering these concepts at school—but knowing the basic differences between today's most popular styles will give you a stronger start.
So, here we go. These are five iconic design movements every future interior designer should know about...right from day one.
Interior Design Style #1: Mid-century modern
Unless you've been living on the moon for the past decade, you've seen the rise of this massively popular design trend. Mid-century modern furniture and interiors are absolutely everywhere.
Like the name suggests, this style derives from the mid-20th century—spanning the mid 1930s to the 1960s. Watch any episode of Mad Men and you'll see perfect examples of this aesthetic.
Pinterest and Instagram are overflowing with mid-century modern designs. Literally every furniture store you walk into (or browse online) is selling some version of this trend.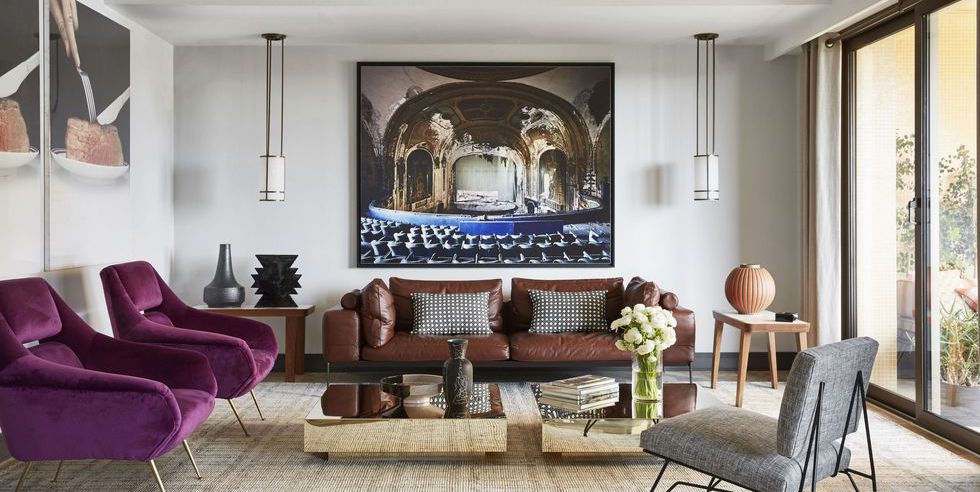 Example of mid-century modern furniture and living room design (image source: Elle Decor)
So, what are the main features of the mid-century modern design style? Key characteristics include:
Simple colour palette (with a few contrasting colours)
Not a lot of accessories (minimal clutter)
Both organic and geometric forms
Contrasting materials (everything from traditional wood, to Plexiglass and Lucite)
Instead of trying to re-create the style down to the last detail, designers usually pull together a few modern pieces to create an overall mid-century effect.
You can get replicas of mid-century furniture and accessories pretty much everywhere (IKEA has many examples), and at affordable price points—so this design aesthetic works for a range of budgets.
You can bet that after interior design training, you'll work with many clients who want the mid-century modern look.
Interior Design Style #2: Scandinavian
Speaking of IKEA...Many people associate IKEA furniture and room styling with the Scandi movement. That's because the global retailer popularized the form, and made it familiar to everyday people, pretty much everywhere.
But IKEA certainly didn't invent this style. Scandinavian design dates back to the 1950s, and is actually an offshoot of mid-century modern. It originated in the Nordic countries of Sweden, Denmark, Finland, Iceland, and Norway.
The goal of Scandi design? To offer consumers functional, affordable interiors that also look beautiful. It's about providing an alternative to high-priced, fancy furnishings that most people can't afford (very similar to IKEA's brand messaging today).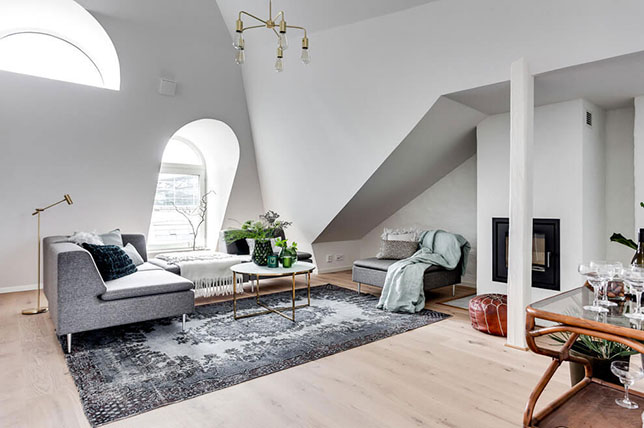 Typical example of clean, fresh, airy Scandinavian interior design (image source: Decor Aid)
There are a lot of similarities between Scandinavian and mid-century modern. But Scandi tends to be more practical, focussing on light, airiness, and an overall minimalist lifestyle. It's all about function, with no fuss. Other key features include:
White-washed walls and white furniture
Fun, bright accent colours and patterns
Balance of man-made and organic materials (reclaimed wood paired with plastic, for example)
Natural fibre throws, rugs, and furs
No clutter, plenty of clever storage options
Lightweight furniture (no heavy, clunky pieces that will dominate the space)
People love the Scandi style because it's affordable, and brings order to the chaos of daily life. It feels simple, peaceful, and easy to manage. It's everything we wish our lives could be!
Interior Design Style #3: Bohemian
Boho chic is everywhere right now, from fashion to home furnishings to festivals. The bohemian interior design style speaks of global travel, freedom, fun, colour, and a love of life.
Bohemian style mixes valuable antiques with thrift-store finds, and special pieces your client picked up during a two-month trek through Indonesia. It's all about adventure and exploration. Think retailers like Urban Outfitters and Anthropology—hugely popular purveyors of this design aesthetic.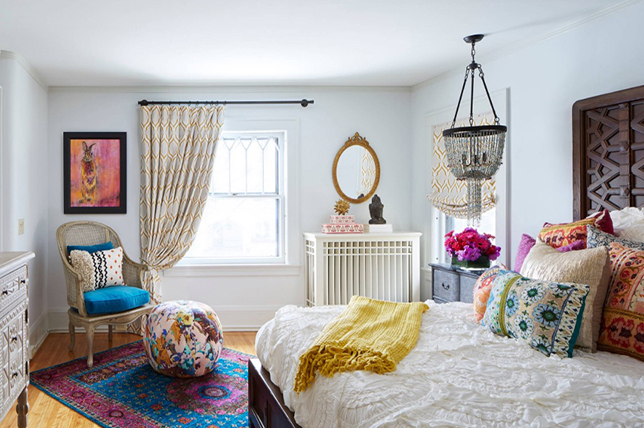 The rich colours, textures, and patterns of bohemian interior design (image source: Decor Aid)
If your client wants their home to reflect their love of travel, unique accessories, and a non-traditional lifestyle—bohemian is the way to go. Key characteristics of this style include:
A kind of controlled "messiness" (not too neat or orderly)
Layered, brightly coloured textiles, with embroidery, beadwork, and elaborate patterns
Displays of art objects and unique items picked up on travels or from flea markets
Natural, organic materials
A combination of contrasting elements, like a refined crystal chandelier paired with a reclaimed, second-hand headboard
A warm, inviting, relaxed atmosphere
Design training will help you understand how to combine boho elements with Scandi and mid-century modern. Many clients will want to pull together a few different design styles to keep their look fresh—and not too heavy on one particular trend.
Interior Design Style #4: Industrial
Think you might work with commercial clients after interior design school? For example, designing for retail stores, hotels, restaurants, or nightclubs? Industrial is a hugely popular trend for these kinds of spaces.
Think a factory or warehouse feel, with exposed ductwork, unfinished wood, brick walls, and raw metals—balanced with softer elements, like a tufted sofa or fur throw. Think large, open-concept loft, with high ceilings and big banks of windows.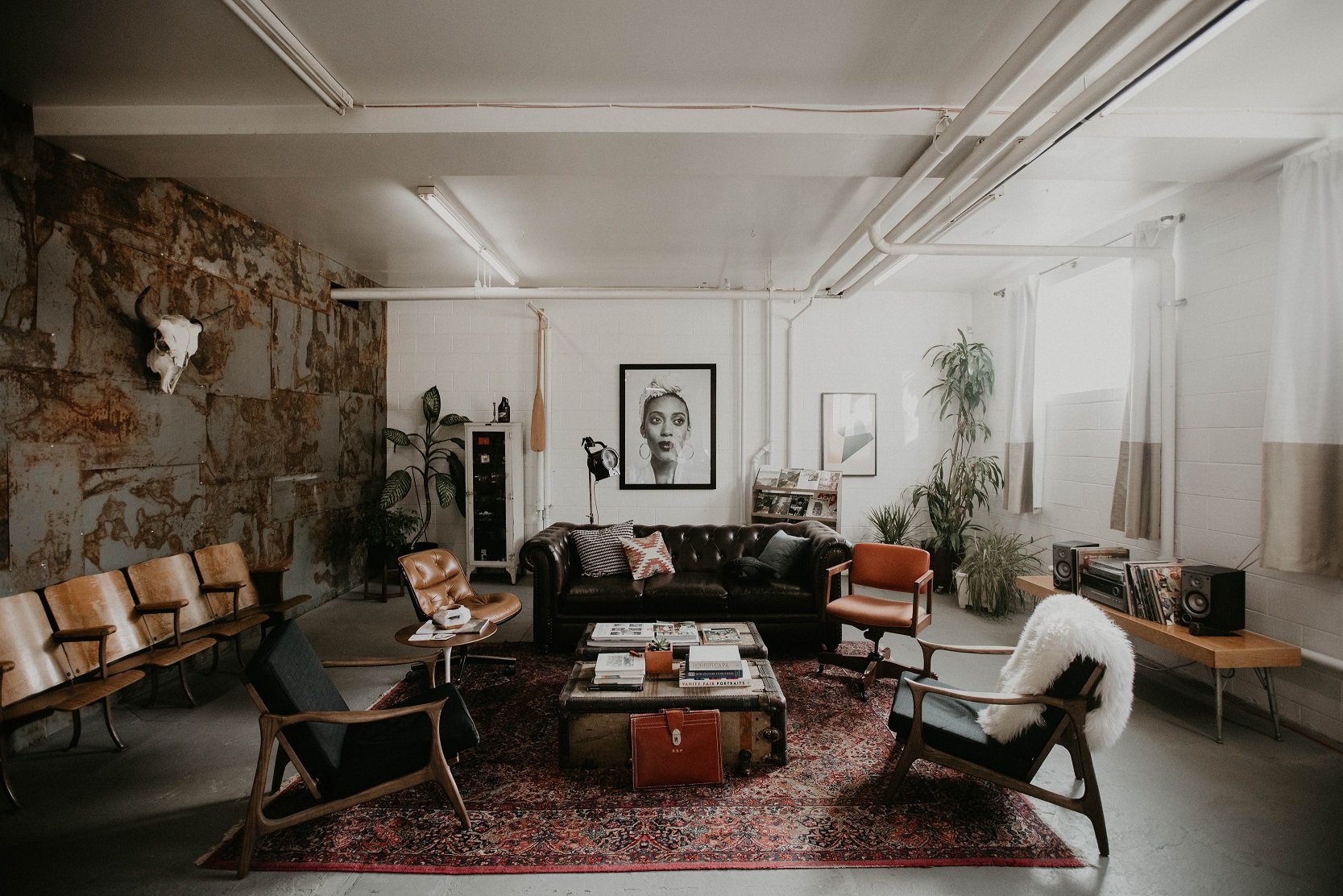 Hard-edged, unfinished elements combine with softer furnishings in this industrial living room design
Industrial design is sleek, minimal, and often associated with a masculine feel. It's ideal for larger, open-plan homes and commercial establishments. This interior design style gets its inspiration from the 19th-century industrial era. Key features include:
Exposed, raw brickwork and concrete
Visible air conditioning ducts and electrical conduits
Accessories that reference tools, gears, and other mechanical elements
Neutral colour palette, shades of grey
This would be an ideal approach for a client who wants to convert a warehouse or former factory into a business or living space. It feels edgy, cool, and kind of futuristic.
Interior Design Style #5: Transitional or Eclectic
Transitional is the perfect design solution for clients who don't want their space to go too deep into one particular design style. They want a more fluid feel—an approach that incorporates elements of both contemporary and traditional design.
So, you might combine modern steel and glass finishes with plush European-style furniture. Or hand-painted kitchen cabinets with a stainless steel range.
This is one of today's most popular interior design techniques because it allows people to put their own personal stamp on a space—rather than following a strict set of design rules.
The challenge? Putting random, contrasting elements together in a way that forms a cohesive look. You want the space to feel spontaneous without being messy. It's a delicate balance.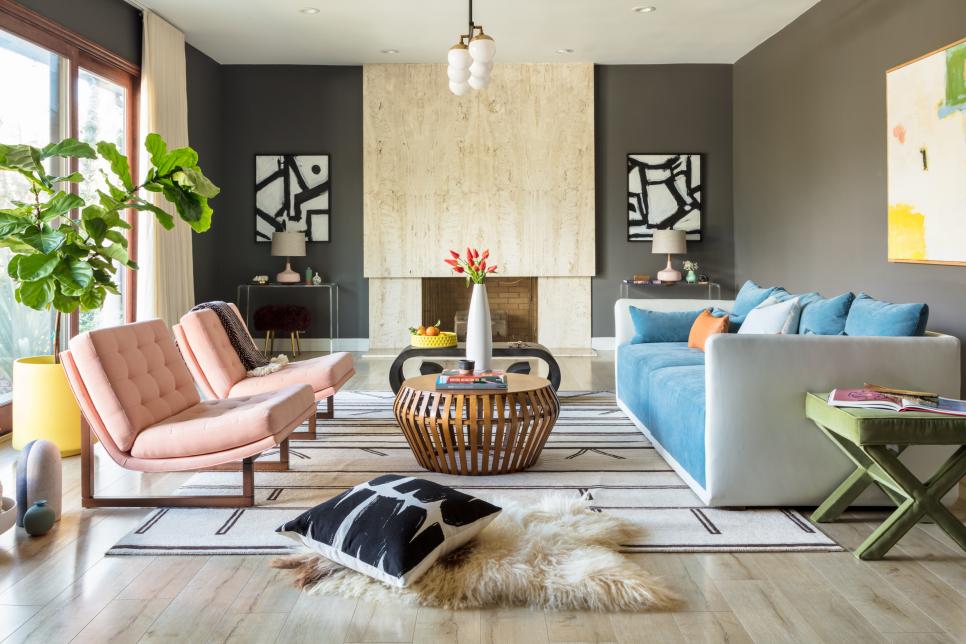 Eclectic design carefully balances elements from both contemporary and traditional styles (image source: HGTV.com)
We've seen more and more commercial and residential designers embracing this trend in recent years. Typical characteristics of eclectic design include:
A mix of fabrics and textures
A clearly defined, carefully balanced colour scheme
Neutral walls with pops of colour in the furnishings and accessories
Unique knick-knacks, art pieces, and sentimental items
A combination of contemporary and traditional furniture
This interior design style lets your clients be themselves, and can result in truly personal and unique spaces. Your goal is to successfully combine all those diverse elements into a room that makes sense, and makes a real impact. No easy task! Eclectic is one of the most challenging styles to pull off well.
But that's what interior design training is all about. Helping talented students develop the skills needed to create functional, beautiful spaces that truly represent their clients.
Interested in learning more about becoming an interior designer, or what's involved in earning a design diploma?
We'd love to hear from you. Chat live with an admissions advisor right now to get started.
Or click below to explore the Interior Design Program available at both our Montreal campuses. Browse courses, admission requirements, financial aid options, and much more.