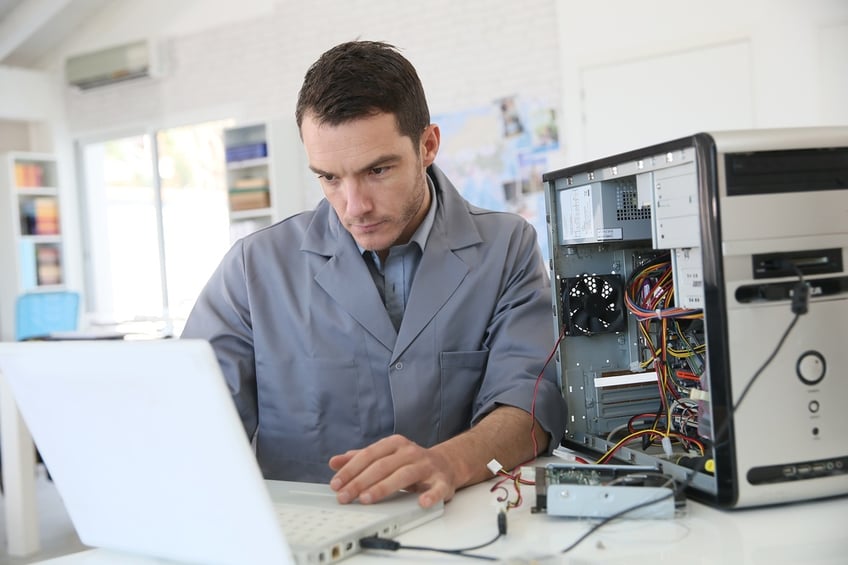 What kinds of computer peripherals will you need to install and troubleshoot after networking school? What exactly is a peripheral?
There are actually three types of peripherals: input, output, and storage. Input peripherals, like a mouse, keyboard, or scanner, allow users to share data and control signals with their computers. Output devices allow users to share information with others, and include monitors, projectors, speakers, and printers.
Although there's debate around this, storage devices can also be considered peripherals. These include system RAM, internal hard drives, external hard drives, solid state drives, and flash drives.
Most people think of peripherals as external devices that can easily connect to, or disconnect from, their computers—like the keyboard, for example. But, in the case of laptops, the keyboard and mouse are build right in, and can't be easily extracted. An internal modem or CD-ROM drive are other examples of internal peripherals.
Functional, well maintained peripherals are clearly essential for effective networking. So what kinds of glitches will these devices challenge you with after networking school? What are some of the most common peripheral problems?
Here are four typical issues you're sure to see as a network technician.
1. Unresponsive printers (output peripheral)
This is a very common network issue. The printer looks like it's available to computers on the network, but won't print any documents. Network technicians facing this challenge will usually start by checking whether just one, or several users, are experiencing print issues. They'll make sure the PC(s) are mapped correctly to the print server, and check the network between client and printer. Technicians will also check network connectivity on the printer itself.
Other next steps include verifying that the printer has a good IP address, an updated driver, and that traffic is getting to and from the printer on the network.
2. Crashed internal hard drives (storage peripheral)
A failed internal hard drive can be seriously traumatic for users who haven't backed up their files. It's amazing, given how common this issue is, how many users still don't protect their data by storing it in the cloud, or on an external drive.
What are some common causes of a crashed internal hard drive? Typical culprits include over-heating, power fluctuations, corrupted files, malware, and physical damage (like dropping).
The network technician will look to uncover the cause of the crash, and set about trying to retrieve as much data as possible. Very often, the data on failed drives is recoverable. There are a range of diagnostic tools that help reveal how much data can be salvaged, and data recovery software that transfers all recovered files to a new drive.
3. Uncooperative keyboards (input peripheral)
Users on your computer network won't get much work done if their keyboards are nonresponsive. Typical issues with this peripheral include non-functioning keys, wrong characters showing up on screen, and shortcuts that don't work.
Likely causes of these problems range from obvious (the keyboard is loaded with food crumbs and needs cleaning) to a bit more complex (re-installing the software for the device). In the case of wireless keyboards, something may be disrupting the signal between the peripheral and the computer. This could be a metal object that simply needs to be moved, or a receiver that's gone out of sync with the keyboard, and needs to be reset.
In the case of a wired keyboard, you will verify the connection, check the port, see if the keyboard works with another computer, re-install the driver, or use a tool like Microsoft Keyboard Diagnostics (MS Key)—a utility program that is included with the Microsoft IntelliType software.
4. Dysfunctional network card (card-type peripheral)
Computers need network cards to connect to, and share data with, other computers on a network (usually a LAN). If a computer on your network can't connect, it could be that the network card is bad, not properly installed or connected, or isn't receiving a signal from the network.
There are a number of troubleshooting steps you can take when faced with this peripheral issue, including:
check that the card is physically installed correctly by removing, and re-inserting
reboot the computer and see if Windows can re-detect and install the network card
download the latest card drivers from the computer manufacturer's website or the network card manufacturer's website
in the case of a wired network, check the hub, switch, and routers and verify cables are connected properly and that there is power
verify that the network card is capable of pinging itself by using the ping command
As computers grow more complex and sophisticated, so do the range of peripherals we rely on for added functionality and networking capabilities. Knowing how to troubleshoot these components is key for today's network technicians and administrators.
Interested in learning more about becoming a network technician? Looking for a top-rated networking school in the Ottawa area?
Consider Herzing's Computer Networking Technology diploma. Training takes just 12 months, and areas of study include COMPTIA (A+, Net+, and Linux+), MCP, MCTS, MCSA, MCSE and CCNA.
Click below to explore the program, see a course list, learn about admissions—or chat live with a friendly advisor. We're here to help!