A business diploma is one the most flexible post-secondary options out there. From office software to marketing strategy to accounting to human resources—this program covers a lot of ground.
The advantage? Students get hands-on training in many key areas of business. If you're just coming out of high school and aren't completely sure which business role fits you best, you'll have the chance to explore and find your strengths.
Or, if you're already working in business, but need more training to qualify for better jobs and higher pay, a business diploma will give you that competitive edge.
Any college business program worth taking is 100% based on skills that are currently in demand. The curriculum is designed around what local businesses and organizations actually need in new office employees.
This is key, because it helps ensure you graduate with marketable skills—and a resume that will get you hired, no matter which business role you're aiming for.
So, what kinds of career options can you pursue with a diploma in business administration? Take a look at 4 very popular paths for business grads in Winnipeg.
1. Accounting & Payroll
The role: Accounting and payroll clerks help manage the money that flows into, and out of, a business or organization. They calculate, prepare, and process bills, invoices, employee salaries, accounts payable and accounts receivable.
No business can survive without skilled accounting and payroll clerks. More than just crunching numbers, these professionals play an important role in keeping company finances organized, and on track for growth.
The training: If you pursue a business diploma, you'll find there's a heavy emphasis on accounting and payroll training. You'll learn the latest accounting software (like QuickBooks or Simply Accounting), and how to perform key tasks related to financial management:
recording transactions
adjusting accounts
preparing worksheets
developing budgets
calculating and processing payroll
preparing and analyzing financial statements
You'll also study advanced accounting principles, which will give you a solid grounding in how businesses are structured and run, from a financial perspective. This is useful knowledge for any business professional—not just those who work in accounting.
The job outlook in Winnipeg: The latest report from the Government of Canada Job Bank is very positive for accounting clerks in the Winnipeg region. This occupation gets 3 stars for demand—the Job Bank's highest rating.
Salaries are also competitive, with median wages sitting at almost $20/hour. You might not start out earning this salary, straight out of college, but it's encouraging to know there is room to grow.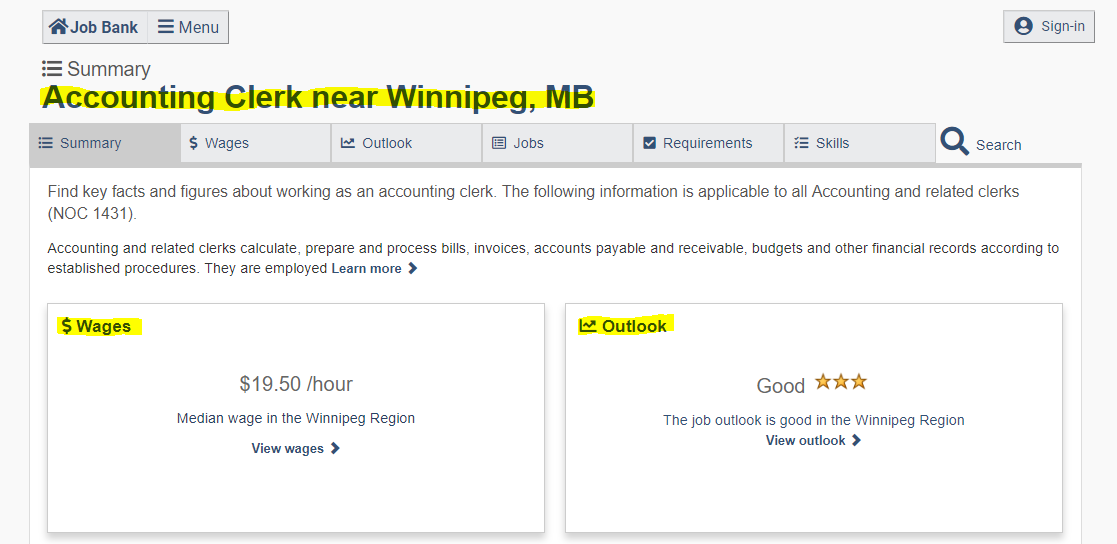 Source: Job Bank Career Outlook
The bottom line: If you're good at math, analytical, detail-oriented, and naturally interested in accounting and finance, this role could be an excellent fit. And Winnipeg is definitely a good place to start your career.
2. Marketing
The role: Marketing specialists help organizations reach and connect with target audiences. They create strategies for promoting products and services, help define the "voice" of the brand, and work closely with the sales team to bring in new business.
In an entry level role, you would likely be assisting with online campaigns, helping to manage social media accounts, and writing content for emails, blogs, brochures, newsletters, reports, etc. You might also help organize live promotional events, attend trade shows, and do market research.
Your exact job description would depend on the type of business or organization you join (non-profit, small local business, big company, community-based group, etc).
Many companies are willing to train entry-level candidates who possess business/marketing diplomas, and show a talent for public relations and marketing communications.
The training: Your business administration program will include solid coverage of marketing fundamentals, plus some of the newer approaches in this field (ecommerce, digital marketing). You'll study various ways to promote a product, learn about buying behaviors, and how to plan a campaign.
You can use this knowledge to break into an entry-level marketing assistant role. If you're willing to continue learning, and perhaps earn a few marketing certifications, you'll find opportunities to advance to managerial positions.
The job outlook in Winnipeg: The Government of Canada Job Bank gives "marketing assistant" 2/3 stars for demand in the Winnipeg region—meaning job opportunities are "fair" for professionals in this field.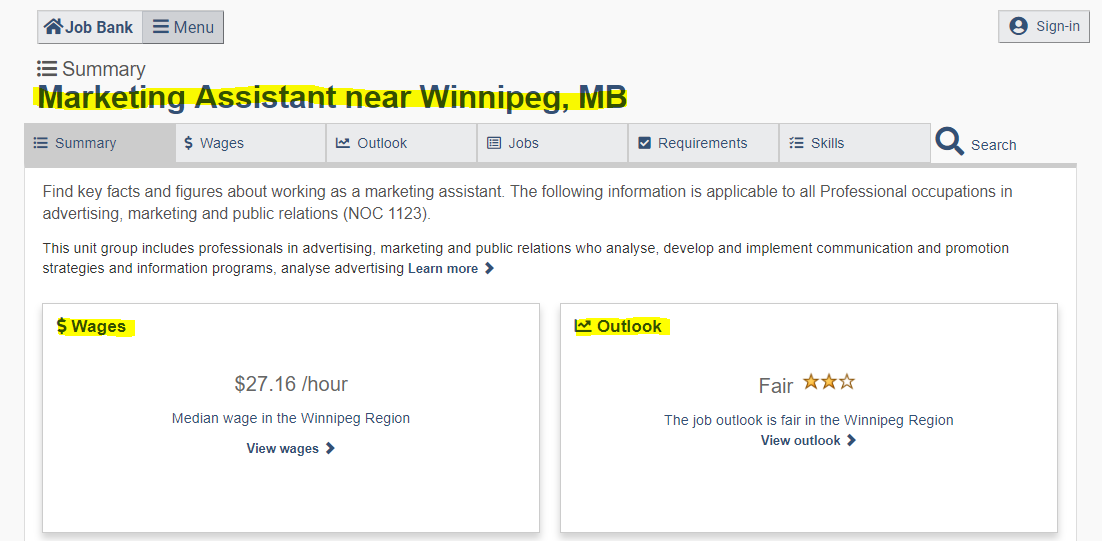 Source: Job Bank Career Outlook
The report predicts there will be growth in this sector, which will lead to more jobs, plus a wave a retirements that will create openings. However, the number of new jobs and job-seekers will be fairly balanced. There won't be a surplus of new positions, so be prepared to compete for that first job after college.
Overall, it's a positive forecast, with median salaries reaching about $27/hour. (Entry level marketing assistants can expect to start a bit lower, between $16-20/hour.)
The bottom line: If you have strong written and spoken communication skills, are creative, good at planning projects, and want to become a brand "ambassador", a career in marketing would be a good fit.
3. Sales
The role: Sales representatives bring in the customers every company needs to be successful. Without people skilled at finding clients, and closing deals, businesses simply could not survive.
Sales professionals are usually responsible for identifying possible customers, making contact, assessing which products or services they need, and proposing sales contracts.
They often maintain relationships with clients, ensuring they are satisfied with the products they have purchased—and upselling new products or services when possible.
Often, sales specialists are also tasked with developing sales strategies, doing market research, and even helping with product design (to ensure the company is creating products clients actually want).
In a role like this, you could work for a wide range of employers, from pharmaceutical companies and computer services firms, to manufacturing companies and engineering firms.
The training: Your business diploma will include coursework on sales strategy, including how to find clients, and how to build positive relationships with customers. You'll learn how sales and marketing teams often work together to promote products/services, and attract new business.
The job outlook in Winnipeg: The Job Bank has given "technical sales executive" a 3/4 star-rating for outlook, which means we can expect moderate growth in this sector in Winnipeg, over the next years.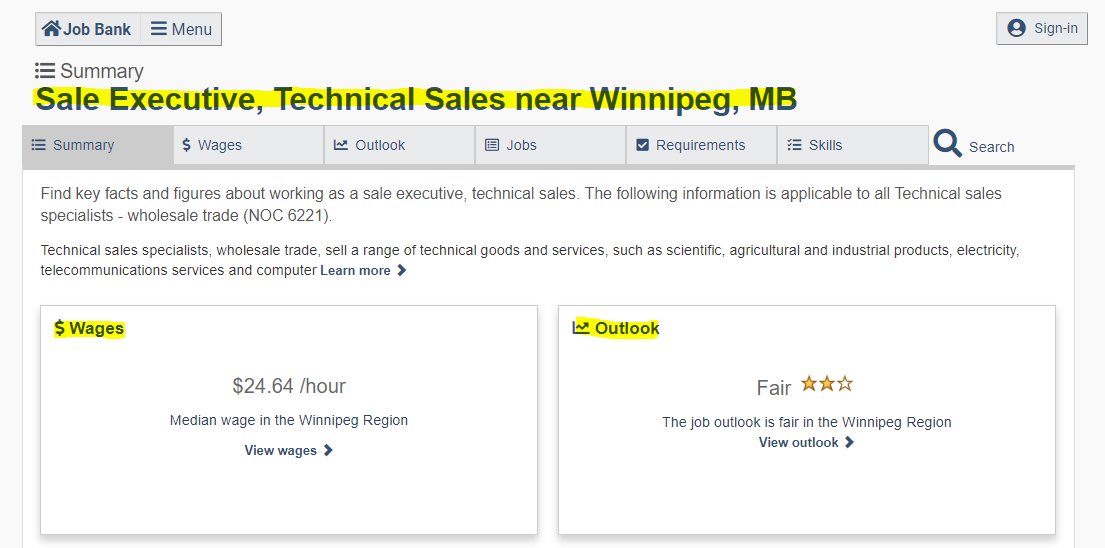 Source: Job Bank Outlook Report
Your success in this field will be based on your "track record"—the number of new clients you have successfully brought in for employers. Salary is often a combination of base wages and commission, which for talented sales people, can mean big earning potential.
Just starting out after college, you can expect to land entry-level roles paying under $20/hour, where you'll learn the ropes, develop your sales technique, and start to build your sales track record. The median wage for technical sales specialists in Winnipeg right now is about $24/hour.
The bottom line: If you thrive under pressure, are driven and determined, and have excellent people skills, you would do very well in a sales environment.
4. Office Management
The role: Office managers work in government departments, educational institutions, businesses, community organizations, and in the non-profit sector. They are responsible for keeping daily operations running smoothly, by organizing schedules, ordering supplies, supervising staff, and coordinating projects.
Office managers are skilled in managing people, tasks, and resources. Without them, very few businesses or organizations could function at all.
The training: Business administration training teaches all of the technical, organizational, and communication skills you'll need to start a career in office management. Students learn the latest office software (Microsoft Word, Excel, PowerPoint, Outlook, and Access), as well as techniques for organizing an office, supervising a team, and managing projects.
You will study how Canadian businesses are structured, business law and ethics, human resources, and daily operations.
The job outlook in Winnipeg: The role of "office manager" gets a 3-star rating from the Government of Canada Job Bank—it's highest rating for employment outlook. Winnipeg is expecting business growth to open up new positions for office managers and administrators, and retirements will also contribute to demand in this field.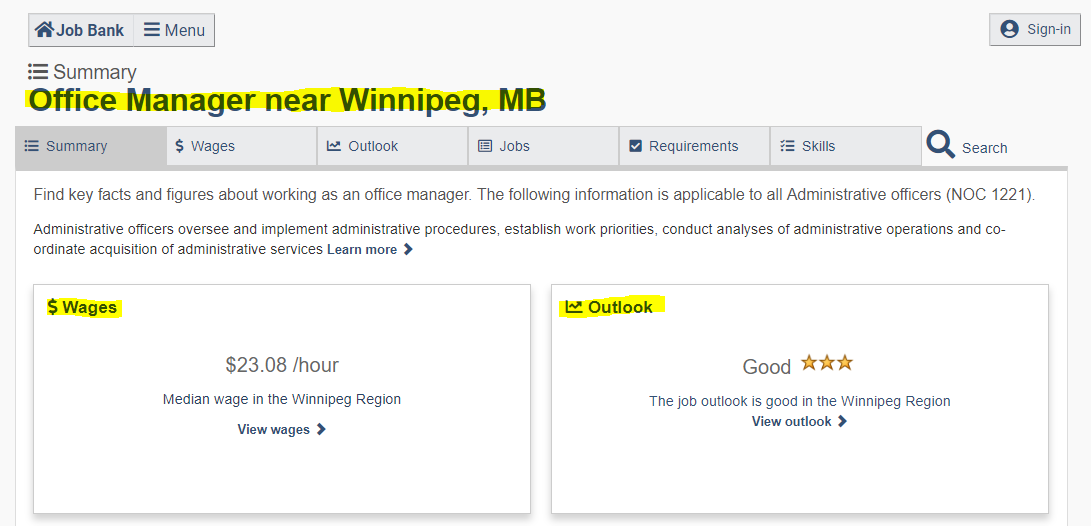 Source: Job Bank Career Outlook
Salaries for office managers are competitive, with median wages reaching just over $23/hour. Starting out after college, you can expect to begin your career as an administrative assistant, where wages range from $14-20/hour. You will need to prove your mastery of computer, project management, and human resources skills in order to move up into management roles.
The bottom line: If you are naturally well-organized, a good multi-tasker, responsible, and have excellent communication skills, you could be a great fit for administrative and office management roles.
So there you have it. One business diploma, 4 in-demand business careers in Winnipeg. Feel inspired to pursue one of these career paths? Looking for a quality business college, and want to plan your next steps?
We'd love to hear from you. We strongly recommend getting in touch with an Admissions Advisor to learn about admission requirements for Herzing's Business Administration Program, and see if this training is a good fit for you.
Chat live with an Advisor right now, or request free information by email. We're here to help!