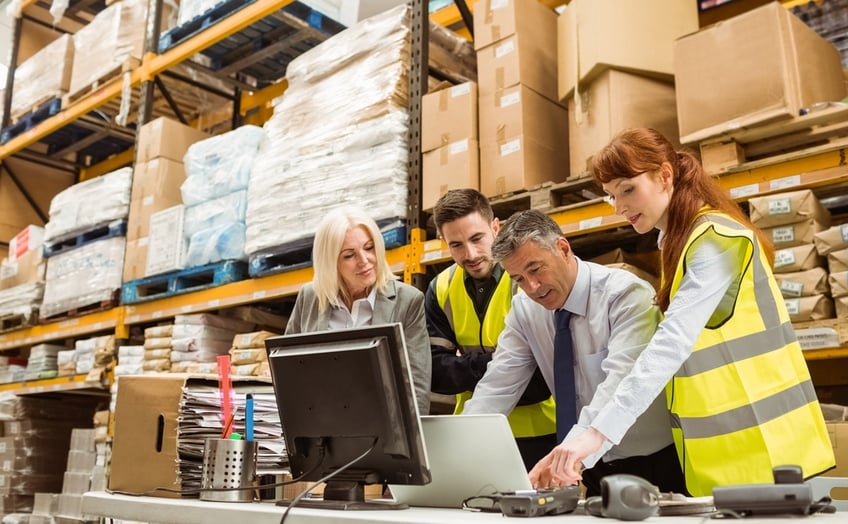 Supply chain management is one of the fastest growing fields in Canada, and yet, strangely, is often overlooked as a profitable career path by new students.
According to the Canadian Supply Chain Sector Council, we'll see over 50,700 new jobs in the field between 2016 and 2021— an increase of 10,000 jobs per year.
Why aren't more students taking advantage of growing opportunities in supply chain and logistics? One of the biggest reasons is lack of knowledge—about the supply chain itself, and the various roles involved in managing the flow of goods from point A to point B.
The groceries you bought last week—how did they get to the supermarket shelves? The gifts you ordered online—how did they arrive at your front door? Where exactly did your cell phone come from, before you picked it up at a point of sale?
The supply chain impacts every aspect of our daily lives. And as demand for more and faster access to goods and services grows, so does demand for trained, talented supply chain professionals.
In this post, we look at three positions you will qualify for with a supply chain management diploma, including typical duties and important skills. These are all key roles within the chain, each with its own unique part to play in getting goods where they need to go. Which role would you choose?
Supply Chain Management Career #1: Procurement Specialist
The word "procure" means to get, acquire, or obtain —usually with special care and effort. In supply chain management, the main job of the procurement specialist is to oversee the purchase of materials, equipment, and products for a business.
These are the parts and raw materials their employer needs to develop the products they sell others, and keep up with new orders from customers.
Procurement specialists keep an eye on inventory, and when supplies get low or a particular item is needed, they use their network of supplier contacts to get the best possible purchasing deal.
This role requires strong communication and negotiation skills, very close attention to detail, and the capacity to work under tight deadlines. Your everyday duties as a procurement specialist would include:
Managing inventory: identifying when supplies get low and placing orders to re-stock materials
Locating vendors: finding the best possible suppliers for the required products
Negotiating purchasing contracts: striking deals with vendors, to procure supplies at the lowest possible price
Tracking purchase orders: ensuring the orders come in on time, so final products can be developed and shipped out without delay (resolving transaction and delivery issues, and working to always improve these processes)
Record keeping: logging all purchase orders and receipts, tax information, tracking numbers and inventory counts—keeping a record of all transactions, usually with a computer software program
For more details on what it's like to work in procurement, take a look at this interview with procurement specialist, Stefano Petriello.
Supply Chain Management Career #2: Logistics Clerk
Logistics clerks play a key role in ensuring products get to their destinations. They also help coordinate incoming materials and products, working under a purchasing manager. They spend most of their time preparing paperwork for domestic and/or international shipping orders (depending on the needs of the company), making sure all legally required documents are filled out correctly.
These are the kinds of responsibilities you would have as a logistics clerk:
Administrative tasks: printing daily sales orders, entering data, creating monthly reports
Completing documentation: filling out paperwork, updating shipping manifests, preparing certificates of origin, bills of lading, and shipper export declarations (for international orders)
Product preparation: packaging, sealing, and labelling products for shipping
Communications: following up on orders with warehouses and transportation companies, coordinating with the internal sales team, communicating with customs officials, and with customers
Similar to procurement specialists, logistics clerks must be able to work in a fast-paced setting, and under tight deadlines. They need strong communication skills, and in some cases, physical dexterity—this role sometimes includes moving products from one warehouse to another.
Supply Chain Management Career #3: Material Handler
This is the most "hands-on" of all three supply chain management roles. The material handler helps organize the arrival and storage of products in factories and warehouses, where they are manufactured into finished products, sent out to distribution centers, or transported directly to stores.
As a material handler, your daily routine would include the following tasks:
Receiving and sending out products: pulling, crating, and securing products for shipping, loading/unloading trucks, organizing products in the warehouse, and safely disposing of materials (often using automated machinery and sensors)
Organizing inventory: making sure all products are correctly identified, labelled, and stored for quick access from the warehouse, and documenting number of units shipped and received
Maintaining equipment: inspecting material handling equipment and machines prior to use, and organizing repairs when needed
Order tracking: making sure all orders are correctly filled, and hunting down lost or missing items
Following safety rules: wearing appropriate safety gear at all times, following established safety procedures, and ensuring any hazardous materials are handled according to law
While this role is primarily physical in nature, you'll also need proficiency in inventory management software, and the ability to quickly analyze information. With experience, and sometimes additional training on certain machines, material handlers can work their work up to supervisor roles.
And there you have it. From procuring raw materials, to shipping logistics, to warehousing and transporting products—three crucial supply chain roles available to diploma-holders.
Interested in launching your own supply chain management career? Looking for a quality supply chain management program in Winnipeg?
Consider the Supply Chain Management and Logistics Training, offered by Herzing College at our Winnipeg Campus.
This diploma takes just 12 months to complete and includes a 6-week internship. Graduates are prepared to earn internationally recognized accreditation with the Supply Chain Management Association of Manitoba.
Visit the program page to explore courses, learn more about the program, and chat live with a friendly advisor. We're here to help!