A network cabling student at work in the classroom at Herzing College
Updated February 2023
If you're thinking about starting a trades career, you're probably looking for a trade that matches your natural skills and interests—and has good employment prospects where you live.
You need to make sure your investment in trades training will pay off. And that means doing some research on which jobs are most in demand and which of those trades are a good fit for you.
This week we're spotlighting the network cabling field. This trade has seen stable employment in Ontario over the last several years, with positive outlooks for the future. It's also a voluntary trade, which means you don't need to do an apprenticeship and get certified in order to work in the field.
Training for network cabling specialists is quick, there are several different job options out there, and you can even start your own business.
Is becoming a network cabling specialist right for you? Here's what you need to know to make a smart decision.
What Exactly is a Network Cabling
Specialist
?
Network cabling specialists install, repair, and maintain telecommunication lines and cables. They work with various types and sizes of cables, including single-line, coaxial, and fiber optic.
Network cabling specialists do installation and repair of internet, telephone lines, cable television, and satellite television. They are employed by several kinds of organizations, including:
Telecommunications carriers

Construction firms

Network installation companies

Data

center

networks

Internet service providers

IT firms and electrical product companies
Related: What is Network Cabling and Where do Technicians Work?
What's the Job Outlook for Network Cabling Specialists in Ontario?
The latest Government of Canada Job Bank data says demand for network cabling specialists in Ontario will remain stable for the next few years.
The forecast calls for moderate employment growth thanks to population growth and infrastructure upgrades, particularly in light of the increased demand for remote work.
What's Involved in Network Cabling Training?
Network cabling training is a relatively short program. At Herzing, our course takes just 24 weeks to complete. It's broken down into 11 modules, covering the following theory and skills:
Introduction to optical and wireless signals, and basic electrical theory
Fiber-optic cables, connectors, and systems
How to prepare and test cable connections
Terminating cables, and installing jacks and wall plates
Cabling rough-in (how to pull and route cable throughout a building)
Small business management (basic accounting, marketing, and customer service)
Doing estimates and takeoffs, materials pricelists, dealing with subcontractors and suppliers
Conducting site

surveys

, estimating costs, preparing bid proposals

Safety standards and practices for network cabling specialists
The training builds toward a major final project, where students use all the skills they've learned to complete a cabling installation independently.
You'll also work with a career development specialist to prepare your resume, do mock interviews, and apply to network cabling jobs in your area. Career development is a key part of the training process to help students make a smooth transition into employment.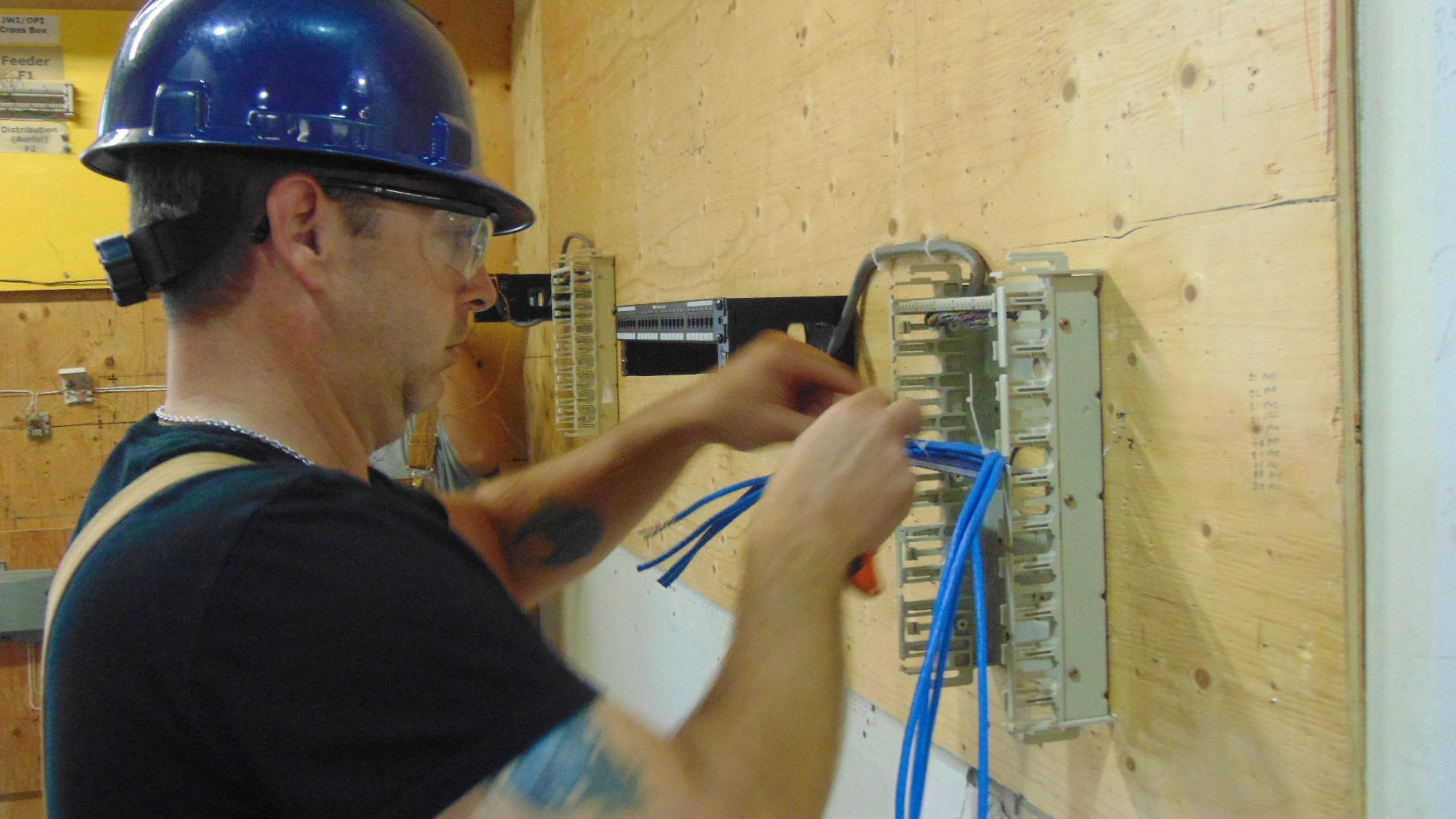 Network cabling student works on cable terminations and patch panels at Herzing College
Do you need to get certified to become a Network Cabling Specialist?
No. You do not need an apprenticeship and Certificate of Qualification (C of Q) to become a network cabling specialist in Ontario.
This is not a compulsory trade. It is what's known as a voluntary trade. What does that mean? It means you can choose whether or not to get certified.
Skilled Trades Ontario does have an apprenticeship and certification pathway for network cabling specialists. It involves:
4,000 hours of on-the-job work experience

600 hours of in-school training

Approximately 2.5 years total (compared to five years for most skilled trades)
However, you can also just do the 24-week training program and go straight to work in the industry.
So why would someone bother to go through the apprenticeship and certification process? It can give you a bit of an edge when applying for some jobs. Some companies use certification as a screening process when hiring network cabling specialists. They may give priority to applicants who have been certified.
It all depends on the company. Having your C of Q won't guarantee you a job...but it may help you stand out as an applicant. So it's something to consider if you're starting a career in this field.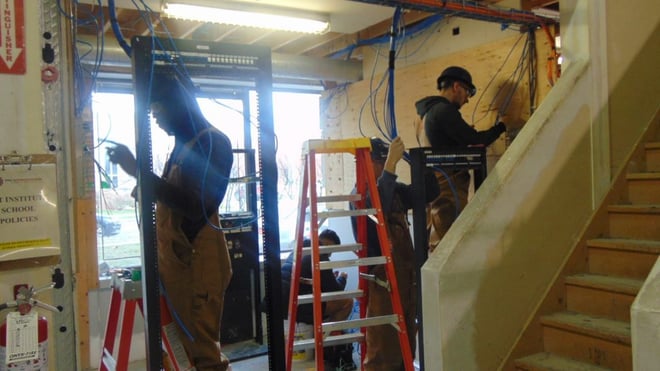 Network cabling students at work on the shop floor at Herzing College
What About Combined Electrician & Network Cabling Programs?
There's another training option for people considering careers in network cabling. Some trade schools offer combined programs that blend network cabling and electrician training.
These fields are closely related. Students get a good grounding in both trades and double their job options after graduation. You can qualify to become a:
Network cabling specialist
Communications cabling technician
At Herzing College, our Combined Electrician and Network Cabling program is laser-focused on preparing students for real job sites. By the time students graduate, they can do electrical and cabling tasks independently.
If you'd like to learn more about the combined program, click below to browse courses and get detailed information.
Next Steps: Is network cabling right you for?
Not sure if a career in network cabling is right for you? Can't decide which training program to choose? Your best bet is to talk with an admissions advisor. Advisors are experts in matching students with the right trades programs. They can help you figure out which program best suits your natural skills, map out a plan for financial aid, and answer any questions you have.
Chat live with an admissions advisor now. Or click below to explore the program in more detail.