Photo: Imran Hasan, President of Transglobal Systems of Canada (TSOC)
Transglobal Systems of Canada (TSOC) has been a trusted and valued industry partner of Herzing College for a long time.
They supply the equipment that our network cabling students practice with in the Herzing workshop, participate in trade shows, and provide employment opportunities for our graduates.
Recently, TSOC took the partnership one step further. They launched a loyalty program that provides Herzing students and alumni with exclusive discounts on cabling products.
We talked with TSOC president Imran Hasan to learn more about the company, the Herzing partnership, the loyalty program, and the telecommunications industry.
Here are the highlights from our conversation.



Q.

Imran, can you tell us about your role at TSOC? How long have you been with the company?
Imran Hasan: I've been the president of TSOC since 1991. But I've been working with the company since I was 21 years old.
I started in the warehouse, in the shipping and receiving department. I went into sales after that. Then I went out into the field and started meeting customers in their corporate offices.
I also went out to construction sites to meet with the installers and find out about their experience using our products. I listened to their pain points and tried to figure out how we could improve our products so customers could do their jobs more effectively.
It's been a great ride and I continue to learn more every day.
Q.

For those who don't know, can you walk us through the kinds of products/services that TSOC offers?

Imran Hasan: TSOC is a manufacturer of industry-compliant cables, connectors, and tools. We produce all the infrastructure hardware that's used to install networks for voice, data, video, security, and audio visual.

TSOC products are specified by major telecommunications companies, service providers, installers, institutions, and end users across Canada.
Q.

TSOC has been going strong since 1983. What has made you an industry leader?

Imran Hasan: I think it all comes down to treating people the way you want to be treated. There's an aspect of community engagement, and to us that's a very strong value.

Even though you're trying to build a business that's successful and profitable, you can never forget about the people who helped you along the way. We're always looking for opportunities to give back.

I think that's what has really helped keep us on the forefront of the industry.

We develop relationships with businesses and institutions. For us, it's about much more than commercial transactions.
Q.

How does your partnership with Herzing College work? Can you walk us through the details?

Imran Hasan: The relationship started when the school was looking for supplies to help train the students in the network cabling program.

But we felt there was a bigger opportunity than just supplying materials to help mentor and train our next generation of cabling professionals. So we had discussions with Herzing about what else we could do, particularly during the COVID-19 health crisis, which really hurt many trades students and professionals.

This is what led us to develop the new loyalty program.
Q.

So, what is the loyalty program and how does it help Herzing students?

Imran Hasan: We created a loyalty code exclusively for Herzing students and alumni. They receive a discount every time they need to purchase industry-compliant cabling equipment.

So, whether you need the products for your own business or want to pass the savings on to your employer, the loyalty code is there for you.

We launched this initiative because we wanted to support people in the industry who were seriously impacted by COVID-19.

But the program will continue for the foreseeable future, not only for students who faced challenges during the pandemic, but also for alumni and future students of Herzing College.

We want to let them know that Herzing cares, that TSOC cares, and that together we recognize that so many people have gone through such an unprecedented and unexpected hardship.

This is our way of showing support for the community.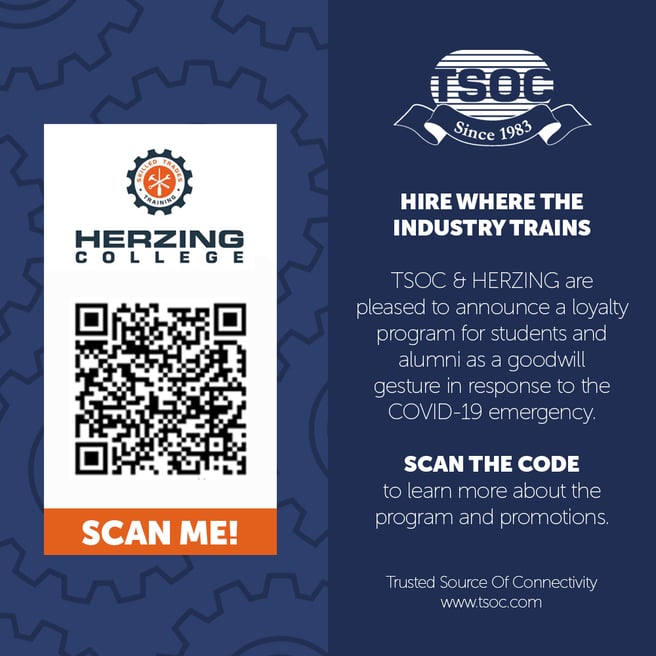 Q.

Does TSOC hire graduates from Herzing's Network Cabling Specialist program?

Imran Hasan: Absolutely. There's no better environment to hire from. These are graduates who have been trained and mentored with the collaboration of different stakeholders in the community.

We know that when we hire someone who comes out of Herzing's network cabling program, they know more than just theory. Herzing students get real, practical experience working with industry products and equipment, which is very valuable.

It means they can hit the ground running when they get into the field. That's exactly what we're looking for.
Q.

What kinds of entry-level positions does TSOC hire for?

Imran Hasan: Customer support coordinator is a typical entry-level position. In this role, you would be speaking with customers about what they need on a job site and walking clients through potential issues.

For example, a technician might call in wondering why a product is not functioning properly. In this scenario, the customer support coordinator would walk them through troubleshooting steps and provide helpful resources to solve the problem.

They would say, "Is it the right part? Did you use the right tool? Did you try using the right method? And if not, let me guide you to our website where we have a video and we can show you virtually how it's done using best practices."

You need solid product knowledge and really good communication skills for this job.

Another entry-level role is production coordinator. These are the people who help us create things like custom cable assemblies and trunk cables.

They build the product in house, and then ship it to the site ready, terminated, and tested. So when the installer gets it, they're basically just taking it out of the package and plugging it in, and it works.

So for this role, you need good installation skills, manual dexterity, and attention to detail.
Q.

What qualities does TSOC look for in new hires?

Imran Hasan: Pride of workmanship is very important to us. You should strive to do things right the first time and provide excellent customer service.

Most of all, you need to have a great attitude. That means always thinking about how you can do something in the best interest of the public, or the client, or the community.

Technical skills can be taught in school and improved on the job. Attitude must be there from day one.

I think if you have the right spirit and motivation, nothing will prevent you from succeeding.
ready to start your network cabling career?
Interested in learning more about network cabling training and careers? Start by exploring the Network Cabling Technician program at Herzing College (Toronto and Cambridge).
The program is just 24 weeks long and features hand-on training with industry-compliant equipment supplied by TSOC.
Our grads are qualified for a wide range of career opportunities in the telecommunications field.
Click below to learn more and chat live with an admissions advisor. We're here to help!