Updated June, 2021.
It doesn't take long to become a gas technician. Training is relatively quick, no apprenticeship is required, and there's room for growth—if you're willing to earn higher levels of certification.
But is this the right trade for you?
In this post, we break down 8 important things to know, if you're thinking about becoming a gas technician (gas fitter).
We cover job outlook in Ontario, how to get licensed, the different levels of gas technician, how much money you'll make, the skills needed to succeed in this field, and more.
By the end of this post, you'll have a much better idea of what the trade is all about—and exactly how to get started.
1. Job description: What does a Gas Technician do?
Before you can decide whether or not to become a gas technician, you need a complete description of what this job involves. What will your day-to-day work be like?
In general, as gas technician (or gas fitter) is responsible for installing, inspecting, and repairing gas line and gas equipment. This includes gas meters, regulators, and heating units (fire places, boilers, etc.)
Specifically, you'd be performing tasks like:
testing and replacing faulty equipment
checking for gas leaks using gas detecting devices
converting appliances to natural gas fuels
advising clients on the safety features of gas units and systems
writing reports on the work you've completed
responding to gas escape calls and helping with investigations of gas fires and explosions
Like many jobs in the construction trades, demand for your services may slow down in the winter. It will depend on where you work, but gas technicians are sometimes busier in the spring and summer months.
The latest Job Bank report tells us that 67% of gas technicians in Ontario work full time, and 33% work part of the year.
2. Required skills: Are you a good fit?
So, exactly what kinds of skills do you need to perform the job of a gas technician? Do these skills match up with your natural talents and interests?
Some of the most important skills for gas technicians include things like:
reading and interpreting blueprints and specifications (to figure out the layout of an installation)
focus, precision and attention to detail
carefully following safety protocols, steps, and procedures
troubleshooting and problem-solving
excellent customer service
good communication (written and spoken)
math (performing calculations)
These are the characteristics you'll need to succeed in this trade. Obviously, technical skill and product knowledge are also important. But you'll develop those in gas technician training. More on that next...
3. Gas technician training: What's involved?
Gas technician training is divided into levels: G1, G2, and G3. Gas technician 3 is the first level of training, and the starting point for newcomers to the field.
You can complete a G3 training program in just 12 weeks. This is a total beginner course that teaches students:
how to handle power tools
characteristics of fuel gases
codes, acts, and regulations
schematics, drawings, graphs, and technical manuals
introduction to piping, tubing, and gas appliances
A G2 gas technician program takes longer, because it picks up where the G3 finishes, and goes into more advanced skills and knowledge. A typical G2 program runs for 24 weeks.
To get your G1, you need a certain number of hours of field experience, working on specific kinds of gas-fired units. This is the most advanced level of gas technician certification.
Get all the details here: The Difference Between Gas Technician 3 & 2
You might be wondering: Can I leap over the G3 level and go straight into a G2 training program? No. The next section explains why...
4. Licensing: How do you become a certified gas technician?
In order to become a gas technician in Ontario, you have to pass an exam and get certified.
You have to start with the G3 gas technician certification. You must complete each level of certification before enrolling in the next training program, and challenging the next exam.
So, you can't go for your G2 until you've earned your G3 certification. And you need your G2, plus work experience, to get your G1.
Important: G3 holders are only allowed to work under supervision. You need a G2 or G1 holder around at all times. But, once you earn your G2, you'll be able to work unsupervised on gas lines, meters, regulators and appliances with an input up to 400,000 BTUH.
Who's in charge of testing and certifying gas technicians? A non-profit organization called the Technical Standards and Safety Authority (TSSA).
You have to follow their rules to become a gas technician in legally work in Ontario.
Check out this post for more details: Becoming a Certified Gas Technician: 6 Things to Know About the TSSA
5. Career options: Where can you work?
After you become a gas technician, you'll have a few different career options to choose from. Many gas technicians in Ontario work in the construction industry as building equipment contractors.
You can also get hired at a gas utility, or gas servicing company—where you'd be installing and maintaining gas lines and equipment, and converting units to natural gas.
A pretty large percentage of gas technicians in Ontario are self-employed. The Job Bank tells us a full 22% of gas technicians in the province work for themselves.
That's compared to an average of just 12% for all other occupations. So, there are definitely opportunities for people who want to become their own boss!
6. Job Outlook: Is there demand for gas technicians near you?
This is good question to research. You need to know how much competition is out there, and how tough it might be to land a job after getting certified.
Fortunately (like many trades) demand is stable for gas technicians in Ontario right now. And according to the latest Job Bank Career Outlook Report, it's been holding steady for the past 10 years.
The occupation of Gas Technician gets 2 out of 3 stars for demand—which is considered decent, and reflects moderate, consistent employment growth in this field.
Steady Career Outlook for Gas Technicians Across Ontario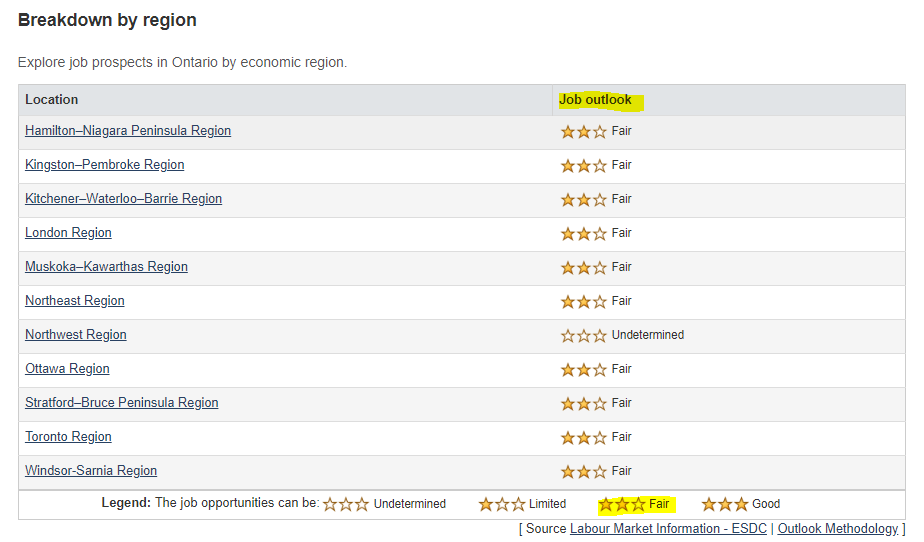 Source: Government of Canada Job Bank (2018-2020)
More importantly, the report talks about major projects in the manufacturing and utilities sectors, which are expected to create jobs for gas technicians in the near future.
There are also forecasts for increased construction activity in Ontario, and expansion of natural gas services in rural areas (which will create jobs for gas technicians).
Ontario has also planned several infrastructure projects, including upgrades to transit, hospitals, schools, and medical facilities. It's expected that all these projects combined will create additional jobs for gas technicians.
"Employment growth in this occupation will likely remain healthy over the next few years"
- Government of Canada Job Bank, Gas Technician Career Outlook
7. Salary: How much money will you make?
Everyone wants to know how much money they'll make in their chosen field. For many people, this is a key factor in choosing one trade over another.
For gas technicians, salaries will obviously vary according to experience, and which level of certification you have (G1, G2, or G3).
But, the Job Bank does have information on low, median, and higher-end earnings for this occupation in Ontario. Here are the latest numbers.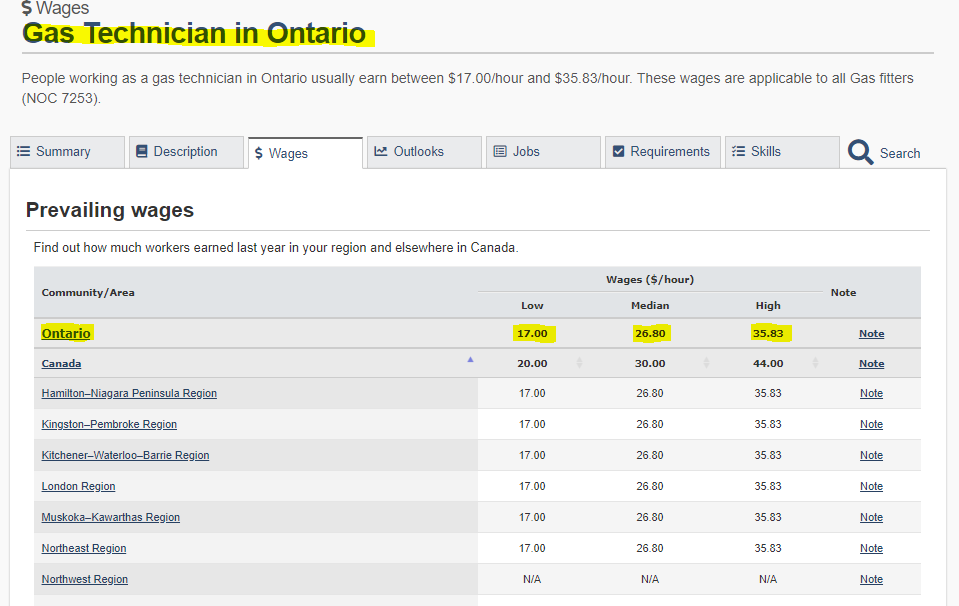 Source: Government of Canada Job Bank Wage Report
At the low end, gas technicians are making about $17/hour.
At the median, gas technicians are making almost $27/hour.
At the high end, gas technicians are making about $35/hour.
There's a lot of room for growth in this trade. And running your own business could definitely increase your earning potential.
8. Getting started: What's your next step?
Let's say you've read this post, and decided that yes, you want to become a gas technician. Where do you begin? Here's a quick roadmap:
Find a reliable trades school
Complete a G3 training program
Pass the TSSA exam and earn your G3 Certification
Begin working toward your G2 (so you can work unsupervised in the field)
There is no apprenticeship required for this trade. After earning your G3, you can get straight to work while you prepare for the G2 certification.
Still have questions?
We suggest talking with an Admissions Advisor. An Advisor can answer your questions and help you with the following steps:
confirming you are eligible to take the program
course schedule (is the training part-time, full-time, during weekends, in the evening?)
financial aid and government grants (can you get free money or loans for tuition?)
Click below to explore the Gas Technician program at Herzing College or chat live with Admissions. We're here to help!