Checking out your options for a career in the skilled trades? Considering HVAC because you've heard there's good demand in this field?
This post is for you. Before you go ahead and sign up for HVAC training, you need a solid overview of what it means to work in this trade.
What should you know about getting certified, life on-the-job, career options, and money? What are the main benefits—and drawbacks—to choosing this trade?
This list is an excellent place to start. These are the top pros and cons of working in HVAC, and everything you should know up front, before you get started.
First Things First: What Exactly is an HVAC Mechanic?
The term HVAC stands for "Heating, Ventilation, and Air Conditioning." HVAC technicians and mechanics are service experts who work with these systems.
They install and calibrate units, repair and replace parts, carry out inspections, and conduct safety testing. They work in residential, commercial, and industrial settings.
Because many HVAC units run on propane/gas, you need a gas technician certificate to get started in this field.
A good pre-apprenticeship HVAC program includes gas training, preparing students for the TSSA certification exam.
Once you've earned your G3, you can progress to the G2 level—which is a standard requirement for many HVAC jobs.
Of course, to become a full-fledged HVAC mechanic, you must also get certified through the Ontario College of Trades. This process takes about 5 years and involves:
720 hours of in-school training

8,280 hours of on-the-job work experience (as an apprentice)

Become a member of the Ontario College of Trades

Pass the HVAC certification exam (to become a

licensed

journeyperson in the trade)
Typical job titles in this field include:
HVAC mechanic

HVAC technician

Gas technician

HVAC contractor
Pro: Good Demand for HVAC Mechanics in Ontario
If you're weighing the pros and cons of working in HVAC, you should definitely research demand for the trade where you live.
No one wants to invest years in training, only to discover they can't get hired—or can't get clients to start their own business.
The latest report from the Government of Canada Job Bank shows no shortage of HVAC jobs in Ontario. In fact, this trade gets the Job Bank's highest rating for demand: 3 stars.
The 3-star rating holds true for every single region in the province. Plus, experts predict stable job opportunities in this field for the next 10 years in Canada.
Job Outlook for HVAC Mechanics in Ontario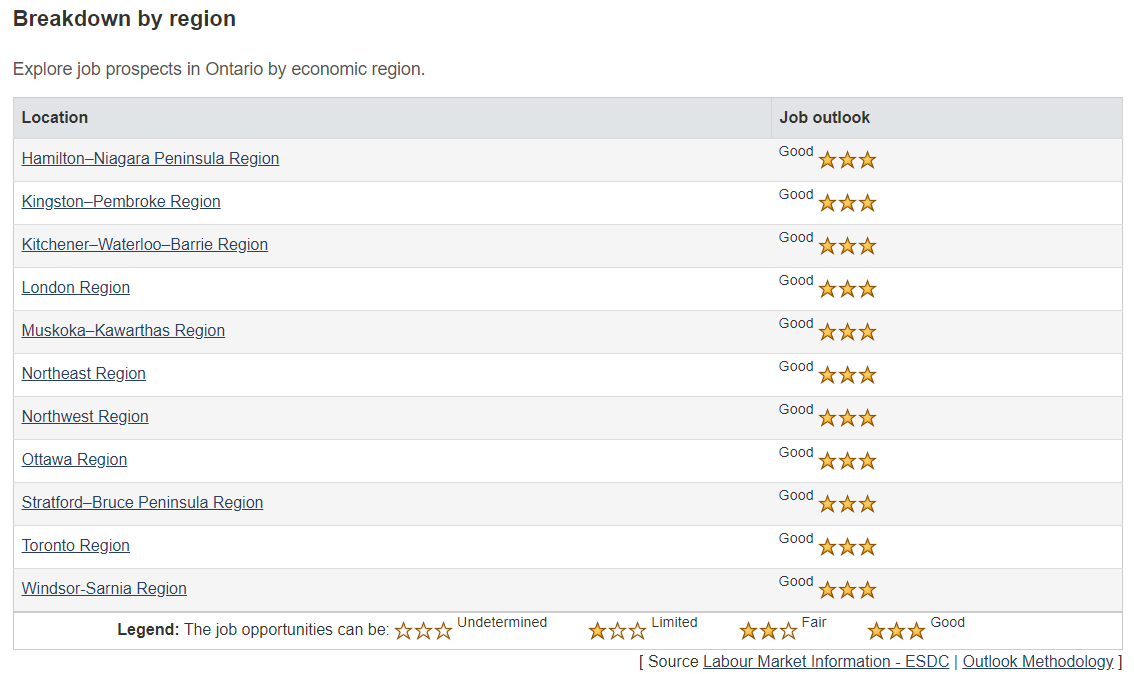 Job Bank Career Outlook Report
Con: Working On-Call & Dealing with Seasonal Demand
Working in HVAC often means dealing with last-minute service calls, and varying demand that depends on the season.
For example, you may get called in to work evenings or weekends, and some HVAC mechanics find they have fewer job options during winter months.
But it's not all bad news. Working late or on holidays can add up to overtime pay. Plus, the Job Bank shows that 71% of HVAC mechanics work all year round—while only 29% work just part of the year.
That's actually better than the average for all professions (63% full time, and 37% part time).
Bottom line? If you're not prepared to handle emergency calls and put in some extra hours, a career in HVAC is probably not for you.
Pro: Many HVAC Career Options
One of the biggest pros of working in HVAC is the range of available job options. There are opportunities in residential, commercial and industrial settings. Not to mention, the chance to start your own HVAC business.
Common paths include:
Working in the construction industry for heating and cooling contractors (most popular option)
Working for commercial establishments, like grocery stores, ice rinks, restaurants and processing plants
Working in the food storage, transportation, and processing industry
Working in sheet metal (building and installing heat ducts, ventilation systems, furnace systems, etc.)
We recently interviewed Darren Fearnely, a 40-year veteran of the HVAC industry, who also teaches an HVAC course at Herzing College Skilled Trades Training.
Here's how he describes career paths in this field.
"The 2 main paths in HVAC are sheet metal and refrigeration. Students who excel in the electrical courses tend to lean more toward the refrigeration side. Demand is strong for both. Most of my students have job offers before leaving the program, or have already started part-time while in the last few weeks of the program."
Con: HVAC Work is
Physically
Demanding
Like many construction trades, HVAC can take a toll on your body. You'll probably spend a lot of time on your feet, and have to squeeze into some tight corners.
Working in attics, basements, and crawl spaces can be hard on your back. And the hours can be long, too.
Expect some heavy lifting, and you may have to work at heights (for example, installing roof-top units). Safety is key!
Any HVAC training program worth its salt includes in-depth safety training and certificates.
Darren says safety education is one of the most important things students learn in his class. It's knowledge employers are looking for in new apprentices.
"I think one of the most valuable things students leave with is their safety training and certificates. Other than that, it would be the whole general knowledge of the trade and the many different career paths they can pursue."
Pro: HVAC Mechanics Can Make Good Money
According the latest Job Bank Wage Report, HVAC mechanics in Ontario make a median salary of about $58,000 per year.
At the highest end of the pay scale, they're making around $93,000 per year.
Keep in mind, you won't start out earning this kind of money.
As a total newcomer (apprentice), you will probably earn around $35,000 per year (and work your way up the pay scale with experience and certification).
HVAC Salaries Across Ontario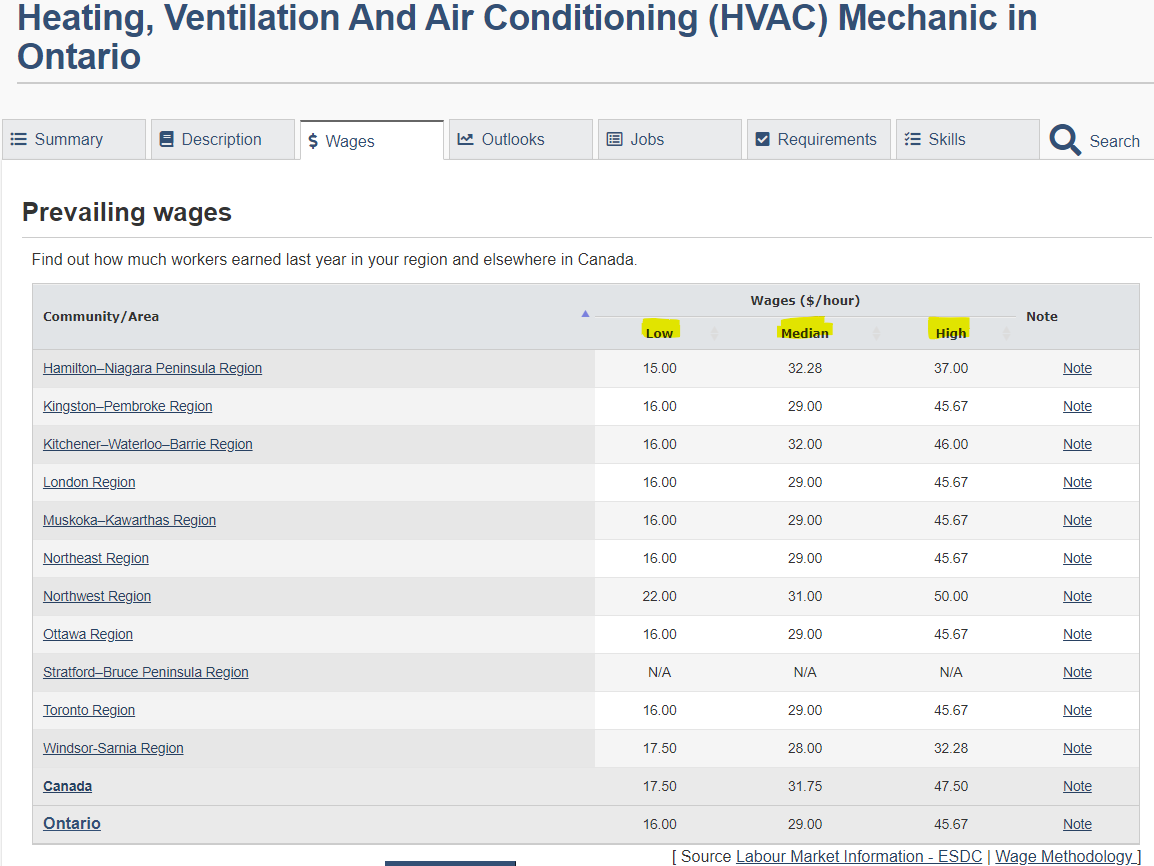 Government of Canada Job Bank
Con: The Learning Never Stops
This could be both a pro and a con, depending on how you look at it. The HVAC field is always evolving, with tons of new technologies and products to learn about.
You can't just get your license, kick back, and forget about building new skills. That is, not if you want to be successful...
This trade is known to be challenging. Every day brings new problems to solve, new things to learn, new ways to make customers' lives better.
If you're not motivated to push yourself, and don't want a trade that challenges you, HVAC isn't your path.
Pro: No Threat of Outsourcing or Automation
Worried about starting a career that ends up getting shipped overseas? Or, taken over by a robot?
Many industries are threatened by outsourcing and automation, such as manufacturing, call centres, and IT.
HVAC, however, is not one of them! We'll always need real, live, local HVAC technicians and mechanics to install and service heating, cooling, and ventilation systems.
It's true that technology will continue to optimize how these systems work. But real humans (with licenses) will always be needed to keep them running safely, make product recommendations, and manage installation and servicing.
Ready to Learn More About Starting Your HVAC Career?
Now you know the most common pros and cons of working in HVAC. If you've read this far, and feel confident about starting a career in HVAC, your next step is to learn about training.
We strongly recommend setting up a personal advising appointment with an Admissions Advisor. You'll get the chance to:
tour the campus

see the shop floor

meet instructors

talk about your career plans

learn about costs and financial aid options
An Advisor will make sure you're a good fit for the HVAC program, before you enroll. And you'll be able to see if the school is a good fit for you (just as important!).
Chat live with an Advisor now. Or click below to explore the program in more detail. We're here to help!