Updated November 2022
Living in the Toronto area and thinking about starting a career in network cabling?
You've come to the right place.
In this post, we'll explain what to expect from a typical network cabling course, plus certification requirements for cable technicians.
We'll also break down job options and the latest employment forecast for cable techs in the Greater Toronto Area (GTA).
Here's everything you need to know.

Network Cable Technician Training: What Can you expect?
Your first step is to understand training requirements for network cable technicians. To start your career, you need to learn how to safely install and maintain structured cable and data networks.
Structured cabling programs typically take about 24 weeks to complete, and cover basic theory and hands-on training in areas such as:
☑️ Industry network cabling standards
☑️ Safety protocols and procedures
☑️ Interpreting network design documentation (diagrams, plans, blueprints, manuals and technical specifications)
☑️ Pulling and mounting cable
☑️ Identifying the best cables and wiring devices for various situations
☑️ How to test cable using testing equipment
☑️ Labelling cable systems
☑️ Installing wallboard adapters and telecommunications outlet boxes
☑️ Choosing wiring closets and patch panel installation and termination
☑️ Installation of jacks
☑️ Troubleshooting cable systems
You can expect a good balance of classroom theory and hands-on training in installation and troubleshooting.
For example, at Herzing College, our network cabling students learn how to pull and mount cable in a workshop, under the supervision of experienced cabling professionals.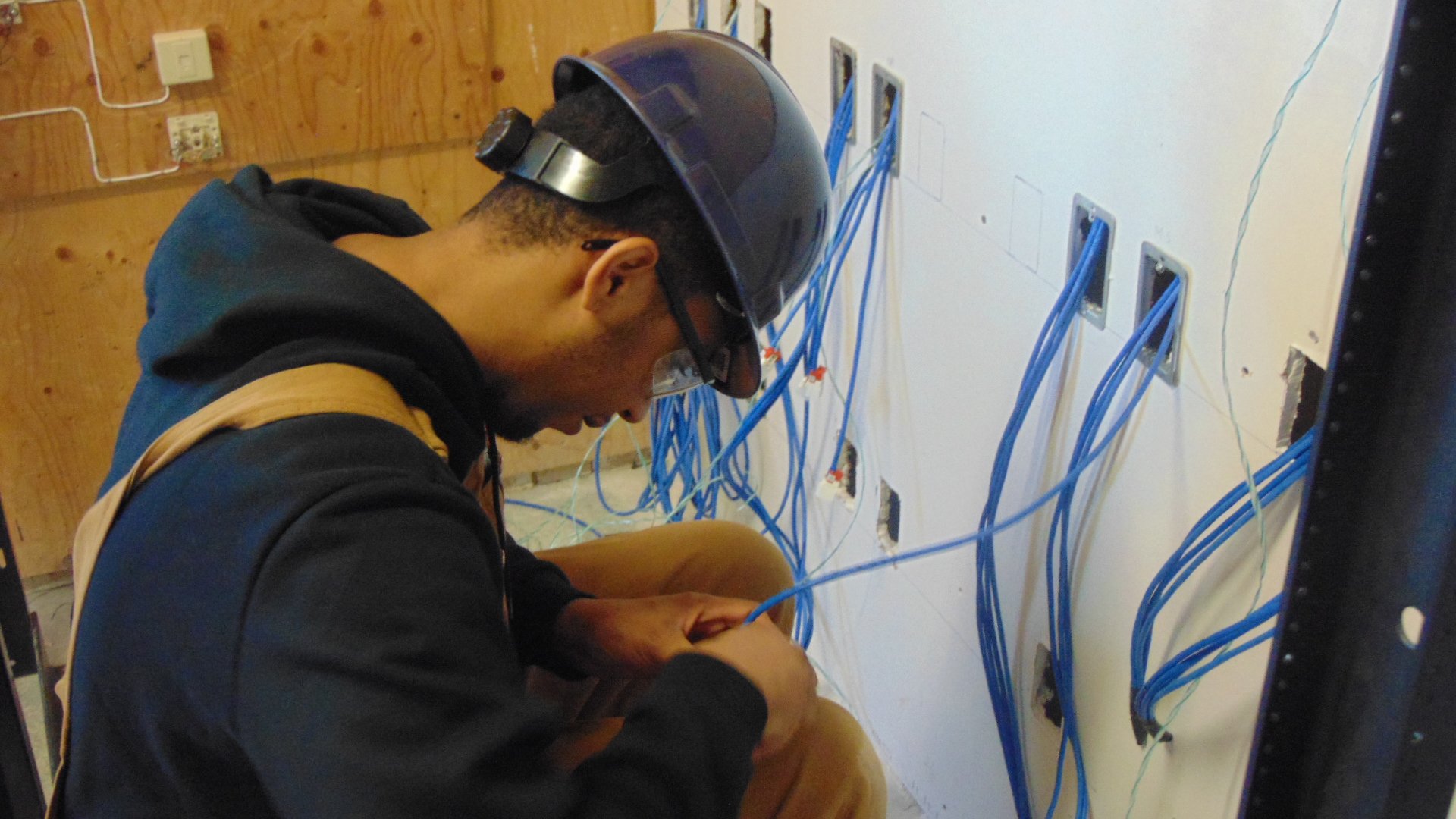 Network cabling student in the workshop at Herzing College
Certification for Network Technicians is Voluntary
The occupation "Network Cabling Specialist" is regulated by Skilled Trades Ontario. However, it is listed as a voluntary trade, which means certification is not mandatory or legally required to work in the field.
If you choose to get certified, you must earn a Certificate of Qualification. This involves:
☑️ Completing an apprenticeship
☑️ Passing an exam
For more details on the certification and membership process, take a look at this helpful fact sheet for network cabling specialists in Ontario.
What's the benefit of becoming a certified network technician? You can increase your job options, since some employers will only hire certified techs.
Network Cabling Jobs and Career Paths
What kinds of network cabling careers can you pursue after training? Successful graduates are qualified for the following jobs:
☑️ CATV technician
☑️ Network cabling specialist
☑️ Computer technician
☑️ Telecommunication contractor
☑️ Fibre optics technician
demand for network cabling technicians in toronto
The Government of Canada Job Bank predicts moderate job growth in network cable installation and repair in Toronto. As a whole, this occupation was rated 3/5 stars for employability and job prospects.
The Greater Toronto Area (GTA) in particular looks good for cable technicians. This region hosts the largest number of residential and non-residential facilities in the province - which drives demand for network cabling services.
Canada's last national census showed that Ontario is still the country's most populous province. And several areas of the GTA have seen big population growth in recent years (Oakville, Brampton, and Milton are among the biggest-growing municipalities).
A steadily growing population makes the GTA a promising place to start a career in network cabling.
Average Salaries for Network Cable Technicians
According to the Job Bank, network cable technicians in the Toronto region earn an average of $32 an hour.
At the lowest end of the pay scale, they're earning about $18.50 an hour, and at the highest, as much as $41.03 an hour.
It's important to note that salaries vary depending on the type of cabling work the technician does.
CATV technicians, for example, earn an average salary of $25 an hour in Ontario. Demand in this area has dipped due to the growing popularity of internet streaming versus cable and satellite systems.
your next step
Want to learn more about becoming a network cable technician? Looking for a top-rated training program in the GTA?
Explore the Network Cabling Technician program at Herzing College.
☑️ 24 weeks
☑️ Offered in Toronto and Cambridge
☑️ Expert instructors with years of industry experience
☑️ Loans, government training grants, and scholarships may be available (ask Admissions)
☑️ Our graduates get hired by leading telecommunications companies, including Bell Technical Solutions, Advanced Systems, and ACTIVO.
Click below to explore the program and chat live with an admissions advisor.
Get information on costs, financial aid, how to apply, and class schedules. We're here to help!