This is an excellent time to become an HVAC mechanic in Ontario. The latest career outlook report from the Government of Canada Job Bank shows strong demand for HVAC mechanics and technicians, all across the province.
In fact, this occupation gets 3 stars for growth—the Job Bank's highest possible rating. Every single region of Ontario was awarded top marks for outlook in HVAC.
3 Stars for HVAC Career Outlook in Ontario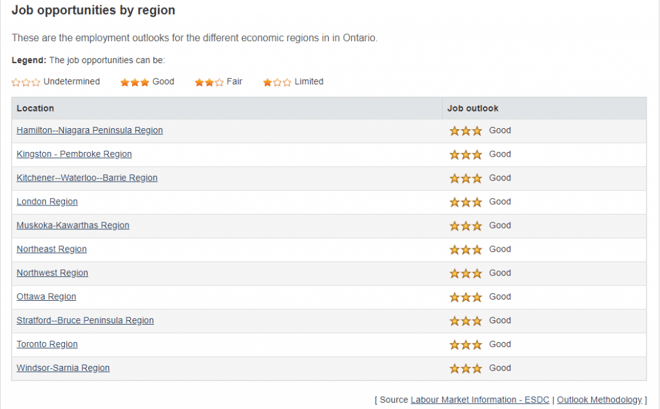 Source: Government of Canada Job Bank Market Report
Growth is particularly strong in major city centres, like Toronto, where multiple new construction projects are raising demand for HVAC mechanics.
There's the Mackenzie Vaughan Hospital build, expansion of the University of Toronto Robarts Library, the CIBC Square construction, and numerous transit projects—not to mention ongoing condo developments across the GTA.
All of these projects will raise demand for HVAC professionals over the coming years.
So, if you're considering becoming an HVAC mechanic, and want to jump in while the trade is hot, what steps should you take? Here's a look at HVAC training and careers, and our best advice on how to get started.
1. Confirm HVAC is the right trade for you
Your first step is to confirm that HVAC is the right trade for you. We strongly suggest speaking with an admissions advisor at a trade school, to get a good understanding of what an HVAC mechanic does, and what training involves.
Take the time to visit a few schools. Take a tour, speak with the HVAC instructor, and maybe even sit-in on an HVAC class. Talk to the admissions advisor about the skills you'll need to succeed in training, and launch a successful HVAC career.
Make sure you meet program requirements, and it feels like a good fit, before you apply.
2. Complete an HVAC training program
Once you've confirmed HVAC is the trade you want to pursue, it's time to select a quality pre-apprenticeship HVAC training program.
You'll find programs that can be completed in as little as 12 months. Your courses will include theory and hands-on training in many skill areas, including:
refrigeration tools and materials
electrical fundamentals, circuits, and controls
air conditioning, heat pumps, and controls
heating and humidification systems
servicing and troubleshooting
safe handling of propane and natural gas
gas meters, pressure regulators, and relief valves
HVAC programs typically include gas technician training, which HVAC mechanics need to work on gas-fired units. At the Pre-apprenticeship Training (PAT) Institute, our HVAC diploma program includes preparation for Gas 3 and Gas 2 certification.
By the time PAT students graduate, they're ready to take the TSSA exam and earn their gas technician certification.
Getting your G2 will give you an edge when competing with other grads for HVAC apprenticeships.
Related: The Difference Between Gas Technician 3 and 2 (and How to Get Certified)
Important: Look for a trusted HVAC school that has strong industry partnerships. Ask about career support services, and how the school will help you find your first HVAC job after training.
Make sure the school is accredited by the TSSA, so you'll be eligible to take the gas tech exam.
Also, be sure to inquire about financial aid and government grants, to see where you can save money on tuition. There are a lot of educational funding options out there for skilled trades students.
3. Get your gas technician certification
We just mentioned that quality HVAC programs also include preparation for the TSSA gas tech exams. You must pass these exams to legally work on gas-fired units—so obviously, this is an important step in starting your HVAC career.
The TSSA (Technical Standards and Safety Authority) sets strict standards for gas technicians in Ontario. They create the courses you must take to get certified, which are delivered by accredited trades schools across the province.
You'll receive the gas technician training as part of your HVAC program, and then you'll need to pass a multiple choice exam with the TSSA.
It takes a minimum of 75% to pass the gas technician exam, and you can attempt it 3 times. If you fail the third time, you'll need to go back and take gas training over again, before challenging the test again.
Learn more about the exam here: Becoming a Certified Gas Technician: 6 Things to Know About the TSSA Exams
4. HVAC apprenticeship & certification
HVAC is a regulated trade in Ontario. This means students have to complete a certain number of training hours, do an apprenticeship, and pass a certification exam to legally work in this field.
The Ontario College of Trades sets the training rules and delivers the exam. To get your Certificate of Qualification (C of Q) in HVAC, you must do:
8,280 hours of on-the-job training through an apprenticeship (approximately 5 years)
720 hours of in-school HVAC training
pass the College of Trade's certification exam and meet registration requirements
apply to become certified and registered as a journeyperson in the trade
The whole point of pre-apprenticeship HVAC programs is to help you learn basic, fundamental HVAC skills. This makes you a stronger competitor for good apprenticeships, because employers don't have to teach you everything from scratch.
You already have your gas technician certification. You already understand HVAC systems, installation methods, and troubleshooting techniques. You have a solid foundation, which makes you a better asset to your employer.
5. Explore your HVAC career options
There are quite a few HVAC career paths open to skilled graduates with Gas 2 certification. HVAC technicians and mechanics are employed by:
retail and servicing establishments
You can work on residential HVAC systems, or find career opportunities in the commercial sector. Popular commercial options include transport companies, which hire HVAC mechanics to maintain and repair units that carry food, medical supplies, and other perishable goods.
Ice rinks, supermarkets, restaurants, and food processing plants are other examples of commercial employers for HVAC mechanics.
Plus, your G2 license will qualify you to work as a gas fitter, installing and repairing gas lines, meters, regulators and other equipment.
Ready to take the next step, and learn more about becoming an HVAC mechanic?
Reach out to an admissions advisor at PAT. We can answer your questions, and walk you through the application process.
Use the links below to explore HVAC & Gas Technician training at the PAT Institute, and chat live with an admissions advisor today.