Updated July, 2021.
Why should you choose an HVAC career, above all other trades?
Well, for starters, you're probably genuinely interested in the kind of work HVAC mechanics do.
This trade involves challenging diagnostics and problem-solving, technical installation and maintenance skills, and deep heating/cooling product knowledge.
HVAC mechanics play a vital role in our everyday lives. Where would we be without warm homes during the brutal Ontario winters? And cool spaces to retreat to during our short, but notoriously intense summers?
Quality HVAC systems keep our air fresh indoors, help sanitize our hospitals, and the latest tech even helps preserve our natural environment.
And of course, cooling technology is essential for the food industry, where reliable refrigeration is the backbone of safe storage and shipping.
From homes to public buildings to businesses to factories—HVAC mechanics have a key part to play across many sectors of the Canadian economy.
So, what else should motivate you to seize the day and start an HVAC career this year? Take a look at 4 big advantages to making this trade your own.
1. Strong Demand for HVAC Mechanics in Ontario
When deciding on a skilled trade, many students look at the latest employment forecasts, to see if the trade they're considering is actually in demand where they live.
No one wants to spend time, energy, and money on training, just to find it's incredibly difficult to land a job after school.
In this department, HVAC comes in very strong. Recent reports from the Government of Canada Job Bank show good demand for HVAC mechanics all across Ontario.
In fact, the occupation of "HVAC mechanic" has been awarded the Job Bank's highest rating for employment outlook—3/3 stars.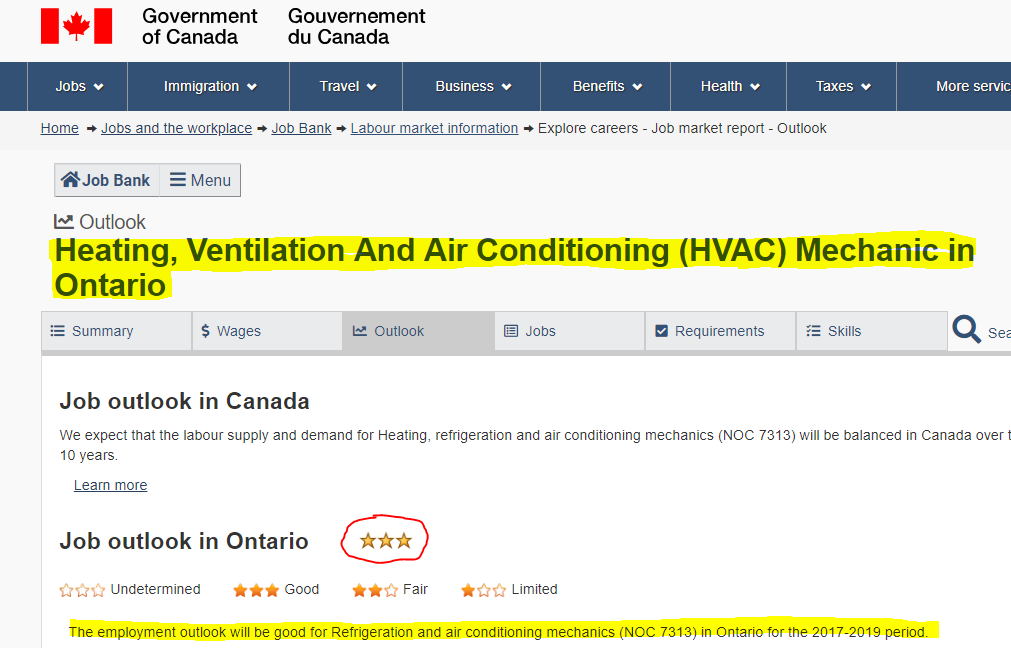 The positive forecast for HVAC mechanics is expected to hold steady for the next 10 years, with a stable balance of new jobs and job-seekers, all across Canada.
What's more, the 3/3 star-rating applies to every single region of Ontario reviewed by the Job Bank. Across the board, we're seeing good growth in this trade—which is by itself, an excellent reason to start an HVAC career this year.
3 Stars for "HVAC Mechanic" All Across Ontario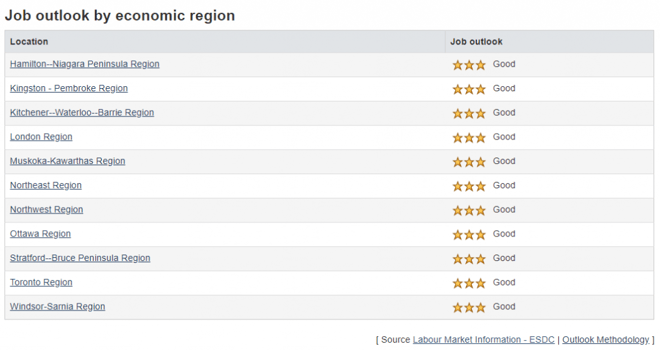 2. HVAC Mechanics in Ontario are Well Paid
The next thing most skilled trades students want to know about is compensation. What are HVAC professionals earning, on average, where you live?
Well, the Job Bank has more encouraging data on current wages for HVAC mechanics in Ontario, with "median" salaries reaching an average of $28 per hour (or approximately $58, 000 per year) across the province.
At the high end, we're seeing wages as high as $45 per hour (or about $93, 000 per year). Obviously, you won't start out with salaries like these, straight out of training. But, it's very good to know that there's healthy earning potential in this sector.
HVAC mechanics are some of the highest paid tradespeople out there, along with electricians and plumbers. If you're looking for economic stability, an HVAC career is a very smart bet.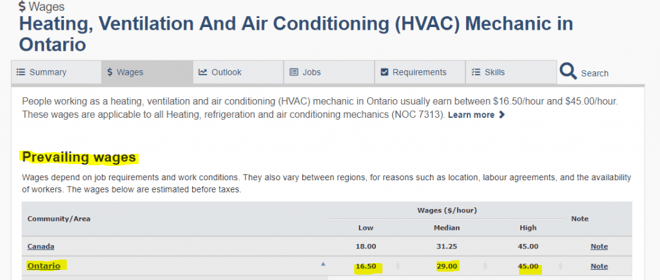 3. An HVAC Career Offers Exciting Technology & Innovation
If you're looking for a trade that won't get boring, HVAC is an excellent option. HVAC mechanics work on many kinds of heating and cooling systems, including:
Plus, with rising demand for more energy-efficient, streamlined systems, we're seeing a lot of exciting new advancements in HVAC tech.
Throughout your HVAC career, you'll see really innovative tools for reducing environmental impact, while making heating and cooling much easier for clients to manage. Some top examples are:
internet-controlled "smart' heating and cooling systems that are managed via smartphone
solar-powered air conditioning units
geothermal heat pumps (heat is pulled from below the ground into the building)
digitally-controlled home venting systems that offer customized environments for every room in the house (otherwise known as "zoned" heating/cooling)
If you're interested in technology, and want a trades career that will keep you learning and expanding your skills, HVAC is the complete package.
4. you can Earn a Gas tech License With Your HVAC Training
HVAC mechanics with a G3 or G2 license have many more job options out in the field. That's why our HVAC training includes all the preparation needed to challenge the TSSA exam, and earn your G3 license, before you even enter the job market.
From there, you can easily progress to the next level, and challenge the G2 exam, opening up even more HVAC career options.
With HVAC training and gas tech certification complete, you'll be qualified to work as a Gas Fitter, Gas Technician, Hydronics Technician, and HVAC mechanic.
Entering your HVAC apprenticeship with a G3 or G2 license will give you a major advantage over your competition.
Getting Your HVAC Career Started Right
The first step to beginning a successful HVAC career is selecting quality training. Ontario offers several trades schools to choose from, so it's important to carefully research each institution, to find the best fit for your needs.
We strongly recommend speaking with an advisor to get your questions answered. Some key points to ask about include:
how long has the trades school has been in operation?
who teaches the HVAC program, and how much professional experience do they have?
what are the training facilities like? (book a campus tour to check this out)
does the school have strong industry partnerships?
how will they help you find an apprenticeship after your HVAC training?
what is the cost of the program, and what financial aid options are available to you?
Do your research, visit each school in person, and make sure they have a solid support system to help you launch your HVAC career.
If you're considering studying with Herzing College, your next step is to speak with Admissions.
You can chat live with an Admissions Advisor right now. Or click to explore the HVAC pre-apprenticeship program and request more information. We're here to help!