Many people have a vague notion that skilled trades equals construction workers, but the reality is this field is much broader. The sector includes those who do everything from building houses and maintaining machinery to cutting hair and preparing food.
So what are skilled trades? They're jobs that involve hands-on work and require specialized skills, usually gained through a trade school program, an apprenticeship, or both.
And there are plenty of such jobs available. According to a report from the Canadian Apprenticeship Forum, Canada will need more than 160,000 new tradespeople between 2021 and 2025.
In this post, we describe some common careers in the skilled trades, explain which ones have the strongest demand, and provide everything you need to know about how to get started in one of these exciting career paths.
TABLE OF CONTENTS
EXAMPLES OF SKILLED TRADES
The following list of skilled trades careers is divided into four main categories. All salary data is from the Government of Canada Job Bank.
Construction
From cities to rural communities, the possibilities for skilled trades workers in this field are extensive. Erecting buildings and other structures is not possible without a variety of skilled workers.
☑️ Electricians install, inspect, and repair wiring systems that deliver heat, light, and power to buildings. Median salary in Ontario: $60,320
☑️ Plumbers focus on the pipes and fixtures that carry water, waste, and gas. They bend, thread, and join pipes, connect appliances, and test for leaks. Median salary in Ontario: $64,000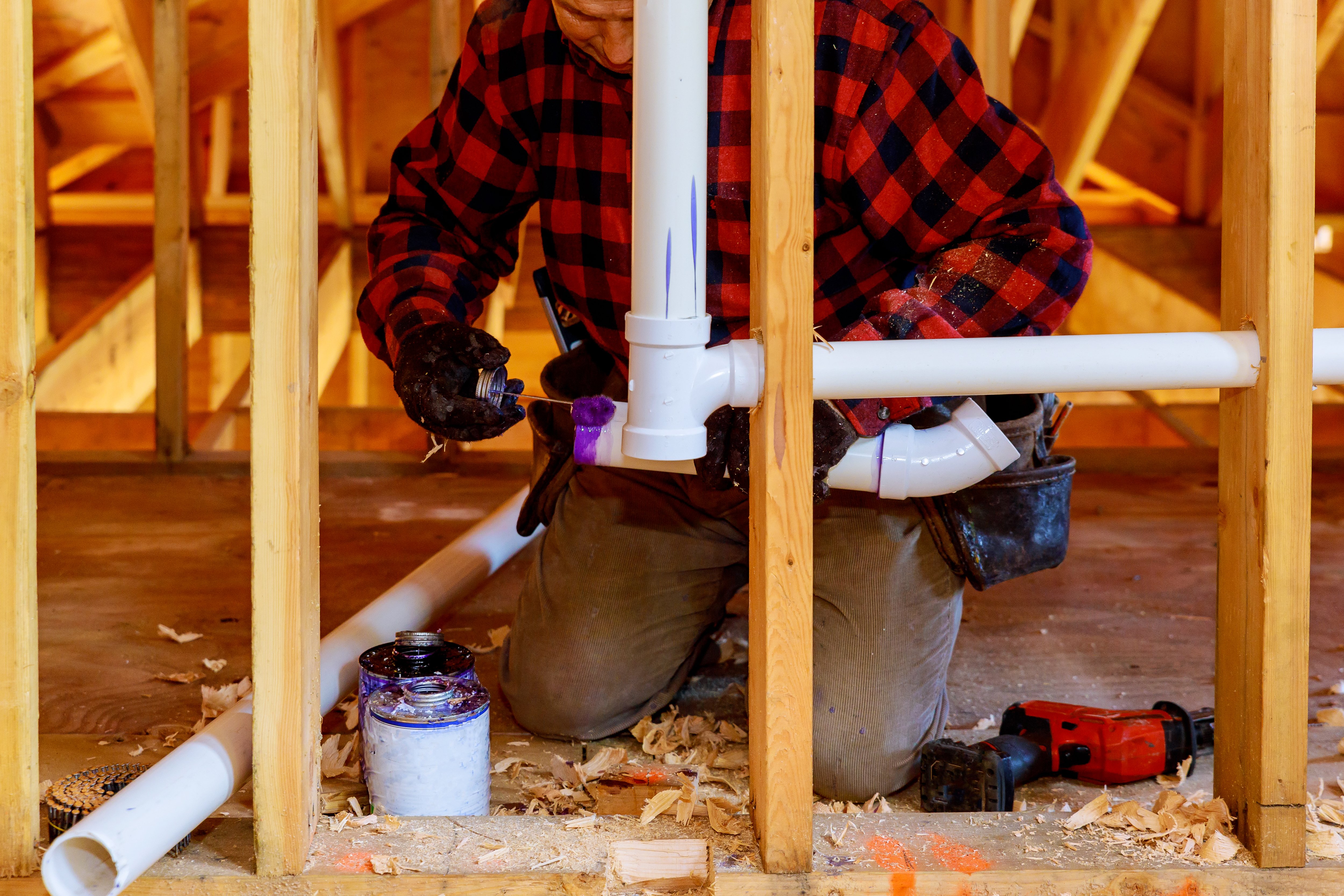 Plumbers install pipes in new buildings
☑️ HVAC technicians install and maintain heating, ventilation, air conditioning, and refrigeration systems. They work with motors, gauges, condensers, evaporators, compressors, and more. Median salary in Ontario: $62,400
☑️ Carpenters are experts with wood. They install forms for concrete, frame walls and floors, build stairs, and put in doors and windows. Median salary in Ontario: $52,000
☑️ Heavy equipment operators use large machines like bulldozers, backhoes, excavators, and graders to prepare a site for construction. Median salary in Ontario: $58,240
Transportation
This skilled trade category is all about keeping people and goods on the move.
☑️ Automotive service technicians maintain and fix cars, vans, and trucks. They deal with engines, brakes, transmissions, steering, fuel systems, and more. Median salary in Ontario: $48,400
☑️ Motorcycle mechanics keep motorcycles in road-worthy condition by performing regular maintenance as well as repairs. Median salary in Ontario: $58,240
☑️ Auto body repairers make damaged vehicles look new again. They hammer out dents, weld breaks, fill holes, straighten bent frames, and refit body panels. Median salary in Ontario: $43,680
☑️ Heavy duty equipment technicians service the mobile machines used in construction, agriculture, logging, and mining. Some specialize in a particular type of vehicle or a particular vehicle system. Median salary in Ontario: $63,960
☑️ Automotive painters focus on the vehicle finish. They sand and mask the surface, match colours, and apply primer and paints with spray guns or brushes. Median salary in Ontario: $43,680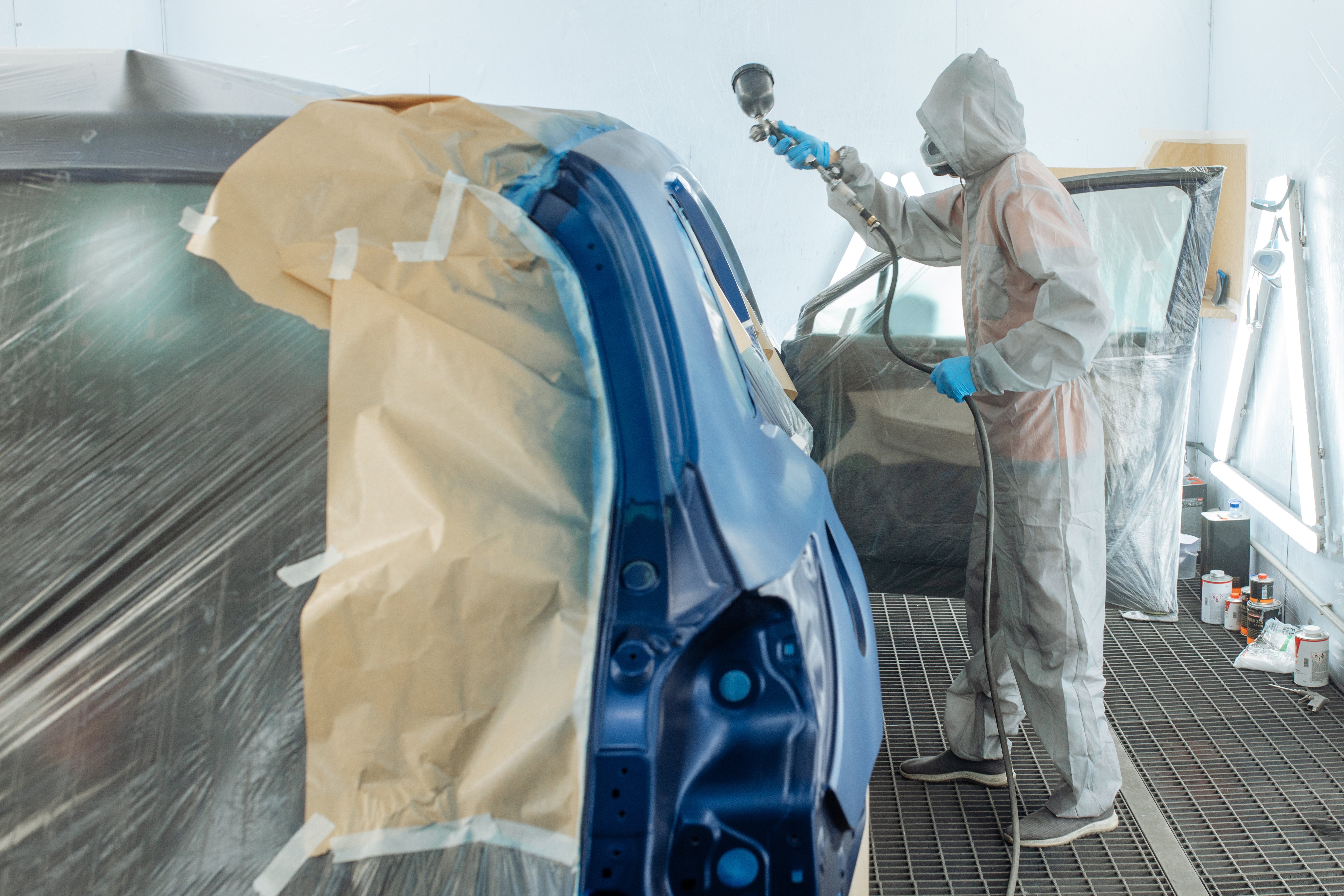 Automotive painters use special tools to apply paint to cars
Manufacturing
The manufacturing sector focuses on transforming raw materials into finished goods. Trade jobs in this category appeal to those looking to work with metal and other materials that ultimately become useful tools.
☑️ Welders use heat to join metal parts. They fix worn or damaged components for tools, pipelines, bridges, ships, and more. Median salary in Ontario: $49,920
☑️ Tool and die makers create and modify cutting tools, dies, jigs, and fixtures used to manufacture parts. Median salary in Ontario: $59,800
☑️ Industrial mechanics (millwrights) install, troubleshoot, and fix machinery and mechanical equipment in factories and production plants. Median salary in Ontario: $64,480
☑️ Metal fabricators (fitters) lay out, cut, and assemble metal parts to create things like tanks, boilers, and towers. Median salary in Ontario: $52,000
☑️ Machinists use machine tools like lathes, saws, drill presses, and grinders to produce metal parts to extremely precise standards. Median salary in Ontario: $52,000
Service
This category of the skilled trades includes those who offer their services directly to the public.
☑️ Cooks prepare food using a wide range of techniques, such as grilling, roasting, frying, sauteing, and steaming. Median salary in Ontario: $32,760
☑️ Bakers produce baked goods like breads, cakes, pies, pastries, and cookies. They measure ingredients, knead and shape dough, and apply glazes and other toppings. Median salary in Ontario: $31,200
☑️ Hairstylists cut and style hair. They may also offer services like shampooing, colouring, curling, or straightening. Median salary in Ontario: $32,240
☑️ Horticultural technicians build and maintain landscapes like parks, gardens, and golf courses. They set up irrigation systems, prune plants, and apply fertilizers. Median salary in Ontario: $39,520
☑️ Appliance service technicians repair electric and/or gas-powered appliances such as fridges, stoves, dishwashers, washing machines, and dryers. Median salary in Ontario: $46,800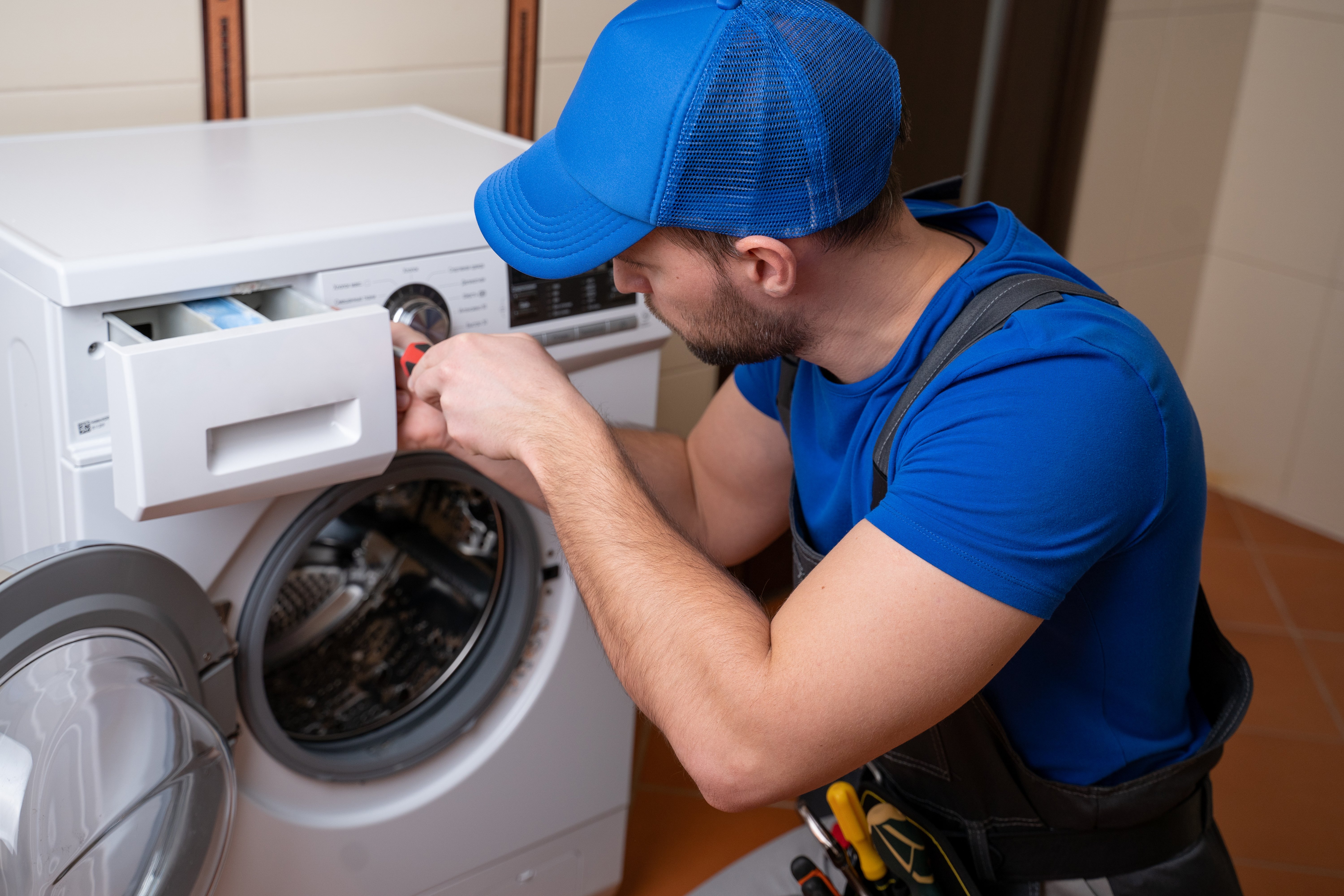 Appliance service technicians work on common household appliances, like washing machines
WHAT ARE RED SEAL TRADES?
The Red Seal trades are a select group of occupations for which you can get a national Red Seal endorsement. In Canada, skilled trades certification is handled by the provinces. But once you earn your Certificate of Qualification (C of Q) from your province, you can take the Red Seal exam to receive your endorsement. This endorsement allows your skills and knowledge to be recognized and accepted all across Canada without the need for additional tests.
COMPULSORY VS. NON-COMPULSORY TRADES
A compulsory trade is one that requires all workers to pass a certifying exam and obtain a Certificate of Qualification in order to practise the trade. In Ontario, there are close to two dozen compulsory trades, including construction and maintenance electrician, plumber, hairstylist, and refrigeration and air conditioning systems mechanic (i.e. HVAC technician).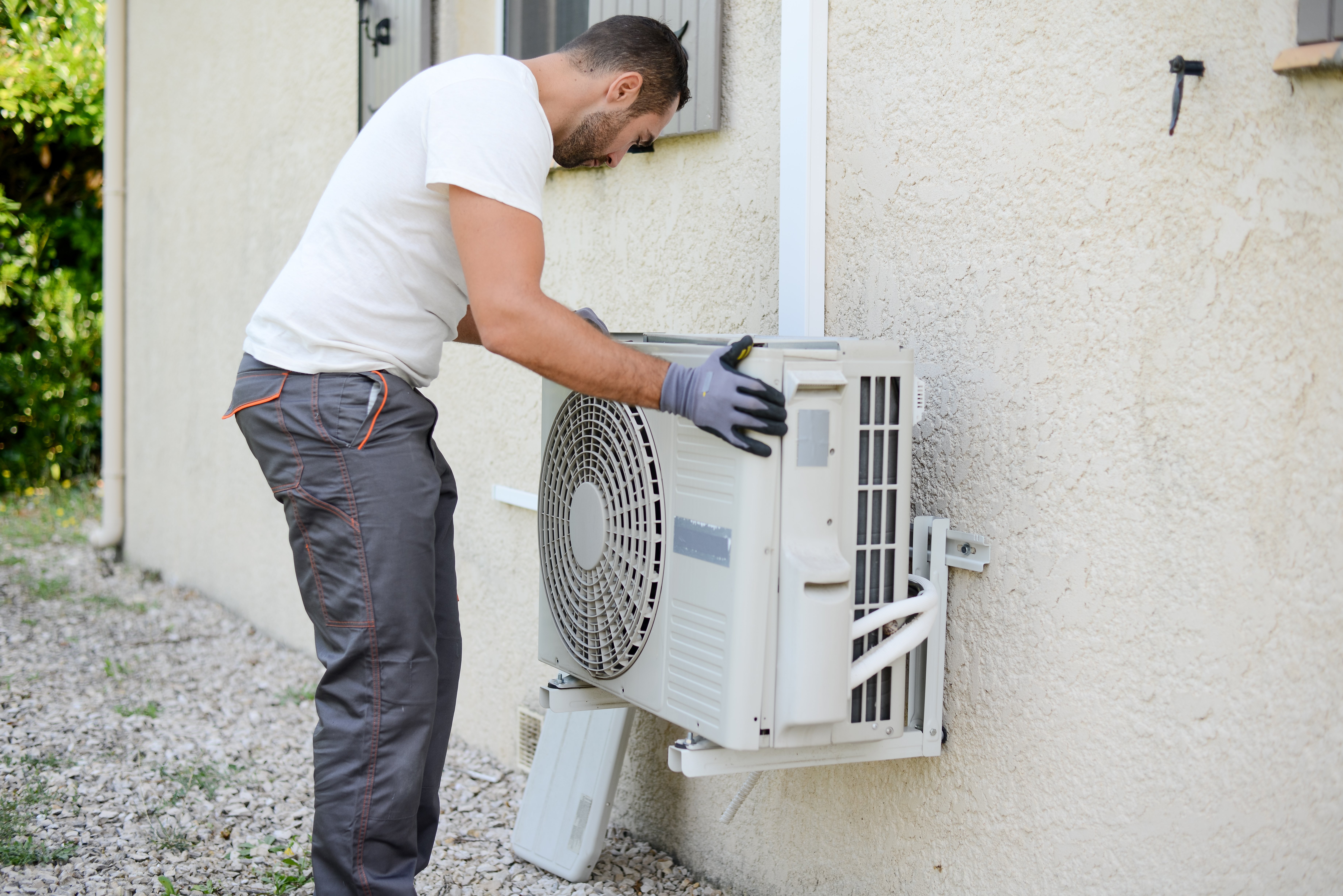 To become an HVAC technician, you have to obtain a Certificate of Qualification
A non-compulsory trade does not require workers to hold a Certificate of Qualification. There are more than 120 non-compulsory trades in Ontario, and about half of them offer the option of obtaining a C of Q. That means you can choose to become certified, but you don't have to do so.
BENEFITS OF SKILLED TRADES CERTIFICATION
For compulsory trades, the benefits of certification are obvious: you can't legally work in the trade without it. But even for non-compulsory trades like cook and appliance service technician, where certification is available but optional, it may still be worth taking the exam.
Why? Because getting your Certificate of Qualification shows potential employers that your skills are up to industry standards. That could help you stand out as a job candidate and open the door to advancement opportunities. Plus, you have to get your C of Q before you can get a Red Seal endorsement. So if you want to make it easier to practise your trade in another region of the country one day, you may want to sit for your provincial certifying exam.
Related: Should You Pursue Red Seal Certification in Your Trade?
THE MOST IN-DEMAND SKILLED TRADES IN CANADa
To identify the most in-demand jobs in Canada, we looked at the report from the Canadian Apprenticeship Forum, which estimated the future demand in the 15 largest Red Seal trades. The report expects that the following trades will have the biggest labour shortages across the country between 2021 and 2025 (based on projected job openings vs projected number of new entrants):
Cook—10,137 positions
Hairstylist—5,022 positions
Welder—4,164 positions
Industrial mechanic (millwright)—1,400 positions
Boilermaker—1,081 positions
Bricklayer—804 positions
In Ontario specifically, these trades are expected to have the highest number of unfilled jobs over the next few years:
Cook—7,114 positions
Welder—3,020 positions
Bricklayer—833 positions
Boilermaker—214 positions
HOW TO GET STARTED IN THE SKILLED TRADES
The vast majority of skilled trades offer apprenticeship training options, where you take some in-school lessons while spending most of your time learning on the job under the supervision of an experienced tradesperson. Technically, you could simply approach an employer to see if they'd be willing to hire you as an apprentice.
But landing an apprenticeship can be competitive. A lot of companies don't want to take a chance on someone who has no training or experience in the trade. Colleges like Herzing offer pre-apprenticeship programs that can help you learn the fundamentals so that you can be ready to impress an employer.
Related: What is a Pre-apprenticeship?
EXPLORE SKILLED TRADES PROGRAMS
Now that you know what the skilled trades are, are you ready to start training for one?
Herzing College offers hands-on programs in a variety of trades, including electrical, plumbing, HVACs, appliance repair, and more. Most programs take less than a year to complete, and you can graduate with important safety certifications in hand.
Click below to learn more about our trades programs in Toronto and Cambridge.