In Canada, women currently make up a very small percentage of the construction workforce, but a lot is changing within the industry in an effort to bump that number higher.
BuildForce Canada estimates that by 2032, the Canadian construction industry will require nearly 300,000 workers to keep up with demand. Many government agencies, construction organizations, and trade schools are doing everything they can to make sure that more women are included in this expansion.
The skilled trades have long been dominated by men. Many women are put off by the perception of the industry as a boys' club, or aren't even aware of available opportunities.
But trades work isn't unchallenging, dirty, and low paid, as many have been led to believe. Girls and women need to know that the trades are more than a viable option—this is a very smart and lucrative career path.
Read on to learn why now is the perfect time for women to pursue careers in the skilled trades.
TABLE OF CONTENTS
THE CURRENT STATE OF WOMEN IN CANADA'S TRADES WORKFORCE
According to BuildForce Canada, while there are close to 200,000 women in the Canadian construction industry, only about 54,000 of them work as on-site tradespeople. That means women account for only five per cent of those who work directly on construction projects.

Women make up a tiny percentage of on-site tradespeople. Source: BuildForce Canada
What's more, there are fewer women choosing to pursue trades training. Statistics Canada data shows that the number of women registering as apprentices peaked in 2012, when 15,444 women registered (accounting for 16 per cent of all new registrations).
That figure has been on a steady decline since then, with a slight bump in 2018 and 2019 and a big dip in pandemic-ravaged 2020. In 2021, the most recent year for which data is available, only 8,688 women became apprentices—representing a mere 12 per cent of all new registrations.

The number of women becoming apprentices has been steadily declining over the past decade. Source: Statistics Canada
WHY DO WOMEN AVOID THE SKILLED TRADES?
In a lot of cases, it's misplaced fear and a lack of awareness, says Christine Azevedo. She's the associate director of career services for the skilled trades division of Herzing College and works very closely with students, encouraging them during training and helping them transition into employment after school.
"From my own experience, and based on the female students I talk to, there is this fear that women won't have the physical strength needed to succeed in the skilled trades," Christine says.
"What's interesting is that once students begin training, they quickly lose that fear. They realize they can do everything their male classmates can do—just sometimes in different ways. The physical approach might be a little different, but they're getting the same results.
"Also, many women simply aren't aware of the opportunities and possibilities that come from being in the trades. We need more exposure on this issue. We need to encourage more women to pursue trades careers and let them know it's no longer just a man's world."
CAREER OPPORTUNITIES IN THE TRADES ARE GROWING
As mentioned off the top, Canada needs a lot more skilled tradespeople.
The federal government estimates that roughly 700,000 tradespeople will retire between 2019 and 2028, creating a huge need for new workers to replace them.
And an RBC report found that over the next few years, Canada will be short at least 10,000 workers in the Red Seal trades alone. The report says that number could be 10 times larger once the provincially regulated trades are factored in.
To meet the country's infrastructure needs, it's critical that women form a significant proportion of new recruits.
CONSTRUCTION SITES ARE CHANGING TO BETTER ACCOMMODATE WOMEN
The construction industry has recognized the advantages of a balanced and diverse workforce, and many new policies have emerged that are aimed at creating a more positive workplace environment for women.
For instance, women in the trades have often been forced to put up with smaller versions of men's gear that might simply be coloured differently—the "pink it and shrink it" phenomenon. But companies like Helga Wear and Covergalls are producing workwear and personal protective equipment designed especially for women's bodies.
And new regulations in provinces like British Columbia and Ontario require employers to provide properly fitting PPE for different body types. That means things like boots, uniforms, and safety harnesses must be tailored for both men and women.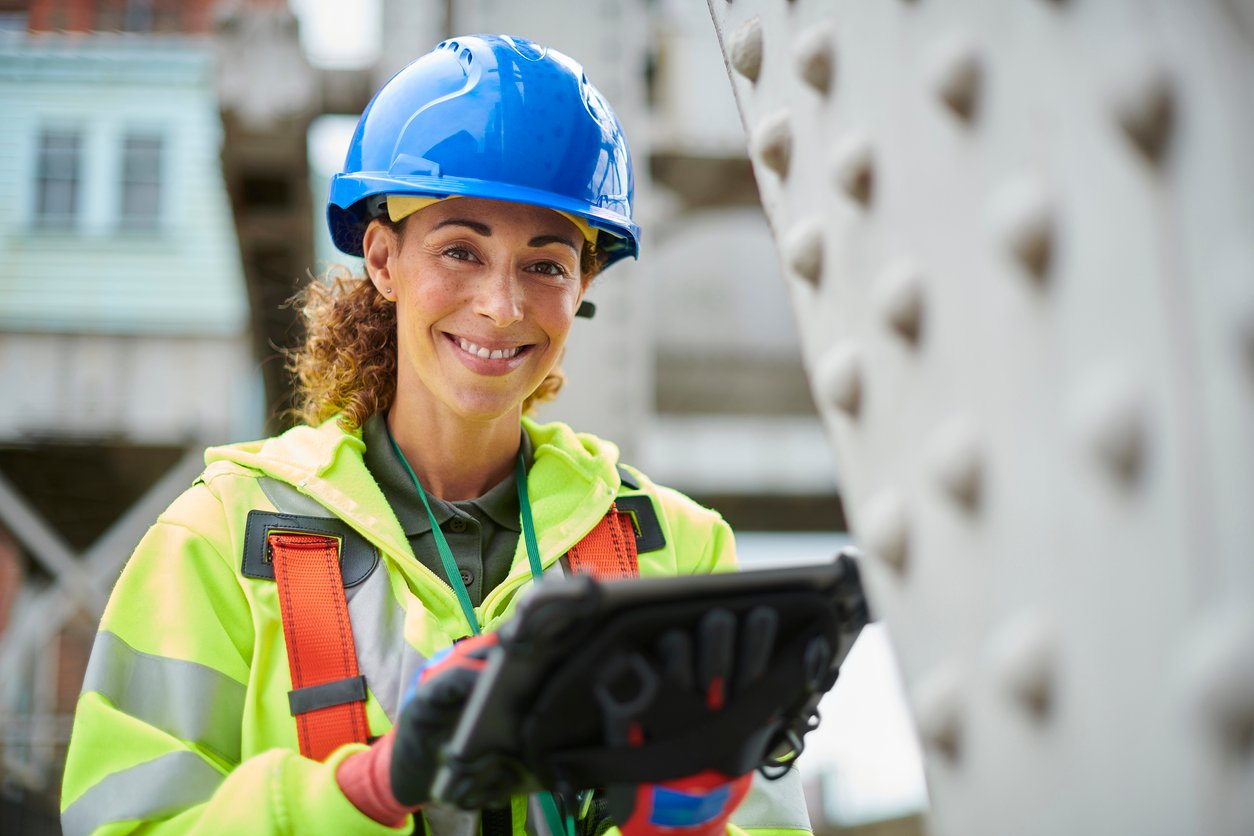 New rules require proper-fitting PPE to be available for women
The new Ontario regulations also require at least one washroom on a job site to be dedicated for women's use, with disposal receptables for sanitary napkins. Washrooms must be kept in good repair, be enclosed and well lit, and have hand sanitizer available when running water is not.
With such policies and practices geared towards motivating women to enter the construction industry, now is a great time to get started towards a rewarding career in the trades.
ADDITIONAL BENEFITS OF A TRADES CAREER
Office work isn't for everyone. As a tradesperson, instead of sitting behind a desk all day, you could be actively figuring out how things function, solving problems, running your own business, and serving your community.
Here are three of the top advantages to pursuing a career in the trades:
Well-Paying Job Opportunities
Not only are there plenty of job opportunities in the trades, but those opportunities typically come with a decent paycheque. The latest data from the Government of Canada Job Bank shows that electricians, plumbers, gas fitters, and HVAC technicians all make over $30 an hour as a median wage. That works out to more than $62,000 a year.
Stability and Mobility
Trades careers feature enviable stability, benefits, and job security. After completing their training and becoming certified, many tradespeople appreciate the independence of setting their own hours and rates to achieve a happy work-life balance.
Plus, there is plenty of upward mobility in the construction industry, to positions such as foreman, superintendent, supervisor, project manager, and construction manager.
There is also sideways mobility. If you have learned one trade, you can always learn another. Some of the skills you have already trained for will undoubtedly carry over.
An Active Learning Experience
Careers in the trades are active ones. If physical activity is something you love or want more of on a daily basis, it can certainly be found here. Careers in construction are also the type of work where you constantly build on your training and add to your skill set. Every day on the job will be different, and every day can be a learning experience.
Plus, unlike many other fields, the skilled trades enable students to earn while they learn through apprenticeships. Working with your hands, being able to immediately see the fruits of your labour, and getting paid to learn is an incredible combination.
WANT TO GET STARTED IN THE TRADES?
Asserting yourself in a typically male-dominated environment is not always easy, but as you build your skills and hone your craft, you'll quickly command respect.
A great pre-apprenticeship training program can give you all the technical and safety foundations you need to get started. You'll learn from teachers with extensive industry experience while gaining hands-on practice solving problems you'll face on the job.
Click below to explore Herzing's trades programs and chat live with a knowledgeable admissions advisor who can answer any questions you have. We're here to help!