Herzing students in the appliance repair workshop
If you're interested in a career in the trades, getting the right training is crucial.
You need to get a solid foundation in theory and get hands-on practice with the tools and equipment you'll encounter on a real job site.
That's exactly what we provide at Herzing College. Our expert instructors help students gain the skills they need to thrive in the electrical, plumbing, HVAC, gas tech, appliance service, and network cabling trades.
But before you commit to one of our programs, you need to know exactly what to expect. What kind of facilities do we have and what services do we offer that can help you get started in your new career?
Here are the details you need.
WHERE CAN I FIND HERZING COLLEGE SKILLED TRADES?
There are actually two locations: one in Toronto (which shares space with the rest of Herzing College) and one in Cambridge (which is exclusively for the skilled trades division).

The Toronto campus can be found at:

11 Kodiak Cres.
Toronto, ON
M3J 3E5


And the address for the Cambridge campus is:

45 Commerce Court
Cambridge, ON
N3C 4P7

HOW EASY IS IT TO GET TO AND FROM CAMPUS?
Cambridge has lots of free parking available on site. Students are also welcome to bring their bikes and store them in the classroom.
The Toronto campus has limited free parking, but the building is situated just a 10-minute walk from the Sheppard West subway station. And again, if you'd rather bike to campus, storage is available inside.
The Toronto campus is centrally located within the GTA. But if someone lives in Brampton, for instance, and could technically drive either way, traffic would be better and parking would be easier in Cambridge.
WHAT ARE THE FACILITIES LIKE AT EACH CAMPUS?
In addition to classrooms where students learn the theory aspect of their trade, each campus features extensive workshop facilities that replicate an actual job site.
The skilled trades portion of the Toronto campus covers 18,000 square feet. The Cambridge campus is about half that size, but the facilities are a bit newer.
The shops are set up to allow students to develop their skills through hands-on training in a simulated work environment. Our partnerships with organizations like Whirlpool and Transglobal Systems of Canada (TSOC) ensure that our students have access to the latest equipment and training materials.
Herzing's training facilities are approved by Merit Ontario and CLAC union—in fact, the Cambridge campus rents space from CLAC union headquarters. Eligible grads are admitted to each organization.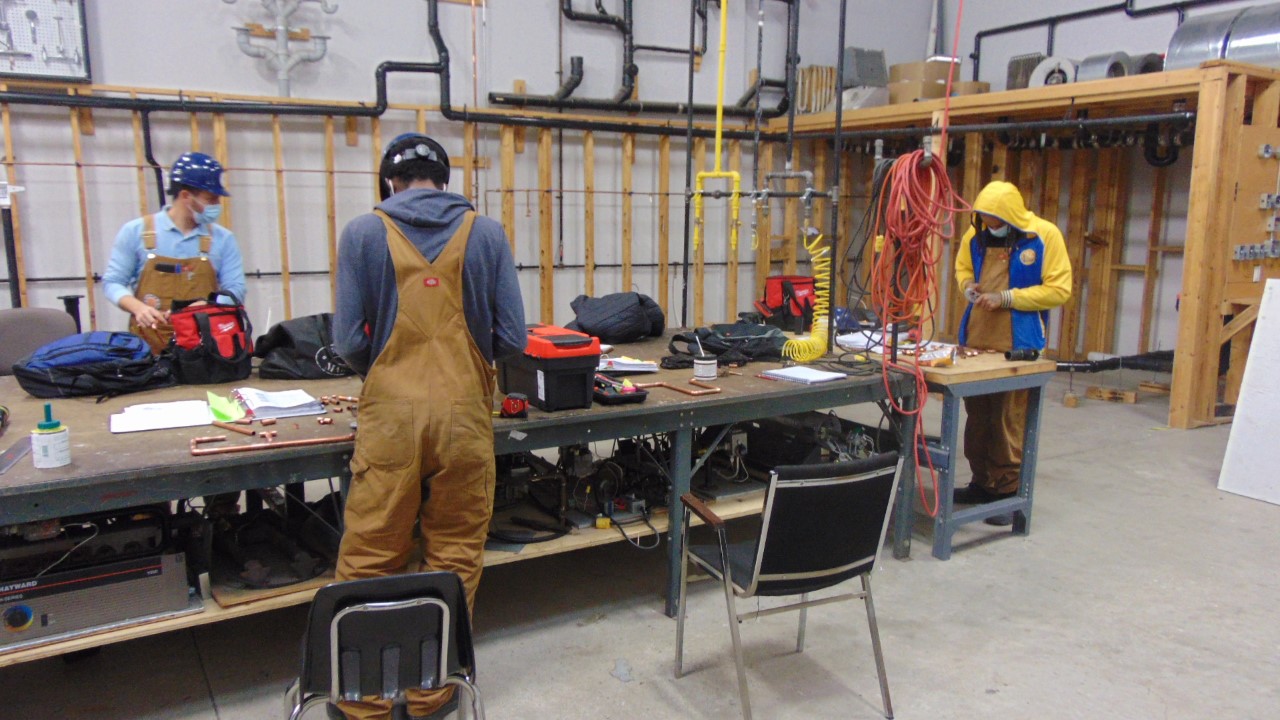 Plumbing students in the Herzing College workshop
WHAT OTHER AMENITIES ARE AVAILABLE?
Lockers are available for students to secure their books, uniforms, tools, etc. Students who don't drive to campus (and therefore can't keep their stuff in their car) are given priority for lockers.
Each campus also has a dedicated eating area, and there are plenty of fast-food restaurants close by.
WHAT SERVICES DOES HERZING COLLEGE SKILLED TRADES OFFER?
Tools and safety gear—These are included in your tuition, so you don't have to worry about budgeting for them separately.
Safety certifications—Our trades programs include valuable certifications like WHMIS, Working at Heights, Lockout & Tag Safety, and more. Employers appreciate that our grads have the knowledge they need to stay safe on a job site.
Funding assistance—We'll help you figure out which grants, loans, or scholarships you may be eligible for, and we'll even help you apply.
Career support—We can link you with apprenticeships and job openings through our network of industry partners. We also help you build a professional resume and practise your job interviewing skills.
CAN I ARRANGE A TOUR OF THE CAMPUS?
Yes! We'd be happy to have you look around so you can truly see what we have to offer.
Just contact our admissions team. An advisor will answer all your questions and set up a time for you to tour the campus.
LEARN MORE ABOUT HERZING COLLEGE SKILLED TRADES
Through campuses in both Toronto and Cambridge, Herzing College offers a variety of pre-apprenticeship and construction training programs designed to help you launch a rewarding career in the skilled trades.
Training takes just three to 12 months, depending on the program. Tools and safety certifications are included.
Click below to learn more about our programs, chat live with an advisor, or book a campus tour. We're here to help!