The principles of heating and cooling remain the same in any setting, but there can be significant differences in residential vs commercial HVAC jobs. It's not only about the type of building—system complexity, required skills, and working conditions are just a few of the elements that set these two environments apart.
Trying to decide which one is right for you?
Keep reading to learn what differentiates commercial vs residential HVAC work, what skills you need in each setting, and what pros and cons come with pursuing each path.
TABLE OF CONTENTS
WHAT IS RESIDENTIAL HVAC?
HVAC technicians who work on the residential side deal with heating, ventilation, and air conditioning issues in people's homes.
Residential HVAC systems are smaller and less complex than commercial ones. They are typically standalone units with fewer components, and they cannot be modified or expanded.
If you're installing a residential HVAC system, you could be laying out ductwork, putting in copper lines, running thermostat wire, and connecting the system to electrical, water, and fuel sources.
On the maintenance and repair side, tasks include replacing filters, cleaning coils and condensers, inspecting blowers, and more. Service calls could involve anything from leak repair to duct cleaning to part replacement.
Where Can You Work in Residential HVAC?
You can work for construction companies, heating and air conditioning contractors, or HVAC equipment manufacturers. With experience, many techs gain the know-how to start an HVAC business of their own.
What Skills are Required?
Working on residential HVAC systems means going into people's homes and interacting directly with customers. So, in addition to understanding HVAC technologies, you need to be able to listen carefully, ask relevant questions, and explain issues and repairs for things like heat pumps in a way that customers can understand so that they will trust you and your expertise.
Residential techs are also typically expected to sell HVAC products and service contracts, so being able to connect with people is key. For instance, you may find yourself trying to convince a customer to invest in a new HVAC unit that offers greater energy efficiency.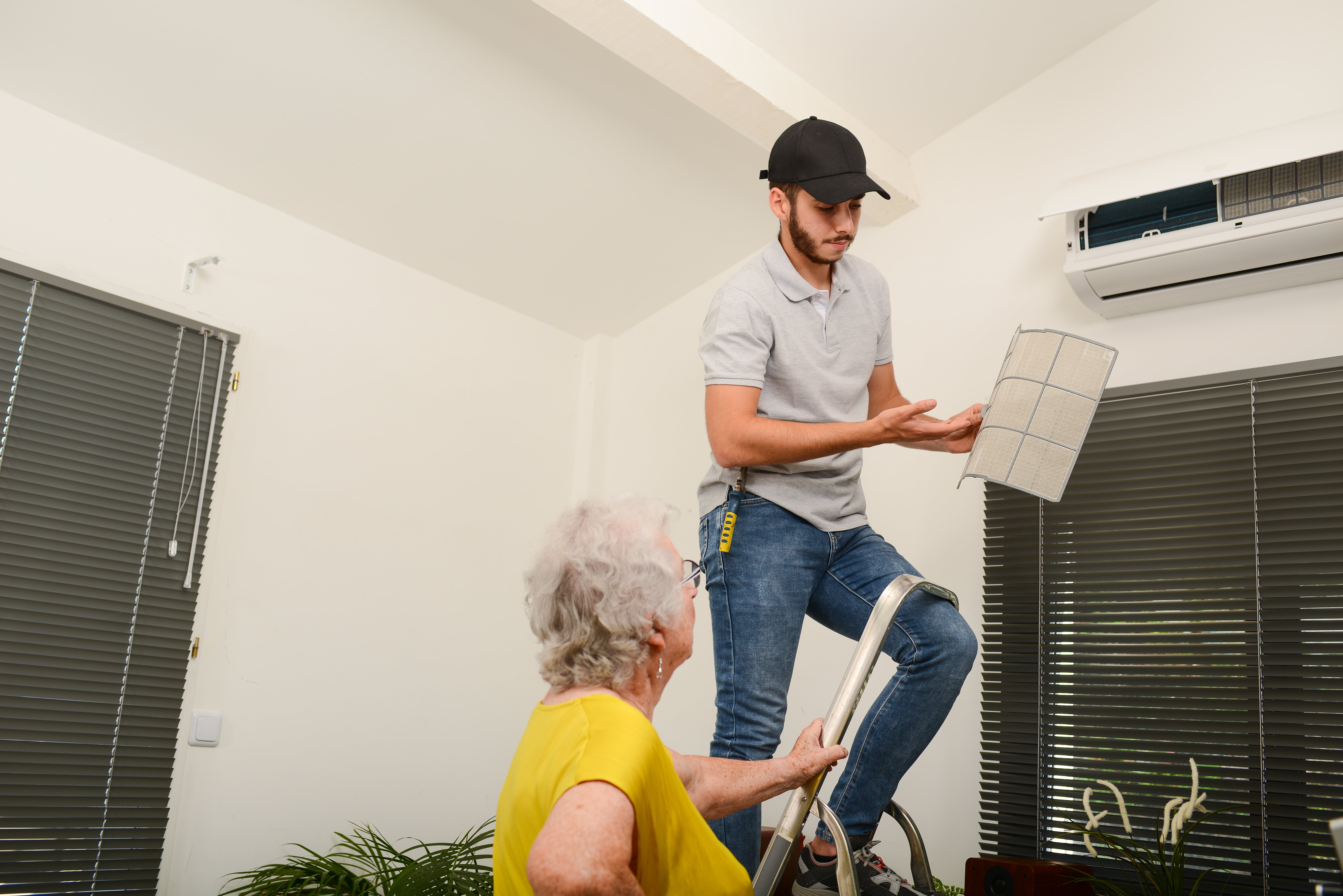 Customer service skills are very important in residential HVAC work
How Much Do Residential HVAC Techs Make?
According to the Government of Canada Job Bank, salaries for HVAC technicians in Ontario range from about $35,000 at the low end to $100,000 for the top earners. The median salary is around $58,000.
Residential HVAC techs typically earn a bit less than those who do commercial work. However, residential techs can boost their income significantly through sales commissions or by owning their own company.
Pros and Cons of Working in Residential HVAC
Below are a few advantages and drawbacks of focusing on residential HVAC work.
Pros:
You get to establish a personal connection with customers.
Residential air conditioners are placed on the ground, so residential AC service techs don't typically have to go up on rooftops.
If you're skilled at sales, you can make very good money.
You get to go to new job sites every day.
It's easier to start your own business on the residential side.
Cons:
A residential salary tends to be lower than a commercial salary, though that can vary.
The pressure to sell may not appeal to you.
You may have to fit into tight, not-generally-clean areas like crawl spaces and attics.
On-call work can mean long hours.
Dealing with difficult customers who get emotional or argue about pricing can be a pain.
WHAT IS COMMERCIAL HVAC?
HVAC technicians who work on the commercial side deal with climate control systems in settings such as office buildings, restaurants, warehouses, retail stores, and hospitals.
Commercial HVAC systems are bigger and more complex, involving more wiring, multiple thermostats, and greater power demands. They're modular and can be expanded or adapted to allow for customized temperature and humidity control in different areas of a building.
Commercial HVAC systems must also meet unique requirements, depending on the building. For instance, a high-rise office tower will have very different warm or cool air needs than an ice rink.
Where Can You Work in Commercial HVAC?
Like residential techs, commercial techs can work for construction companies, heating and air conditioning contractors, or HVAC equipment manufacturers. They can also find opportunities with school boards, research labs, food manufacturers, and other organizations.
What Skills are Required?
Commercial jobs are less about customer service and more about teamwork. It's rare that you would be the only tradesperson on the job. For instance, you could be standing on top of a school directing a crane operator to place a rooftop unit, or you might be working on a project alongside electricians or disposal workers.
So while you won't have much contact with customers, you will work closely with other trades professionals.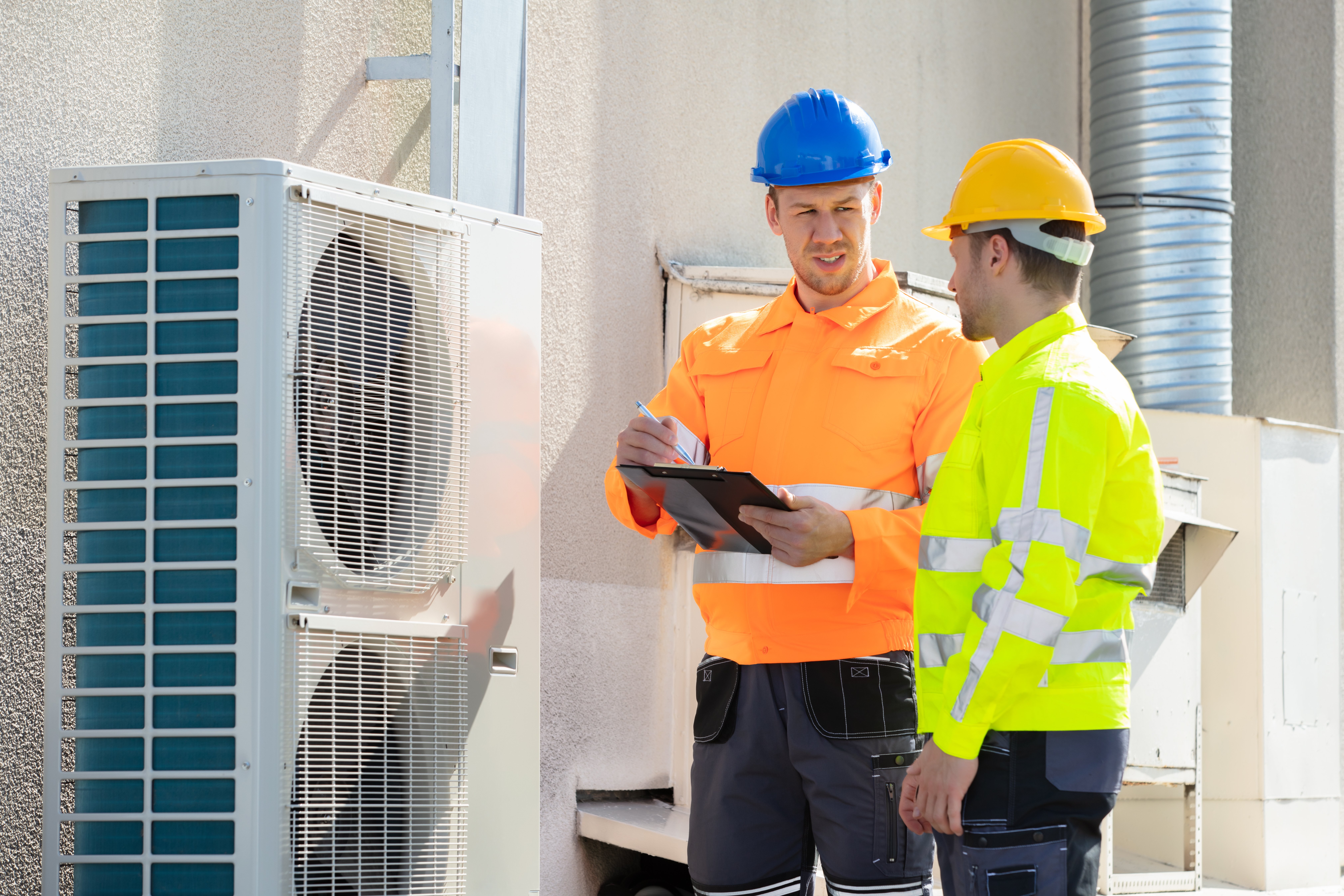 Commercial HVAC technicians rarely work alone
How Much Do Commercial HVAC Techs Make?
The added complexity means that commercial HVAC techs tend to make more than those who focus on residential work.
As noted above, the Job Bank pegs the median salary for HVAC technicians in Ontario at $58,000, with the highest earners making $100,000.
Pros and Cons of Working in Commercial HVAC
Here are a few upsides and downsides of pursuing a career in commercial HVAC.
Pros:
You get to work with more complex equipment and systems.
A commercial salary is usually higher than a residential salary.
Commercial jobs tend to have more predictable 9-to-5 type hours, although some places (such as medical offices or computer data centres) might need off-hours service.
You get to interact with other technicians and contractors, but you don't have much contact with customers.
Cons:
Since commercial HVAC units are typically installed on rooftops, you'll often be exposed to the elements and working at great heights.
You can be stuck working on the same building site for several weeks or months.
The increased variety of parts and materials means it's less likely you'll have what you need in your truck, so you will probably have to make more trips to the parts store.
There can be several people involved in approving the work and paying the bill, so you may have to deal with extra paperwork.
HVAC JOB DEMAND IN 2023
The Job Bank says employment prospects for HVAC technicians in Ontario should be good through 2024. The increased focus on air quality and a boom in construction activity should mean plenty of opportunities for skilled techs.
HOW TO BECOME AN HVAC TECHNICIAN
HVAC is a compulsory trade in Ontario. So, regardless of whether you want to work on residential or commercial buildings, you must complete an apprenticeship and pass an exam to earn a Certificate of Qualification.
There are two options:
313D Residential Air Conditioning Systems Mechanic—Limited to residential AC systems. Apprenticeship takes about two and a half years.
313A Refrigeration and Air Conditioning Systems Mechanic—Can work on heating, cooling, and refrigeration systems in both residential and commercial settings. Apprenticeship takes about five years.
In addition, since a lot of heating and refrigeration units are powered by natural gas, you will likely need a gas technician licence from the Technical Standards & Safety Authority (TSSA).
Anyone with a Grade 10 education is eligible to apply for an HVAC apprenticeship, but your chances of convincing an employer to take you on are much better if you complete some pre-apprenticeship training at a trade school or career college first. Some schools include gas technician training as part of their HVAC course programs, so you can graduate with the necessary licence from the TSSA.
PREPARE FOR A CAREER IN HVAC
While there are some differences in residential vs commercial HVAC jobs, a quality pre-apprenticeship program can prepare you for both.
Herzing College offers a 52-week training program that's designed to prepare students for their first HVAC apprenticeship. Courses include hands-on training in installing, maintaining, and troubleshooting HVAC systems. Gas technician certification is included in the program.
Want more details? Talk to admissions. An advisor can provide information about courses, tuition, financial aid, and anything else you want to know.
Click below to explore the HVAC program or chat live with an advisor now. We're here to help!