It only makes sense: if you want to learn how to install and repair gas lines, appliances, and equipment, you need to get your hands on the stuff. After all, there's a huge difference between reading about the proper way to hook up a gas meter and actually performing the task in real life.
That's why hands-on training is such a key part of gas technician training. It helps you develop actual job skills, meet certification requirements, and prepare for a successful career.
Thinking about getting into the gas trade? Keep reading to learn more about how hands-on training can benefit you.
WHAT IS HANDS-ON TRAINING?
Hands-on training is a method of teaching that emphasizes practical experience. Instead of just listening to lectures and reading books, students actively engage in tasks and projects that simulate real-world scenarios.
It's learning by doing, and it's an important part of vocational training. While students in gas technician programs do study theory, like the properties of gas and the basics of electricity, they also get lots of practice applying that theory. Under the guidance of experienced professionals in purpose-built workshops, they focus on developing the skills they'll use on the job.
BENEFITS OF HANDS-ON TRAINING
Here are a few advantages to choosing a technical education that includes hands-on training:
Better Knowledge Retention
Learning by doing leads to a deeper understanding of the task and aids in long-term recall. Research has shown that we typically retain 75 per cent of what we learn through hands-on training, compared to only five per cent of what we learn through lectures.
Real-World Practice
Hands-on training lets you practise on the actual equipment you'll encounter on the job. You get to develop your technical, teamwork, and problem-solving skills in a supervised, controlled environment—which is especially important when it comes to gas safety training.
Smoother Transition to the Workplace
When your training is built around real situations, you'll know what to expect when you start your first gas technician job. That means you can graduate with the knowledge and skills to launch your career with confidence.
INDUSTRY STANDARDS AND CERTIFICATION REQUIREMENTS
The Technical Standards and Safety Authority (TSSA) develops training standards and certification policies for gas technicians. While trade schools deliver the training, the curriculum is set by the TSSA to ensure industry standards and safety are maintained across all programs.
If you want to become a gas technician in Ontario, you must be certified by the TSSA. There are three levels of certification, starting with G3 and progressing to G2. G1 is the highest level of certification; it requires at least two years of work experience as a G2.
Learn more here: The Difference Between Gas Technician 3 & 2
To become certified as a G3, you must complete a TSSA-approved training program and pass a written certification exam.
You must also score an average of 75 per cent or more on a practical evaluation of your skills during your gas technician program. Your supervisor must sign off on your ability to install, test, activate, or purge gas piping and tubing systems, among other tasks.
Hands-on training is key to your technical skills development. It's the best way to master the skills you need for certification.
HANDS-ON TRAINING TECHNIQUES AND METHODS
Practical training is about getting prepared for real-world scenarios. Gas technician students spend most of their time in the workshop actually installing and servicing things like furnaces, boilers, ranges, clothes dryers, and barbeques.
They weld and cut pipes, connect boilers to gas and water systems, and install venting systems.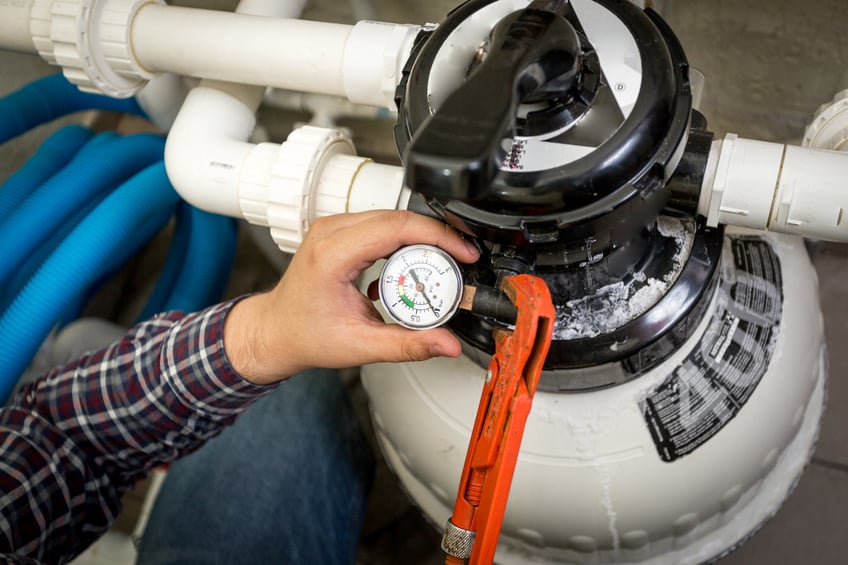 Gas technician training will give you hands-on practice in reading meters to test for proper pressure
"Students do a variety of hands-on projects and exercises," says G1 holder and Herzing gas tech instructor Winston McKenzie-Plummer. "In our gas technician training, they learn how to do electrical work essential to the gas trade, soldering, brazing, piping, equipment troubleshooting, and proper tool usage."
JOB OPPORTUNITIES FOR GRADUATES
Gas technicians have a promising outlook in Ontario. The provincial government expects up to 2,000 positions to open up between 2021 and 2025. And the Government of Canada Job Bank gives this occupation a four-star rating (out of a possible five) for demand in almost every region of the province.
Gas techs typically work for natural gas utility or gas servicing companies, plumbing companies, or construction firms. You could even choose to go into business for yourself.
"There are good job opportunities out there. Gas technician work is challenging, rewarding, and well-paid," says Winston.
"There's variety in this job. You get to do gas work and parts of other trades too, like plumbing, electrical, and sheet metal work. Plus, don't forget, we live in a country that starts with winter and ends with winter. Skilled gas technicians will always be in demand!"
SUCCESS STORIES OF GAS TECHNICIANS WITH HANDS-ON TRAINING
After spending nearly 20 years in the television industry, Neil Szabo was looking to switch to the trades. His desire for quick, practical training that focused on job readiness led him to Herzing.
"The gas technician program is very hands-on and not just about passing exams. We learned practical skills needed to actually work in the trade," he says.
"The school has an impressive lab, and they're always upgrading it. The instructors are very knowledgeable and realistic about the training. They get you to be as perfect and precise as possible, so when you get into the field, you're starting from a solid foundation. Employers notice it too. We come out working to a very high standard."
Neil had no trouble finding work when he finished the program, and continued to get new job offers on a weekly basis!
Gavin George is another success story. When his hospitality job got derailed by COVID, he decided he wanted to build a career as an HVAC and gas technician. He earned his G2 certification as part of Herzing's HVAC program—and landed a job in the trade shortly after graduating.
He says the hands-on nature of the program was immensely helpful. "We were welcome to bring things to the table. I brought in a couple of AC units and asked if we could do anything with them. That was encouraged," he told us.
"I would absolutely recommend it to everybody."
LEARN MORE ABOUT GAS TECHNICIAN PROGRAMS
Looking for reliable gas technician training in Ontario?
Explore the gas technician programs available at Herzing College (Toronto and Cambridge campuses).
We offer G2 and G3 programs, taught by licensed G1 holders with years of industry experience. Our programs are approved by the TSSA and provide great career opportunities for graduates.
Click below to learn more or chat live with an admissions advisor. We're here to help!