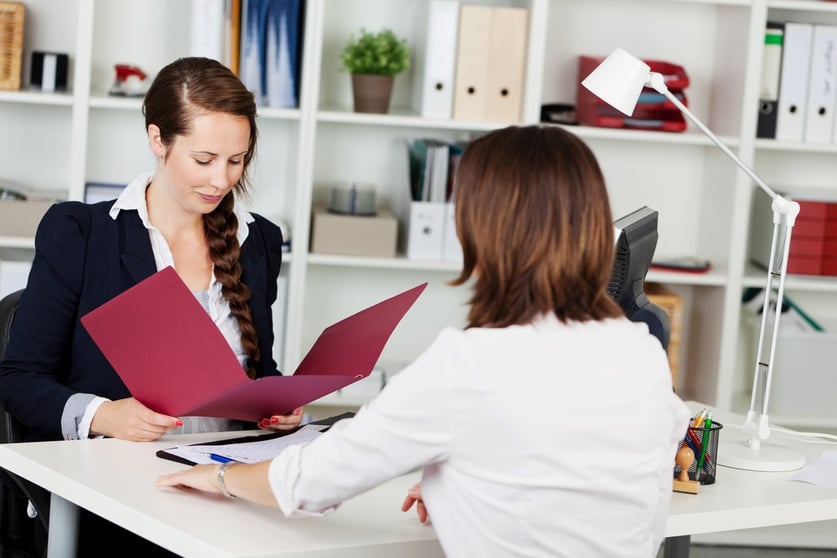 For most new graduates—in any field—job interviews are both exciting and incredibly nerve-wracking.
On the one hand, you're so proud to have earned your diploma, and revved up to tackle your first paid position. On the other hand, you're anxious about making a good impression, and stressed about what you'll be asked.
It's no different for accounting students. After all, the main reason you earned an accounting diploma was to secure a great entry-level position, and start building a successful career. Everything hinges on how you perform in those first interviews after college.
What's the best way to dial back some of the pressure?
It's all about being prepared. Of course, you'll still feel nervous when meeting with hiring managers—which is completely normal—but you'll have done the necessary prep to get past those nerves, and feel like you're in control of the process.
Step number one? Anticipate the questions you'll be asked in the accounting interview, and think through how you'll respond.
We don't mean write out detailed answers and memorize them. You're not a robot! But having some key "talking points" prepared in advance will do wonders for your confidence, and definitely impress your future employer.
These are 4 questions you can count on being asked, plus some detailed advice on how to phrase your answers. Let's get started.
1. Why do you want to work at this company?
This is a very common interview question, across all fields. The interviewer wants to know that you've done some research on the company in general, and on the accounting position specifically.
You should definitely check out the corporate website and social channels before the interview, and find positive points to highlight about the products and services, company culture, and the opportunities available in the accounting department.
A few examples to guide your thinking:
Maybe you've heard this is a great place to work?
You're particularly interested in what they do/make/sell?
It's a forward-thinking company, and you're excited to apply and expand your accounting skills in such a cutting-edge environment?
Do your research, and come up with 2-3 talking points to answer this type of question.
2. What challenges are you looking for in this entry-level accounting position?
Other variations of this question include: Why are you interested in accounting? Or, I see you recently graduated—what made you decide to study accounting?
At this point, the hiring manager wants you to talk about your goals, and how you would apply your knowledge and skills on-the-job. They're looking to see if you're a good fit for the position.
You can answer by highlighting the areas of accounting that interest you most, emphasize that you're looking for a long-term position, and are very comfortable taking on new challenges. You're eager to learn, and ready to work hard.
Remember: review the specific duties of the position you're applying to, and be sure to link them to your own skills, interests, and future goals. This way, you'll come across as an ideal match for the role.
3. Are you comfortable with XYZ accounting/payroll software?
Every company uses different accounting and payroll software. Your accounting training will prepare you to operate a common package, such as Simply Accounting or QuickBooks—but your interviewer may ask if you have experience with another tool.
If the hiring manager mentions an accounting, payroll, or office management program you haven't used, be sure to mention that you're comfortable with standard software, and can quickly transfer those skills over to a new program.
You could even highlight the specific processes you're comfortable with, like:
setting up a new file
handling accounts payable and receivable
job costing and reporting
processing payroll transactions
managing inventory
generating financial statements and reports
Pro tip: When you're asked about a piece of technology or a process you don't know, always counter with a related skill you do have, and emphasize what a quick learner you are.
4. What makes you the ideal candidate for this accounting position?
This is a tricky one! It's actually several questions in one, including:
Why should we hire you?
How are your qualifications superior to other applicants?
Will you work hard and fit in with the team here?
This is where you'll really need to match your answer with the job description, and what you know about the company culture. You must demonstrate that you are ideally suited to the duties of the position, and the work environment.
Talk about your specific accounting knowledge, but don't forget to highlight relevant "soft" skills, like your integrity, reliability, excellent communication skills, and solid work ethic. What you may lack in experience, you make up for in perseverance, maturity, and hard work!
Don't forget: Emphasize how the skills and qualities you're mentioning line up with the requirements of the accounting position—and what you like most about the company. Do that, and you'll have a home run.
Interested in learning more about accounting careers, or considering earning an accounting diploma?
Looking for a top-rated accounting college in Winnipeg?
Explore the Accounting and Payroll Administrator Training offered by Herzing College in Winnipeg. Click below to see a detailed list of courses, career paths, admission information—or to chat live with a friendly advisor. We're here to help!