After more than 50 years of career counselling and training, we have a pretty good idea of what attracts people to health care careers.
The health care students we work with are usually quite practical, thoughtful, and generous. They're focused on helping other people. They want to make a positive difference in their community and do a job that really matters.
Almost always, health care students are interested in giving back. They're looking for a career that is both personally rewarding and highly valued.
But it's not all about giving. Like anyone else, health care students want a secure job after training.
They want to know which skills are most in-demand right now, so they can choose a program that leads to steady employment and good growth prospects after college.
In this post, we pull all of these personal and practical elements together to help you decide which health care diploma is right for you.
We'll cover 3 very popular health care programs, with an overview of training, and the latest job forecast in Winnipeg for each field. Let's get started.
Health Care Diploma #1: Health Care AidE (5 months)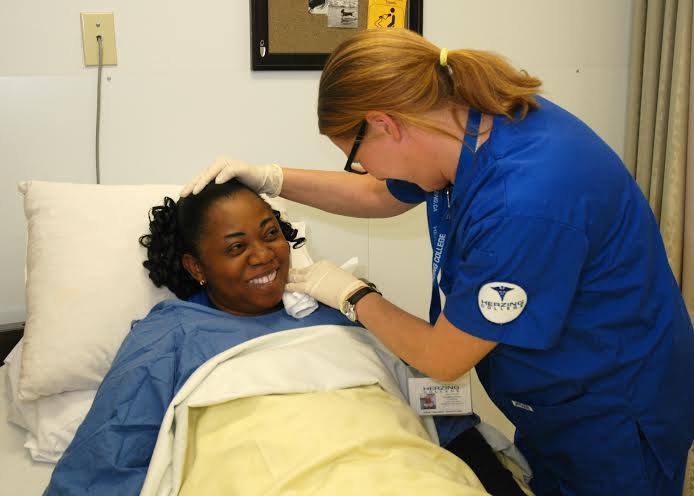 By far the fastest health care diploma out there, health care aide training takes just 5 months to complete. But it's not just the short program students love. It's also the patient-focused nature of this profession.
Health care aides work very closely with people who need special support with the tasks of everyday living.
Clients usually include seniors in long-term care facilities, or who still live at home. And people of all ages who are facing debilitating illness, terminal health conditions, or temporary injury.
Health care aides do what doctors, nurses, and even family can't always do. They spend long periods of time with their patients, making sure their needs are met in a variety of ways.
Your role as a health care aide would include:
assisting with grooming and hygiene

moving patients, both with and without equipment

helping patients get to and from appointments and social activities

planning and preparing nutritious meals

maintaining patients' rooms

providing emotional support and companionship

monitoring behavior and overall condition, and reporting any changes to a supervisor

ensuring medicine is taken correctly

ensuring patients carry out any doctor-prescribed exercises or therapies
These are the support tasks you'll learn how to perform, both safely and compassionately, in health care aide training.
Your diploma should also include an internship, so you get a chance to practice your new skills in a health care setting, connect with potential employers, and add real work experience to your resume.
is there demand for health care aides?
In terms of jobs, the forecast for health care aides in Winnipeg in very positive. The Government of Canada Job Bank has given this career its highest rating for job outlook—3 stars.
According to the Job Bank, graduates of this diploma program can expect "good" demand for their services over the coming years.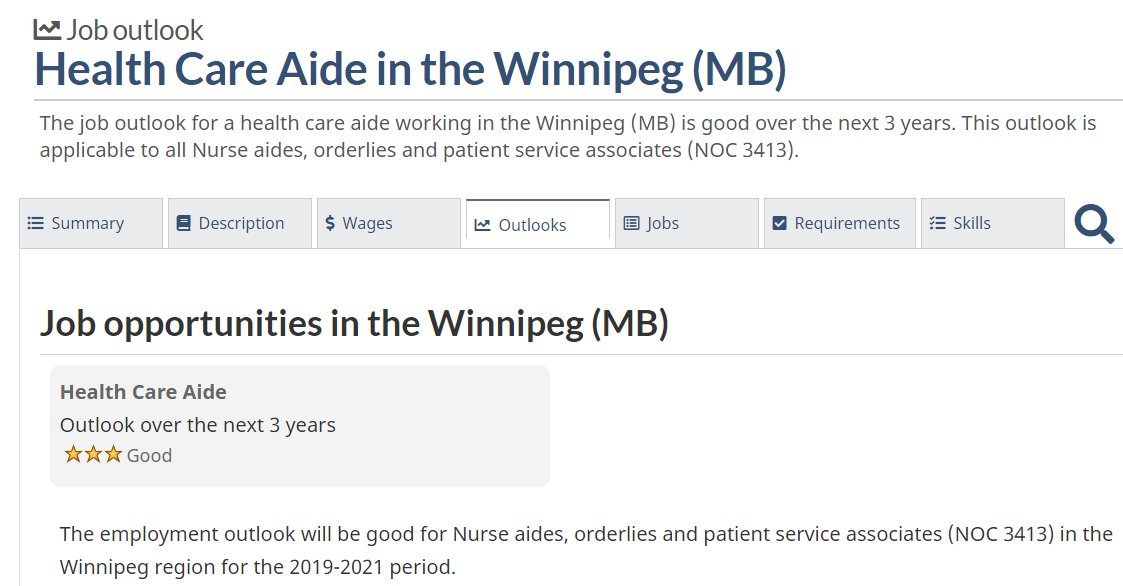 Source: Government of Canada Job Bank/Health Care Aide
If you're looking for a health care career that focuses on very personal, one-to-one patient care, this is the right path for you.
As our population ages, and more seniors need full time care, health care aides are going to become absolutely essential in almost every community across Manitoba (and Canada).
Health Care Diploma #2: Medical Office Assistant (9 months)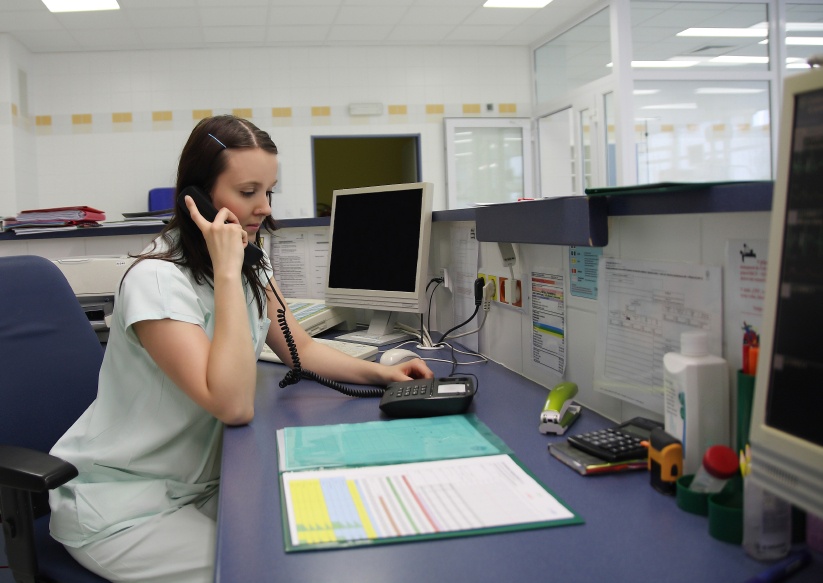 This is the right health care diploma for someone who is naturally well organized, patient and kind, and can cope well under busy conditions.
Also a short training program, a medical office assistant diploma can be completed in as little as 9 months, full time.
In this role, you would be responsible for the smooth running of a medical or hospital clinic. You could work in a private doctor's office, for a chiropractor, physiotherapist, or dentist. Or, at a busy public hospital.
Daily routines would focus on patient intake, and may include assisting with minor medical procedures. You'd be performing tasks like:
scheduling appointments

receiving patients at reception

preparing medical documents and charts

maintaining records

taking blood pressure and measuring other vital signs

setting up (and helping with) minor medical procedures

maintaining inventory

processing health insurance and billing
Medical office assistants need excellent communication and customer service skills. If you're methodical, detail-oriented, and friendly, you will do very well in this role.
Training focuses on the computer and software programs needed to manage busy medical offices, including appointment scheduling, billing, and online record-keeping.
There is also a strong emphasis on reception procedures, medical terminology and patient care.
is there demand for medical office assistants?
According to the latest government report, there is stable demand for medical office assistants in Winnipeg. The Job Bank gives this occupation 2 stars for outlook. They say waves of retirements and the health care boom are creating a fair number of new jobs in this field.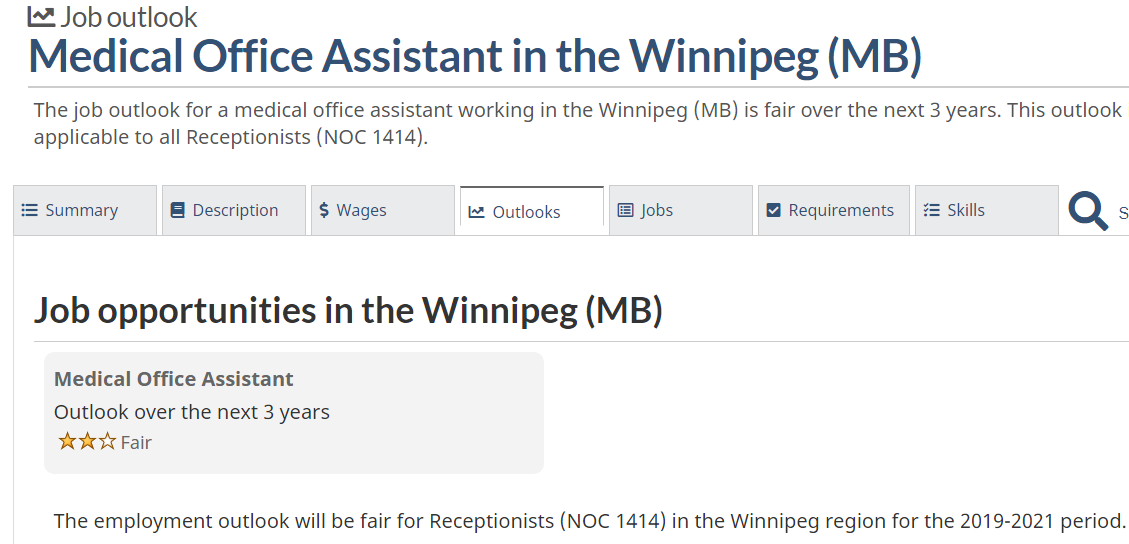 Source: Government of Canada Job Bank/Medical Office Assistant

Health Care Diploma #3: Community Support Worker (11 months)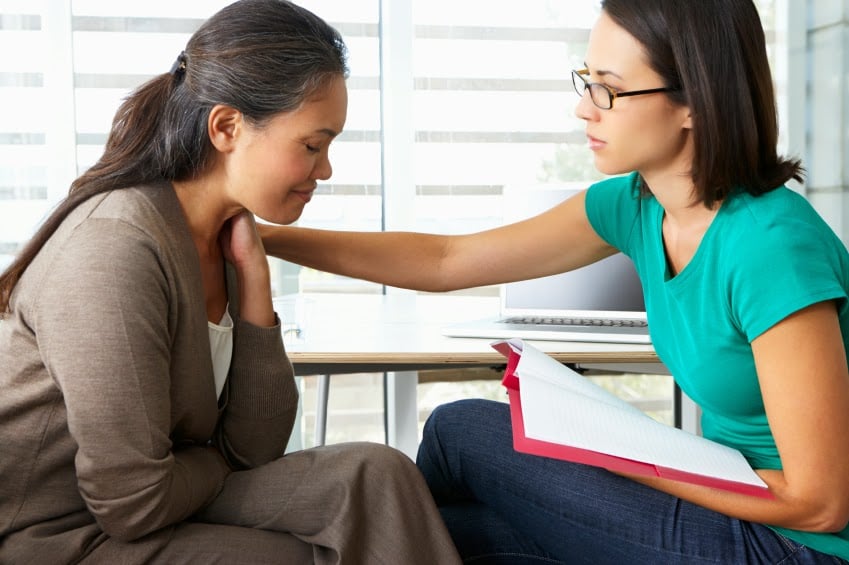 You might not immediately think of this career as a "health care" role, but it definitely falls under that category.
Community support workers (CSWs) help people with personal, social and mental health challenges. These challenges may include addiction, homelessness, domestic abuse, transitioning from prison back into society, and integrating into the community as a new immigrant.
Essentially, this is a social work position. The goal is to help people improve their lives through access to community-based programs and services—so they can get healthcare, safe housing, counselling, job opportunities, and other kinds of specialized support.
CSWs help make that happen. They work at halfway houses, youth centres, shelters, group homes, and residential care facilities.
CSWs help develop and deliver programs, provide counselling, and carefully follow their clients' progress through social services. They are absolutely essential to the health and welfare of Winnipeg's citizens and communities.
In community support worker training, students learn about mental health issues, addictions, sociology and family dynamics, counselling and interviewing techniques—and of course, how to connect people in need with the right programs and services, within the Winnipeg community.
Is there demand for community support workers?
This industry is growing quickly in Winnipeg. Community Support Worker gets 3 stars for job outlook from the Government of Canada Job Bank - it's highest rating.
There are many job opportunities for CSWs in Winnipeg, and demand in this field is expected to stay strong over the next several years.
Source: Government of Canada Job Bank/Community Services Worker
Have questions about a health care diploma program?
We strongly suggest speaking with an Admissions Advisor. An Advisor will explain all available health care diploma programs, and help you select the career path that fits you best.
Admissions also provides help with financial aid, arranging a course schedule that works for you, and filling out your application.
Chat live with an Advisor right now, or request information by email. We're here to help!