Torn between two business programs? Can't decide between several training options? You're definitely not alone. Business is such a broad field—there are so many career paths you could take, and so many business programs to choose from.
Over the years, we've trained thousands of business students. And they come from all backgrounds, age groups, and walks of life. There's no one, "ideal" business student.
Business programs attract everyone—from recent high-school grads and people changing careers later in life—to moms heading back to work, and newcomers to Canada.
Business is one of the most flexible, popular areas of study. So...how should you invest your precious time and money? Which business diploma makes the most sense for you?
Work through these 5 steps, and you'll be much closer to finding your path, and starting a career you'll love. Let's get started.
1. What are your basic needs as a business student?
Tackle the practical things first. Think about your basic needs, in terms of training, cost, time, and flexibility.
What are some absolutely essential characteristics you're looking for in a business program? Consider the following:
Length: Do you have time to spend 2 (or more) years on training? Or do you need a business diploma that takes 12 months or less to complete?
Costs: How much are you able to spend on training? Do you qualify for financial aid, grants, or scholarships to help with tuition?
Study format: Are you looking for online business training? Do you prefer to learn on-campus? Your answer will automatically eliminate some options.
Flexibility: Do you need a part-time business program, so you can balance school with work and/or family?
Make a short list of your top priorities. This step will help you narrow down your options, based on your basic needs as a student.
2. Look at the career options for each business diploma
If you have one or two colleges in mind already, take a look at the business programs they offer. Then look at the career options for each of those programs.
At Herzing College, for example, we offer 3 very different business diplomas at our Montreal campus:
1. Business Administration, Sales & Marketing
2. Accounting
3. International Commerce & Import/Export
If you take Business Administration training, your career options will include positions in:
sales

account management

marketing

accounting

office management

office administration

client services



If you take Accounting training, your career options will be limited to roles like:
accounting clerk

payroll clerk

AP Administrator

bookkeeper



And if you take Import/Export training, you will qualify for positions such as:
customs official

import/export clerk

sales representative

import/export merchant (start your own business)



Which career paths interest you most? If you want to keep your options open, and train for a range of different business roles, it makes sense to consider the Business Administration Diploma.
On the other hand, if you're really only interested in the finance side of business, you might as well get right to the point, and take Accounting training. You don't need to learn about marketing, office management, or sales.
The bottom line: Where do you want to be 2-3 years from today? What kind of work environment, and role, do you want to be in? Work backward from there, and look at business programs that will lead you toward your goal.
3. Rank your business strengths & weaknesses
Interested in a few business programs, and wondering if you've got the right skills to succeed in training, and start a successful career?
Rank your business strengths and weaknesses for each program/career you're considering.
Take accounting, for example. To do well in this program, you'll need to be:
naturally interested in finance

good at math

comfortable learning and using accounting software and office programs (like Excel)

a strong problem-solver

detail-oriented

good at following steps and procedures



Now take marketing and sales. To excel in this path, you'll need to be:
a team player

outgoing and good at building relationships

able to analyze data, work with charts and graphs

bounce back from setbacks, deal with criticism

a creative thinker

a good communicator, both spoken and written

comfortable with computers, social media, marketing and sales software

interested in human behavior, consumer trends and market research
Think about where your strengths lie. Dig deeper by looking at the course list for each business diploma you're considering. See what kinds of skills you'll be learning, and think about whether you're excited to dive into those topics.
4. Research local demand for the business careers you like
It's always a good idea to research demand for the business careers you're interested in.
Are there jobs in those fields? How difficult will it be to land your first position after business college? When you're looking at investing in business training, this is a really important factor to consider.
There are a few different places you will find this information.
1. Government of Canada Job Bank. The Job Bank lists the career forecast for thousands of jobs, in every region of the country. Type in the positions you're considering, and get the latest salary and job outlook report for your city.
Here's a good example for Accounting Clerk in the Montreal area. We can see the outlook is "good' ( 3 stars), and the median wage for this position is about $20/hour.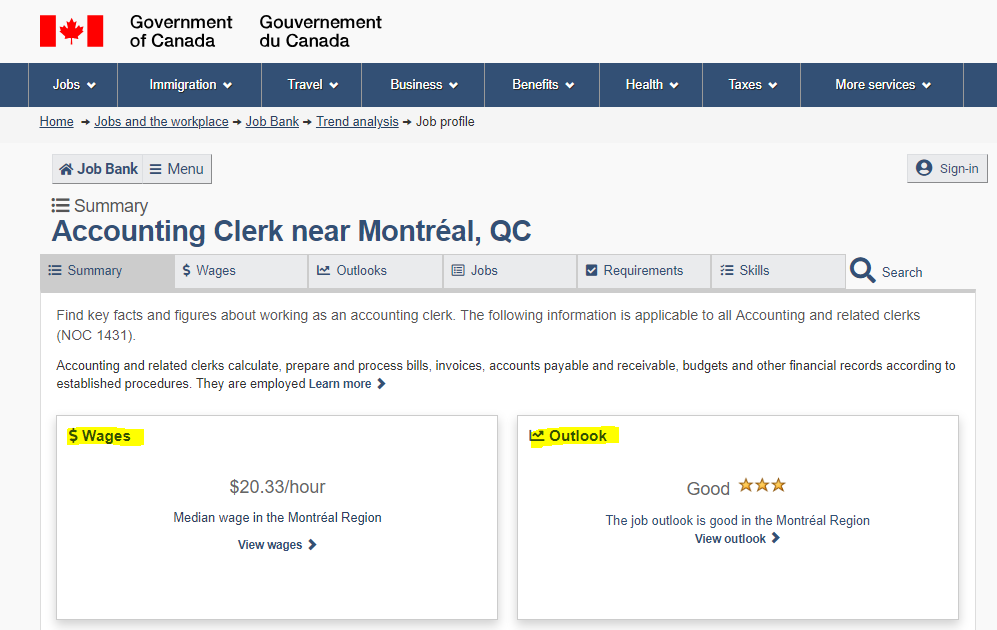 Click to explore other career paths with the Job Bank Career Exploration Tool.
2. Look at graduate employment rates for each business program. Find out what percentage of graduates get hired, after finishing the business programs you're considering.
Known as "graduate employment rates", this data can tell you a lot about local demand, and the quality of the training program.
At Herzing, for example, we publish graduate employment rates for each one of our business diplomas. You can find the information on our website. Here's a look at the most recent data, from our International Commerce & Import/Export page.
You'll see employment rates for the whole of Herzing Montreal; the business department; and the International Commerce Program.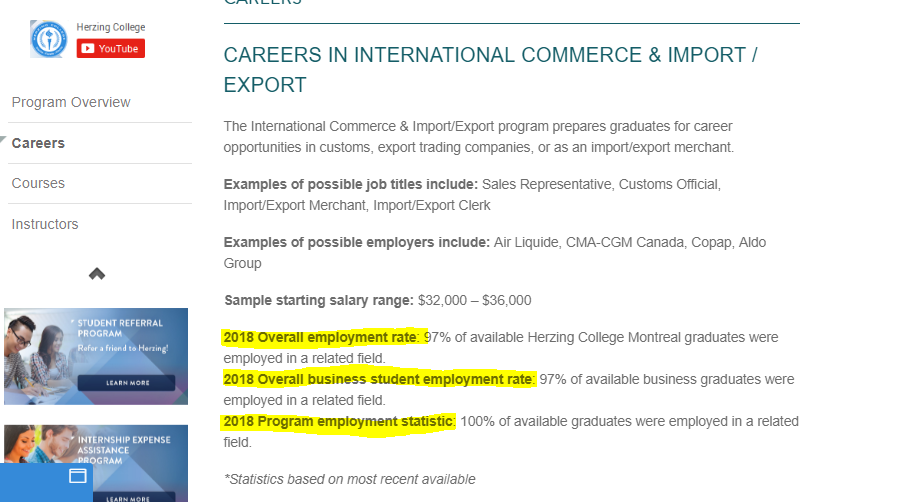 5. Meet with an admissions advisor to make your final decision
So, let's say you've gone through all these steps, and you have one or two programs you're really interested in.
Your next and final step is to book a meeting with an Admissions Advisor at the business colleges you're considering. Advisors are experts in matching people with programs.
They will ask you questions about your career goals, strengths, and learning needs to help you confirm which business diploma is your perfect fit.
Plus, when you talk with Admissions, you can check other key tasks off your list, such as:
figuring out your financial aid options

calculating your total program costs

booking a campus tour or class visit

taking an admissions test

getting all your questions answered
After your meeting with an Admissions Advisor, you'll know which program—and college—is right for you. And you can proceed with confidence toward your brand new career!
Still have questions?
If you need advice or program information, your next step is to speak with Admissions. An Admissions Advisor can answer all your questions, and guide you toward the program that best fits your needs.
Chat live with an Advisor right now. Or request quick information on business programs via email. We're here to help!