If you're considering business training, it's because you want better job options. You want a stronger resume, and a better shot at the best positions.
You want to perform better at interviews, feel more confident at work—or finally get that promotion you deserve (but can't get because you don't have formal business training).
Maybe you're just starting out after high school, or want to break into a new field later in life. Whatever your motivation is for reading this post, one thing is for sure. You know training is key to opening up new (and improved) career opportunities.
So, what exactly can you do with a college business diploma? Realistically, what jobs will you qualify for right after graduation?
Here's our breakdown of 4 solid options. Compare careers, find your ideal business program, and get one giant step closer to that dream job!
1. Business Administration & Office management
Office administrators do a lot of the work that actually keeps businesses and organizations running. They answer calls and emails. They deal directly with clients, book meetings, and manage schedules.
In most workplaces, admin assistants are the lifeblood of the business—handling reception, dealing with suppliers, coordinating team events, helping with marketing, and doing a wide range of clerical tasks.
Every type of organization needs administrators and office managers. At Herzing, quite a lot of our graduates land government positions. Others get hired by businesses, large corporations, and local community organizations.
After gaining experience in an administrative assistant role, you could compete for supervisor, team leader, or office manager positions. There are also opportunities to break into marketing and sales.
Check out this video with Herzing's Business Administration instructor, Caroline Glowatski. Find out what you'll learn, career options, and get a peek at a business admin class.
Fast facts about Business Administration training
A Diploma in Business Administration takes 12 months to complete
Program is available on campus and online
Learn Microsoft Office applications (Word, PowerPoint, Excel, Outlook)
Study business communications, accounting, office procedures, reception and customer service, marketing and sales, and how to start your own business
Get a guaranteed 8-week internship to gain work experience before you graduate
In 2018, 90% of our available Business Admin graduates were employed in a related field
Whether you already have office experience (and need to sharpen your skills), or are brand new to the field—this training will help you compete better for jobs and promotions.
Think this could be your dream career after business college? Click the button to explore the business admin program a bit further.
2. Accounting & Payroll Assistant
If you like math, don't mind working with spreadsheets, and want a job that is always in demand—accounting and payroll is a smart bet.
No business or organization can survive without skilled accounting professionals. And it's the payroll team that ensures employees get paid on time—clearly an essential role!
In many companies, these jobs go hand-in-hand. An accounting and payroll assistant performs a range of tasks, including:
manage accounts payable and receivable
process cheques and payments
maintain the general ledger
maintain files and store financial information
prepare financial statements and reports
You can land an entry-level accounting/payroll job straight out of business college. Our grads get hired by accounting firms and businesses of all shapes and sizes.
FAST FACTS ABOUT accounting & payroll TRAINING
A Diploma in Accounting & Payoll takes 10 months to complete
Program is available on campus or online
Learn a complete accounting software package (QuickBooks, Sage 50)
Learn every step of the accounting cycle
Learn how to calculate and process payroll
Get a guaranteed 6-week internship
In 2018, 95% of our available Accounting & Payroll graduates were employed in a related field
Think you'd be a good fit for a career in accounting? Check out the link below to explore the program, and learn more about courses and careers.
3. Supply Chain Assistant
Most people don't really know what a supply chain assistant does—or even what a supply chain is! But this career has been growing fast in Manitoba, and all across Canada, for years.
There's actually a big shortage of trained professionals in this field. What does the role involve, you ask?
A supply chain assistant helps organize and oversee the shipment of goods from point A to point B. They help companies get parts from suppliers, products to customers, and manage inventory.
Businesses are always trying to make this process better and cheaper, so demand is high for talented supply chain specialists.
In this role, you'd be responsible for tasks like:
scheduling distribution of goods
organizing transportation and delivery
tracking progress and keeping clients updated on shipments
preparing shipping documentation
inspecting and verifying incoming shipments
supervising workers who pack, unpack, and store products
negotiating with suppliers
helping keep costs low without sacrificing on efficiency
There are actually several different career paths in supply chain management, which you can begin with a college business diploma. This infographic gives a really good overview of the field, and where it could take you.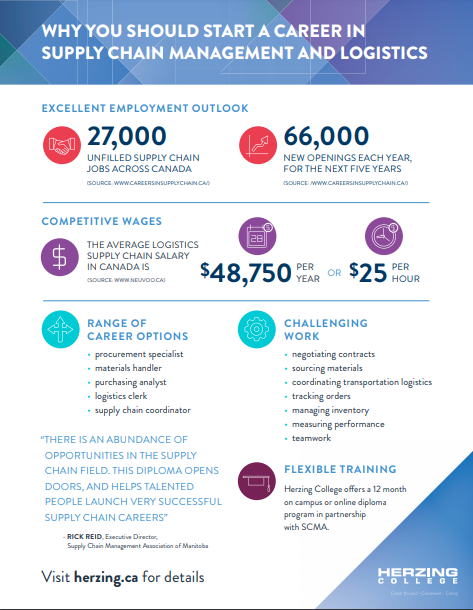 Fast facts about Supply Chain Management training
A Diploma in Supply Chain Management & Logistics takes 12 months to complete
Program is available on campus or online
Learn about every aspect of supply chain management: procurement, transportation logistics, marketing, contracts, business planning, operations and delivery of goods
Get a guaranteed 6-week internship to gain experience before graduation
In 2018, 82% of available graduates were employed in a related field
Diploma is endorsed by the Supply Chain Management Association of Manitoba (Herzing is the only private college in Manitoba to get SCMA endorsement)
Graduate with 2 diplomas: one from Herzing and a Supply Chain Management Training (SMT) diploma from the SCMA
Check out this video for a quick overview of supply chain training, careers, and program highlights.
If you want to dig deeper, click the button below to explore the Supply Chain Management & Logistics program, and learn more about this career.
4. Occupational Health & Safety Officer
This is one of the newer business programs we're offering at the Herzing Winnipeg campus. This is a good career path for someone who is interested in health and wellness in the workplace.
You want to protect employee rights to a safe and comfortable work environment. You're passionate about improving working conditions, and cracking down on businesses that don't follow the law.
What exactly does an occupational health and safety officer do? Main responsibilities in this role include:
performing health and safety inspections
developing health and safety programs
reporting businesses that aren't following health and safety regulations
There's growing demand for this position in Manitoba and other parts of Canada. Concerns about health and safety in the workplace are creating job opportunities for occupational health and safety professionals.
Fast facts about Occupational Health & Safety training
A Health & Safety Officer Diploma takes 12 months to complete
Study on campus or online
Learn how to identify workplace hazards, prevent accidents, deliver safety training, understand health and safety laws, Worker's Compensation Board and disability claims, and more
Graduates are eligible to get 2 important certifications from the BCRSP: the Canadian Registered Safety Technician (CRST) Certification, and after 4 years of work experience, the Certified Registered Safety Professional (CRSP) Certification
Both certifications are widely respected across Canada, and required by many employers
Think this could be your dream career after business college? Click below to take a closer look at the program, course list, and career information.
What next? Get help starting your business career
Need some help choosing a career path, or planning your next step? Your next move is to speak with a business college Admissions Advisor. These people are experts in matching students with the right programs.
They can also answer questions and help you figure out things like:
financial aid, scholarships and grants for your business program
whether you meet admission requirements
where you'll complete your internship
which business program is the best fit for your skills, experience, and goals
how to book a campus tour or class visit
what your class schedule will look like
Don't struggle through these steps on your own. Talk with a pro and map out a plan that will work—quickly and easily. Do this for any business college you're considering. It will help you choose the best school and program for your needs.
If you're thinking about Herzing College for business training, we're here to help. Chat live with an Advisor now, or request information by email to get started.