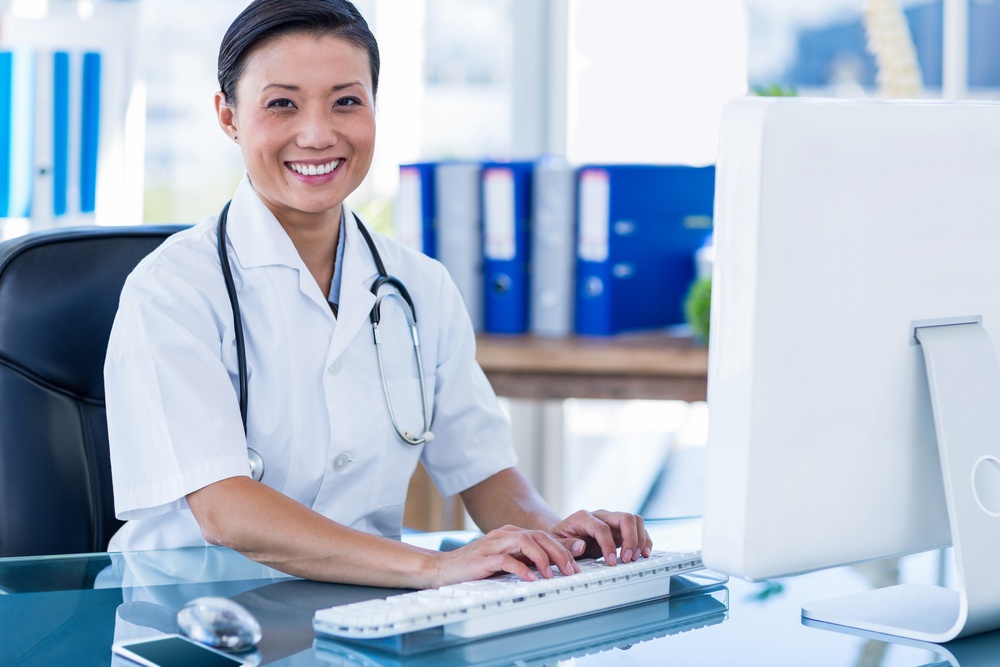 So, you're thinking about becoming a medical office administrator. This probably means you're a naturally well-organized person who wants to combine your management skills with hands-on patient care.
You want a meaningful job, where the focus is on making people's lives better. But you also want stability and a competitive salary.
If this sounds right, you're most likely a good candidate for medical office administrator (MOA) training.
But what else should you know about this program, before you invest your hard-earned money and precious time?
In this post, we're breaking down everything a prospective MOA student should be aware of, before they enroll in an MOA diploma. Here's a closer look at what to expect in class.
How long will it take to complete medical office administrator training?
The vast majority of our MOA students work while studying, and many have families to care for as well, so we know that time is probably a key factor for you.
Quality health care training is an excellent investment, but you don't have years to spend in the classroom.
The good news is that most medical office administrator programs can be completed in well under 1 year. In fact, it's possible to finish your diploma in just 7 months of full-time study.
At Herzing, our MOA program runs for 7 months, including a 4-week internship. It's designed to get students job-ready quickly, and requires about 20 hours of class each week.
MOA courses combine medical office skills with patient care techniques
Your role as a medical office administrator will be two-fold. On the one hand, you'll be responsible for office work, like billing, scheduling, and reception duties.
On the other hand, you'll be the "face" of the clinic. You'll need to put anxious patients at ease, communicate professionally with doctors and nurses, and may even have to perform minor medical procedures—like taking blood pressure and measuring other vital signs.
Given the range of tasks you'll be performing at work, you can expect your medical office courses to cover a lot of ground. Be prepared to study topics like:
Office software (Microsoft Word, Excel, Outlook, and PowerPoint)
Working with patient records, charts, medical histories, and reports
Installing and using clinical software for medical and dental offices
Professional writing techniques for sending reports, inter-office emails, and memos
OHIP billing and insurance
MOA ethical and legal responsibilities
How to communicate effectively with patients
Setting up for minor medical procedures
Certificates in Vital Signs, First Aid, and CPR
You can expect plenty of hands-on training and practice with the software and medical office procedures you'll be using at work.
Plus, your internship will help you apply everything you've studied in a real clinic or hospital setting. This is key for gaining confidence—and some professional experience—before you begin your first MOA job.
Your Employment Options After MOA Training
This is the most important aspect for many new students. Where will you be qualified to work after finishing medical office administrator training?
Fortunately, there is no shortage of options for talented MOAs. Your training will prepare you for jobs at:
medical and dental clinics
hospitals
physiotherapy and massage practices
chiropractic clinics
long-term facilities
It's also important to know the current job outlook for MOAs in your region. Job outlooks help you predict how easy, or difficult, it might be to find openings in your field after graduation. And whether your occupation is expected to be "in-demand" over the next few years.
The Government of Canada Job Bank is a good place to find this information. Every 3 years they publish a comprehensive report on job outlook for hundreds of occupations across the country.
The most recent report on medical office administrators in Ontario is fairly positive. This occupation gets a 2/3 star-rating from the Job Bank, meaning we're expecting a steady flow of new openings over the next 10 years.
There won't be a huge flood of new jobs in this field—but supply and demand will be stable. Waves of retiring MOAs will create opportunities, as well as government funding for more clinics and health care services across the province.
What's the best way to compete for MOA jobs? The Job Bank report has this to say on how to prepare yourself for a successful career:
"Candidates with training in medical office administration should have the best opportunities for securing employment...
Medical administrative assistants are expected to work closely with both doctors and the general public, therefore strong interpersonal and customer service skills are assets for job seekers.
Employment opportunities are also improved for candidates familiar with medical terminology, and who have a strong working knowledge of health care information system software, such as electronic medical records, and Ontario Health Insurance Plan (OHIP) billing."
In other words, these are the technical and communication skills you'll need to qualify for great jobs—so this is where your training will focus.
Next steps: Starting your medical office administrator training
If you haven't chosen a program yet, and are still comparing medical office administrator colleges, we strongly recommend talking with a qualified advisor.
Academic advisors are trained to answer all of your questions about training and careers in your chosen field, so you can ensure you're a good fit. They can also help with financial aid, fitting courses into your schedule, and setting up a campus tour.
Most colleges will even let you sit in on an MOA class—or take a free trial of the program—to make sure it's everything you're looking for.
Take full advantage of these resources, before you enroll. It's well worth it, to ensure you're investing in the right training, and starting a career that truly matches your needs and goals.
If you're seriously considering medical office administrator training, we'd love to hear from you.
There are a couple of ways to get in touch, and learn more about Herzing's MOA program at the Ottawa campus. Here's what to do next:
Get fast, free information about the program, how to apply, upcoming start-dates, financial aid, and much more.

Browse courses, and chat online with a qualified advisor. Get your questions answered, and plan your next move. We're here to help!