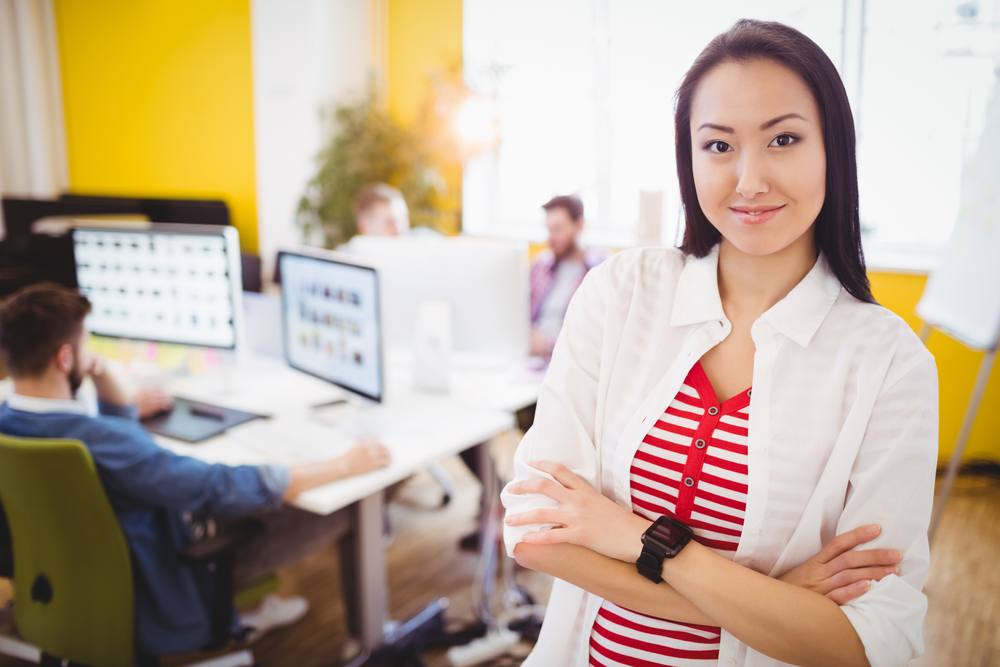 Or maybe the title should be, "what can't you do with a digital marketing diploma". Seriously—this is one of the most versatile training programs out there. Now that businesses have moved their stores online, there is a wide variety of new positions opening up in online marketing.
And it's not just retail businesses that need marketing professionals to manage their online presence. Community organizations, corporations, government agencies, schools, and businesses of all kinds are looking to be seen and heard in the digital space.
What's most interesting about this career path, is that universities are only just starting to catch up with the trend. You won't find many 4-year degrees in digital marketing out there. Most of the training in this field happens on-the-job, and through short certificate and diploma programs.
This opens up opportunities for people from all kinds of backgrounds. From the person with strong computer and analytical skills, to the creative writer who loves social media—digital marketing has space for a range of talents.
So, what exactly are your job options after earning a digital marketing diploma? Here's a look at both entry-level and more advanced jobs in this rapidly growing field.
Social Media Coordinator
This is a very typical entry-level job for recent digital marketing grads. Many, many companies are looking to expand their presence on social, make use of new advertising tools, and engage better with fans and followers.
It takes time, technical skill, and real knowledge to build a brand on social media, and turn followers into happy customers. Over the last few years, businesses have gotten really serious about social.
No longer do they believe this is something "anyone" can do. They're looking for skilled professionals who have studied social media strategy, and understand how to use the latest tools and techniques.
They want people who live and breathe social. If you're active on several channels, and really understand how the social media machine works, this could be an ideal career path to pursue.
A quality digital marketing diploma will help you transform your natural talent into a razor-sharp set of skills. What kinds of daily tasks would you be doing as a social media coordinator? Typical responsibilities include things like:
updating and managing existing social profiles
working toward strategy goals (earning new fans/followers, driving more traffic back to the website, increasing engagement, etc.)
developing ideas for campaigns
creating and sharing content (videos, photos, memes, announcements, interviews, testimonials, product reviews—whatever makes sense for your company)
responding to questions and comments online
writing and promoting blog posts
analyzing performance using tools like Facebook Insights, Google Analytics, and Twitter Analytics (keeping track of likes, comments, shares, retweets, clicks, traffic back to the website, sales, etc.)
Just starting out, you would report to a digital marketing manager or director. As you gain experience, you could move up into a supervisor role, and be more involved in strategy—or oversee a small team of social media specialists, who would help you meet marketing goals.
Related: Would You Make a Good Social Media Manager?
Paid Search Specialist
Paid search is all about advertising—on social media channels, on Google, using banner ads, etc. It's a good way to reach customers, promote products, and increase brand awareness quickly online. We've all seen this type of advertising when we search for something on Google, scroll through our social feeds, and visit websites.
Paid Search Specialist is very important role in digital marketing right now. Companies need people who understand how online ads work, and can really drive sales. Typical responsibilities for this role include:
developing and monitoring advertising campaigns on social, mobile, display network, etc.
getting the most out of your employer's paid search budget
coordinating content for ad campaigns (the ads themselves, landing pages, etc.)
figuring out where to place ads for the greatest impact
knowing when to shut down underperforming campaigns
reporting on performance using analytics
This is a good job for a numbers person. It's not as creative as a social media position—but Paid Search Specialists are highly sought after. Competition online is heating up, and having a really strong advertising strategy is one way to stay ahead of the curve.
If you take digital marketing training, you'll get an introduction to advertising, and could land an entry-level assistant role to gain experience.
Ultimately though, you'll want to pursue a professional accreditation—such as the Google Adwords Certificate—to enhance your skills and move up into a Paid Search Manager position.
The truth is, most marketing careers require ongoing professional development. You start with a digital marketing diploma, choose your field, and begin racking up certifications to become a true specialist in that niche.
With technology and online marketing techniques evolving all the time, everyone needs additional training to keep up, and do well. It's all part of the job. And it's what keeps things challenging and interesting for today's digital specialists.
Content Creator
This is the perfect role for someone with truly creative and technically advanced writing skills. Are you naturally good at research and story-telling? Do you know how to communicate fresh ideas with text and visuals?
Truly great writers are hard to find in the digital marketing world—and highly sought after. This is an excellent way to break into your first marketing job, and start learning the ropes of digital content strategy.
At first, you'll spend most of your time writing blog posts, and creating content for websites. You'll probably work on email campaigns, and help write landing pages for online advertisements.
Anywhere good copy is needed, there you'll be. Content creators do a little bit of everything—and are often required to manage social media accounts as well. Typical tasks for this role include:
creating content for online and print campaigns (including visual and video content)
writing copy for advertisements
researching keywords and search phrases, and integrating those effectively into copy
developing ideas for and writing blogs
publishing and sharing content online
helping create content calendars
tracking performance using analytics
As you advance, you may become a Content Strategist. This is the person who defines the brand "voice" and ensures it echoes authentically and consistently across all platforms. They research personas (target audiences), define key communication messages, and help shape the overall digital marketing strategy.
If you're a natural writer, with strong analytical skills, you could be very successful as a content strategist.
Related: Hot Digital Marketing Careers—Should You Become a Content Strategist?
Digital Marketing Coordinator/Specialist
This is a "catch-all" title that includes a lot of different responsibilities, depending on what the company you're working for needs. But no matter where you work, you can be sure that a digital marketing specialist position will require some or all of the following skills:
SEO (search engine optimization)
knowledge of marketing software (how to publish content, schedule posts, automate certain tasks, etc.)
at least basic knowledge of analytics
ability to contribute ideas to the overall digital strategy
ability to help manage online advertising
customer service (dealing directly with audiences on social, answering questions, responding to complaints, etc)
You may need a couple years of experience in social media, content writing, or paid search to qualify for this job. That's because the Digital Marketing Specialist needs knowledge of all these areas, to do their job well.
Your employer would expect your help with overall digital strategy, which would include paid search, social, content strategy, and analytics. Where you focus the most will depend on what the company needs, and who else you have working with you on the marketing team.
So, whether your goal is to specialize in one particular niche, or expand your skills to become a general marketing manager—there are many ways to steer your career, and explore new opportunities, in the digital space.
Related: Should You Take Digital Marketing Training? 5 Questions to Consider
Next Steps: Getting Your Digital Marketing Diploma
Serious about starting a career in digital marketing? Your next step is to select a quality training program, which delivers a solid foundation in all the skills we talked about here.
We strongly recommend speaking with an academic advisor to learn what's involved in earning a digital marketing diploma—and whether you'd be a good fit for this path.
An advisor will walk you through admission requirements, courses, costs, financial aid options, and class schedules. This is the best way to compare colleges, and find your best match.
Considering Herzing's Digital Marketing Specialist Program? This program takes just 9 months to complete, and is available both on-campus and online.
We're also offering a $6,000 scholarship to students who register before March 31, 2019—so don't wait!
Use the links below to explore the diploma, learn more about careers, and connect live with a knowledgeable advisor today. We're here to help.
Get fast, free information on admissions, courses, careers, and how to apply. An advisor will get in touch to answer questions you have, and help you plan your next step.
Browse the program, see a detailed course list, and chat live with an academic advisor. Get your questions answered quickly and easily online.