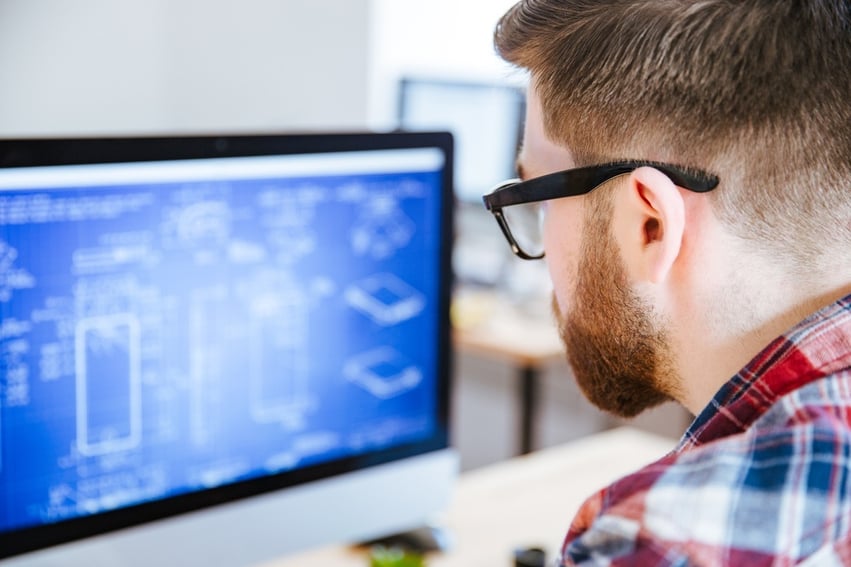 Considering embarking on a CAD and drafting diploma this year, and wondering what kinds of career options will be available to you after graduation?
Well, it depends on which application of CAD interests you most. Some colleges offer different "tracks" or "streams" within their drafting programs—areas of specialization students can choose, which dictate the skills they'll learn during the diploma—and the jobs they can apply for after college.
At Herzing, for example, we offer students several tracks within one comprehensive CAD and drafting program, so they can tailor their training toward the kinds of jobs they want after graduation. Two popular paths are 1) architectural CAD and drafting; and 2) mechanical CAD and drafting.
What's the difference between these two streams? What kinds of skills and software would you learn in either specialization? And crucially, what sort of work would you be qualified for after completing the diploma?
Read on to learn more about what you can do with a CAD and drafting diploma, and two of the most popular career paths students often follow.
CAD and Drafting for Architectural Design
Architectural drafters translate building ideas into drawings, schematics, and blueprints. They work with architects, engineers, builders—and sometimes directly with clients—to bring design ideas to life.
At the diploma level, students who focus on CAD for architecture study building systems and structures from the ground up. They learn how to produce site, foundation, and framing plans, as well as layout drawings for electrical, HVAC and plumbing systems.
This "stream" of the diploma also teaches advanced modelling, rendering, and animation skills, which can be used to create highly realistic images, and video "walk-throughs" of new building concepts.
A quality CAD and drafting diploma (with an architectural focus) involves many hours of practice on today's most in-demand building and modelling software. Students graduate ready to hit the ground running with tools like AutoCAD, Autodesk Architectural Desktop, and Autodesk 3ds Max.
Choose this path, and find work as a CAD technician at an architectural firm, construction company, or design firm.
CAD and Drafting for Mechanical Design
Mechanical drafting focuses on the design and production of everyday mechanical objects and machinery. Students pursuing this specialization learn how to make detailed drawings, specify dimensions, and construct models of mechanical devices and parts.
Mechanical drafters prepare blueprints and advise on manufacturing methods and materials. They work on everything from simple lighting fixtures to complex machines. The 2D drawings and 3D models mechanical drafters produce are used as guidelines to assemble products in factories, and create prototypes (for example, on a 3D printer).
The mechanical "track" of a CAD and drafting diploma focuses heavily on getting students comfortable with industry-grade software, such as AutoCAD Mechanical, Autodesk Inventor, and SolidWorks.
Graduates are prepared to use these tools to create animated depictions of parts, assemblies, orthographic projections, and rendered 3D presentations. After college they get jobs as CAD technicians with manufacturing companies, engineering firms, and electro-mechanical companies.
Job Outlook for CAD Technicians in Quebec
According to the latest research conducted by the Canada Job Bank, demand is expected to remain steady for CAD technicians across Quebec, for the next several years.
A wave of retirements will open up jobs for new graduates, and an increase in commercial and residential construction predicts positive employment opportunities for architectural drafters.
In fact, the majority (44%) of Quebec's CAD technicians and drafters currently work in architectural, engineering, and design services. Meanwhile, 12% work specifically in metal product and machinery manufacturing. In Montreal, there is a focus on transportation equipment manufacturing—6% of CAD technicians work in this field.
What kind of salary can students expect to earn as architectural or mechanical drafters?
Beginners typically start at 30,000 to 34,000 per year. The Job Bank pegs the highest salary for CAD technicians in Quebec at about $80.000 per year.
Keep in mind that a full 5% of all CAD technicians in the province run their own design business—which means they set their own rates, and determine their own earning potential.
Interested in learning more about CAD courses and career paths? Looking for a top-rated CAD college in Montreal?
Consider the CAD and Drafting Diploma offered by Herzing College at the Montreal campus. This program offers tracks for both architectural and mechanical design—and currently boasts a 100% graduate job placement rate.
Click below to explore a complete course list, see admission requirements, or chat live with a friendly advisor. We're here to help!