Whether you're fresh out of high school, or looking for better job options as an adult, career training is a fast, effective way to open up new opportunities.
And if you're going to invest in training, one of your key questions should be: Are there plenty of available jobs in my chosen field? How difficult will it be to land my first position after completing the program?
The ultimate goal is to find a career you like, and are good at—which also has strong employment prospects where you live.
We're covering one of those careers in today's post: Pharmacy Assistant. We'll look at the latest salary information, employment outlook, key skills, and training requirements for this role.
Find out if this is the career path you've been looking for—and what steps to take next.
Pharmacy Assistants Get Top Rating for Demand in Ottawa
Every few years, the Government of Canada Job Bank releases a report on demand and salaries for hundreds of occupations, all across Canada. This is a great place to look for information on careers, and see which occupations are growing where you live.
When we looked at the report for pharmacy assistants (also called Pharmacy Aides and Drugstore Dispensing Assistants) we found a very positive, 3-star rating for employment outlook in Ottawa. In fact, 3 stars is the Job Bank's highest possible rating for career outlook.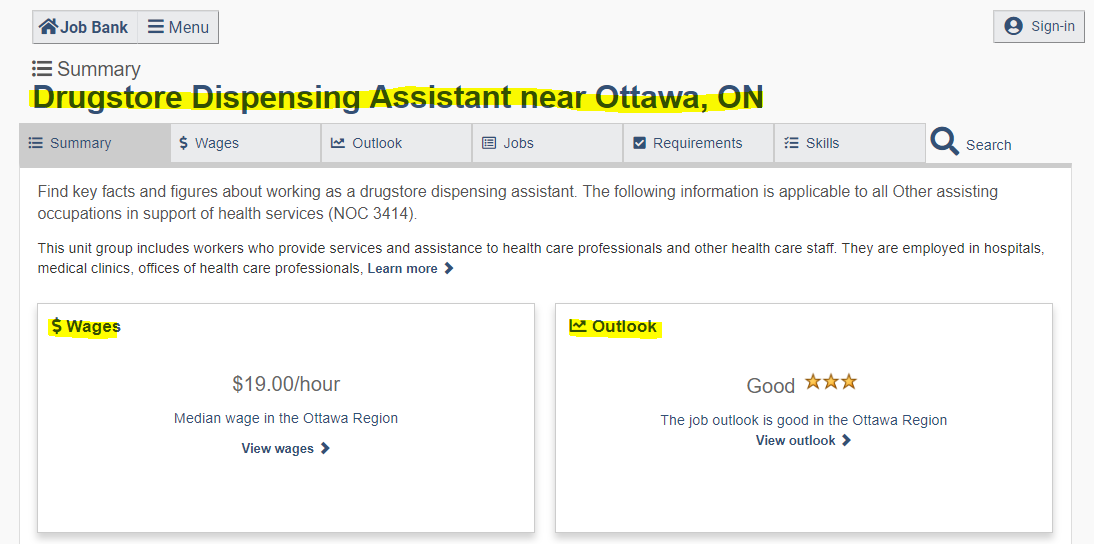 Latest report on salary and demand for pharmacy assistants in Ottawa (Government of Canada Job Bank)
What's creating jobs in this field? According to the Job Bank, there are two main factors pushing growth:
government investment in building more hospitals (where many pharmacy assistants work)
rapidly growing population of seniors in Ottawa, which is increasing demand for community health services (such as retail pharmacies)
How much money can you expect to make as a pharmacy assistant in Ottawa? Median salaries currently sit at about $40,000 per year—and go as high as $58,000 per year, at the highest end of the pay-scale.
What Exactly Does a Pharmacy Assistant Do?
The job outlook is good—but before you can decide whether you want to become a pharmacy assistant, you need to know what they do. In general, pharmacy assistants ensure the pharmacy runs smoothly by serving customers, helping the pharmacist with drug preparations, and doing administrative/clerical tasks.
Typical duties you would perform on a daily basis in this job include:
greeting customers and helping them find what they need
answering questions about pharmacy products (and referring clients to the pharmacist for more information)
taking inventory, and restocking products when necessary
checking for, and discarding, expired medications
packaging and labelling pharmaceutical products
blending ingredients for ointments, creams, powders, solutions, suspensions, and capsules
preparing IVs and nutritional mixes
working the cash register
handling billing and insurance claims
It takes a special blend of customer service skills and technical knowledge to do the work of a pharmacy assistant safely and effectively. More on required skills next...
Are You Suited to Become a Pharmacy Assistant?
In order to answer this question, you'll need to take a closer look at life on-the-job, and the natural characteristics needed to excel in this role.
For example, pharmacy assistants need excellent communication and customer service skills—both to work well with team members, and to ensure customers are treated compassionately and professionally (not everyone has this ability).
Attention to detail, and the ability to follow strict procedures is also extremely important. Accuracy is crucial for correctly processing prescriptions and preparing medications—errors can be life-threatening.
The ability to work quickly, and at times under pressure, is also key. Community pharmacies can be quite busy, and you'll need to keep pace.
Accuracy, reliability, efficiency, and a genuine desire to help others: these characteristics, combined with an interest in pharmacology, would make you an ideal candidate for this career path.
What Should You Expect From Pharmacy Assistant Training?
Pharmacy assistant training prepares students with all of the technical skills needed to get hired at a retail or hospital pharmacy. This is a quick diploma program that can usually be completed in under one year.
For example, Herzing's Pharmacy Assistant Diploma runs for 10 months—including a 4-week internship at a local retail pharmacy.
Your classes will combine theory with plenty of hands-on training, so you get practice performing routine pharmacy tasks (like compounding and dispensing, billing, processing prescriptions, updating patient records, etc).
Your courses will cover the following topics:
common generic and brand-name drugs
over-the-counter products
pharmacy computer software (for managing patient records, inventory, processing purchase orders, creating labels, etc.)
human anatomy and physiology
how to avoid medication errors
basic mathematics (for calculating medication dosages)
customer service techniques
compounding medication and preparing infusions and solutions
blending ingredients for creams, ointments, powders, capsules, etc.
Where can you work after pharmacy assistant training?
Pharmacy assistants often work at retail pharmacies, like Rexall or Shoppers Drug Mart. But many also work at hospital pharmacies, where the job description is a little bit different.
At a community retail pharmacy, there is a stronger emphasis on customer service. You'll spend most of your time answering questions, explaining prescriptions, and handling billing and insurance claims.
At a hospital, you'll be serving other healthcare professionals, like nurses—rather than the general public. You would focus more on preparing IVs and nutritional mixes, re-stocking carts, updating patient records, and producing documents for nurses.
Starting Your Pharmacy Assistant Career
If you're serious about pursuing pharmacy assistant training, and want to learn more about programs and careers, we can help. We strongly recommend talking with an admissions advisor, to understand application requirements, career options, and other important details.
An advisor will walk you through the courses, explain tuition and financial aid options, and help you map out a study schedule that makes sense for you. You can also arrange a campus tour, or even sit in on a pharmacy assistant class, to ensure you're making the right choice.
Your education is the most important investment you'll ever make. Take your time, get help from an expert, and make the best decision for your future.
Chat live with an Admissions Advisor right now. Or click below to explore Herzing's Pharmacy Assistant Program.