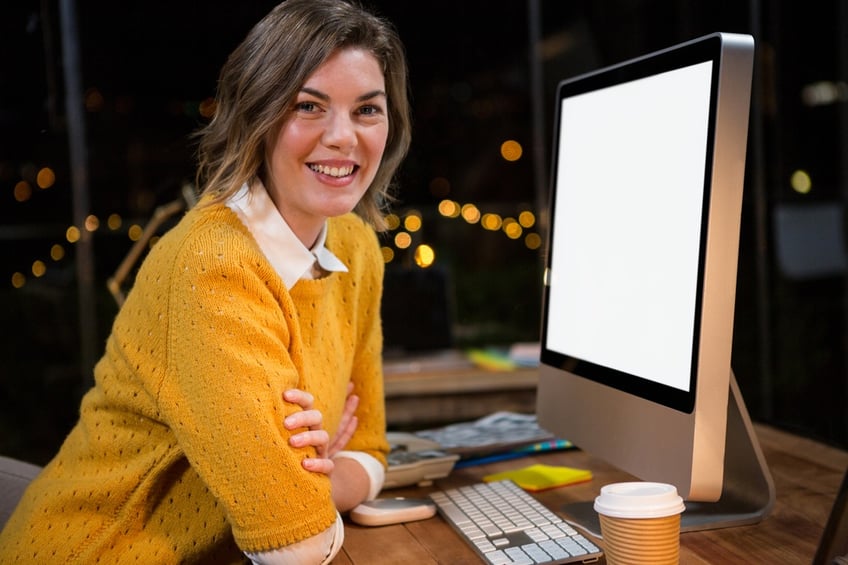 Online marketing can be quite mystifying for students who have just graduated from paralegal training, and are striving to attract their first clients. After all, you're a legal expert, not a digital strategist!
And while there is indeed an investment of time, energy (and sometimes money) required to promote yourself online, it is a proven and absolutely crucial means of building up a successful practice.
Not sure where to begin or what steps to take first?
In this post, we focus on three key components of your online strategy. These are three elements you should start with to foster trust in your expertise, attract visitors to your practice, and convert those visitors into happy customers.
Welcome to the world of online marketing and business development! Let's get started.
1. Setup a Simple Website for Your Paralegal Practice
Think your paralegal practice doesn't really need a website? Think again!
Where do you go to find products and services, or read reviews before making a purchase? How much time do you spend online each week?
A 2016 study found that a whopping 88.5% of Canadians are now avid internet users. And research by comScore Canada revealed that we spend an average of 36 hours browsing online every month.
You can rest assured that your future clients are searching for paralegal services online—and that you need a website to get your name out there, and connect with those people.
You don't necessarily have to hire a design firm to get started. There are plenty of free and low-cost tools out there to create your own site (like WordPress and Wix). You can upgrade your website with additional functions and plugins as you gain experience.
What information should be laid out on your site? Essential sections or pages to create include:
a "why choose us?" or "about" section (a description of how your practice stands out, and your commitment to superior client service)
a breakdown of available services (the areas of practice in which you specialize, with a detailed description of scope)
contact information (include social media, telephone, email, and your office address)
client testimonials and positive reviews (gather these over time, and highlight one or two on your homepage, until you have enough for an independent review section)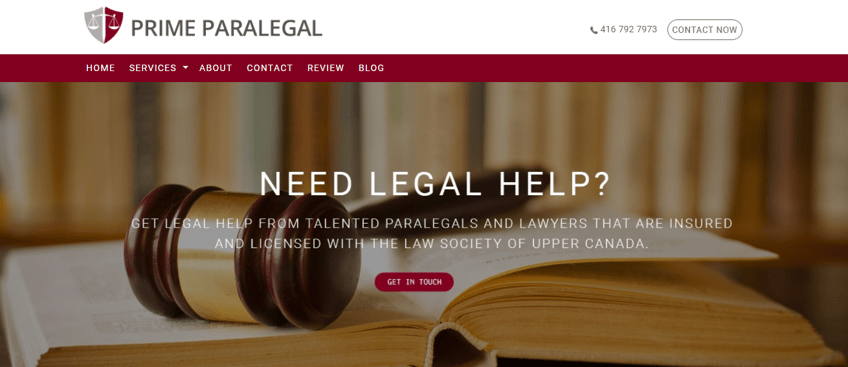 Example of a paralegal website with sections for About, Services, Contact, and Client Reviews
Start Building an Email List of Current and Potential Clients
Another key feature to include on your website is an email contact form. This is where potential clients can leave their email address for you to follow up with them, and learn more about their legal issue.
The contact form always has a "call-to-action", a special offer that entices people to go ahead and input their address. In the example below, the paralegal firm is promising a "free case assessment" to all site visitors.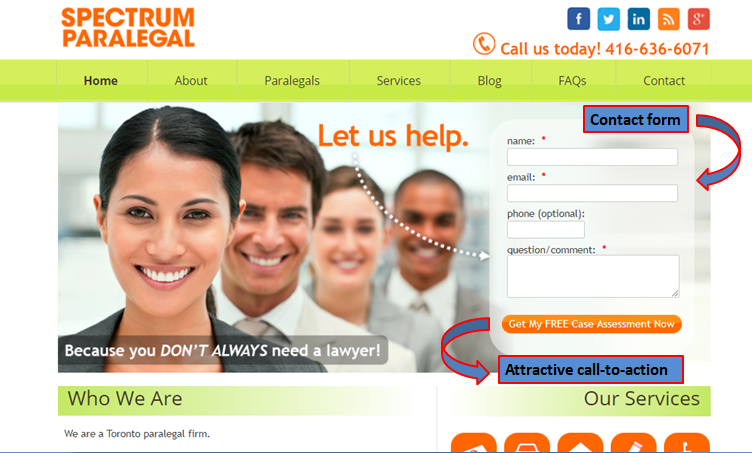 The offer should be a no-strings attached, helpful service that will help you connect with prospective clients and earn their trust.
Best case scenario: you follow up with the free consultation, and the person immediately becomes your client.
In other cases, the person won't be quite ready to proceed. They're probably shopping around with your competition.
This is where the email you collected from them becomes very valuable. It allows you to follow up again, by sending a message that seeks to "continue the conversation" and keep your practice at the top of their mind. Chances are, they'll end up going with you versus another firm that doesn't use this marketing technique.
You can build up your contact list over time, and use it to nurture prospects into clients, send out updates, and request referrals. This is called email marketing, and it's a proven, highly effective way to grow a small business.
2. Develop a Social Media Presence
Social media profiles and websites go hand-in-hand when promoting your practice online. Your website should offer links to at least one social profile—start with Facebook—and your social profiles should point visitors back to your website.
Social media is extremely valuable for building trust in your expertise, establishing the credibility of your practice, and advertising your services with paid campaigns. Facebook is the rising star of online advertising, with options to target your audience at very reasonable prices.
What kinds of content should you include in your profile, and share as updates? You should aim to:
educate prospective clients on your areas of practice
explain key concepts, such as the kinds of cases you handle in small claims court, or the types of landlord-tenant disputes you can help resolve
share tips, relevant updates, photos, videos, and client reviews
provide information about where your paralegal practice is located, easy ways to contact you, and emphasize what makes you unique
Take a look at this Facebook example, from Paralegal Ease, a Toronto-based firm.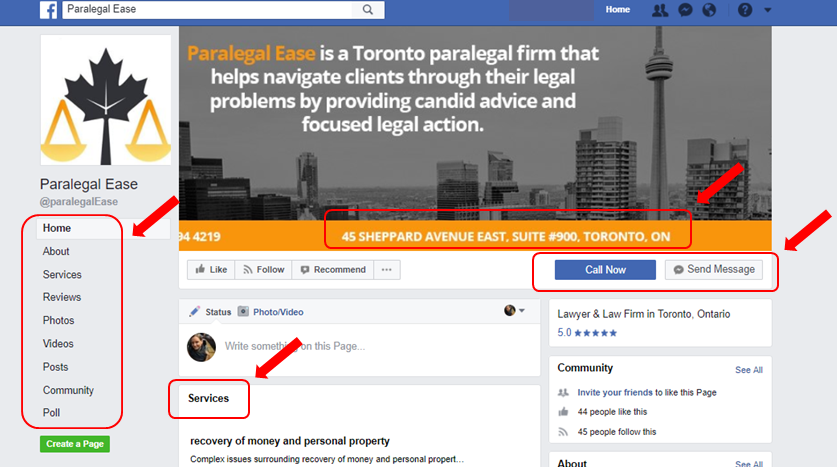 Over time, you can add a blog section to your website, and share those articles on your social channels. This is a time-consuming technique, but very worthwhile as a tool for demonstrating your knowledge, attracting your audience, and helping your website rank higher in search engine results.
And there you have it. Three fundamental online marketing tools to start working on now, before you finish paralegal training—or soon after graduation.
Interested in learning more about paralegal careers and scope of practice in Ontario? Looking for a top-rated paralegal college in Ottawa?
Explore the Paralegal Training offered by Herzing College at the Ottawa campus. Click below to see a detailed list of courses, admission information, career options—or chat live with a friendly advisor. We're here to help!