All across Canada, we're seeing steady employment growth in occupational health and safety. Rising concern over workplace accidents, injuries, and disability claims are creating jobs in this field.
There is also a strong focus on food safety and environmental protection—which have increased demand for inspectors, training providers, and risk management specialists.
This is the domain of the occupational health and safety officer. Curious about training and careers in this field?
In this post, we cover all the basics. Learn about health and safety diploma programs, job opportunities, the most popular industry certifications, salaries, and what it takes to get started.
Starting Your career as a Health and Safety Officer
This role goes by a few different names. Health and safety officers are also known as:
health and safety coordinators

safety officers

safety advisors

safety coordinators
But all of these job titles boil down to a similar set of responsibilities. A health and safety officer inspects workplaces, and ensures organizations are following government regulations regarding pollution, sanitation, safe working conditions, and appropriate handling of hazardous substances.
This role involves assessing risk, developing (and delivering) safety training, and working with companies to continuously improve their approach to workplace health and wellness.
Health and safety officers also investigate complaints and accidents. They have the power to initiate enforcement procedures to fine or even close an establishment that does not comply with the law.
The goal? To eliminate work-related injuries and deaths—and create working environments that are physically and psychologically healthy for all.
Just starting out, you may begin as an Assistant Health and Safety Officer, working under a more experienced professional. Entry level roles like this require minimal experience, and are ideal for new graduates.
There are also health and safety supervisor and manager jobs available, for those with more experience and advanced certifications (more on the certification process later).
Where can you work as a health and safety officer?
Health and safety officers have numerous career options in both the public and private sectors. They are hired by government agencies to inspect public facilities, such as schools, hospitals, and municipal water treatment systems.
Safety officers also work in private health care, the manufacturing industry, for construction companies, and businesses that provide safety auditing services to other companies.
Health and safety touches all domains. Occupational Health and Safety instructor, Andrew Pugachev, says his students come from many different professional backgrounds:
"We have students from a wide range of industries, including construction, trucking, health care, manufacturing, the military, mining, hospitality and so much more. It's definitely a very diverse field."
As of right now, the popular job site Indeed lists over 350 Health and Safety Officer positions in Ontario. Employers span everything from building contractors and construction firms, to public services providers, aviation companies, petrochemical organizations, and the provincial government.
Andrew says his students get field experience in many different work environments, and that the health and safety industry is always hiring.
"Our internship program has seen placement for our students within construction, manufacturing, trucking, and safety auditing organizations. Grads are getting hired straight out of their internships, which is an excellent sign of growth in this field"
Official data from the Government of Canada Job Bank reflects these trends. The Job Bank says employment in this industry has been increasing for the past decade, and predicts steady/fair demand for health and safety officers in Ontario going forward.
According to the report, demand in strongest in the Hamilton-Niagara region, which gets the Job Bank's highest rating for employment outlook (3 stars). The Muskoka-Kawarthas region also gets 3 stars for growth in the health and safety field.
Health & Safety Officer Job Outlook Across Ontario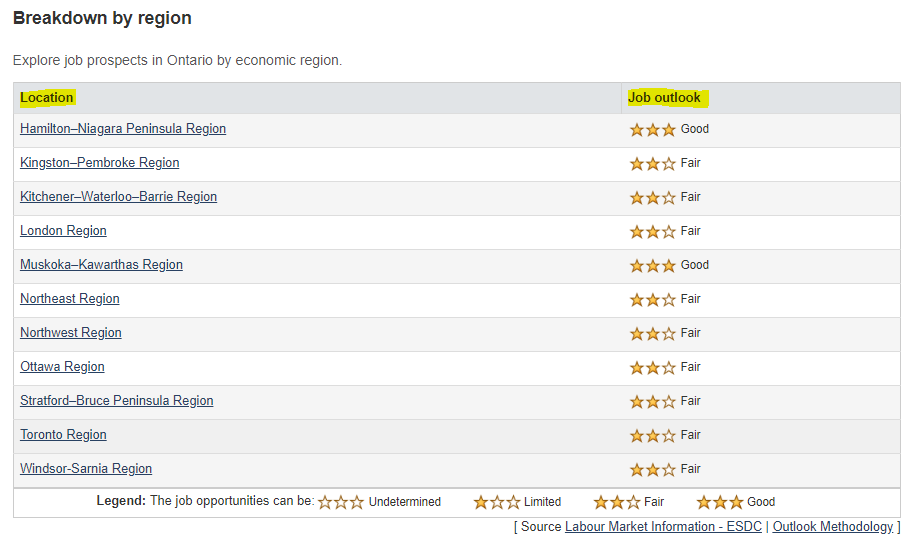 Government of Canada Job Bank: 2018-2020 Outlook Report
Health and Safety Certifications
You'll find that many employers in this industry will only hire candidates who have nationally recognized certifications. This is on top of any degree or diploma in occupational health and safety you may have.
The most widely recognized and respected certifications in this field are granted by the Board of Canadian Registered Safety Professionals (BCRSP). The BCRSP offers 2 levels of certification:
1. Canadian Registered Safety Technician (CRST). Graduates from an approved health and safety training program can write the CRST exam, and if successful, hold the Technician level certification. You can challenge this exam immediately after graduating from a diploma program.
2. Canadian Registered Safety Professional (CRSP). To earn this certification, you must graduate from an approved program AND gain at least 4 years experience in the field. This is an advanced credential, and the gold standard for health and safety professionals.
Fast facts on the benefits of getting certified (Source: BCRSP)
70% of employers list the CRSP certification as a requirement for a professional position in Health and Safety

the value of this certification is reflected through salary and promotion

In 2017, the BCRSP Salary Survey reported that the median salary for CRSPs was $80,000

Across Canada, 50.5% of CRSP respondents reported salaries of above $100,000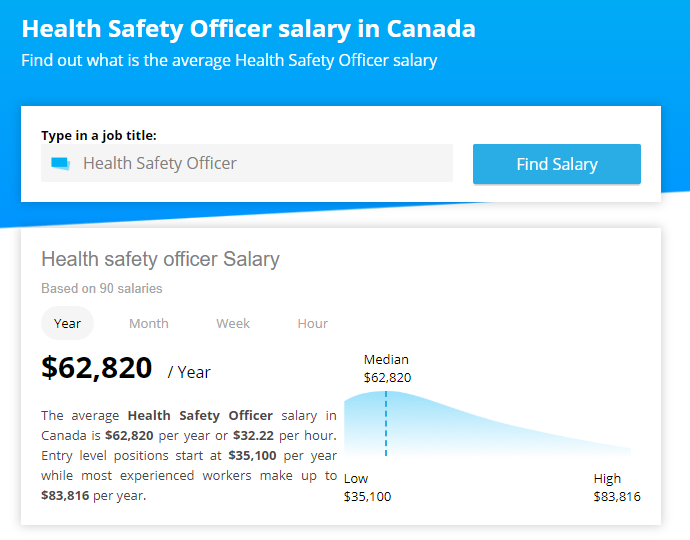 Source: Neuvoo
Learn more about Health and Safety Training Programs
If you're interested in starting a career in occupational health and safety, your first step is to enrol in an approved health and safety program.
Only graduates from BCRSP-approved programs are eligible for certification.
Several colleges in Ontario offer health and safety training. They vary according to length, flexibility, and delivery methods (on campus/online).
It's important to find the format that best fits your needs—but it's also key to look at who is teaching the course. Do they have extensive professional experience in occupational health and safety? What different roles have they held within the industry?
We recommend asking Admissions for information on the instructor, plus a detailed course list, so you can fully understand the skills and theory you'll be learning in class.
Fast facts about Herzing's Health and Safety Program
12 months long (full time)

guaranteed 12-week internship

online study option available

BCRSP-approved

graduates are immediately eligible for CRST certification



Meet our instructor, and learn more about what to expect in class here: Occupational Health & Safety Training: Our Instructor Answers Your Questions
Or, click below to explore the Health and Safety Program, see a course list, and chat live with an Admissions Advisor. We're here to help!