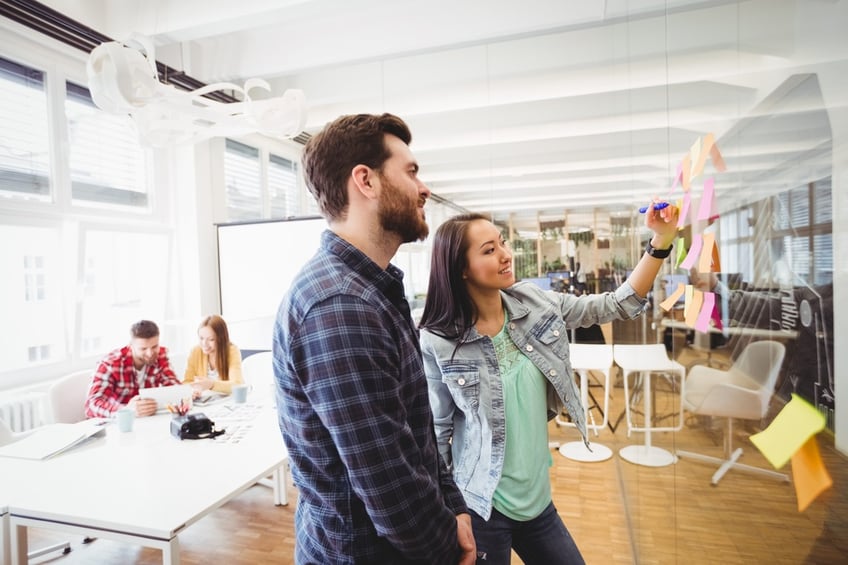 After graduating from web design school, students have a few different career paths from which to choose. Some may opt for freelance work. Others will look for a position with a brand, business, or professional organization. And some graduates will find themselves working for a marketing and/or web design agency.
In this post, we look deeper at that third option—and explore some of the typical pros and cons of agency work, plus the unique skillset needed to excel in this environment.
Planning to pursue the agency career path? Read on to learn more about what lies ahead.
What kinds of agencies might you work at?
There are a few different kinds of agencies out there where web designers can find work. Some are strictly web design and development shops, while others provide a whole range of related services, such as SEO, inbound marketing, branding, social media management, and online advertising.
Toronto hosts hundreds of media and design agencies. Some target a particular slice of the market (such as start-ups, tech companies, or e-commerce), while others are generalists, who work with, for example, a wide range of small to medium-sized businesses.
The type of agency you sign on with will dictate the kinds of projects you're assigned. More on this next.
What sort of design work will you do?
The kinds of tasks you're assigned at an agency will depend, in part, on the type of clients it serves. However, most agency positions demand a combination of web and graphic design skills, and expect designers to deliver the following:
new website designs (for desktop and mobile)
landing page designs
newsletter templates
visual content for social media (infographics, custom images, etc)
advertising banners for online campaigns
customized email templates
print materials for conferences, trade shows, etc. (like brochures, business cards, and booth banners)
client proposals and presentations
It's safe to assume you won't work exclusively on web sites. For some, this could be considered a drawback—but for others, diversity of tasks provides a chance to expand their skills and take on new challenges.
Typical pros & cons of agency life
One of the most common concerns for anyone working at a design agency is workload. This job is not for anyone who fears tight deadlines. In order to survive, agencies need clients—lots of them. And they need a continuous flow of work from those clients—which for designers, usually translates into many simultaneous projects and competing timelines for completion.
To thrive in this setting, you'll need to be comfortable bouncing between projects, coming up with ideas on the fly, and working in a highly efficient way to complete tasks on time. Keeping up with the fast pace of agency life can be stressful for some, while others find it drives creativity and keeps boredom at bay.
Another typical challenge (for some) is repetition of tasks, and sometimes, the reluctance of agencies to try new things. The digital space is highly competitive. Some design firms are simply unwilling to take risks on new design concepts, preferring to stick with what is "tried and tested".
If you're committed to breaking boundaries in the design world, you'll need to seek out a truly innovative agency—which some would say, are few and far between.
Prefer to work on your own, rather than collaborate with a team? Agency work is not for you. Agencies are by nature collaborative, busy places. Not only will you partner up with developers and content creators, you will need to coordinate with a wide range of clients. This means adapting your tone and communication style per each client's needs—and always acting as a "team player".
Agency floor plans are usually open concept, so get ready to share space with your colleagues. You'll rarely find a web designer behind a closed door at an agency.
What's the bottom line?
There are no definitive "pros and cons" for agency designers. Each potential drawback could also be interpreted as an opportunity, depending on your career goals and personal preferences. The bottom line is, if you're considering an agency job after web design school, you should posses the following traits:
adaptive
excellent time management skills
can work under pressure and within tight deadlines
are comfortable juggling multiple assignments simultaneously
strong collaborator/team player
diplomatic, customer service-oriented
quick to pick up new skills, and new design applications
great at receiving constructive criticism and adapting design concepts accordingly (you'll routinely get feedback from your team leader and from clients—so a thick skin and fair amount of humbleness is key for this role)
Have more questions about web design careers? Looking to kick-start your training at a top-rated web design school?
Take a look at the Web Site Design Program offered at Herzing College in Toronto. Visit the program page to browse a detailed list of web design courses, learn about admissions, or chat live with a friendly advisor.
Special note: Herzing is currently offering web site design students the chance to pursue a Dual Diploma in graphic design, for free. After completing your web site design training, take an additional 4 months of graphic design training at no extra charge!
Get two diplomas for the price of one. Expand your skills to meet the growing demands of today's design jobs—such as agency web designer.