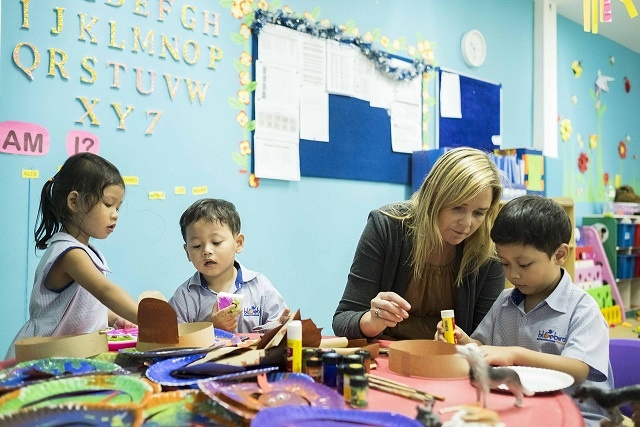 Working with young children is one of the most rewarding careers in the world. You get to see little kids learn and grow right before your eyes. And you get to play a key role in their development as human beings and members of our society.
Becoming an early childhood educator is truly a calling. Not everyone has the natural characteristics, passion, and dedication to build a successful career in this field.
So, how do you know if you should choose this path?
Take a look at the 6 key points on this list. If you answer "yes" to each point, and believe this profile reflects you, you're definitely a good candidate for early childhood education training. Let's get started!
You love being around young children
It should go without saying that early childhood educators should truly love working with young children. But we'll say it anyway—because it's such an important part of this career.
Maybe you're the person everyone calls for baby-sitting, because you're so great at it. Or, maybe you have kids of your own, and really enjoy helping them learn and grow.
Even if you don't have much experience looking after young children, you might feel a special calling to pursue this career. You may recognize that kids literally are our future as a society, and you want to play a part in teaching and supporting the next generation.
If you're passionate about this field, you'll have the motivation needed to do well in training.
You're interested in child development
Along with enjoying spending time with kids, you should be genuinely interested in their development—cognitively, physically, emotionally, and socially. Learning how children develop is the foundation of early childhood education training.
A quality program will cover topics like child psychology, human development, and child health. You'll study exactly how children grow and evolve, from zero to 12 years.
You'll learn how to deal with learning and behavior challenges, and how to encourage kids to play, socialize, and develop a wide range of skills. By the time you finish training, you'll be fully prepared for work at a daycare or pre-school.
Related: Early Childhood Education—Amazing Things Babies Learn by Age One
You're a natural planner and organizer
Have you ever been to a kids' event where the planning is lacking, and things slowly slip into chaos? When you put a group of young children together, but don't keep them organized with activities and some kind of schedule, things tend to go wild pretty quickly.
That's why early childhood educators put a lot of thought into planning. They map out the day, dividing their time into games, activities, meals, clean-up, outings, and nap time. They teach kids how to follow a routine—which not only keeps everything organized, it helps prepare them for the structure of kindergarten.
Early childhood education training includes plenty of instruction on activities planning. You'll learn tons of fun, educational ways to occupy your little students, and help them learn essential life skills.
Being a good educational planner is something you'll work at, and improve, over time. But in general, you should be a fairly well-organized and detail-oriented person, if you want to pursue a career in this field.
Learn more here: Your Top 5 Goals as an Early Childhood Educator
You are patient and compassionate
One of your most important goals as an early childhood educator (ECE) is to build trust with the children in your care. Think about how hard it is for some kids to leave their parents or guardians for the first time, to start daycare.
They'll be looking to you for comfort, reassurance, and safety. ECEs need to build positive connections with their students, so they can adapt to this new experience, and really thrive at the daycare or preschool.
This takes patience, compassion, and an overall friendly and open demeanor. If you're a naturally giving and nurturing person, you'll do well in this role.
Related: 4 Most Inspiring Reasons to Pursue Early Childhood Education Training
You're ready to be a role model
All teachers are role models, including of course, early childhood educators. ECEs are a child's very first teacher outside of the home. This career comes with a hefty responsibility to model good judgement and behavior at all times.
Your little students will look up to you. They will imitate you. They will watch how you treat people, and adopt those habits. Are you ready to be a role model for young children?
This post will help you decide: 7 Signs You're Destined for a Career in Early Childhood Education
You know what's involved in Early Childhood Education training
Have you looked at Early Childhood Education programs in Montreal? Do you know about admission requirements, what colleges are looking for in applicants, and the average length of training?
At Herzing, for example, our Early Childhood Education Diploma takes 14 months to complete full-time. This also includes an 8-week internship, caring for children in an educational setting. You can take the program in English or French.
We interview applicants to make sure they possess the characteristics needed to excel in the program, and launch successful ECE careers. We also ask applicants to take a general admissions test, in addition to other requirements.
Before you enrol anywhere, take the time to compare a few different colleges. Take campus tours, and talk with admission advisors at each school. This is the best way to select a quality ECE program, and find the college that really fits your needs.
Related: Top 10 Skills You'll Learn in Early Childhood Education Courses
Want to learn more about Herzing's Early Childhood Education Program? We'd love to hear from you.
Use the links below to explore the program, and chat live with an admission advisor. We can help you decide if early childhood education training is right for you, and how to plan your next step.
Get fast, free information about the program and how to apply. An advisor will follow up to answer your questions and offer assistance.
Browse the program, see a detailed course list, and chat live with a friendly admission advisor. We're here to help!