If you've landed on this blog post, it's because you're considering a career in accounting and payroll. You're probably wondering about the different jobs available in this field, and which options make the most sense for you.
The answer to that question starts with looking at your accounting training options. Do you want a university degree or a college diploma? How much do you want to spend on training, and how quickly do you want to graduate and enter the workforce?
In this post, we're looking at the faster route: a diploma in accounting and payroll.
We'll break down what to expect in training, your job options after college, and the kinds of skills you'll need to build a successful accounting/payroll career.
By the end of the post, you'll know if this path is right for you—and exactly what steps to take next. Let's get started.
Getting your accounting and payroll diploma
Your first clue about what it's like to work in accounting/payroll is the training program. Look at the course list, and you'll see the skills and knowledge you need to get hired.
These are the same things you'll be doing on a daily basis, in any job you get after college. A typical accounting and payroll diploma covers fundamentals like:
the principles of accounting

accounting software (like Sage 50 and QuickBooks)

the complete payroll process

office applications (Word, PowerPoint, Outlook, and Access)

how to build spreadsheets and use formulas in Excel

business math
By the time you finish the program, you'll know how to manage the entire accounting cycle for a business. You'll know how to process payroll in compliance with laws and regulations. You'll know how to use a complete accounting software package and run calculations in Excel.
These are the skills you'll learn during training—and a good preview of life on-the-job as an accounting and payroll professional.
Quick Facts on Accounting/Payroll Training
Program length: 10 months

Internship: 6 weeks

Delivery: on campus OR online

Requirements: Canadian high school grade 12 (or equivalent), or a mature student
At Herzing, we offer this program on campus in Winnipeg—and online, through Flex-Ed, from anywhere in Canada. You can choose the option that works best with your schedule.
Accounting Career Option #1: Accounting Technician
Accounting technician is a typical, entry-level job for new graduates. In this position, you'd be working under a more experienced accounting professional.
You would be doing a little bit of everything—a combination of bookkeeping and payroll tasks. Your responsibilities would include:
maintaining and balancing accounts

maintaining general ledgers

preparing financial statements, statistical and accounting reports

calculating and preparing cheques for payroll

preparing and submitting tax remittance forms
Accounting technicians work for private businesses, non-profits, government—anywhere skilled accounting help is needed. This job is also known as "bookkeeper" and "accounting clerk".
How much will you earn?
Median salary for accounting technicians in Winnipeg: $21/hour ($41,000/year).
High-end salary for accounting technicians in Winnipeg: $32/hour ($66,000/year).
(Source: Government of Canada Job Bank, Wage Report)
Accounting Career Option #2: Payroll Administrator
This position is all about payroll. You would be responsible for ensuring employees get paid on time, and in the correct amount.
Payroll administrators collect and process pay-related information. They calculate benefits, deductions, leave, taxes, overtime pay, etc.—ensuring the company is following payroll regulations.
Typical tasks for this job include:
collecting and updating employee information

preparing statements of earnings for employees

prepare and process all employee payments, including regular pay, bonuses, vacation pay, and benefit payments

complete and process forms for pension plans, leaves, share savings, employment and medical insurance

prepare year-end tax statements and Records of Employment
Payroll administrators work for private businesses, government, and payroll administration companies. This job is also known as "payroll clerk" and "payroll officer".
How much will you earn?
Median salary for payroll administrators in Winnipeg: $24/hour ($49,000/year).
High-end salary for payroll administrators in Winnipeg: $29/hour ($60,000/year).
(Source: Government of Canada Job Bank, Wage Report)
Strong Demand for Accounting Professionals in Manitoba
Here's the good news: this is a really good time to start an accounting and payroll career in Manitoba. According to several job market reports, demand for this role is high throughout the province—and all across Canada.
For example, take a look at this Government of Canada Job Bank report on Accounting Technicians. It's showing strong demand for technicians in Manitoba. This career gets 3 stars for growth, which is the Job Bank's highest rating.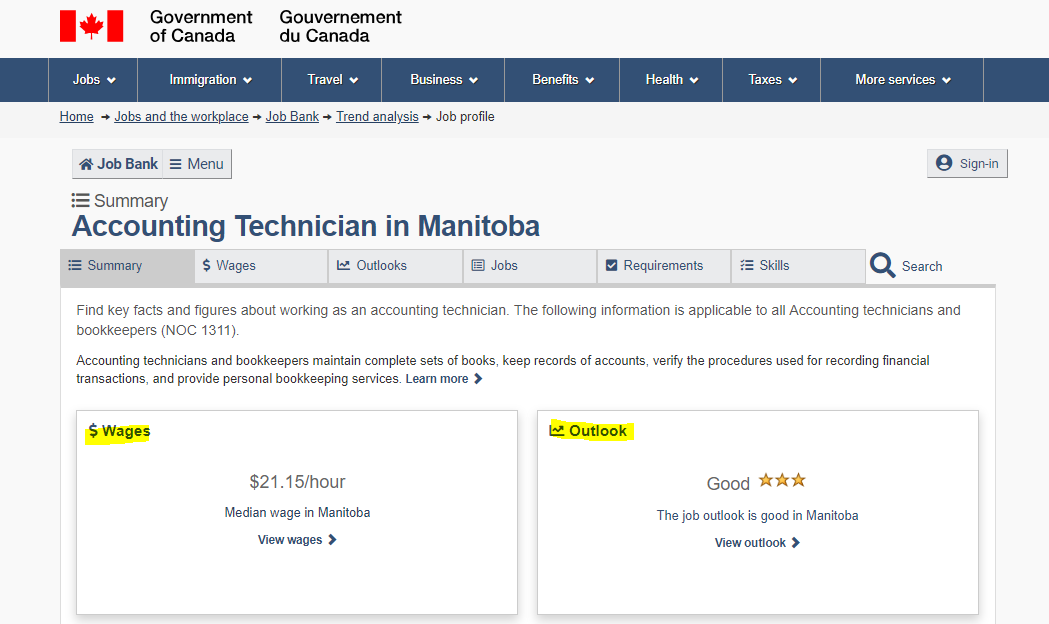 Source: Government of Canada Job Bank, Market Report
Global staffing firm, Randstad, is also reporting very strong demand for accounting and payroll positions across the country. They just announced their list of Best Finance and Accounting Jobs in 2019. And accounting and payroll made the list 4 times!
Out of a list of 8 job titles, Accountant made the #1 spot. Staff Accountant and Payroll Clerk came in at #6 and #7. Tax Accountant took the 8th position.
All 4 roles are in demand, and growing strong in Canada right now.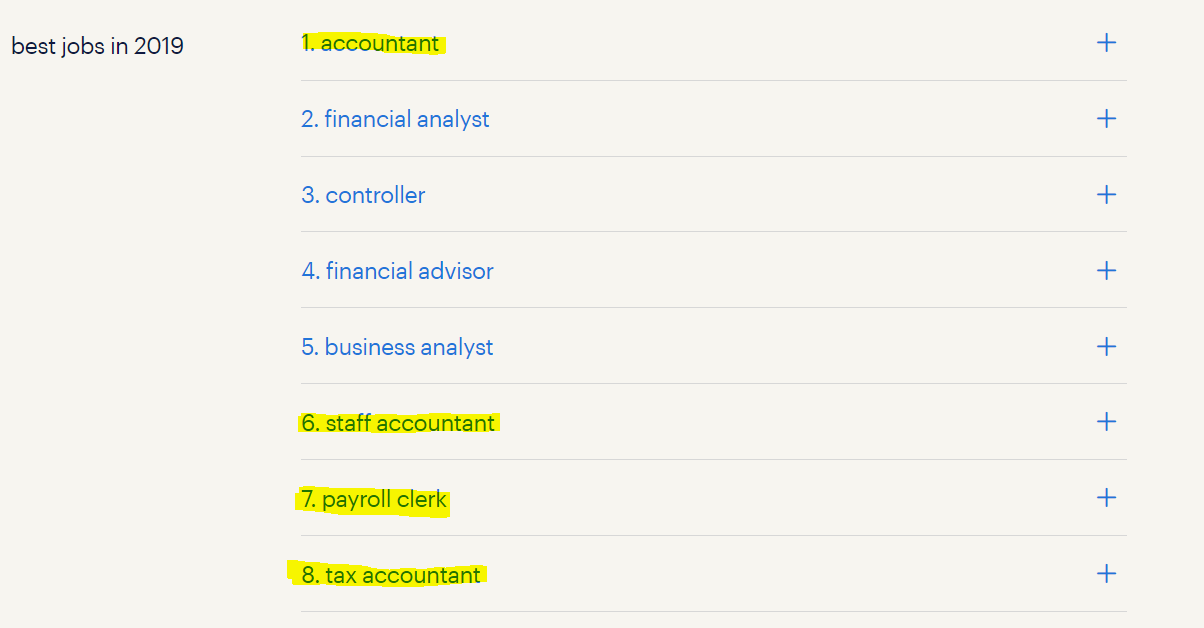 Source: Randstad Canada
Skills You'll Need to Succeed in Accounting and Payroll
No matter which path you choose, there are certain core skills and characteristics you'll need to be successful in accounting/payroll.
People who do best in this training program (and career) are usually:
comfortable using computers and learning new software

comfortable with numbers and math

good problem-solvers

highly detail-oriented

good communicators

responsible and reliable (can be trusted with confidential information)

good at following steps, rules, and procedures

able to analyze information

well-organized and able to meet deadlines
Accounting and payroll professionals deal with money. And when it comes to money, a company and its employees expect accuracy, reliability, and total honesty.
Related: 6 Accounting/Payroll Skills You'll Need to Get Hired
Related: 5 Signs You're a Perfect Match for Accounting Training
Employers are looking for mature people who they can trust to handle their bookkeeping, and ensure team members get paid on time (and according to the law). They want to hire candidates who are serious, focussed, and have the technical skills needed to get the job done right.
Sounds like you? Read on for your next step.
Get your accounting/payroll career started
If you've come to this point in the post, and feel like an accounting/payroll career is a good fit for you, it's time to explore training options.
There are many accounting colleges in Winnipeg to choose from. You'll find programs of different lengths, some offered online and others strictly on campus. Which one should you select?
We strongly recommend meeting with Admissions Advisors at your top schools. Go into campus (if possible) and sit down with an Advisor, so you can walk through admission requirements, class schedules, tuition, and financial aid.
When you meet your Advisor, you can also:
Book a campus tour

Talk about your professional goals

Discuss how you'll combine studies with work, family, etc.

Review student loan, grants, and scholarship options

Go through the application process

Explore the program in greater detail and discuss careers
This is how you'll find the college that feels right, and truly fits your needs and goals.
Chat live with an Admissions Advisor now to get your questions answered.
Or, click below to explore the Accounting & Payroll program in more detail. We're here to help!